END OF MADDIE HUNT? Madeleine McCann's parents face less than two months of guaranteed funding for British cops to find their daughter
Kate and Gerry McCann are anxiously waiting to find out if Operation Grange will receive more funding
EXCLUSIVE
By Tracey Kandohla
8th August 2017, 11:10 pm Updated: 9th August 2017, 7:00 am
THE PARENTS of Madeleine McCann have thanked the public "for continuing to be by our side" as they face less than two months of guaranteed funding for British cops to find their daughter.
A post today on the official Find Maddie campaign website, endorsed by Kate and Gerry and viewed by thousands of followers across the world, states: "Thank you for continuing to be by our side and supporting us in our search for Madeleine. We are extremely grateful."
The message is accompanied by a simple verse on a sky-blue backdrop: "Ah, kindness. What a simple way to tell another struggling soul that there is love to be found in this world."
Maddie's parents are anxiously waiting to find out if Operation Grange, the £12million inquiry into their daughter's disappearance, will be extended with a new cash boost in October.
Scotland Yard announced a month ago their "investigation is continuing with focus and determination" but as yet no new significant clues have been unearthed.
As time could be running out for police to solve the case, the family still cling onto a glimmer of hope that Maddie could be found alive after vanishing from a Portuguese holiday apartment 10 years and three months ago.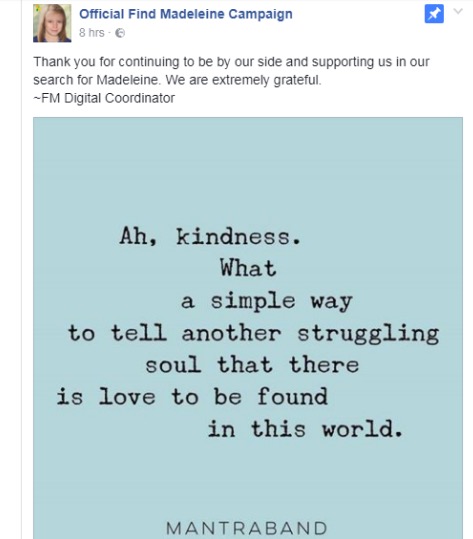 And as a gesture to Madeleine's memory, they keep a candle burning round the clock for her in their home village of Rothley, Leics.
The lantern beside the black railings surrounding the war memorial in the heart of the village at Cross Green is synonymous with the lost girl.
Maddie's great uncle Brian Kennedy told The Sun Online how the lantern – which has been in situ ever since the three-year-old was snatched from Praia da Luz in May 2007 – had undergone "a big clean up."
Ex head teacher Brian, who also lives in Rothley and with wife Janet looks after the special tribute, said: "The lantern was taken away because it became very sooty and needed a big clean up which we have now done."
As the sparkling lantern, with candle constantly lit and glimmering inside, returned to its designated spot after being gone for a few weeks, a McCann pal said: "The candle is a constant reminder for locals that one of their young fellow villagers is still missing and out there somewhere to hopefully be found alive and well."
Maddie disappeared from The Algarve holiday flat while her parents were dining with pals in a nearby tapas restaurant. She had been left alone sleeping with her younger twin siblings Sean and Amelie, now aged 12.
World renowned heart doctor Gerry and medical worker Kate, a former GP, both 49, refuse to give up hope and have vowed to "leave no stone unturned" in the painstaking search for their eldest child.
Their daughter would now be aged 14 and would be preparing for the new and important secondary school Year 10 when GCSE courses begin. She would be a pupil at the prestigious Catholic School in Loughborough where her great uncle once presided over.
Met Police have less than eight weeks of Home Office funding left to try and crack the world's biggest ever child disappearances.
They must submit an application if they need further funds during the second half the current financial year which will then be considered but not guaranteed by special grants committee.
Officers were given an extra £85,000 in April to extend Op Grange until the end of September amid speculation detectives were closing in on a suspect.
A force spokesman previously told The Sun Online: "A lot of potentially significant images and material were captured on previous trips to Portugal and we are still working on all leads."
It came as the Yard's Assistant Commissioner Mark Rowley said they were still "critical leads" to pursue.
Speaking to mark the milestone 10th anniversary in May of Maddie's disappearance, the top cop said there were "significant investigative avenues" that are of "great interest" to both the UK and Portuguese teams.
He said: "We want to solve it, we want a breakthrough, adding "there is no definite evidence" proving Madeleine is alive or dead.
Maddie's parents Kate and Gerry are said to be "buoyed up" and "extremely grateful" by the Met's continuing efforts to find their daughter.
In their latest anniversary message to mark "a decade of pain" the McCann's said:""Thankfully there is an active police investigation to try and find Madeleine and bring her abductor to justice."
A source close to the couple said: "It is heartbreaking for Kate and Gerry to still not know after a decade what happened to Madeleine. But to know there is still an active police investigation doing their very best to help find her gives them a strength and comfort.
https://www.thesun.co.uk/news/4201196/madeleine-mccanns-parents-thank-supporters-for-continuing-to-be-on-our-side-as-they-wait-to-see-if-investigation-will-get-cash-boost/
____________________
Those who play games do not see as clearly as those who watch. 

Keitei

Moderator/Investigator




Posts

: 1045


Reputation

: 263


Join date

: 2015-10-12



Another five minutes of my life wasted - no thanks to Tracey Kandohla 
.

____________________
" The secret of life is honesty and fair dealing. If you can fake that, you've got it made" - Groucho Marx

Verdi

Moderator/Researcher




Posts

: 10988


Reputation

: 4166


Join date

: 2015-02-02



"......and supporting US in OUR search for Madeleine." (My capitals).


They've never searched once !! Why don't all the T9 help the search and pop back and be part of a reconstruction ?

polyenne




Posts

: 963


Reputation

: 567


Join date

: 2017-03-31



TK opening another can of worms, and the SUN allowed comments.
Newest | Oldest | Top Comments
Put the world to rights 54 minutes ago
Odious pair of B's, I can't even stand to look at them, at the very least they should be in jail for child neglect at the worse for murder!!
I hope they get what's coming to them, I hate them as much as myra hindley and ian brady, that's how disgusted I feel about them!!
FlagShare
2
LikeReply
Paul Andrews 1 hour ago
The only people to search for Madeline were the Portugese police but they got too close to the truth!
FlagShare
2
LikeReply
Miss Sadie 1 hour ago
Tell their source, the odious Clarence Mitchell. that the McCanns (not McCann's) know exactly what happened to Madeleine. 
FlagShare
2
LikeReply
PAUL ARCHER 1 hour ago
So when did McCann carry out heart operations ?
Try Ms. K. writing the truth.
FlagShare
LikeReply
chiangmai1 2 hours ago
get the begging bowl out again for more funds,or give yourself up for what u done.but we know you will not and keep begging for funds
FlagShare
2
LikeReply
Dog Breath 2 hours ago
That goose still has a good few golden eggs to lay. Who ever thought that child neglect could become a successful business?
FlagShare
4
LikeReply
Kenneth Ward 2 hours ago
Tragic event but largely due to the parent's selfish neglect in leaving children unattended
FlagShare
2
LikeReply
SamTheMan 3 hours ago
tragic how let down you were Maddie... 
FlagShare
2
LikeReply
brian powell 3 hours ago
The McCann's remind me of Charlie Gard's Family how dare they try to protect their loved one 
comments on here are vile
FlagShare
LikeReply
SAUS 2 hours ago
They weren't bothered about protecting her whilst out on the lash with their mates.
FlagShare
8
LikeReply
Steve kimberley 2 hours ago
@brian
powell Don't be deluded. Charlie Gard was for the most part supported and it was deemed a medical impossibility for the child to survive.
The general opinion around Maddy is that her parents killed her and covered it up, they are completely different ends of the spectrum.
One child was already terminal, one was perfectly healthy and just neglected.
Charlie Gards parents cared about him up until the moment he died. The McCanns have been nothing but flippant about the 'kidnap' of their daughter.
They deserve all the hate they get, the only thing vile on this page is the McCanns.
FlagShare
6
LikeReply
nick kirkum 3 hours ago
"Funding" should have stopped a long time ago,but I guess it's not what you know....
FlagShare
2
LikeReply
gamebird justsayin' 3 hours ago
They have said that if Operation Grange came to an end they would use the Fund to continue the search. They will search for her as much  as they did the night she allegedly went missing - not at all. According to Kate, Gerry even managed a kip.
FlagShare
2
LikeReply
Yellow and Black 4 hours ago
At best the McCann's have managed a jet set lifestyle all on the back of their incompetence as parents. At worst they know exactly what happened that fateful night but refuses to be open and honest, just like the Tapas 7 
FlagShare
7
LikeReply
Colonel Mustard 4 hours ago
Its all getting rather tediuos now. I'm sure plod would like to keep flying out to sunnier climes for a few days each time, but its time to focus on other children and other crimes. 
FlagShare
3
LikeReply
Adam McCartney 4 hours ago
Why did Kate McCann refuse to answer any questions by the Portuguese police?
FlagShare
4
LikeReply
fred alcroft 5 hours ago
How much time, effort and cash do all the other children who have disappeared before and since have??
FlagShare
7
LikeReply
Peter Quarmby 5 hours ago
About time now. Even if they find her, which I doubt, she would no longer know her parents anyway.
FlagShare
2
LikeReply
Harrow Dude 5 hours ago
Over £5 million donated where has it all gone? You could ask Kate but she doesn't like answering questions
FlagShare
11
LikeReply
dog sbol-locks 5 hours ago
Why 3 paragraphs on the sooty lamp and not a word about their possible guilt?
FlagShare
5
LikeReply
james harris 5 hours ago
Of course possible...
Like I possibly woke up and wrote this comment
FlagShare
1
LikeReply
Al Wright 6 hours ago
Vile people supported by the vile main stream media such as the Sun and it's reporters...... they deserve nothing.
FlagShare
9
LikeReply
Jason Goode 7 hours ago
Cash boost? Why don't they give some of the millions they were donated? Better still save everyone a whole lot of money and tell the damned truth; Kate over dosed her daughter by accident to make her sleep and he helped her cover it up, everyone will understand, do a 5 year jail sentence and move on, sell your story and film rights and then we can all watch it for free on kodi
FlagShare
7
LikeReply
Flo Jo 7 hours ago
Yep, agree. Spend the money on investigating those 2 liars.
FlagShare
10
LikeReply
Charlotte Mason 7 hours ago
Enough...
FlagShare
8
LikeReply
Jerry Blears 8 hours ago
Why don't the police spend a little bit of the vast sums wasted on this fruitless search prosecuting the parents for child abandonment?
FlagShare
11
LikeReply
Michael Wickson 12 hours ago
Why don't they dip into their own pockets for once after all they have made a fair packet off the "disappearance".
Vile people. 
FlagShare
12
LikeReply
Supernan 12 hours ago
There's kids been missing a lot longe than their one ..why should they have special treatment
FlagShare
6
LikeReply
trev stans 13 hours ago
not a penny more should be spent on this until they both have a polygraph
FlagShare
15
LikeReply
colin culk 5 hours ago
@trev stans I wouldn't really be happy about them having a polygraph. They can be cheated and if anyone has done the research into how to do it it will be those two.
FlagShare
2
LikeReply
jbird65 13 hours ago
The only money to be spent now should be on investigatiing those vile scumbags properly.
FlagShare
20
LikeReply
What " world " is " heart doctor Gerry " actually " renowned " in please Tracey ?
I see that buoy is still floating around , clinging on for dear life springs to mind ! 

____________________
Be humble for you​ are made​ of earth . Be noble for you​ are made of stars .

sandancer




Posts

: 641


Reputation

: 851


Join date

: 2016-02-18


Age

: 65


Location

: Tyneside



...amazing the comments being allowed..!

sar




Posts

: 920


Reputation

: 261


Join date

: 2013-09-11



This comment caught my eye..
PAUL ARCHER 1 hour ago
So when did McCann carry out heart operations ?
Try Ms. K. writing the truth.
I think Mr Paul, you'll find it was on an aircraft on the way back to Blighty from Portugal - I think the same journey as when he scraped a drunkard off the pavement and took him back from whence he came.
No, it wasn't Clarification Mitchell - Gerry McCann picked him up on his first trip to the UK.  What a good samaritan is Gerald.

____________________
" The secret of life is honesty and fair dealing. If you can fake that, you've got it made" - Groucho Marx

Verdi

Moderator/Researcher




Posts

: 10988


Reputation

: 4166


Join date

: 2015-02-02



According to the article Mark Rowley said:

"He said: "We want to solve it, we want a breakthrough, adding "there is no definite evidence" proving Madeleine is alive or dead."


Err um 15 million quid spent and we get a sentence like this.  15 MILLION QUID SPENT.   Unbelievable.

____________________
Judge Judy to shifty  witnesses   -    LOOK AT ME  -   Um is not an answer.
If I forget to add it to a post everything is In My Opinion and I don't know anything for sure.

plebgate




Posts

: 6250


Reputation

: 1864


Join date

: 2013-02-01



---
Permissions in this forum:
You
cannot
reply to topics in this forum