The Rt Hon Priti Patel, PC, MP
Home Secretary
Madam,
OPERATION GRANGE - REPORTED DISAPPEARANCE OF MADELEINE BETH MCCANN 
I am a retired Police Superintendent, Operations Commander, with CID and other investigative experience.  I have studied this case for 12 years, in conjunction with experts in various fields.
I refer to the recent report by Sir Richard Henriques of his review of Operation Midland.
"Sir Richard, who was commissioned to review the investigation by the Metropolitan Police in February 2016, concluded:
"The principal cause of the many failures in this investigation was poor judgement and a failure to accurately evaluate known facts and to react to them. 
"A major contributing factor was the culture that 'victims' must be believed. 
"Whilst the responsible Officers assert that they kept an open mind, several failures can only be explained by an unwarranted and disproportionate belief in 'Nick's' credibility."
The review said that major inconsistencies between Beech's accounts, a lack of corroborating evidence and overall "implausibility" was not properly challenged."     [ Link supplied below]
It is evident that Operation Grange may have fallen into the same trap of poor judgement, specifically
   • has failed to accurately evaluate known facts, and to react to them
   • has followed the culture that the 'victims' [the McCanns] must be believed
   • has not had an open mind, but has had an unwarranted and disproportionate belief in the 'McCanns' credibility'
   • has not taken account of the major inconsistencies between the McCann's and their holiday friend's and other witnesses' accounts;  of the lack of corroborating evidence;  and further that the overall 'implausibility' of the account has not been properly challenged.
The Operation seems deliberately to be ignoring the points of evidence against the 'official account'.    The most notorious of these include the alerts by the British blood and human cadaver detection dogs; the clear evidence of forgery of the photo of the family by the pool;  the exposing of the original untruths about forced and broken shutters; the total lack of evidence of entry, presence and exit; the impossibility of the alleged regular checking system; bizarre and contradictory statements from the parents themselves about the 'comfort blanket' and the pyjamas . . .  and a plethora of others.   The list is too long even to append here.  Not one has been explained or refuted.  
Operational Policing is clearly not within the immediate responsibility of the Home Secretary.
The continued funding of Grange over eight years at a cost of at least £ 11.6 million (2018), however, is.  
(By contrast Operation Midland lasted only 16 months, and cost a relatively insignificant £2.5m)
The position of PM Mrs May, might have been compromised by her decision whilst Home Secy. to receive Dr Kate McCann at a Downing Street reception, and to introduce her as a 'victim' to Royalty.  [Link below]
PM Mr Cameron, might similarly have been compromised by his decision to write personally to the McCanns in terms inappropriate during an investigation into a missing child, when it is established fact that in over 85% of cases the close family or friends are ultimately shown to have been involved and should therefore always be treated as prime suspects.  Met. DCI Colin Sutton turned down the opportunity to lead Grange after learning that the investigation was going to be very narrowly focused, and away from the McCanns or their friends, contrary to his oath, his professional duty, his experience and his training.  [Link below]
Professionals from several fields have expressed serious doubts about the path the investigation is following, and serious commentators across the world have presented reasoned and evidenced thoughts about many aspects of the case and its investigation, some presented as challenging documentaries
It is clear that PM Mr Cameron, having inherited the poisoned chalice of the involvement of Government and the Security Services from Blair and Brown, was also put under intolerable pressure to set up Operation Grange given the threats against Mrs May, as Rebekah Brooks admitted at Leveson.
We do not believe that your position has been compromised in any of these ways.
I note that in a refreshingly robust and professional manner you have already instructed Sir Thomas Winsor to conduct an inspection of the Metropolitan Police, but observe that Operation Grange is a tightly focussed issue, stemming from the involvement of a previous Labour PM, Blair, and his Chancellor, Brown, (the reason for whose involvement is far from clear.)
On 10 October 2016 I sent a full letter with several appendices of evidence and references to your predecessor The Rt Hon Amber Rudd PC,MP,  with copies to Mr Cameron, and to the Met. Commissioner.
Several dossiers of fully referenced evidence and analysis have been sent direct to Grange, and a formal document with appendices of relevant and incontrovertible evidence was sent to the Portuguese Attorney General, and to the Polícia Judiciária  (PJ).  [Link below]
All have acknowledged receipt.
Retired Portuguese DCI Dr Gonçalo Amaral, the original SIO in the case, who wrote the book in which he referred to political involvement which has been endorsed by the Supreme Court in Portugal as an honest account and consistent with the evidence, has also been kept informed of our research.
We can provide duplicates on request.
In light of the above, may I as a tax-payer be assured that any money allocated to Operation Grange is devoted to a proper search for the truth and to justice for a little British girl, or that Sir Thomas be instructed to focus on Grange as a priority in his wider assessment of the work of the Metropolitan Police
I remain, Ma'am
Yours sincerely
Peter Mac
BSC, LLB, MA
Member of the Hon.Soc. Middle Temple
Retired Police Superintendent
Nottingham Police. 1972-2000
Refs:
Henriques Report
https://www.independent.co.uk/news/uk/crime/carl-beech-operation-midland-review-henriques-report-met-police-a9142856.html
Letter to the Portuguese Attorney General
https://jillhavern.forumotion.net/t15959-letter-to-portugal-the-disappearance-of-madeleine-mccann-new-evidence-of-what-happened-to-her?highlight=key+lines+of+evidence+against
DCI Colin Sutton
https://www.dailymail.co.uk/news/article-4467832/Met-interested-proving-McCann-parents-innocent.html
E-Book, referenced chapters dealing with individual aspects of the 'evidence'
http://whatreallyhappenedtomadeleinemccann.blogspot.com/
DCI Dr. Amaral's book - in translation
https://goncaloamaraltruthofthelie.blogspot.com/
Home Sec. Mrs May, Duchess of Gloucester, and principal suspect, Dr Kate McCann,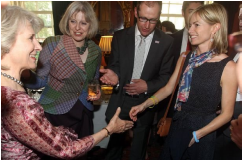 Reply received today (8/11/2019)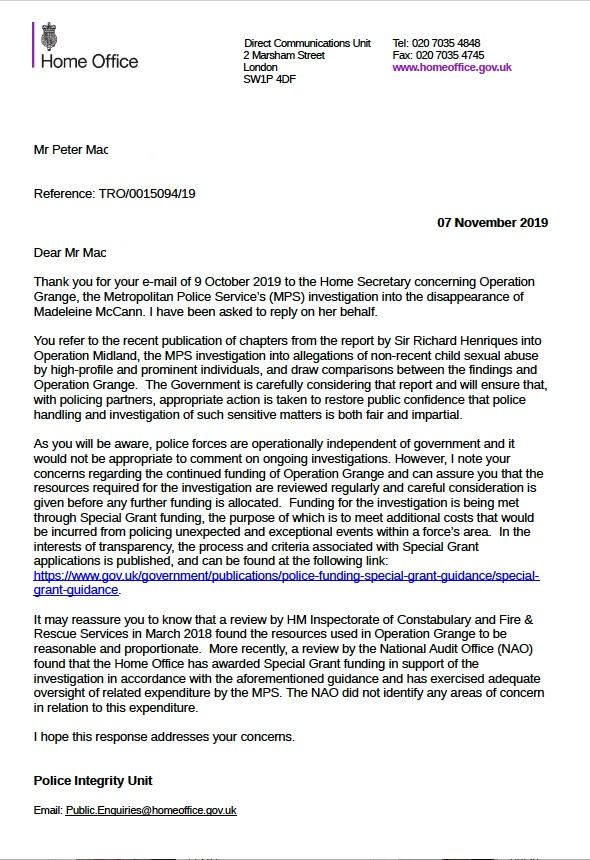 HMI and NAO have looked at it . . .
So that means one of several things
that the conspiracy goes right to the heart of every organisation involved
Or, possibly, and this will not be popular, that Grange is actually doing something . . .
Related link: Response to my letter from National Audit Office
https://jillhavern.forumotion.net/t16520-national-audit-office-re-public-spending-for-operation-grange
____________________
PeterMac's FREE e-book
Gonçalo Amaral: The truth of the lie
CMOMM & MMRG Blog
Cammerigal likes this post
Special Grant Funding is still taxpayers' money and there are many, many taxpayers who are not happy with the continued funding of the case.   Where exactly is it going?  Everything in the original files have been gone over with fine tooth comb.  What else are they expecting to find?  

If the Tapas Group were interviewed new evidence could possibly come to light.   Until that happens what exactly is going to change?   Good money being given for what reason?  How many times have we heard there are new lines of enquiry and exactly what have these new lines of enquiry produced?  NADA. 

Special Funds belong to the people.

Well done PeterM very well done.

Has Priti Patel been shown your email?
____________________
Judge Judy to shifty  witnesses   -    LOOK AT ME  -   Um is not an answer.
If I forget to add it to a post everything is In My Opinion and I don't know anything for sure.

plebgate




Posts

: 6729


Activity

: 8938


Likes received

: 2123


Join date

: 2013-02-01



Priti Patel was disgraced for her secret meetings with Israeli government in 2017. I rest my case for her credibility

tara




Posts

: 53


Activity

: 98


Likes received

: 45


Join date

: 2017-03-29



Plebgate:  [to explain on open forum - I do not doubt that you personally do understand -]

 I have no doubt at all that she will NOT have seen it.  Day to day 'stuff' is dealt with by her department
which has over 35,000 employees.
The point of exercises like this is that documents will be placed in the In Tray, or the Box, and the Home Sec is Deemed to have seen them.   Ministers cannot wriggle out of responsibility by saying they did not actually read the document in question.
The Department knew, and she is in charge of the department. QED.
I agree with your post PeterM.

Such a letter should be seen by any Home Sec. with such vasts amount of public money being spent and such poor explanation as Special Grant Funding being given.   Not forgetting the public concern in this case held by very many in the country.

Just another example of how taxpayers are held in such contempt by the The Powers That Be.
____________________
Judge Judy to shifty  witnesses   -    LOOK AT ME  -   Um is not an answer.
If I forget to add it to a post everything is In My Opinion and I don't know anything for sure.

plebgate




Posts

: 6729


Activity

: 8938


Likes received

: 2123


Join date

: 2013-02-01



Very professional and comprehensive letter from PeterM. 

I agree with you that it is important to have it on the record even if the public servants bin it or hide it or put off dealing with it or do whatever else they do. 

Are public servants in the UK recycled when governments change -- Governments of same political colour and/or governments of same colour with different PM? I ask this because if I were part of a new government I would pay attention to your subtle references to the inadequacies of those who had gone before me and my vanity.

And if I were in government, whatever department or if, like those millions who read the paper (or i-phone screen) in the Tube or watch amateur hour on TV about the McCs, I would be curious about the case. More than curious actually!

I would also wonder about levels of scientific literacy in the community - same as the brains trust who believe "THE science is settled" on global warming (sic). Same as in Oz, maybe even worse. Majority of population believe that the raging bushfires at present are due to global warming when 86% of bushfires here are due to other causes - like kids this week setting flames to a mattress (arsonists too young to be charged) or sparks flying from a motor mower (accident) or tinder burning because the Greenies (10% of seats in Parliament) don't allow burning off so in my state people get fined $2000 if they do!! The Aborigines always knew you had to have controlled burns. Not sure how they explain the floods in Venice.

My point is that if some people want to believe something no facts are going to change their minds. You know that, better than any. The 86% of natural fires parallels your figure about child abductions and "things" being related to family members or others close to the family.

Here, the nonchalant response is "oh she was that little girl who was abducted". As for Saint Greta I am gobsmacked - even unable to talk about it /her/them (and Richard Bramston(sp?)) without getting gastric reflux. Nobody seems to care about the latest list of "scientists" and THE science even though there is a Professor Mickey Mouse on the list. Have you read that?

Back to MMC and the British Government - if they don't care about tax-payers' money, what else do you think they would care about? In relation to the MMC case.

Milo




Posts

: 223


Activity

: 266


Likes received

: 43


Join date

: 2017-10-12


Age

: 76


Location

: WOODY POINT Australia



I can't find the bit I read in this thread about Donald.

I disagree. I reckon Donald would take this on, admittedly like a bull at the gate.

Milo




Posts

: 223


Activity

: 266


Likes received

: 43


Join date

: 2017-10-12


Age

: 76


Location

: WOODY POINT Australia



I see a few people are hyperventilating over the road at Peter's letter where he said "the clear evidence of forgery of the photo of the family by the pool;" - they take it to mean that Peter's changed his mind and that he now thinks the Last Photo has been photoshopped.

Comment by Tangled Web: "I noticed he mentions the last photo being photoshopped. I thought they, CMOMM had had a couple of experts who said it was genuine?"

Peter never said it was photoshopped, he said it was a forgery.

The definition of forgery is: the action of forging a copy or imitation of a document, signature, banknote, or work of art.

Therefore, changing the date means the photograph is a "forgery".
____________________
Whose cadaver scent and bodily fluid was found in the McCann's apartment and hire car if not Madeleine's?

ufercoffy




Posts

: 1657


Activity

: 2095


Likes received

: 31


Join date

: 2010-01-04



I wasn't going to rise to it, but thanks anyway.
A forged document "tells a lie about itself".
The photo – to follow the final sentence in this definition –  "purports to be made . . . in circumstances in which it was not made"
What is forgery?
The definition of forgery is relatively broad and is found within s1 of the Forgery and Counterfeiting Act 1981, which sets out that you are guilty if you:



make a false instrument

with the intention that you or any other person will use it to induce somebody to accept it as genuine, and

by accepting it that other person will be prejudiced.


This is in accordance with the definition contained historically within R. v. Dodge and Harris [1972] 1 Q.B. 416 which states that 
"The essential feature of a false instrument in relation to forgery is that it is an instrument which 'tells a lie about itself' in the sense that it purports to be made by a person who did not make it (or altered by a person who did not alter it) or otherwise purports to be made or altered in circumstances in which it was not made or altered."
Should have included the ref:   Sorry
https://www.bestcriminaldefencebarrister.co.uk/criminal-defence-barrister-blog/2019/forgery-using-and-possessing-a-false-instrument.aspx
---
Permissions in this forum:
You
cannot
reply to topics in this forum