In memory of recently deceased forum member and justice campaigner Ben 'Mainline' Salmon
Gerry's records I: Goncalo Amaral proven right?
By Ben Salmon - 3rd October 2013
I'm undecided on whether to make this a series, or just a one off blog. As many will be aware I have itemised the entirety of Gerald McCann's Portuguese call records, as provided by Vodafone in December 2007, to the best extent of my abilities/resources. In the process of doing so I have come across many names, some known, some unknown and some whose relevance I have yet to quantify.
The following calls I will present are very much names we know; and perhaps more importantly, are calls which the PJ did not know about at the time.
It's well documented that Goncalo Amaral was removed from the case, elbowed out because his work didn't suit certain people/agendas. Whilst re-reading through a translation of his book 'The Truth of the Lie', Chapter 18 piqued my interest, particularly the references to two English officers – Jose Freitas of Scotland Yard, and Stuart Prior of Leicestershire Constabulary.  Their first mention here is of them being the trusted chain of communication, whilst results from forensics were pending;
(Goncalo Amaral, 'Maddie, la verdad de la mentira')
A position of trust indeed – not that it stopped supposed leaks that led to such incidents as Martin Brunt declaring a 100% DNA match. Note that these forensics all took place in August, and the CSI dogs went in at the beginning of August, on the recommendation of Mark Harrison (who arrived in Luz July 20th). To that end, we can safely assert that at this point in time (August 2007), both Freitas and Prior were trusted by the PJ.
As the chapter goes on, it becomes clear that Goncalo Amaral found Stuart Prior's behaviour questionable, to the extent that he questioned his purpose in being there:
Worsening as the arguida/o interrogations approached (early September):
It would later be reported in Correio de Manha that Stuart Prior 'intimidated' the PJ. The original article is glitched but Joana Morais' blog has preserved the jist of the article: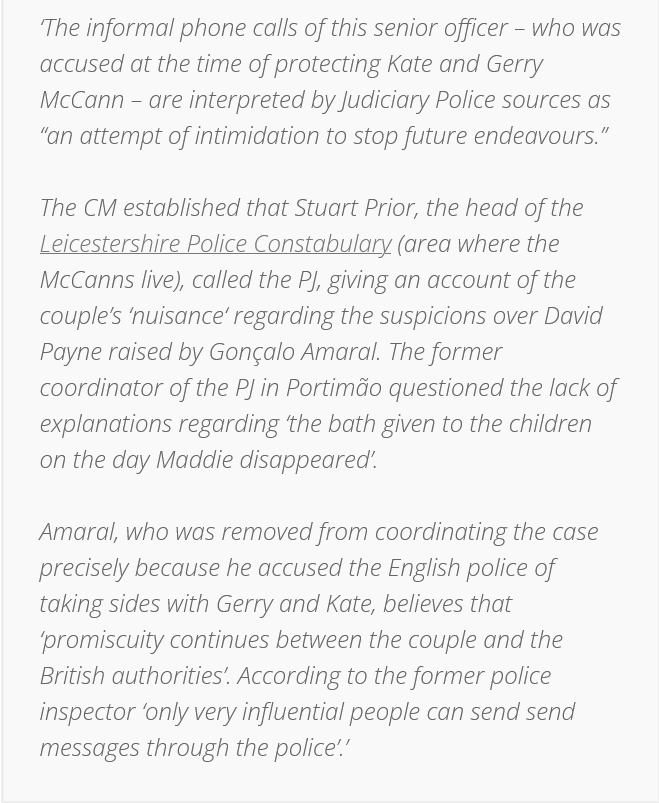 So we have it clearly stated here that Prior had some kind of vested interest in making sure the parents and the Tapas members were not impugned in any way, and we see clear references to this both in 2007 and 2009, the latter being more than a year after the McCanns and anyone else in the group had left the country. No longer is it just a case of 'minding the backs of the parents while in Portugal'.
Putting together a very brief timeline:
   July 20th Mark Harrison arrives
   Early August CSI dogs go in, samples are taken. Jose Freitas and Stuart Prior are trusted with handling the information.
   Late August Goncalo Amaral is critical and distrusting of Stuart Prior/his intentions.
   Early September Prior goes to Portimao to delegate FSS lab findings.
   September 4th Stuart Prior emails across the forensic results from the FSS, referred to as the 'second preliminary report', which throw doubt on any of the tested items originating from Madeleine (many articles have been written about this, so I wont expand). Goncalo Amaral has Prior call the lab asking 'if they think they are stupid', and Prior is heard saying "With a lot less than that, we would have already arrested someone in England."
At this point you may wonder what relevance any of this has to Gerald's call records. This is summed up in the following image:

June 21st Gerald initiates contact with Jose Freitas of NSY. That means that he, for whatever purpose, and by whatever means, already had his number. There are only ever two direct contacts between Gerald's handset and Freitas' number. The second is only 3 days later. The duration of both calls is incredibly short – 26 seconds, then 8 seconds. What can be achieved in such short calls?
There are five calls involving Stuart Prior. In each case the call was initiated by Stuart. They vary in length from 25 seconds (July 4th) to 7 mins 24 seconds (July 16th).
The final call, lasting exactly 6 minutes, occurs on July 19th – just a day before Mark Harrison arrived in Praia da Luz, on the recommendation of British police.
Coincidence?
Perhaps the most significant thing to note is that the PJ would have been completely unaware of these calls, given that they didn't get Gerald's call records until December 14th, 2007.
So we have to ask a common sense question at this point: Given their pre-existing concerns, if the PJ had been aware that both officers entrusted with FSS laboratory liaison were already in direct contact with the soon to be arguidos, would they have requested different, verifiably objective intermediaries?
And another question raises its spectre over the issue: were the FSS results potentially tampered with?
These weren't the only contacts Gerald had with officers – as another example, he twice directly called  Chief Constable Meredydd Hughes, Martin Grime's then boss (as well as ACPO member), 2 weeks after the dog searches. Whatever the content of those two calls, we have to wonder how Gerald was able to so directly contact the South Yorkshire Police boss.

Could it have been through the then ACPO Chief Ken Jones, who Gerry always dialled directly, and who was last contacted (after a 3 month break) the day after Prior's second preliminary report email went to the PJ?
Was Goncalo Amaral right about Prior? Questions must be asked.
Addendum
Some items of further interest;
From Kate's book, for whatever questionable evidential value it holds, it offers a few insights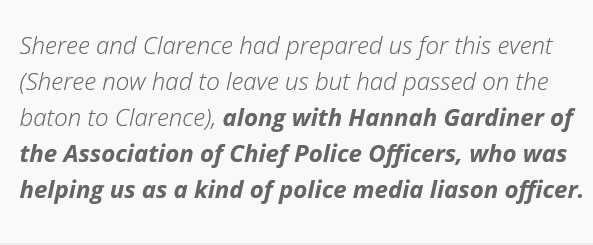 ('madeleine' Page 198)
Gerry's call records confirm contacts with Hannah in May and June. She therefore presents another possible conduit of information and transmission of phone numbers to Gerry and (presumably) Kate.



'madeleine' Page 131
Kate attributes Gerry calling Ken Jones some time after August 23rd and before August 27th, a call that's not on record, but could conceivably have been from Kate's handset, the itemisation for which we are not given in the released files
('madeleine' Page 280)
On the same page, Kate takes the opportunity to make a rather odd statement, given that it completely contradicts their stated relationship with Stuart Prior;
Despite this bizarre declaration, he then goes on to make a rather blunt and accurate prediction;


https://h42a.wordpress.com/
__________________________________________
Note:  These blogs are for information, they do not necessarily reflect the views of CMOMM and the MMRG.

____________________
" The secret of life is honesty and fair dealing. If you can fake that, you've got it made" - Groucho Marx

Verdi

Forum Manager





Posts

: 28279


Activity

: 35414


Likes received

: 5907


Join date

: 2015-02-02




Ladyinred




Posts

: 675


Activity

: 855


Likes received

: 174


Join date

: 2017-11-25



Musical cots
June 20, 2018 Ben Salmon
Often times whilst discussing this case, the names Neil Berry and Raj Balu are met with blank stares. "Who?" is usually the first question. They are rarely if ever mentioned in the media, and there are no photos of them floating around, contemporary or otherwise.
Ostensibly, they were fellow tourists. They first met at the OC and proceeded to spend a good deal of their holiday in each other's company. Not entirely unusual in a resort setting. Both men went with young families; Neil Berry was with his wife and two young daughters, Raj Balu was with his wife and son.
Both families were located in the same apartment block, G6, which is directly beside block G5.
So, aside from proximity, what exactly do they have to do with anything? Well, possibly, quite a lot. The PJ certainly thought so, as they took the time to get mouth swabs from both men, which were compared with other forensic data. This would seem to be based on their movements and inconsistencies on May 3rd.
Both men claimed to have been sat in the Tapas area from late afternoon on the Thursday, and though neither can clarify whether they left together, they both say they were also with sisters Jayne Jensen and Annie Wiltshire.
Things fall apart right away, helped in no small part by inconsistent times given. Rather than go through specific minutiae, I will hone in on their Tapas booking, movements and time period.
Firstly, the Tapas booking. Both men say that they were booked in to the Tapas on the night of the 3rd, but that this was cancelled because there was 'not enough table space'.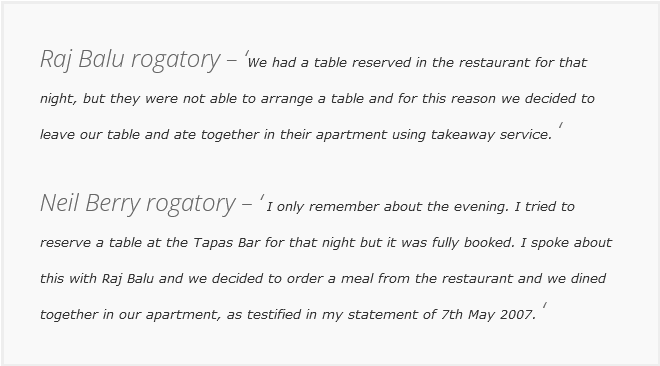 Immediately, we have a conflict. Raj claims that he had a table booked, whereas Neil was unable to book. Looking at the Tapas booking form, it is clear that Nicole Cox (Raj Balu's partner) had booked a tapas table – for two (presumably having worked out childcare for their 17 month old son). However there is no listing for Neil Berry, which would imply that Raj had already booked, and the decision to eat together was taken later.
This is a narrative thread which can possibly be inferred from both accounts (assuming Balu meant 'not able to arrange a bigger table to accomodate Neil and wife'), so it's not inherently a problem. We can't clarify whether or not eating together was a common event, given that the only previous nights' Tapas sheets are for the 1st and 2nd – nights where there were big football matches involving English teams, which both men confirm they took in together. The lack of the prior sheets leaves only supposition, on which we cannot rely.
What we can fairly infer is that by eating together in the apartment, they made the conscious decision not to eat at any of the other venues which they were obviously appraised of, and that in doing this, they would all be in the same proximity as their own children (all in Berry's apartment). In this, provisions would be needed for Raj's young son. This comes in the form of a cot, and another problem.
So, from where did this cot actually emanate? Neither man takes ownership, both placing it with the other. Balu would have it that Neil was trying to assemble the cot 'placed there for him' when he arrived. Neil would have it that Raj arrived carrying it with him.
Surely Raj would remember bringing his own cot, as it would have required either he or his partner having disassembled it first. I have found no reference to a 'Rob' on the staff lists so I am curious who the girl was – I can't help noticing the general time period ('around 1900') given by both men is the same time period that calls were placed at the Dolphin phone box to Mark Warner Head Nanny Amy Tierney (see here for more detailed breakdown).
Later in the night, when the McCann's twins are moved to the Paynes apartment, travel cots are provided by the resort. So it stands to reason that this was not a giant wooden cot that needed allan keys to assemble, but rather another travel cot.
Travel cots are simple to assemble. This is part of their utility. Most of us learnt about rectangles as toddlers. The cots we see in contemporary shots of 5A are simple ones. That two couples, both with young children, needed help assembling one of these, stretches credulity.
If we rewind a little further on the night, there is an interesting question posed to Neil Berry (in his rogatory):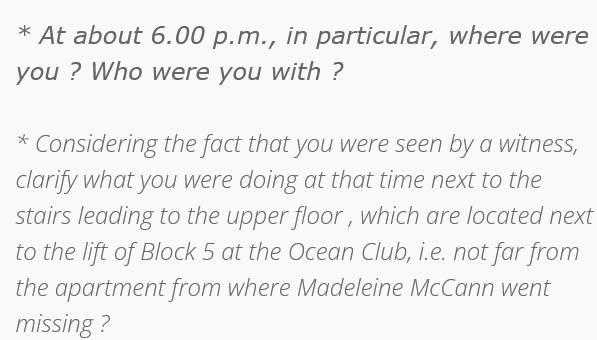 The only people with need of the use of the stairs/lift in block 5 would be those who were staying on the first or second floor. This comprises just 3 apartments; the Paynes, permanent resident Mrs Fenn, and the Moyes family (who arrived on the 2nd and were staying above Mrs Fenn).
No physical link is apparent between Berry and any of these parties, however, one of the apartments does seem to relate to missing/extra cots – that being the Paynes.
The Paynes arrived as a party of 5 – three adults and two children. L Payne was slightly younger than Madeleine, and S Payne was only 11 months old. According to the Mark Warner check in form, no cot was requested for S Payne. This is immediately odd because cots are explicitly requested for L Payne and both the McCann twins individually.
In terms of stature, L Payne was only a shade shorter than Madeleine, but is still sleeping in a cot (also, no bed guard/rail is requested for Madeleine's bed). So these cots are clearly of an ample size for a toddler.
Madeleine beside L Payne (height comparison)
But why no cot for S Payne? The Paynes' statements all refer to her having a travel cot – so, was this a travel cot brought from England? The lack of request makes this a fair question, children are creatures of habit and perhaps they took their own travel cot for S's comfort in an unusual place (the children are referred to by Russell O'Brien as 'agitated' after all).

So ok, there is the possibility that the Paynes took their own travel cot, and fact that S would need a cot goes without saying. Nothing to see here, right?
Well you'd think so.
However, we then have to factor in a similar saga from 5A, the McCann's apartment. Cleaner Maria Da Silva, who prepared the room before the McCanns' arrival, and cleaned midweek, has key testimony on this: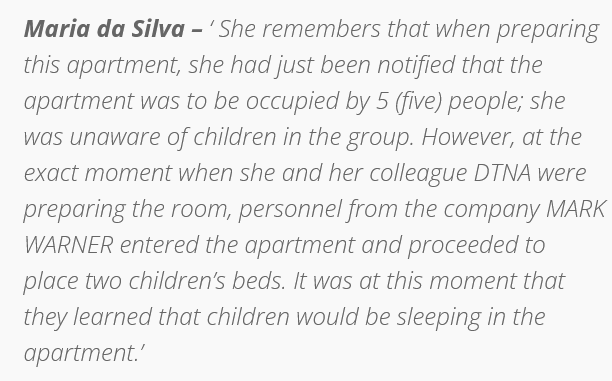 Notice that reference is made to TWO 'childrens beds' being placed. This refers to the cots, as the rest of the beds in the apartment were of uniform size (four single beds; the parents pushed theirs together to give the appearance of double bed).
While Maria was due to clean on the 30th, her testimony for this day is curiously missing. What is not missing is her testimony for cleaning on May 2nd, where she makes a key observation. Note that this statement was given several days AFTER the McCann/group's statements, so, in other words, they had no knowledge of her observations and there's no attempt to counteract anything she said;
Goncalo Amaral, in his book 'The Truth of the Lie', also made an observation about space in the parents room;
– There are two beds in the parents' bedroom, which have been pushed together; there is a wide space on the right, up to the wardrobe. One of the two days has visibly not been occupied.
– I don't understand the point of leaving so much space on the right.
– Normally, one of the two cots was there.
– So, the couple slept in that bedroom with the twins, and Madeleine in the other? OK… But why, on that night, are the three children sleeping alone in the other bedroom?
Again, these are observations made which the group would have had no prescience of on the 4th when making their statements. In their second statements, references are added to the effect that Madeleine 'slept in the parents bed' on one night, but on no occasion does anyone mention that a cot was placed in their room.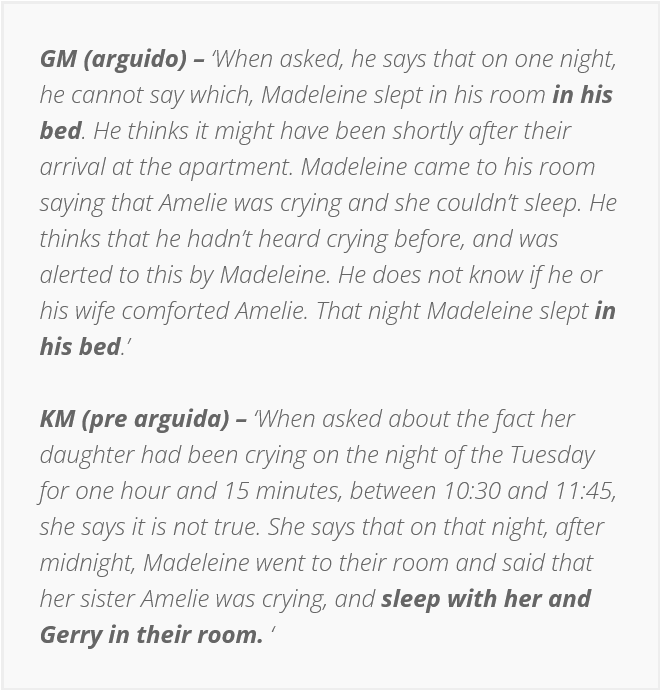 Quite obviously, by the evening of the 3rd, there is no cot in the parent's bedroom, just the space where it lay.
It isn't until the September interviews that the question of extra cots is put to them: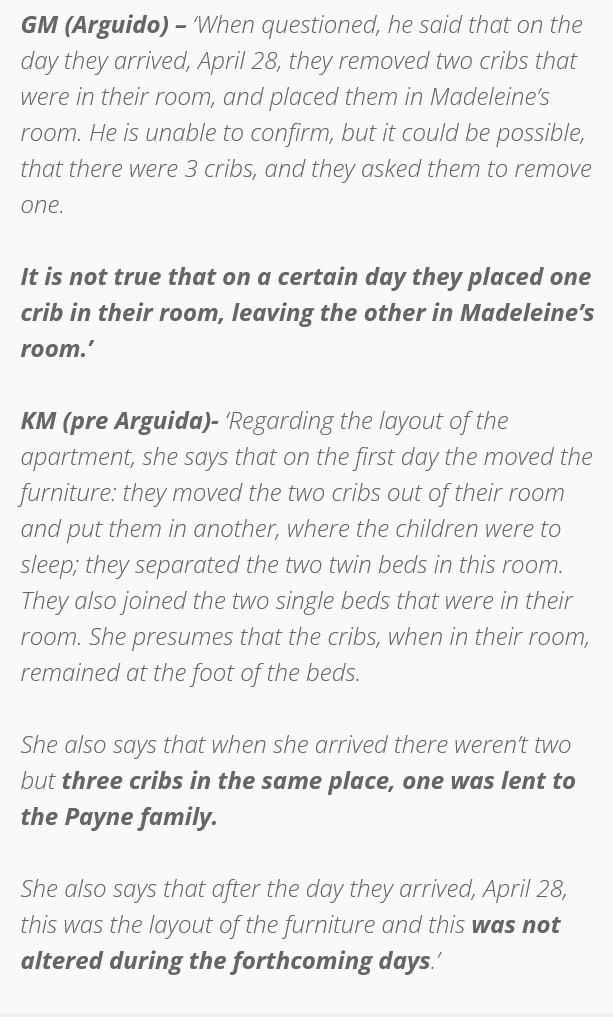 Too. Much. Detail.
So, Gerry can't remember there being an extra cot, but thinks it is 'possible' that they 'asked to remove one'. Meanwhile Kate remembers there 'were' three cots, and one was given to the Paynes, but she has 'no recollection' of where those three cots were, she only surmises that there were three at the foot of the parents' bedroom!
One can only imagine how hard that room was to navigate with two single beds (still not pushed together) and three cots in a row – reaching that window to break the shutter must have been a nightmare! How odd that noone remembers such things.
Interestingly, David Payne makes reference to this 'extra cot' and 'helping' in his rogatory, though he is very nonspecific about how exactly he was of use: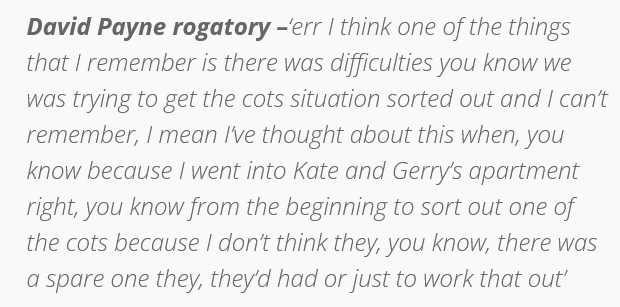 Answers on a postcard anyone who can make sense of that word salad – what seems to be obvious is that David remains mixed up with details about cots, and that he doesn't assert that he took the 'spare' cot for his apartment, merely that he 'went to sort it out' – whatever that means.
So there are three versions of this as it sits:
   Two cots were provided by Mark Warner (as per Maria da Silva), these were moved into the children's room, and on at least the 2nd of May one cot was placed in the parent's room, the other remaining in the children's room – come the 3rd the children's bedroom once again houses two cots and none in the parents' room
   Three cots were provided by Mark Warner (as per statements made in September), one was given to the Paynes, the layout never changed after the two cots were placed in the children's room (as per Kate/Gerry)
   Three cots were provided, the extra cot was 'dealt with' by David Payne, the rest ibid
Note that only scenario 1 was mentioned contemporarily, and by someone independent of the group. Scenario 2 was introduced in September 2007, and Payne didn't chime in about cots until his rogatory in 2008.
Thus, the question needs to be asked, why say there was an extra cot, and why tie it to Payne in any way? Could it be that Madeleine was sleeping in the parents bedroom for observation, and her cot was soiled? Was it then switched with the Payne's travel cot to accomodate cleaning it up, and later given to Neil Berry (with different bedding) on the night of the 3rd, rather than being returned to 5A?
Were these soiled sheets what Russ was cleaning as late as 2130 on the 3rd, and had they been briefly left in 5J requiring a covering scent (the fridge left open with rotting meat/vegetables)? It is important to note that apartment 5J was not opened until May 10th, rendering it hard to guess at what point or on what date the fridge was left in the state it was (lacking public information about when it was last lived in/who owned it, we can't discount the idea it was left that way by a previous tenant, though one would expect the place to be cleaned out if it belonged to the resort – notably it is skipped in Maria da Silva's list of apartment responsibilities).
An important thing to note is that there was never a cadaver alert in any of the other apartments checked – Paynes included. So in the event Madeleine had lain in a missing cot whilst deceased, some residual scent would be expected in the Payne's apartment at least, if it had passed through the apartment at any point. What appears more likely is that the soiled cot was substituted, cleaned in a neutral venue (again perhaps 5J) and quietly put back into circulation without ever entering the Payne apartment.
I have seen the collection of cadaver odour adroitly tackled in other venues, so I won't go into the specifics of it, suffice to say that the odour naturally would have gathered in the corner of the room, and the two alerts outside would only require two minutes of exposure. A packaged travel cot, possibly wrapped with said same bedding, being left for any length of time over two minutes on the veranda/garden area (whilst whoever carried it 'acted normal') would account for these residual scent alerts (which were both described as weak, the presence of a body during this movement would create a much stronger scent).
So the presence of the 'blue bag' in 5A, that later disappeared, becomes somewhat academic in terms of the original scene. If it were a sports bag and she had ever been inside it, then there would have been no sense returning it to the scene. If she was later moved inside it, then it was irrelevant to her initial occultation. And if she was moved inside it twice, which really stretches credulity, then the first point applies again.
Could it be that the 'blue bag' was, in fact, the Paynes' original travel cot, which was meant to be returned to their apartment but got overlooked in the melee and rush to sanitise the original cot? In which case, one of the twins would be sleeping in the eponymous 'third cot' which David so graciously 'sorted on day one'
And if so, what of Neil Berry? Could he have acquired the sanitised cot from the G5 stairwell/lift area around 1800 so that his friend's son would have a place to sleep, and later omitted that fact when he realised what happened? Neither man makes any inference as to the progeny of the cot that ended up in Berry's apartment.
So the important question is, did the original cot get put back into circulation in the resort?
https://h42a.wordpress.com/

____________________
" The secret of life is honesty and fair dealing. If you can fake that, you've got it made" - Groucho Marx

Verdi

Forum Manager





Posts

: 28279


Activity

: 35414


Likes received

: 5907


Join date

: 2015-02-02



Russell O'Brien in Aljezur?
March 3, 2017 Ben Salmon
With the news of human remains being found in Aljezur, I was reminded of this topic. I had previously intended to write about it, but got sidetracked with developments.
Firstly, as these remains go, my first inclination was to think that the remains may relate to the young German boy Renè Hasèe, who disappeared from an Aljezur beach in 1996. If not him then likely an adult, the remains being older. According to Google Earth there are several ruined farmhouses in the Forno do Cal area (thank you to Isabelle McFadden for helping me isolate the specific area). These buildings were all ruins in the oldest afforded images (2004).
UPDATE: The bones have been identified as 'belonging to a woman'.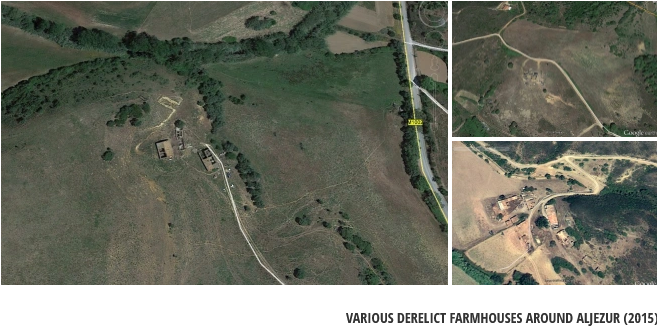 Certainly, it has not crossed my mind that they are related to Madeleine. This is because there are no solid links with Aljezur in the case whatsoever. All we have are;
The Russell O'Brien ping on which this blog will expand
An impossible (errant) ping from Fiona Payne's phone: Source
A phone contact of Robert Murat's who owns ruins in Aljezur ('Paul A') Source
A 'sighting' in an Aljezur garden which turned out to be the child of the owners. Source
So, to Russell's Aljezur ping. The files have this to say on the trip:
The above qualifications by the PJ assume direct transit between the two villages. That is to say, the direct route between Praia da Luz and Aljezur, which is presently (according to google maps) 35.5km each way, which is approximately 33 mins each way, assuming the speed limit. The PJ have above hypothesised that the distance could be covered if he travelled at 130km/h. It should be noted, the speed limit on motorways (which the A22 is not) is 120km/h. Trunk roads, the limit is 100km/h.
Consider also that this is an a to b to a calculation. It does not accomodate time spent in Aljezur.
Importantly, the report has specified that Aljezur PARISH was pinged.
Thus, the PJ have not included their calculations so as to say 'this explains the ping', they have simply included an accurate calculation on how literal transit to Aljezur and back would be possible. What we need to do, when looking deeper, is locate the requisite towers, their coverage areas, and the real distance required to 'ping Aljezur Parish', rather than 'be in Aljezur'. I have done so in the following image:
It should also be noted that Gerry called Russell at 22:34 the same day he made this journey. This seems like an oddity given they were only a few doors away, though it is not isolated (there was a 58 second call from Russ to Gerry on the 5th, and several calls involving David Payne early on).
However if we are taking this Aljezur drive/ping as suspicious, things like this call become more important. Unfortunately Russell's phone records are not itemised in the files, outside the 2nd-4th (also records from the start of the holiday exist in Anexo 37 but this was not released). The intimation, though, would be that either Russell was scouting the area he drove in, or was disposing of something.
Remember, though it took months to come out in any detail, Russell admits to washing sheets on the night of May 3rd (claiming his daughter had vomitted on them). The detail of this is inconsistent, as is the tale of what time he and Matt got up/came back.
By one timeline, for instance, Russ gets up with Matt just ten minutes after Jane returns from her check, with Matt and himself saying they would check on the McCann children, but both decide to check their own apartments first, despite passing the McCann apartment on the way, and despite the fact Russ's child was only checked 10 minutes prior. Jane comments in her rogatory that on her check both her daughters were 'quiet', but apparently in 10 minutes she has vomitted and sheets need washing (as Russ said – they had a washing machine, 'it wasnt a third world country'). Possible, of course, but questionable.
Russ does, however, place himself inside the McCann apartment checking on indeterminate previous night(s).
This would appear to be a retrofit, but why? Any forensic trace of him could've been explained away as contamination when people were going in and out after the alarm was raised. Is it possible he was washing soiled sheets from 5A? If he was in possession of an item like that, getting rid of it would be a necessary move.
Looking at the crossover coverage areas, Bensafrim is covered, as well as Odiaxere and the Barragem da Bravura (including the main road up to it).
We know that later on the Arade (around 30km from Bravura) was searched, but under suspicious circumstances (many doubted the search and the odd fact that the animal bones recovered were handed to Metodo 3 rather than the PJ for identification).
Interestingly, Bravura was topically searched – on the 8th of May:
This was the day after Russell's Aljezur ping.
In Bensafrim, an 'Alisuper bag' was handed in by a British lady on June 16th, containing;

And in Funchal (small village East of Luz) a bag was found (undated). Source (both)
Note that if you were to take the A22 to Aljezur, you would pass through both Funchal and Bensafrim. Could either of these bags have been deposited by Russ? While it seems unlikely he would be driving and effectively 'littering', the possibility remains. If, as the PJ asserted when the process was shelved, there was an obfuscation of Madeleine's body, it makes sense that physical evidence would remain, and said evidence would need to be disposed of.
While trash would seem more logical (Gerry McCann and Michael Wright were known, for instance, to use at least 4 different refuse sites in a radius around the villa, including the bins outside cemetery), this assumes that it would not be of benefit for any evidence to be found. Evidence in an obscure rural location would actually strengthen the narrative of an abductor.
To this end I want to finish by revisiting the De Telegraaf saga. A letter to a Dutch newspaper led to a search at Arao – North of Odiaxere – on June 13th. This was barely a month after Russell pinged in the area, and was just 7 days after the McCanns were in Amsterdam. Gerry maintained contact with old colleagues at vUMC Amsterdam (Beek and Nijdveldt), especially on those dates.
This search was called off after just 3-4 hours, and it was publically dismissed by the lead detectives involved. Nevertheless there is the well known photo of an 'Aztec rug' being removed, and press reports circulated at the time saying that Madeleine's dna had been found there. If nothing else, it fit the narrative.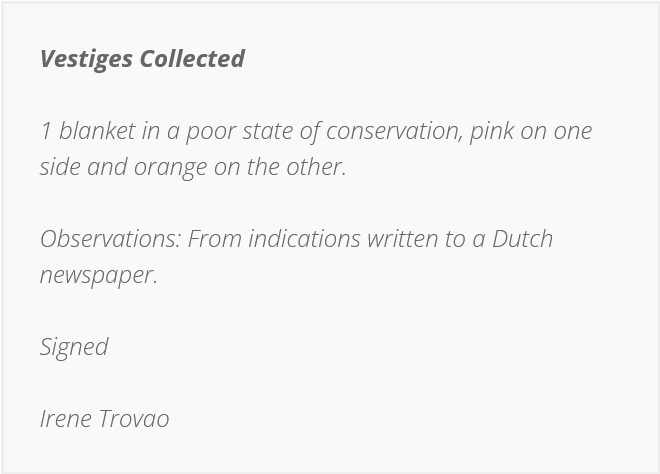 The press reports came far too early to be taken seriously, so the truth about this blanket remains unknown to us. Despite being doctors, the findings in 5A and the Scenic prove that nothing is perfectly, clinically washed away, even by the most able. If an item was left to be found, and still held partial traces of Madeleine, it follows that someone else's dna would likely be present too. This could perhaps, then, be another candidate for the piece of 'stand alone evidence' referred to by Paulo Rebelo (along with evidence of decomposition or sedation in hairs, cctv and so on).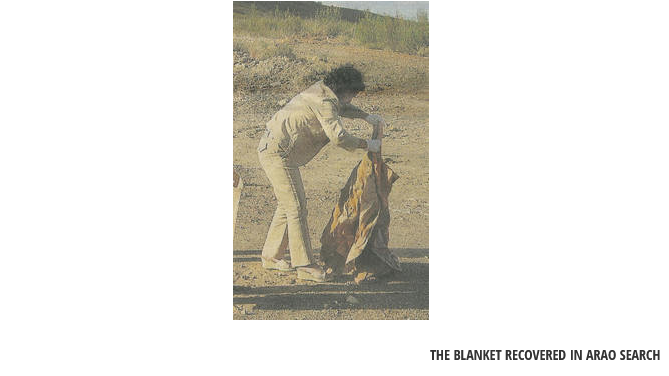 It is futile to guess or assume, but there are questions which must be asked.

https://h42a.wordpress.com/

____________________
" The secret of life is honesty and fair dealing. If you can fake that, you've got it made" - Groucho Marx

Verdi

Forum Manager





Posts

: 28279


Activity

: 35414


Likes received

: 5907


Join date

: 2015-02-02



This is a good tribute to Ben's work; i didn't realise how much he did. RIP'

CaKeLoveR




Posts

: 1441


Activity

: 1472


Likes received

: 31


Join date

: 2022-02-19



sandancer and crusader like this post
Ben certainly did give his whole to discovering the Complete Mystery of Madeleine McCann - that can never be denied..
As I said at the foot of the opening post, his research and theory do not necessarily reflect that of CMOMM and the MMRG but that can't deflect from his personal contribution.
And such sad cirumstances.
R.I.P. indeed

____________________
" The secret of life is honesty and fair dealing. If you can fake that, you've got it made" - Groucho Marx

Verdi

Forum Manager





Posts

: 28279


Activity

: 35414


Likes received

: 5907


Join date

: 2015-02-02



The Flack efit -key?
March 1, 2017 - Ben Salmon
This efit was made my Derek Flack on 05/05/07. For a long time, it has sat in a corner amongst a myriad of other 'less cited' efits in the case. For me, the reason the efit came to my attention was the statements of the Marais couple, at the Dolphin restaurant, who both confirmed that they saw the same man. Their sightings related to an earlier period in the week, when they saw him 'looking suspicious' in the phonebox adjacent to the Dolphin restaurant.
I covered the call records of the Dolphin phonebox here.
I believe I have discovered the identity of the Flack/Marais corroborated efit. For the sake of brevity I will not be looking at Flack's sighting in relation to the 'Madeleine Was Here' reconstructions, which were wholly innacurate, to the point they even changed the time of day. You can find Derek Flack's statements here.  
http://www.mccannpjfiles.co.uk/PJ/DEREK_FLACK.htm
To summarise briefly, he described witnessing a man standing at the corner of the parking lot opposite the Tapas reception, staring at apartment 5A. He also mentioned a dirty van was parked there but 'could not see the driver'. This sighting occurred either on the 2nd or the 3rd, in the afternoon. It is worth noting that on the morning of the 2nd, two workmen were fixing the blinds in 5A, and showing 'how to use the washing machine'.
However, this falls outside the time given by Flack. Flack was shown a photo of Barrington Norton, who had put himself there in his van. Flack did not confirm this was who he saw, however we must remember that Norton would have been in his van, so is in a sense irrelevant in identifying the efit.
Of the man, Flack said the following: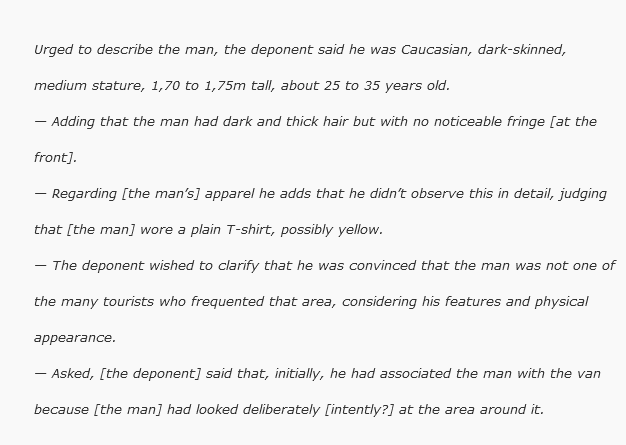 It is not clear why the efit has a prominent fringe, given Derek says the man did not have one. This is perhaps just because of the 'robot' software used, and limitations in choice.
Lizhelle Marais described him thusly: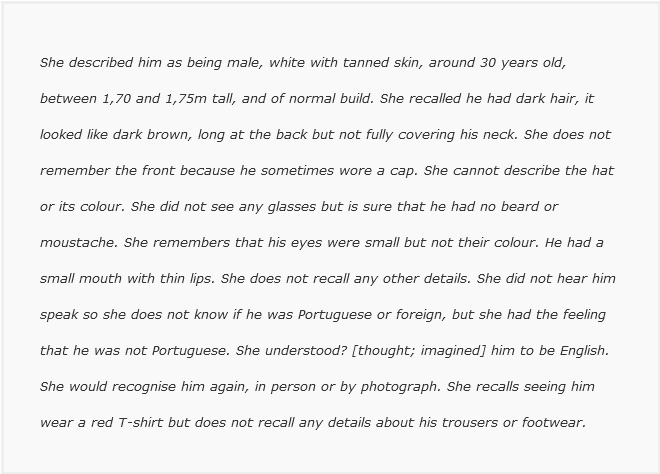 And Adriaan: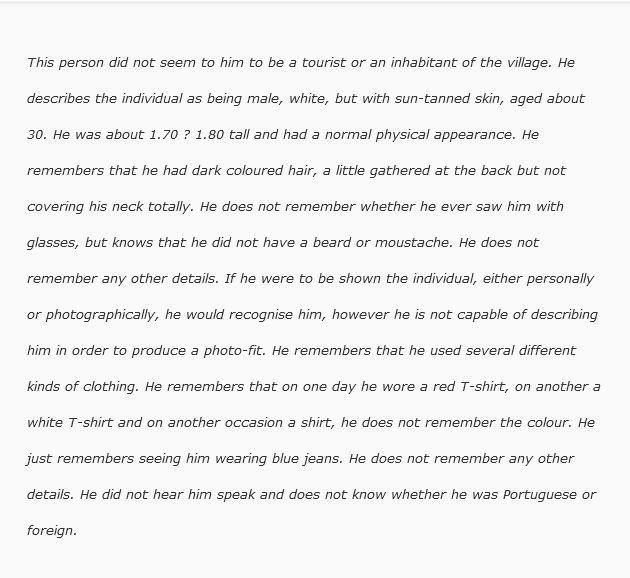 Naturally, given the different situations and vantage points, not every detail is going to be consistent. Lizhelle is the only one to mention a hat, for example. There are however a lot of agreements; approximate age, skin tone, hair, height, citing he didn't seem to be a tourist, etc.
It's the Dolphin phonebox that gave me my breakthrough here, so I will show it below for reference:
The Marais couple were specific about seeing the man around 16-1800, with the last occasion being 2-3 days before the 3rd. Looking at the 30th and the 1st, there is a consistency; the name Peter Hember (facebook link will be removed if this post is made public). Right at the top of Peter Hember's friends list, a name jumps out at me. It's one I recognise from Gerry's call records.
It is Luis Costa (ditto above, remove link if made public).
Luis is the owner of the 'Algarserra' airport transfer fleet.
Small resort though it is, I am surprised to see this link. I look closer at his photos and see a striking resemblance.
There are no photos of Luis before 2015, so I am unable to ascertain whether his hair was previously longer, however it is obvious that he often wears a cap, and the pattern of baldness on his head shows that his hair still grows at the back. There is also a similarity with the Tasmin Milburn efit, though the hair thickness is different between the two efits.
As mentioned, Luis is in contact with Gerry. Gerry always contacts him, and the first call between them occurs on June 5th. It strikes me that Gerry has a direct line to the owner, rather than dialling Algarserra directly. He later does dial Algarserra, but for the most part always calls Luis.
The call on June 5th is the first, and as I decode the call record for that day's outgoing calls (for Gerry), more things jump out. June 5th is the day before the Berlin/Amsterdam visits (they are back in Portugal on June 7th). There are several calls with Clarence Mitchell this week, including some which are dialled in a way that makes the number harder to distinguish. This was a week in which they travelled and made appearances so in a sense it makes sense that Clarence would be in touch, likely coordinating.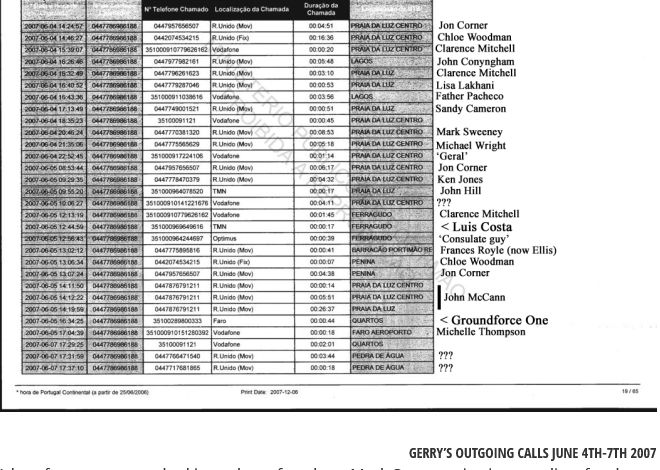 A lot of names are packed in to these few days. Mark Sweeney is picture editor for the Scottish Sun Newspaper. John Conyngham was a member of Control Risks Group. Sandy Cameron and John McCann are Gerry's family members. John Hill is the resort manager (again, why is his number not known to the PJ in the files?). A call to the local consulate. Media friendly pal Jon Corner who will later film the trip to Huelva and release the haunting 'makeup photo'. Michelle Thompson is Jon Corner's partner. Father Pacheco is the local priest.
But what really catches my attention is 'Groundforce One'. This number appears BUT ONCE in all of Gerry's call records. It appears as the fax number for Groundforce One in Cascais. Ostensibly the service they offer is 'business aviation handling'. It strikes me that The McCanns are visiting two airports in short order. Are they sending something ahead to Amsterdam (where they have good friends) while visiting Berlin first? The volume of calls to Dutch friends is large around the 6th and Gerry mentions meeting them.
What relevance does Luis Costa have to this call? Was he used as a 'gopher'?
On June 5th the old 'Eagles Eye' building is still extant. The McCanns have had their hire car for almost 2 weeks. Is this the time that Madeleine's body is moved? Was diplomatic business cargo somehow manipulated? What exactly needed this service on June 5th, given that there were plenty of trips out of Portugal after this?
Has Luis Costa ever been spoken to?
https://h42a.wordpress.com/

____________________
" The secret of life is honesty and fair dealing. If you can fake that, you've got it made" - Groucho Marx

Verdi

Forum Manager





Posts

: 28279


Activity

: 35414


Likes received

: 5907


Join date

: 2015-02-02



---
Permissions in this forum:
You
cannot
reply to topics in this forum