OPERATION INSIPID

Police Spied on Father of Cement Mixer 'Murder' Victim
DETECTIVES targeted a grieving father for exposing the corrupt police investigation into his son's suspicious death on a remote farm linked to organised crime.
A 'confidential' police report reveals Essex and Kent police were concerned about Les Balkwell confronting senior officers at their homes and embarrassing them through the media.
A senior management team authorised a secret operation codenamed Intrepid to discredit and silence Balkwell by putting him behind bars for perverting the course of justice.
The shocking revelations have echoes of the police spying operation targeting the family of murdered black teenager Stephen Lawrence at the height of their campaign for justice against the Metropolitan police. 


Les Balkwell (copyright Michael Gillard)
33-year-old Lee Balkwell was found wedged between the drum and chassis of a cement mixer on Baldwins Farm in Ockendon, Essex.
His boss, a local drug trafficker and gun runner, claimed the death was an accident while they were cleaning out the vehicle in the early hours of the morning on 18 July 2002.
Operation Intrepid was launched in 2013 just months after an excoriating report by the watchdog had concluded that Essex police's investigation was 'seriously flawed' and praised the family for its 'tenacity'. 
Balkwell suspected that corrupt policing had also undermined the incompetent investigation into his son's death. Police whistleblowers were supplying him
with information about criminal activities on Baldwins Farm.  
Essex, Kent and the Met police had failed to identify Balkwell's sources when Operation Intrepid was launched. It involved months of covert investigation into the grieving father and his adviser, retired solicitor Tony Bennett.
However, the Crown Prosecution Service refused to prosecute the pair on the grounds there was insufficient evidence and it was not in the public interest.
Balkwell, 74, only found out about Operation Intrepid last month. He told 
The Upsetter
 it supports a long held belief that his family home and phone were being monitored.
"I'm disgusted. They wanted something to discredit me because they are aware of the golden nuggets I hold. When they couldn't find out who my sources were they tried the other way."
The revelations emerged in documents disclosed to Balkwell after a High Court judge agreed in July to hear his plea for an outside force to investigate his son's death as a murder.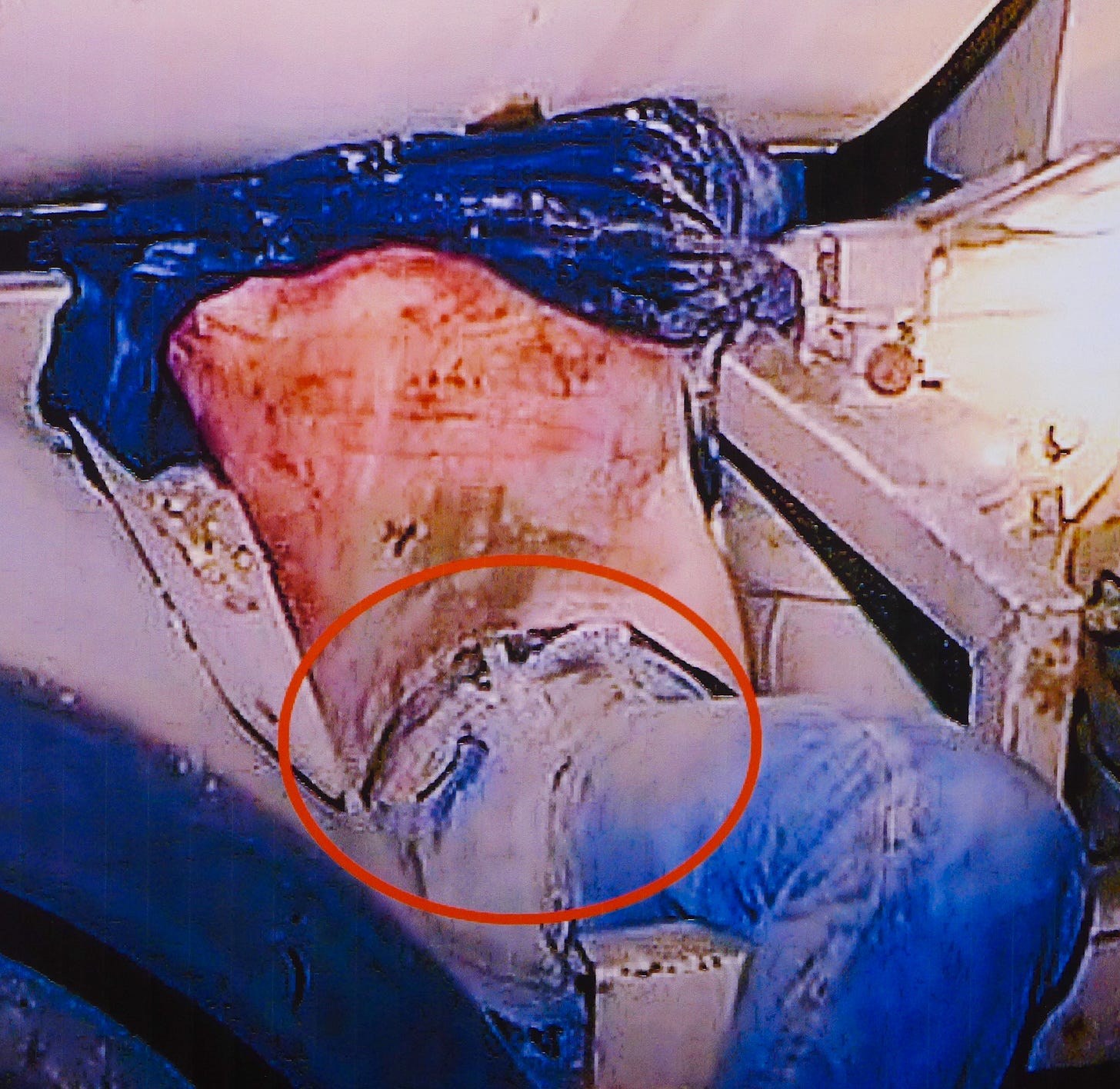 Lee Balkwell's body wedged between the drum and chassis
Essex police closed the case in 2018 and refuses to reopen it as a murder.
However, for the last 6 years Balkwell has been aided by a team of ex-Met murder detectives, forensic scientists and a leading human rights barrister.
The High Court will hear evidence next year that the crime scene at Baldwins Farm was 'staged' to look like an accident and that Lee was likely dead before he was wedged between the cement mixer drum and chassis.
Operation Intrepid will feature in the judicial review as an abuse of police power. Essex, Kent and the Met police are facing questions over who authorised it and why.
Balkwell drew comparisons with the Lawrence family, whose campaign for justice and legal action against the Met was infiltrated by undercover officers posing as anti-racist activists. 
Last night, he said:
"Given the outcry over the intrusion into the Lawrence family it should be the same with what the police did to us."
Portwing
Almost immediately after he discovered his son had died that night nineteen years ago, Les Balkwell was on to detective superintendent Graeme Bull about his investigation.
Although Balkwell didn't know it at the time, there was no strategy for retrieval of CCTV and phone data, no strategy for financial and intelligence gathering and the suspect, Simon Bromley, Lee's boss, was never forensically tested for drugs and alcohol.
Bromley maintained, and still does, that Lee's death was a tragic accident while the pair were cleaning out the cement mixer drum at 1am. He was never treated as a suspect even though Supt Bull had designated him as one on paper. 
Simon Bromley insists he is innocent of murder
The post mortem was another farce. It was incomplete and carried out by a discredited Home Office pathologist. Lee's clothes were destroyed hours later on police instructions.
Supt Bull submitted a thin file to the CPS without any witness statements taken from those first at the scene, the fire fighters and paramedics, who suspected foul play straight away.
Predictably, the CPS recommended no further action. It was almost as if Supt Bull wanted to put down the case with little chance of Bromley being prosecuted, even for manslaughter by gross negligence.
It was Balkwell's determination that led to a review of Supt Bull's efforts.
Detective Superintendent Simon Coxall was given a box of documents and told to see if there were any leads. He didn't ask for telephone records, made no policy file and again the CPS said no to any prosecution.
Eventually, Balkwell's complaints were passed to Essex police's Professional Standards Department in 2004. The Line of Duty squad decided there was nothing in the complaints and that the investigation into Lee's death was of an acceptable standard.
By now, the police felt Balkwell was a thorn in their side and difficult to 'manage', especially after he rebuffed an attempt to recruit him as an informant.
Significantly, Balkwell had become aware from a police source that an undercover operation codenamed Portwing was looking at Bromley and his associates for dealing drugs and selling guns from Baldwins Farm.
Balkwell was tipped off that intelligence had come out of that undercover operation suggesting Lee was killed because Bromley believed he was having
an affair with his wife.
This turned out not to be the case, but the fact Balkwell knew so much and was talking to the local media about a 'cover up' was a major concern to Essex police.
Operation Portwing ended successfully in 2006 with the jailing of Bromley for 8 years on drugs and gun charges.
Nereus
After an inquest jury into Lee Balkwell's death returned a verdict of 'unlawful killing' in 2009, Essex police did yet another review. This one looked very belatedly at forensic opportunities - which obviously had been largely lost because of the earlier inexplicable incompetence, if that's what it was.
The review was a snub by Essex police to the Independent Police Complaints Commission (IPCC), whose interim report had recommended that:
"Essex police consider appointing an external independent force to re-invesitgate Lee Balkwell's death."
Instead, assistant commissioner Andrew Bliss decided to get West Midlands to do yet another review of his force's work. In 2010, the West Midlands police recommendations were given to Kent police to address and discharge.
This review was not in any way a murder investigation or even an investigation into the death. It was called Operation Nereus.
Between August 2011 and July 2012, the Nereus team met Baulkwell and Tony Bennett, a colourful retired solicitor who was also challenging Essex police over its poor handling of the death in 2001 of Stuart Lubbock in Michael Barrymore's swimming pool.
Stuart Lubbock (l) and Michael Barrymore
Balkwell would meet the Nereus team at the Bluewater shopping centre in Kent or at a Ministry of Defence facility in Essex where the cement mixer lorry that his son had died in was stored.
The Nereus team of detectives did not like that Balkwell had been given access to sensitive documents by police sources - for example the entire Operation Portwing file, which he told them had been posted through his door.
A secret intelligence cell was already up and running trying to identify Balkwell's sources. It was also looking at any relevant police corruption in  Essex and the Met, covert activity around telephones and discreet financial enquires.
Lee Balkwell
Intrepid
Out of the blue, in November 2013 Operation Nereus charged Simon Bromley with manslaughter by gross negligence and conspiracy to pervert the course of justice and perjury for inconsistencies in his accounts since 2002.
Balkwell thought the prosecution was a corrupt decision to try and rescue Essex police's reputation without actually investigating the death as a possible murder. He made his feelings known to the Nereus team and told the CPS about his police sources alleging corruption had played a part in the failure to investigate the case properly.
The CPS directed Balkwell to Alaric Bonthron, the head of the Met's infamous anti-corruption squad of so called Untouchables.
Balkwell, however, refused to identify his sources unless they were given immunity from prosecution under the Official Secrets Act. This was rejected and in any event the Nereus intelligence cell had already identified one of the police whistleblowers, who was dealt with and later left the force.  
By late 2013, there was a growing consensus among police officers that Balkwell and Bennett, who had made no secret he was writing a book on the case, were a problem.
The pair's many time consuming complaints against senior officers that had to be investigated, the turning up at the doors of senior cops, the visiting of witnesses who had been interviewed by the Nereus team, the bad mouthing in the local media and on the website and youtube were becoming too much.
Documents show a feeling was developing that something needed to be done about the pair. Something serious. Words and warnings were not working. Trust had broken down irreversibly.
But there was a problem. Balkwell had received a boost when the IPCC, the police watchdog, released its final report in 2012 that Essex police's inquiry into Lee's death was 'seriously flawed' and the family's campaign for justice should be lauded for its 'endurance and tenacity.'
Despite this, a decision was taken at a high level to launch a covert operation codenamed Intrepid to deal with the Balkwell problem.
What is known from internal documents is that a 'Gold command group' of senior officers with oversight of Nereus included at various times assistant chief constable Bliss of Essex and deputy chief constable Alan Pughsley of Kent, a former Met Untouchable with an interesting past in anti-corruption work.
Pughsley was replaced by Gary Beautridge, who in turn was replaced by Rob Price. The senior investigator on Nereus was Detective chief superintendent Lee Catlin, who on his retirement from Kent police in December 2012 was replaced by detective inspector Janine Farrell.
According to a 'confidential' report dated July 2015 by Farrell, she 'commissioned' Operation Intrepid and Price was copied in on her reasons, which was to protect the forthcoming manslaughter prosecution of Simon Bromley.
Essex and Kent police had taken the view that by talking to witnesses, Balkwell and Bennett were doing a 'criminal' act of perverting the course of justice.
Tony Bennett
It is an established principle in British law that there is no property in a witness and Balkwell said he was simply trying to discover the truth in the face of official intransigence and incompetence.
Another part of DI Farrell's rationale for launching Operating Intrepid was that Balkwell was using the media and undermining the good name of the police and judicial system.
The detective also felt it would leave the police open to criticism if while prosecuting Bromley for perverting the course of justice, Balkwell was not investigated for doing the same.
In the end, only a manslaughter charge was put before a jury in October 2014 and even then Bromley was acquitted because of failings in the early police investigations.
The jury did however convict him of minor health and safety violations and possession of cannabis, for which he got 3 years.
DI Farrell had also sent a file on Balkwell and Bennett to the CPS. But she writes that the CPS refused to prosecute the pair on the grounds of an insufficiency of evidence.
The CPS also felt it was not in the public interest to prosecute a victim of crime who would argue in front of a jury that he was just trying to expose injustice.
Dirty Tricks
Various questions are now swirling around Les Balkwell's head. Was his home and car bugged? Were his phones tapped? Was he followed? Have his finances and phone records been trawled for evidence of skulduggery?
The inevitable consequence of long family campaigns for justice is that grief mixes freely with the stress of not being believed and leads to a deep anger towards the authorities who failed you that can turn inwards.
Les Balkwell admits he suffers from 'paranoia'. For years he carried a brown leather bag everywhere containing dog-eared police documents to prove to anyone who would listen that he was not a nutter.
His distrust of the police is justified and that's why he refused to give up his sources. He also played tricks on detectives to see if he was under surveillance. He recalls one day sitting outside by the kitchen window and telling his brother a rehearsed piece of information about the case to see if it ever came back in police documents. It did, he says.
There are many questions about Operation Intrepid that the family's lawyers intend to raise at the judicial review hearing at the High Court next year.
Given that the operation crosses three police forces - Essex, Kent and the Met - none of them can be considered independent enough to investigate the death of Lee Balkwell, if that is what the High Court directs should happen. 
Adam Hunt, the Essex police lawyer handling the judicial review, was across Operations Nereus and Intrepid. He has instructed a heavyweight barrister, whose argument for opposing a review of the decision to close the Balkwell case could be summed up as follows:
Yes we fucked up, fucked up real bad. And then we fucked up again. But then we fucked up less and soon we were done fucking up. In fact in the last ten years no stone has been left unturned looking into this terrible tragedy. Trust us when we say there is no chance of finding any new evidence of murder - because we fucked it so badly in the first place and could never recover the position.That said, there's nothing sinister in what we did, so no one needed to fall on their truncheon. Its just one of those things that happened back then. We are all very sorry and lessons have been learned.
Asked to comment on concerns that Operation Intrepid amounted to an abuse of police power to silence a grieving father and chief critic, a spokesperson for Essex police said:
"The investigation into the death of Lee Balkwell is currently subject to a judicial review and as such it would be inappropriate for us to comment."
And so it goes.

____________________

Dr Martin Roberts: "The evidence is that these are the pjyamas Madeleine wore on holiday in Praia da Luz. They were photographed and the photo handed to a press agency, who released it on 8 May, as the search for Madeleine continued. The McCanns held up these same pyjamas at two press conferences on 5 & 7June 2007. How could Madeleine have been abducted?"
Amelie McCann (aged 2): "Maddie's jammies!".  

Tony Bennett

Researcher




Posts

: 16808


Activity

: 24661


Likes received

: 3744


Join date

: 2009-11-25


Age

: 75


Location

: Shropshire



Jill Havern and sequested like this post
---
Permissions in this forum:
You
cannot
reply to topics in this forum