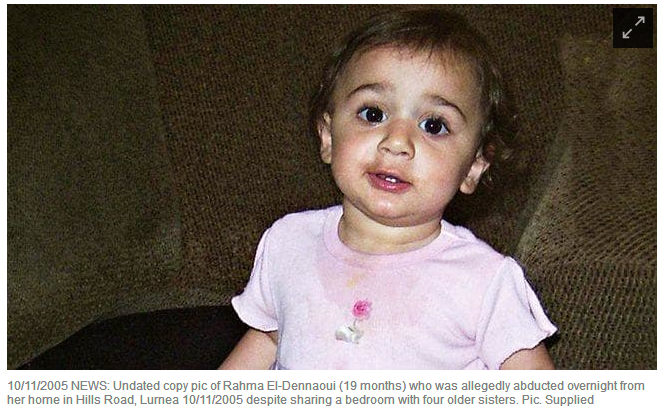 Posted on CMOMM facebook:
Many of you will not have heard of Rahma El-Dennaoui, the Labanese Australian toddler who vanished from a bedroom she shared with her siblings almost 13 years ago.
To date, nobody has been charged. No body has been found. The actual crime is still unknown.
The parallels are startling.
https://www.google.com.au/…/b5adfee1118c724cc2191cb4ede2efb1
https://truecrimediva.com/rahma-el-dennaoui-taken-night/
Mum defends laughing about missing daughter:
http://mobile.abc.net.au/news/2012-11-06/mother-laughed-about-disappearance2c-inquest-hears/4355836
https://www.facebook.com/groups/JillHavernCompleteMysteryofMadeleineMcCann/permalink/2166437473600734/
____________________
PeterMac's FREE e-book
Gonçalo Amaral: The truth of the lie
CMOMM & MMRG Blog
Laughing?  Maybe they were told not to show any emotion in case it influences the abductor, just like the McCanns

And of course, it's natural for a human to be able to switch off their emotions in such traumatic situations-  we're all natural actors.  Aren't we?
I haven't read the article yet and before I do the burning question has to.be how many parents of allegedly abducted children are advised to show no emotion.

____________________
PeterMac's FREE e-book
Gonçalo Amaral: The truth of the lie
NEW CMOMM & MMRG Blog
Sir Winston Churchill:
"Diplomacy is the art of telling people to go to hell in such a way that they ask for directions."

Liz Eagles




Posts

: 10944


Activity

: 13351


Likes received

: 2216


Join date

: 2011-09-03



---
Permissions in this forum:
You
cannot
reply to topics in this forum