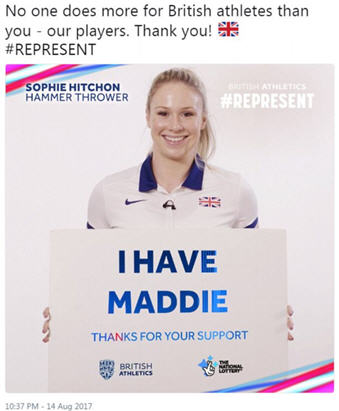 http://www.dailymail.co.uk/news/article-4790826/Sick-trolls-hijack-Twitter-campaign-athletes.html
Vile trolls ruined a National Lottery Twitter campaign to thank UK fans at the World Athletics Championships by using rude phrases and making light of serious issues such as the disappearance of Madeleine McCann
The general public are NOT amused by this case.
1 .  Someone bothered to do that.
2. The Mail printed it .  ! ! ! ! They didn't have to,  There are other examples, but they put Maddie first.





Posts

: 12101


Reputation

: 5674


Join date

: 2009-11-25


Location

: parallel universe



How dare people make light of things!

Personally I believe in free speech and think humor helps us deal with things as a society. Yes not everyone likes the humor or believes it to be in good taste.

  The trend to be 'outraged' and 'offended' by everything is part of the pc / self censoring agenda IMO.



Posts

: 1334


Reputation

: 467


Join date

: 2013-06-15



It depends who created this stuff.

Think tattoos.

Same crap, different day.



Posts

: 4674


Reputation

: 2445


Join date

: 2014-06-06



Just saw this on the BBC about Ronaldo being suspended.
190. Posted bychi11e

on

5 minutes agoKeep him banned and whilst he is, ask the little wretch where his family have Maddy?
Greasey no good ladyboy
I absolutely do not believe that was a genuine post and that is part of the campaign to make us all look like nutters by association and the general clampdown on "hate" on the internet.
There are people and Governments out there with enough money too fund this crap.
What a game.
I hate Alex Jones and Infowars... but he has a slogan "there is a war on for your mind"... that much is true.
David Icke is another who I don't have much time for but he came up with "problem... reaction... solution"... also true.



Posts

: 4674


Reputation

: 2445


Join date

: 2014-06-06



---
Permissions in this forum:
You
cannot
reply to topics in this forum