There's a new suspect in the disappearance of Maddie McCann
by
Joana Morais
6 hrs ago
English Police received more funds to follow new leads that could point to a Portuguese citizen.
Meeting: Kate McCann (right) talks to the Duchess of Gloucester (left), Home Secretary Theresa May (2nd left) and chief executive of Missing People Martin Houghton-Brown (Photo: PA) | Source Mirror
by Pedro Zagacho Gonçalves
The English investigators who are in charge of the case of the disappearance of Madeleine McCann, the girl who disappeared in 2007 in Praia da Luz, Algarve, have received more funding for the investigation to last at least until September.
The police has leads pointing to the existence of a new suspect. The investigation funding would be suspended soon, in the coming weeks (in April 2017), but now the British government has approved an extension of more than 96,000 euros for the probe of this new suspect, who could be Portuguese.
The man was spotted near the Ocean's Club, where Kate and Gerry McCann were with their children at the time of the little girl's disappearance. The English police are getting ready to interrogate the new suspect.
"I am pleased to be able to support the British police who are trying to get to the bottom of what happened to Madeleine McCann and give some kind of closure and justice to her family", said the Minister for Policing, Brandon Lewis, this Saturday.
"Following the request for new funds from the Metropolitan Police, 85,000 pounds were made available to support the costs of the Grange Operation, which will be extended from April to September 2017", the spokesman (Home Office spokesman) for the British government said.
So far, the investigation into Maddie's disappearance has already cost the British coffers more than 12.5 million euros (real figure is
£11.05m
, that is €13.1m). Kate and Gerry McCann, parents of the English girl, also have a fund of more than 800 thousand euros (
£714,000
).
Some of this money will have been used to pay (it wasn't paid yet since there
is a complaint against the STJ ruling
) the legal costs of the lawsuit that the couple filed - and lost - against Gonçalo Amaral, the former PJ inspector.
Madeleine McCann disappeared almost 10 years ago, on May 3, 2007.
in
Correio da Manhã, March 12, 2017Note: everything between brackets my personal observations.
Only have this to say on this matter: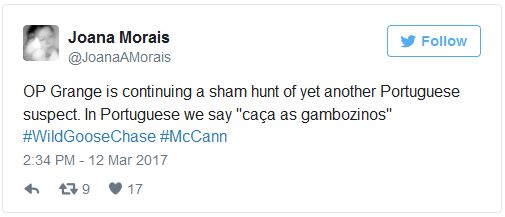 https://joana-morais.blogspot.co.uk/2017/03/theres-new-suspect-in-disappearance-of.html

DocMartin




Posts

: 39


Join date

: 2011-01-15



---
Permissions in this forum:
You
cannot
reply to topics in this forum