By James Murray
DEVASTATED Gerry McCann wants police to reopen their investigation into the disappearance of his kidnapped daughter Madeleine.
The heart specialist said: "At the minute there is no law enforcement agency actively looking for Madeleine – looking at the evidence, saying: 'Where are the gaps and what more can we do?' That's what we need."
http://www.express.co.uk/posts/view/94629/Gerry-Mcann-Reopen-hunt-for-Maddie
Yard asked to reopen case 8.11.09
http://www.express.co.uk/posts/view/138901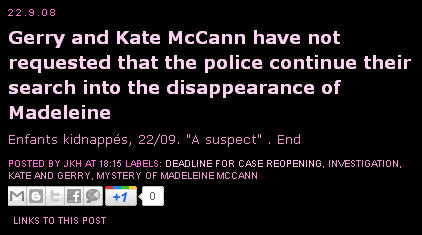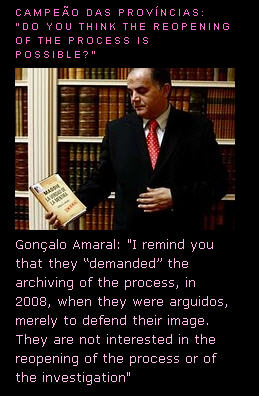 http://gerrymccan-abuseofpower-humanrights.blogspot.com/
Gonçalo Amaral: "I remind you that they "demanded" the archiving of the process, in 2008, when they were arguidos, merely to defend their image. They are not interested in the reopening of the process or of the investigation, where all hypotheses remain open, from a voluntary disappearance up to homicide, like the Public Ministry mentions in the archiving dispatch. They are only interested in the defence of their image."
Full interview
http://joana-morais.blogspot.com/2010/02/goncalo-amaral-executive-power-is.html?utm_source=feedburner&utm_medium=feed&utm_campaign=Feed:+JoanaMorais+(Joana+Morais)&utm_content=Twitter





Posts

: 12263


Reputation

: 5691


Join date

: 2009-11-25


Location

: parallel universe



Yeah, one of those moments the only conclusion can be that they are guilty as hell.

But no-one, not a single soul, has asked them, when Gerry does his whiny "nobody is looking for her", why didn't you request for the process to stay open?

I believe many in the UK would look with complete different eyes to them, knowing they had the opportunity to keep the investigation to stay open and had it shelved to save their sorry a$$es.

Talking about questions never asked: I would love to see a list of questions interviewers were not allowed to ask, that would give an interesting picture too!



Posts

: 3327


Reputation

: 200


Join date

: 2009-12-01



Came across this neglected topic with just the information I'd been looking for -  the demand for the SY review.
It occurred to me that in 2007 they wanted the FBI, in 2009 they wanted SY.
I can imagine that the LP might not have been popular as they developed evidence against the McCanns, the PJ wasn't asked to re-open the investigation or do anything at all. TM preferred to give the impression that the case had been closed with the admission of their innocence by the PJ.
So was this insistence on SY  to  purify them so to speak?
This is also relevant and quite interesting.
https://jillhavern.forumotion.net/t4706-the-real-reason-for-the-sy-investigation
____________________
Lasciate ogni speranza, voi ch'entrate.



Posts

: 8114


Reputation

: 54


Join date

: 2011-07-20



---
Permissions in this forum:
You
cannot
reply to topics in this forum