Madeleine v Euclides Monteiro phone call
by Sandra Felgueiras/Patrícia Lopes/Paulo Lourenço/Samuel Freire RTP 2 May 2014
Tonight we will show you the alibi of the main suspect of this case that lead to the reopening of the process by the Judiciary Police six months ago. In an exclusive interview to 'Sexta às 9' [RTP news program 'Friday at 9'] Euclides' widow states that just one hour before Madeleine disappeared her husband wrote a poem for which there is a computer record [metadata/ e.g. Last time a text document was saved on a computer]. The Cape-Verdean, who would be today 46 years old, was elected as a suspect 5 years after he died tragically in a tractor accident. His criminal record shows a 5-year prison term for housebreaking and burglary in Albufeira about 20 years ago, yet there is not a single line written about child sex abuse – the new hypothesis put forward by the PJ and the English police as the possibility that lies behind the disappearance of the world's most high-profile child.
Transcript
'Cláudia', Euclides Monteiro's widow pseudonym reads one of the poems of her late husband's posthumous book titled 'Drugs, Life experiences and Dreams'. She concludes the reading of the poem – that can only be described as having a religious nature – by reading the date of when it was written: "…3rd of May 2007, 21h00 – it was this one that I found and I was very pleased to have this evidence."
Lower third: RTP Exclusive – Widow of PJ's main suspect in the Maddie case shows alibi of husband
Sandra Felgueiras (Voice over) – It's the alibi that the Judiciary knows nothing about. Seven years after the disappearance of Madeleine, Euclides Monteiro's widow scrolls through his poems on the computer that were recently published in a book. She never showed them to anyone, not even to the PJ team that questioned her in October.
"You have never even shown that book to the Judiciary Police?"
'Cláudia' – No.
Sandra Felgueiras [SF] – You never told the PJ that you had that registration date at 9pm?
'Cláudia' [C] – At the time I didn't know, I searched [the computer] and then I found it.
SF – You were expecting for the Judiciary Police to get in touch with you, but they never contacted you again…
C – Exactly, I was questioned only one time by the Judiciary Police of Porto. (…) This book was made as a diary, a way to express his feelings, ambitions, dreams…
SF – So, he wrote regularly, every night?
C – With regularity, practically every night, at any time.
Lower Third : Euclides Monteiro left a computer record [metadata] at 9pm of May 3, 2007
SF – With 41 years old and with a son of Madeleine's age, 'Cláudia', a fictitious name, does not accept the shadow of suspicion cast on her husband. For the first time, since the process was reopened in Portugal, she decided to break the silence and tell us all about the evidence that lead the PJ to Euclides Monteiro after his death.
Lower Third: PJ had already questioned Euclides regarding sexual abuse of minors in 2008
C – They [PJ] associated one phone call made in the Praia da Luz mobile network area.
SF – On that night of May 3 2007?
C – Yes, however we lived at that time, about 2km from Praia da Luz as the crow flies [in a straight line], the antenna are those over there – points to the cell phone towers at the top of hills behind Sandra .
SF – Which we can see right now.
C – Which we can see right now, yes, and that could have captured the signal even from our own home.
SF – He had worked at the Ocean Club before.
C – Yes, he worked there in the previous year for 3 months. Euclides didn't drive [a car], he drove a scooter to his work. I can't see how – in a village like Praia da Luz, well lit up – was possible for a person to carry a child on foot or in a scooter without being seen.
SF – You don't admit in any way the possibility of your husband leading a double life?
C – No, that is impossible.
SF – In the book which you have published after his death, he speaks about you as his soul mate…
C – I knew about his whole life in detail, he was present in my daily life in such a way that it would have been completely impossible for him to have hidden those facts from me. If that had happened I would have seen something, or suspected about something and I never did.
Lower Third: Euclides DNA tests made in 2008 were negative.
The following are comments by Joana Morais.
Synopsis/ quick highlights: Euclides Monteiro has an alibi for the time when Maddie disappeared, his DNA was tested back in 2008 and no matches were found, he does not have a record of child sex abuse. In Algarve there are no official police records of a "man who allegedly targeted only British children" and who broke into Britons houses to specifically sexually abuse their white, blue-eyed and blonde little English girls as described by DCI Andy Redwood in his latest media performances, nor have any of the locals or the British expat community have any recollection of such events taking place in the past 10 years. Euclides Monteiro's widow has lost her job in the consequence of the exposure of her name in the UK media (Mirror, Daily Mail, Daily Star, etc). Euclides Monteiro's alibi is a poem that he wrote at 21h00 of 3rd of May 2007, that his wife found in the computer, a series of poems that were now published posthumously.
Euclides Monteiro's mobile phone ping traced by the PJ in the cell phone antennas of Praia da Luz on the 3rd of May 2007 is also explained by the Monteiro couple living close by those antennas towers as seen in the video, so Monteiro's cell phone would ping anyway. Monteiro was arrested for 5 years circa 20 years ago for housebreaking and burglary in the area of Albufeira (Algarve) when he was still an addict, since then he overcome his addiction and was never arrested again. The Monteiros have a son that is Maddie's age, Euclides' widow fears more repercussions and appears in the video under a pseudonym. Also Euclides only drove a scooter, he did not own a car – a bit impossible to 'kidnap' a child on a scooter. Several people appear in the video, from Bragança [North of Portugal] where he lived from the 70's till the 90's, attesting that he was a good man despite the troubled life he led later on. Euclides' sister appears again accusing the current PJ investigation lead by Helena Monteiro of taking the easy route and pinning Madeleine's disappearance on a dead man!
Here ends the information replicated from Joana's blog. The following are my comments, not Joana's or Sandra's.
I cannot find a working link to the interview, so I am restricted to one small still, and the transcript above.
I do not recognise the location used for the interview. Perhaps it was stage managed for dramatic effect, rather than being an accurate documentary.
What I can say is the Luz phone masts do not stick out like sore thumbs. They are actually quite hard to eyeball. The single small still of Sandra shows two wooden telephone poles, but nothing like a cellphone tower.
As far as I know, Euclides Monteiro lived in Portelas when Madeleine disappeared. If so, that is not 2km from the Luz mobile phone masts. While I have yet to plot it, Portelas would have had a nearer phone mast of its own, rather than using Luz. That means Monteiro's phone traffic would normally appear outside of the range of the Luz masts, which in turn means an outbound call registering inside the Luz cell dump is significant.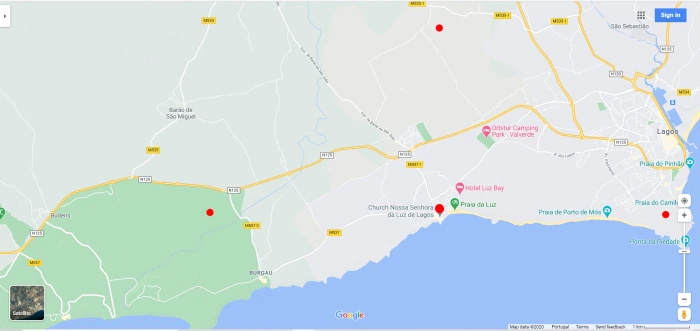 However, this still does not get us past the fact that the Luz phone mast dump does not place a mobile user within Luz itself, just in range of the cell mast. Moreover, it does not preclude the fact that Euclides Monteiro may have had a genuine and innocent reason for being in Luz at that time, like many other people.
In any case, Porto PJ seem to have ceased interest in Euclides Monteiro.
Saved from https://joana-morais.blogspot.com/2014/05/rtp-exclusive-interview-of-euclides.html

____________________
" The secret of life is honesty and fair dealing. If you can fake that, you've got it made" - Groucho Marx

Verdi

Forum Manager





Posts

: 29238


Activity

: 36389


Likes received

: 5911


Join date

: 2015-02-02



---
Permissions in this forum:
You
cannot
reply to topics in this forum