Mark Saunokonoko is a well respected Australian senior journalist based at Australia's 9NEWS.  Mr Saunokonoko is not a member of CMOMM or the MMRG, he has however called on the expertise of both CMOMM members PeterMac and Paulo Reis, in addition to basing much of his work on the research of CMOMM members and other commentators across social media.
Over a period of years, he has researched and worked on a series of podcasts concerning the case of missing Madeleine McCann. The podcasts have very recently been broadcast and can be heard here:
Podcast 11: May 3
What happened to Madeleine McCann that night in Room 5A of the Ocean Club Resort? In its final episode, Maddie explores and tests the theories which attempt to explain how a small three-year-old girl has been missing since 2007.
1:04:14 May 9, 2019 4:13 AM
Podcast 10: Goncalo Amaral
A rare interview with the former Portuguese lead detective opens up new perspective on the cold case, the UK police investigation and where it might be heading.
35:29 Apr 30, 2019 6:47 AM
Podcast 9: A Door Marked Closed
The fight to control the narrative of a wild and explosive story.
47:24 Apr 15, 2019 3:39 AM
Podcast 8: The Missing Calls
Police explore what appears to be unusual activity on Kate and Gerry's mobile phones.
42:57 Apr 8, 2019 6:33 AM
Podcast 7: The Courtroom
Never heard before court audio reveals the battle and consequences of the McCanns' feud with lead Portuguese detective Goncalo Amaral.
42:38 Apr 1, 2019 5:43 AM
Podcast 6: The DNA
One of the world's leading DNA scientists says he can now answer a critical forensic evidence question which baffled investigators in 2007.
40:39 Mar 25, 2019 3:04 AM
Podcast 5: Eddie and Keela
Two British sniffer dogs arrive in Portugal to hunt for Madeleine. The dogs alert in a number of locations.
41:29 Mar 17, 2019 11:54 PM
Podcast 4: Man with No Face
The investigation continues. A late night encounter on a dark street blows open thinking about the case. Could it hold the key to the Maddie mystery?
41:30 Mar 11, 2019 12:19 AM
Podcast 3: Red Flags
The investigation begins. But Portuguese police have questions about evidence that supports the family's claim Madeleine was abducted.
44:10 Mar 4, 2019 1:27 AM
Podcast 2: They've Taken Her
Madeleine McCann and her family travel to Portugal with a group of friends who will become known as the Tapas 7. On the sixth night, Maddie vanishes.
42:15 Mar 4, 2019 1:01 AM
Podcast 1: Maddie
The Maddie podcast series explores what many believe is the well-known story of Madeleine McCann's disappearance but this is an investigation of the evidence which could make you question everything you thought you knew about the case.
01:05 Feb 21, 2019 12:36 AM
https://omny.fm/shows/maddie/clips
----------
Description
A German prosecutor goes public with earth-shattering news that Madeleine has been murdered by a new prime suspect. But what is the 'concrete evidence' that points to her death, and does it stand up under close scrutiny?
https://omny.fm/shows/they-ve-taken-her/maddies-dead?fbclid=IwAR2T39t0bnEYEWBOihStvoVKYmqpGoQEl9AjjzXq3HVmKQyTOXo4ELxQfgY#sharing
----------
Update: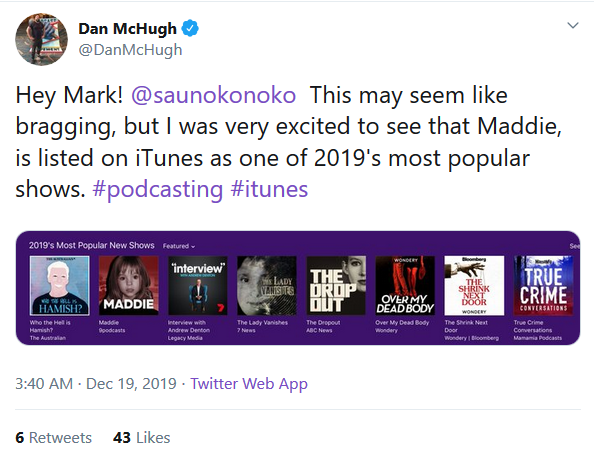 https://www.9news.com.au/maddie
https://twitter.com/DanMcHugh/status/1207505950128500737

____________________
" The secret of life is honesty and fair dealing. If you can fake that, you've got it made" - Groucho Marx

Verdi

Forum Manager





Posts

: 29371


Activity

: 36524


Likes received

: 5911


Join date

: 2015-02-02



---
Permissions in this forum:
You
cannot
reply to topics in this forum