Crocodile tears of a TV actress: How ex-EastEnders extra Jennie Gray faked sadness in police interview to protect partner who murdered six-year-old daughter Ellie Butler in a fit of rage


Ellie Butler, six, was brutally murdered by her violent father Ben Butler at home 

She suffered catastrophic head injuries and her father was jailed for life in 2016

Her mother Jennie Gray attempted to protect Butler by lying to police officers

Gripping footage shows Gray's crocodile tears as the actress defended the killer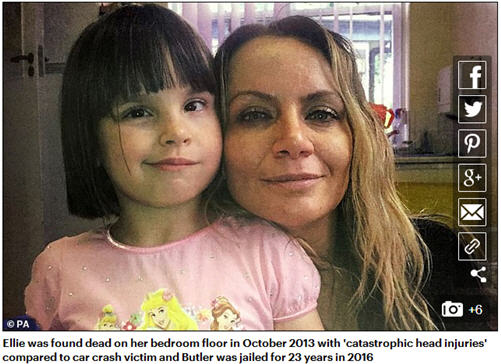 The crocodile tears of a former
EastEnders
actress who protected the partner guilty of murdering her six-year-old daughter have been laid bare for the first time.
Jennie Gray used her acting skills to fake sadness in a police interview after tragic Ellie Butler was killed in a fit of rage by her violent and abusive father Ben Butler. 
Body language experts have now revealed Gray gave away crucial clues that she was lying during the interrogation  - including holding a tissue as a prop without shedding any tears and her failure to say her daughter's name in any of her answers.
Ellie was found dead on her bedroom floor in October 2013 with 'catastrophic head injuries' compared to car crash victim and Butler, 38, was jailed for 23 years in 2016.
Gray, 38, was convicted of perverting the course of justice after trying to 'cover-up' to protect the sadistic Butler, in footage which can be seen here for the first time.
In a new documentary, Faking It: Tears Of A Crime, experts in psychology, body language and speech analyse the footage of Gray, who claims: 'I don't believe Ben's done anything to her'.
While the experts also reveal how a tiny head nod and a brief smile gave away the truth, and even suggest Gray gets a kick out of trying to deceive the police.
Body Language analyst Cliff Lansley said there is no doubt that Butler killed Ellie.
'I'm pretty convinced the damaged was created by contact with a hard surface of the floor [sic]. His body has told us that.' 
Ellie's tragic story began in 2009 when Butler had taken her to St Helier Hospital in south London with serious head injuries when she was just six weeks old.
Doctors quickly diagnosed bleeding on the brain, bleeding in the eye and swelling of brain tissue - all indicators of a deliberately shaken baby.
The little girl was also found with burn injuries on her forehead and hand, which Butler claimed were the result of her rolling off a pillow and hitting a radiator while he was looking after her.
Police investigated and the couple were arrested. But although Gray was later told she faced no further action, Butler was convicted in March 2009 at Croydon Crown Court of grievous bodily harm and cruelty.
Almost immediately after being sentenced to 18 months behind bars, Butler launched an appeal. Three months later, he was released so he could fight his case, which was based largely on the findings of the second team of medics.
The conviction was quashed in 2010, with Lord Justice Moses criticising the original trial judge for failing to properly explain to the jury that Ellie had made a full recovery.
After Butler's victory, his confidence grew. By this point, Ellie had been taken into the care of the London Borough of Sutton before being placed with her maternal grandparents.
Butler was only allowed supervised access to Ellie for two hours, twice a year, at a social services contact centre, while Gray was only allowed access six times a year, because of her continual support of her abusive husband.
The pair then fought an audacious and very public battle to win back their little girl.
In a series of interviews about their alleged ordeal, they lambasted officials for 'stealing' their child without any justification.
It then led to the the family courts where in October 2012 Mrs Justice Hogg made court order exhonerating Butler and Gray and returning Ellie to their care.
At the time, Mr Gray, who had cared for Ellie since she was a baby, warned the judge she would have 'blood on her hands'.
After Ellie was returned to her parents she suffered a series of bumps to the head which the couple put down to 'clumsiness' and falling on the stairs.
In October 2013, she broke her shoulder bone but neither Butler nor Gray sought medical treatment for her.
And weeks later she was murdered in an 'extreme' and 'catastrophic' beating.
Butler had claimed Ellie sustained the horrific injuries when she hit her head as she was jumping up and down in her bedroom while watching Peppa Pig.
But prosecutors insisted Ellie's injuries were too 'extreme' and 'catastrophic' to have been caused by an accidental fall.
The back of Ellie's head was a 'boggy mass', the court heard, and a post-mortem examination attributed her death to Butler either beating her over the head with a heavy object or throwing her against the floor or wall.
Butler's excuses: How Ellie's father tried to blame Peppa Pig and a Jack Russell for her injuries
Ben Butler caused Ellie Butler's horrific injuries by hitting her over the head with a blunt object or flinging her against a hard surface, according to the jurors' verdict.
Here are some of the alternative scenarios put forward as Butler desperately tried to avoid responsibility:


Peppa Pig. Butler's defence team suggested the children's DVD was playing in Ellie's bedroom. They said Ellie could have copied the cartoon character who jumps in puddles. In the 999 call, Butler says Ellie has 'fallen down'.

Minnie the Jack Russell puppy. Butler said he was convinced Ellie suffered her head injury around October 10 or 11 when she fell chasing Minnie on the stairs. He suggested this injury caused her later death on October 28.

Pink Disney Princess child's stool. The 24in high three-legged chair was found upturned by Ellie's body. A defence expert suggested it was possible for her to fall from such a height and suffer a fatal injury - but not two. The prosecution said the scene had been staged.

Butler claimed Ellie was physically more fragile than other children. He alleged she had a skull fracture while in the care of others, including her maternal grandparents. A medical expert could not say how old the fracture was.

The police. Butler accused investigators of trying to frame him as he had embarrassed them by winning his appeal over the 2007 baby-shaking case. However, Detective Inspector Dave Reid rubbished Butler's claim, saying the evidence against him was 'overwhelming'.

Medical bias. Butler ranted about the 'medical Mafia', saying the establishment was set against him.

https://www.dailymail.co.uk/news/article-6418321/Jennie-Gray-faked-sadness-police-interview-protect-child-killer-partner.html
____________________
PeterMac's FREE e-book
Gonçalo Amaral: The truth of the lie
CMOMM & MMRG Blog
---
Permissions in this forum:
You
cannot
reply to topics in this forum