http://www.dailymail.co.uk/news/article-1270909/McCanns-pray-missing-daughter-Madeleine-mark-anniversary-disappearance.html
McCanns pray for missing daughter Madeleine as they mark third anniversary of her disappearance
By Vanessa Allen
Last updated at 2:22 AM on 3rd May 2010
* Comments (9)
* Add to My Stories
Madeleine McCann's anguished parents prayed for their missing daughter yesterday as they prepared to mark the third anniversary of her disappearance.
Kate and Gerry McCann attended a Mass at their local church with their five-year-old twins Sean and Amelie, ahead of today's sad anniversary.
The couple released new family photographs of Madeleine at the weekend, showing the three-year-old playing at dressing up in blue eyeshadow and a pink hairband.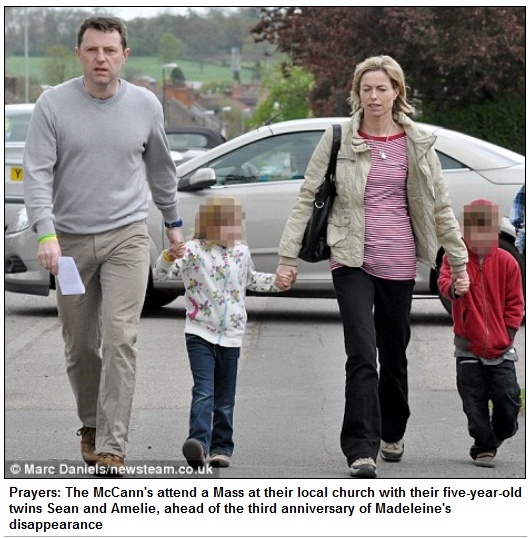 Mrs McCann, 42, clasped hands with her twins as they walked to church in their home town of Rothley, Leicestershire.
The family wore yellow and green 'Find Madeleine' wristbands and released a short film on their website, showing their ongoing search for the missing schoolgirl.
More...
* Madeleine plays dressing-up: New image as McCanns fight to reopen case
Mr McCann, 41, and his wife looked drained as they prepared to face today's anniversary, which they have said they will mark in private.
Madeleine vanished during a family holiday in the Portuguese resort of Praia da Luz, on May 3, 2007.
Her parents believe she was abducted from their rented holiday apartment while they ate dinner with friends at a nearby restaurant.
They told last week how they had explained Madeleine's disappearance to her brother and sister, telling the youngsters that a 'naughty man' stole the schoolgirl.
Police forces around the world have followed up thousands of leads and possible sightings of the little girl, but there have been no confirmed sightings since her disappearance.
The McCanns travelled back to Portugal last week to ask police to reopen their investigation, which was shelved in July 2008, when the couple were formally cleared as suspects.
The couple have spearheaded a high-profile search to find their daughter, but have told of their frustration that no police force is actively looking for Madeleine.
In a poignant message to her daughter, Mrs McCann said: 'We love you very much, Madeleine, and we're not going to stop what we're doing.'
* Information about Madeleine's disappearance can be passed to the McCanns through their website, www.findmadeleine.com, or by calling their investigation line on 0845 838 4699 (corr).
Comments
Really! Really the McCann's should stop blaming the Portuguese and UK police for not finding their daughter.
They should remember it was entirely their actions that allowed their daughter to be abducted.
They should stop hassling the police and give attention and time to their other children.
- nodrog, leyburn england, 3/5/2010 9:29
Click to rate Rating 51
Report abuse
maybe they should have stayed with their children, that's what a lot of normal people do.
- wayne, KIRKBY, Knowsley,Merseyside, 3/5/2010 9:16
Click to rate Rating 52
Report abuse
The McCann's must let go with this obsession for their missing daughter.
They should concentrate every energy on their twins or they could quite easily start to suffer mentally as they grow older.
Had the McCann's not put pleasure above the safety of their children they would still be a full family. They are fortunate that they still have the twins as they could easily have disappeared at the same time.
As sad as it is the McCann's cannot expect police forces to drop everything and concentrate on this one case. One gets the distinct impression that this is what they expect.
Their daughter is one of 100's missing and they should be very appreciative of just what amount of time the police have spent on the case compared possibly to others.
- Pip Waller, North Yorkshire, 3/5/2010 8:44
Click to rate Rating 36
Report abuse
Will the newspapers and the McCann's give it a rest about Madeline.
- sam, essex, 3/5/2010 8:41
Click to rate Rating 10
Report abuse
My love, support and prayers are with you and your family,Keep up your search, because I am sure like you she is out there some where
- Bea, Perth,Australia, 3/5/2010 7:44
Click to rate Rating 47
Report abuse
Not agaIn!
Remind me, who left three small children alone in the dark in an insecure foreign apartment for hours at a time night after night till in the end one disappeared?
When are we going to hear the last of the McCanns? Other children disappear without interantional campaigns being started and millions raised for and spent on unsuccessful searches; what makes this one child so different?
- Kate Evans, Nottingham, England, 3/5/2010 7:32
Click to rate Rating 56
Report abuse
We would not be at this point if the two Doctors McCann had not persistently, night after night, left their three little toddlers alone in an unlocked apartment while they went off eating & drinking with friends over 100 metres away.
I believe that the McCanns are still in denial over this, and are suffering from guilt. They seem to have blamed and be blaming everyone but themselves.
It is a deeply tragic case. My thoughts and prayers are with Madeleine, wherever she may be.
- A parent, Wales, 3/5/2010 7:09
Click to rate Rating 93
Report abuse
My heart goes out to them,untill Madeline is found alive or dead they will never have closure-so sad!
- anon, UK, 3/5/2010 6:43
Click to rate Rating (0)
Report abuse
Thinking of you Madeleine wherever you. Also, for all other missing children.
- Pip, United Kingdom, 3/5/2010 4:16
Read more: http://www.dailymail.co.uk/news/article-1270909/McCanns-pray-missing-daughter-Madeleine-mark-anniversary-disappearance.html#ixzz0mra5q0Tq
Read more: http://www.dailymail.co.uk/news/article-1270909/McCanns-pray-missing-daughter-Madeleine-mark-anniversary-disappearance.html#ixzz0mrZecIv4

justagrannynow 1




Posts

: 966


Activity

: 1110


Likes received

: 4


Join date

: 2009-11-26


Location

: France



---
Permissions in this forum:
You
cannot
reply to topics in this forum