http://www.dailymail.co.uk/news/article-1189597/Portrait-paedophile-So-did-Raymond-Hewlett-snatch-Maddie.html
Portrait of a paedophile: So did Raymond Hewlett snatch Maddie?
By David Jones
Created 7:49 PM on 29th May 2009
* Comments (20)
* Add to My Stories
The British paedophile's likeness to the sketch of a Maddie suspect is uncanny - and he admits being just an hour away on the day that she disappeared. He furiously protests his innocence. But as this chilling dispatch reveals, he has a truly horrifying past... and some disturbing questions to answer
Addressed to an internet agency which peddles stories to low-brow media outlets, the email seemed absurdly far-fetched.
During a road-trip through Pakistan a decade ago, the woman informant wrote, she and her husband had stumbled upon the secret lair of Osama bin Laden.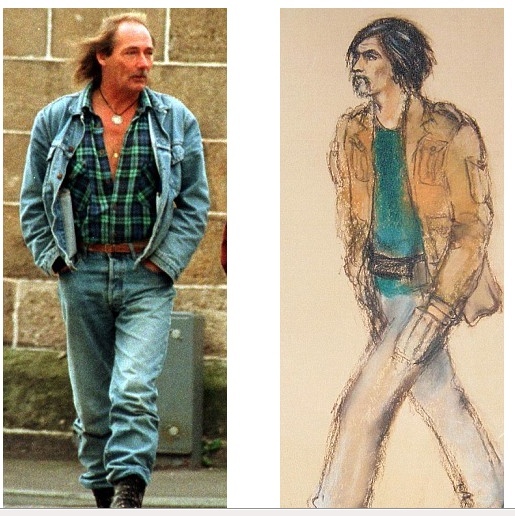 Under suspicion: Raymond Hewlett, left and an artist's impression of a Maddie suspect
When they tried to report their sensational discovery to U.S. authorities, nobody would listen.
Oh yes, she added almost as an afterthought, and while travelling through southern Portugal more recently, the couple had become friendly with a British man whom they later discovered to be a serial child sex attacker.
More recent...
* Raymond Hewlett demands thousands to answer Madeleine McCann questions over disappearance of Madeleine McCann
What's more, they now suspected him to be the monster who abducted Madeleine McCann.
Quite whether the tipsters (a down-to-earth, middle-aged couple named Alan and Cindy Thompson, who spend their summers in East Anglia and their winters abroad in a camper van) really did have a close encounter with the Al-Qaeda leader is open to question.
Extraordinarily, however, when their claims about the McCann case were closely checked, it turned out that they were telling the truth.
Thus, a few days ago, began the latest twist in a seemingly interminable saga that never fails to astonish and perplex; and which, until then, seemed to be rapidly running out of steam, for all the best efforts of Madeleine's parents Gerry and Kate McCann and their team.
It has shone an unwelcome torch on the activities of the man the Thompsons met on their trek through Portugal, 64-year-old Raymond Hewlett - a thoroughly vile character with a record of serious paedophile offences dating back to the Seventies.
Despite the somewhat haphazard manner in which his name comes to be in the frame, detectives retained by the McCanns are taking his possible involvement in her disappearance seriously.
Last Monday, the former British police officers, Dave Edgar and Arthur Crowley, attempted to interview him in a German hospital, where he is recovering from an operation to remove a tumour on his oesophagus.
Looking haggard and screaming obscenities at waiting journalists, the wheelchair-bound Hewlett refused to be questioned by the McCann team, changing his mind only after they had flown home to Britain. The police officers plan to return to Germany.
As Mr Edgar remarked, this is the first time since they took over the inquiry from the Spanish investigations agency Metodo 3 last autumn that they have felt the necessity to confront a suspect.
'It looked at one stage like he might die,' Mr Edgar, a former RUC officer, explained.
'The last thing we want is for the speculation to continue and for people to say he has taken the secret (of Madeleine's abduction) to the grave.'
Meanwhile, Hewlett's emergence has prompted West Yorkshire police to seek leave from the German authorities to quiz him about an unsolved attack on an eight-year-old girl in 1975.
Hewlett's defiant response this week was to supply a DNA sample which, he insists, will clear him of that assault.
Unfortunately it is unlikely to be of use in the Madeleine inquiry, for the Portuguese judicial police are not thought to have gathered any unidentified genetic material from the McCanns' apartment, against which it might be matched.
In any case, the inept 'PJ' - as the Portuguese police are known - are unlikely to be joining the queue to interview Hewlett in hospital, for they are clearly uninterested in him, or any other new suspect, for that matter.
In recent days, they have reportedly rebuffed several other new informants, informing them that they are wasting their time because the little girl is dead.
Furthermore, I am told the PJ ignore clues passed to them by Messrs Edgar and Crowley, and when the private detectives visit Portugal they are tailed as if they were the criminals.
The question is, by failing to investigate Hewlett (who has served three prison sentences for sexual assaults on children, once rendering his victim unconscious by smothering her with a rag soaked in paint-thinner; a method which some surmise might have been used to subdue Madeleine), could they be missing an opportunity to solve the McCann mystery once and for all?
Understandably, given all the false dawns they have endured over the past two years, the McCann camp remain cautious when discussing Hewlett's possible involvement.
However, spokesman Clarence Mitchell speaks of the 'eerie similarities' between the former Scots Guardsman and an artist's sketch of the gaunt suspect with lank, shoulder-length hair, who was seen near the McCanns' holiday apartment in Praia da Luz on and around May 3, 2007, when Madeleine was snatched from her bed.
Mr Edgar says: 'From the information I've seen, he wouldn't be at the top of our list, but he is definitely of interest to us and we need to eliminate him.'
There are huge blanks in Hewlett's story, but he seems to have started wandering during the early Nineties after being released from his last jail term, for abducting and assaulting a 14-year-old girl in Cheshire.
After a period in Ireland (where he is suspected of attacking at least one other child), he journeyed overland through France and Spain to southern Portugal.
Home was a battered blue Dodge truck, which Hewlett, a dextrous mechanic, converted into a camper using parts he cannibalised from other vehicles.
He shared it with his pony-tailed German girlfriend, Marianne Schmucker, who, at 33, is half his age.
Significantly, perhaps, the Mail has learned that he sold the Dodge to Portuguese travellers for 300 euros, not long after Madeleine vanished, and replaced it with a white Iveco model.
Haggard: Raymond Hewlett in Germany following his operation to remove a tumour from his oesophagus refused to speak to private detectives hired by the McCanns
Haggard: Hewlett in Germany following his operation to remove a tumour from his oesophagus refused to speak to private detectives hired by the McCanns
If traced, his old camper could contain valuable forensic evidence.
Hewlett has at least two grown-up children from his first marriage - a daughter named Gina, 41, to whom he wrote self-pitying letters from prison, and a son Wayne, 40, who this week described his father as a 'monster' who beat him savagely when he was a boy.
On the road, however, he sired six more offspring by Marianne, who, one friend recalls, 'always seemed to be pregnant'.
The oldest, David, was killed last December, apparently falling out of the van as the family drove through Spain en route to Germany.
The Spanish authorities are investigating the incident and may charge Hewlett with negligence.
According to the friend, the family preferred the Costa del Sol to Portugal, but Hewlett grew tired of dodging Spain's 'social police', who asked questions about the children's welfare and wanted to know why the older ones didn't go to school (Marianne taught them herself).
By 2006, the family had decamped to the Algarve, basing themselves in a car park beside a supermarket in Tavira, a former fishing town between Faro and the Spanish border.
It was one of the few places where they weren't chased away by the authorities. They were allowed to wash in the supermarket toilets.
Since Hewlett and Marianne had so many blonde, blue-eyed children, their circle of bohemian friends were keen to help them, and one English woman gave them hundreds of pounds to buy their new mobile home.
In return for such favours, Hewlett would mend their vehicles while Marianne would don a pink bunny suit and play the flute on the town's Roman bridge, instructing her children to collect money from tourists.
But Hewlett was no easygoing hippy. Friends recall him as an overbearing 'control freak' who never let Marianne and the children out of his sight.
He was also furtive and 'never let one hand know what the other was doing'. Nor did he socialise much, preferring to chain-smoke cigarettes, and sometimes cannabis.
One friend says his children were 'immaculately' turned out and well-behaved. But another says they were 'cowed and mute', and now fears Hewlett may have abused them, too.
None of his close circle in Tavira had any idea about his sordid past - nor that he was wanted by police in England.
Rumours began to circulate only last summer, when he sneaked back to Britain because he needed documents to obtain free overseas hospital treatment and claim his old age pension, due next year.
One source says: 'He was driven by a friend and the police must have learned he was in Britain, because they raided the house he was staying in during the night.'
It is unclear whether the police arrived too late and Hewlett had fled, or whether they let him go.
But he hastily returned to Portugal, where the friend he'd driven with to Britain typed Hewlett's name into Google and learned the truth about his past.
The news then reached Alan and Cindy Thompson, who had met Hewlett a few months before Madeleine's abduction and remained loosely in touch after returning to East Anglia.
Their internet searches would have revealed that his name came up in November 2007 during a notorious 'cold case' trial - in which new evidence causes an old case to be reopened - when Ronald Castree was convicted of the frenzied sex murder of 11-year-old schoolgirl Lesley Molseed, more than 30 years ago.
After the murder in 1975, loner Stefan Kiszko was wrongfully convicted. He had served 16 years for murder before his conviction was overturned, and modern DNA testing techniques proved that Castree's semen was on Lesley's underwear.
However, Castree's barrister had maintained he did not kill her. He said there was 'overwhelming evidence' that Hewlett - whose car was allegedly parked close to the murder scene in the Pennines - was the 'probable' culprit.
Marianne knew nothing of Hewlett's past convictions until this week, I am told, and discovered the truth only when the McCann detectives descended on Aachen, where she and Hewlett have settled with their five surviving children in a council flat.
'She is absolutely beside herself,' one friend says.
Gullibly, one might think, this friend believes Hewlett and remains convinced he had nothing to do with Madeleine's disappearance.
So what is the evidence? We know Hewlett was within easy driving distance of Praia da Luz on May 3, 2007, for he admits to being on the Algarve on that date, and nowhere on the coast is more than 90 minutes' drive from the McCanns' resort.
We know he looks like the 'hairy man' with a zapata moustache in the sketch.
We know, too, that he frequently took the sea crossing from Spain to Morroco, where there have been reported sightings of a girl resembling Madeleine and where some fear she has been sold to paedophiles.
Moreover, according to one source, Hewlett was adept at smuggling his children aboard the ferry to Tangier.
And as the source remarked: 'Would one more little girl have made that much difference?'
Others among Hewlett's old travelling circle have also emerged to incriminate him. The most compelling of these is Cornwall-based antiques dealer Peter Ferran, 46, who recalls meeting him in a Morocco campsite just after Madeleine was snatched.
He says Hewlett told him he was worried that people might think one of his daughters was Madeleine, because she bore such a strong resemblance to her, and added: 'Madeleine's not in Morocco.'
Hewlett had readily admitted having been in Praia da Luz 'many times'. He said he knew the layout of the Ocean Club, where the McCanns stayed, and was adamant Madeleine couldn't have been taken without her parents seeing.
Yet there are convincing clues that point to Hewlett's innocence. He maintains he has an alibi for May 3, 2007 - he and his family were trading at a flea market.
According to reports this week, Hewlett must have been mistaken - or lying - because the Fuzeta market is held only on the first Sunday of each month, and Madeleine was taken on a Thursday.
However, the Mail has established that there is also a sale at this site on the first Thursday of the month, though it usually attracts only gypsies.
Whatever the truth, he does seem to have been at the market three days after the abduction.
For the Mail has spoken to an English expat who keeps a detailed daily diary and says he logged the fact that he parked his camper near Hewlett's blue Dodge on Sunday, May 6, 2007.
He also noted a meeting with Hewlett and his family at another market at Mertola, 30 miles along the coast, on May 18, 2007.
These diary entries don't account for his movements on May 3, of course, and certainly not between 9pm and 10pm that evening, when the abductor is believed to have struck.
Yet as the source - who did not much like Hewlett and is no apologist for him - asks: 'Is it really possible that he drove into a small, out-of-season resort like Praia da Luz in a big blue truck that stood out like a sore thumb without being seen?
'If he did go there, maybe in another vehicle, could he have taken Madeleine without his family knowing?
'Marianne may be devoted to him, but I can't believe that if she did know he had done something so terrible she wouldn't have told someone.'
Any number of experts would question this bold assertion, for the evidence suggests that serial child molesters such as Hewlett rarely change their spots.
That doesn't make him guilty, of course, just as it doesn't prove the culpability of the 38 other convicted child sex attackers known to have been lurking in the Algarve when this terrible crime was perpetrated.
Read more: http://www.dailymail.co.uk/news/article-1189597/Portrait-paedophile-So-did-Raymond-Hewlett-snatch-Maddie.html#ixzz0mmu74Wwe

justagrannynow 1




Posts

: 966


Activity

: 1110


Likes received

: 4


Join date

: 2009-11-26


Location

: France



Utter bollock. That was a decades younger looking guy in the sketch.

Anyhow when was the drawing done? After they had interviewed Hewlett and photographed him perhaps.

aiyoyo




Posts

: 9610


Activity

: 10084


Likes received

: 326


Join date

: 2009-11-28



Hi aiyoyo. This Cooperman sketch seems to have been done around August 2008 when it appeared in this News of the World article.
http://www.newsoftheworld.co.uk/news/article10662.ece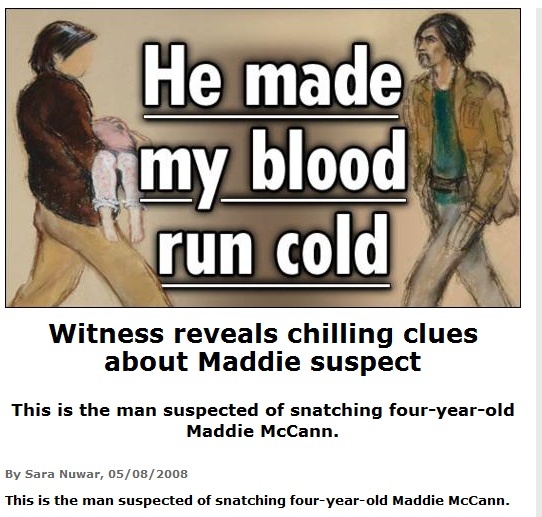 It is the FIRST detailed likeness of a stalker thought to have kidnapped the toddler. And it's based on sensational new clues unearthed by the News of the World.
If you have any information about the man in this new picture contact the confidential phone line 0034 902 300 213 based in Spain now
As a massive new manhunt began last night a McCann family source said: "This is a stunning breakthrough.
A British woman who came face to face with the suspected Maddie McCann kidnapper revealed last night: "He made my blood run cold and gave me the creeps."
Granny Gail Cooper, 50, was staying just 600 YARDS from the McCann family's Portuguese holiday flat when she had THREE separate chilling encounters with the moustachioed mystery man.
After the News of the World probed her evidence further, McCann investigators analysed her detailed description.
It tied in uncannily with descriptions by family friend Jane Tanner of a man seen carrying a child in pink pyjamas from the resort of Praia da Luz the night Maddie vanished.
Based on Mrs Cooper's evidence an FBI-trained police artist produced the the FIRST detailed likenesses of the stalker-pictured above.
And last night, armed with the new pictures, detectives in Portugal and Britain were joined by Interpol in a desperate race to trace the suspect.
The man is 38 to 45, with sallow skin, lank dark hair, distinctive droopy moustache, large teeth and speaks broken English.
As the dramatic development raised the McCann family's hopes a source at the heart of the probe admitted: "This is a stunning breakthrough. We now have a manhunt. Where is this man now? We need to find him as soon as possible."
Over the last seven days Spanish private eyes Metodo 3 and the Find Madeleine campaign worked round the clock after the News of the World conducted a detailed review of the case. We studied all material in the public domain homing in on witness reports we felt had been overlooked.
When we spoke to Mrs Cooper at length it soon became clear vital clues were buried in her account of a "creepy man" loitering at the resort.
Two of her sightings were also witnessed by her husband. And we can also reveal that a NEW witness, a 12-year-old girl, has come forward to back up her story.
Mrs Cooper first spotted the man on the beach at Praia da Luz on April 20 at about 1pm when she went for lunch with friends at the Paraiso Restaurant.
She said: "He was wandering about on the beach alone even though it was pouring down with rain. There wasn't another soul about. I watched him for a few minutes before I went back to chatting to my friends."
Later that day, at around 4pm, Mrs Cooper was startled to find the stranger knocking on the front door of her holiday villa.
She said: "He must have seen my husband leaving because the bell rang only seconds later.
"He flashed what he said was an identity card but it could have been anything.
"He seemed really strange. It was a warm afternoon but he was wearing khaki trousers or joggers, a T-shirt and a bomber jacket. He said he was collecting for an orphanage in nearby Espiche that was caring for three children whose parents had recently been killed in an accident on the main coast road.
"It just didn't add up. Everyone would have known if there had been a tragedy like that.
"The man was rambling and becoming agitated. He really unnerved me even though my two grown-up daughters and two grandchildren were with me.
"I thought he was a conman trying to pull a fast one."
Mrs Cooper also said her eight-year-old grand-daughter had been playing on her own in the pool near the villa and was clearly visible from the road.
She added: "This man was very unpleasant and creepy. I'd put his age at 38 to 45. He was very scruffy and had a 70s-style black Mexican moustache.
"He wasn't Portuguese-I think he was North African, either Tunisian or Moroccan."
Mrs Cooper, a community healthcare co-ordinator from Newark, Notts, added: "In my job I have to assess people and make a judgement.
"My judgement is that this man was very suspicious and could have been the kidnapper everyone is searching for.
"I'd recognise him immediately if I saw him. His appearance has really stuck in my mind."
We can confirm the orphanage does NOT exist and that there is no evidence of the fatal car crash. Mrs Cooper saw the man a third time, two days later on April 22, as she lunched with her husband Jonathan at Bar Habana on the beach.
There was a children's outing there from the Mark Warner Ocean Club at the same time. The man was again alone and standing near the group of youngsters. Mrs Cooper said: "He looked odd and out of place."
When Madeleine arrived at the resort just a week later, the youngster went to the beach three days in a row with the children's club, including May 3, the day of her disappearance.
Although Mrs Cooper rang police on May 7 and gave a statement at her home on May 21 she heard no more. But it is now clear how important her account-and the facial likeness built from it-may be. On the night Madeleine vanished from the apartment while parents Kate and Gerry-both Leicestershire doctors-were dining at a nearby tapas restaurant, family friend Jane Tanner saw a man carrying a child away from the apartment on foot at 9.10pm.
Jane has now told the McCanns: "The man in the new suspect picture strongly resembles the person I saw on May 3rd."
The sketch by qualified police artist Melissa Little, bears an uncanny resemblance to an earlier picture, based on Jane Tanner's story.
Last night the McCanns' spokesman Clarence Mitchell said the new image had been passed to officers from the Leicestershire Constabulary, Portuguese police and Interpol. They hope the hunt will also be joined by forces in Spain and Morocco.
Metodo 3 believe the kidnapper may have had accomplices in Praia da Luz who helped spirit Madeleine away to the Moroccan hills.
If you have any information about the man in the new picture contact the confidential phone line 0034 902 300 213 based in Spain now. A specially-trained team will take your call in any language.
Mr Mitchell said: "We urgently need to know who this man is and where he is.
"For Madeleine's sake, we urge anyone with any information about him to come forward right away."

justagrannynow 1




Posts

: 966


Activity

: 1110


Likes received

: 4


Join date

: 2009-11-26


Location

: France



Who was the man in the market video footage?

http://mccannexposure.wordpress.com/2010/05/02/who-was-the-man-in-the-market-video-footage/
____________________
PeterMac's FREE e-book
Gonçalo Amaral: The truth of the lie
NEW CMOMM & MMRG Blog
No one knows who is the man who is the travelling market stallholder mccanns are refering to. Apparently someone their PIs had followed and taken some moving pics.

Thing I dont understand is that callibre of PIs surely could taken some better 'still' pics instead of moving ones. Besides if they'd managed to track him down why didnt they follow him and find out where he lives or do whatever PIs do? Also, why cant their PIs interrogate him or question his neighbours. Isnt that the whole point of their PIs.

It's just something they stir up in order to ask PJ to re-open the case because they felt ingored. No authority seems to want to take heed of them - not UK authorities and certainly not PT.

The obvious is staring them in the face ie there is nothing more the authorities can do for them, yet GM wants the PJ to re-open the case just for his specific one agenda, that is, chase up leads. If they think the PM is going to do their bidding they must be mad.

What they hope to get out of their game is mind boggling.

aiyoyo




Posts

: 9610


Activity

: 10084


Likes received

: 326


Join date

: 2009-11-28



---
Permissions in this forum:
You
cannot
reply to topics in this forum