Old article connecting Robert Murat to Cooperman. Confirmed by Charlotte Pennington
http://www.dailymail.co.uk/news/article-509285/Robert-Murat-seen-talking-man-matching-artists-impression-Madeleine-suspect.html
Robert Murat 'seen talking to man matching artist's impression of Madeleine suspect '
Last updated at 12:37 21 January 2008
New e-fit of man seen 'acting strangely' around complex prior to Madeleine's disappearance
• McCann family friend says sketch 'strongly resembles' man she saw carrying a child wearing pyjamas identical to Madeleine's on the night of the abduction
• Information hotline has been inundated with calls since the sketch was released
Robert Murat was spotted chatting to a man who resembled the 'oddball' in the new sketch released by the McCanns and who is suspected of abducting Madeleine, it has been claimed today.
Charlotte Pennington, a nanny at the Ocean Club holiday complex where the McCanns were staying, told police last May she saw Murat chatting to "a man aged around 27 to 35, average height, very dark eyes and of Portuguese or Spanish appearance".
She told detectives she saw expat Murat, who lives with his mother near to holiday complex, talking to the man outside the Baptista supermarket in Praia da Luz.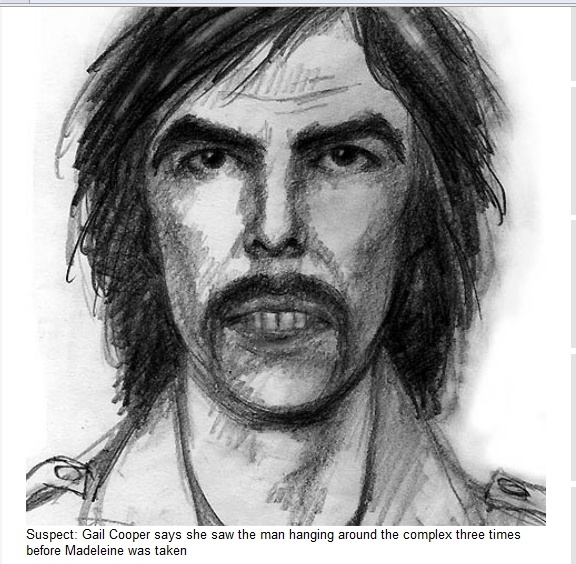 Suspect: Gail Cooper says she saw the man hanging around the complex three times before Madeleine was taken
Read more...
* Madeleine 'abductor' witness: 'He made my blood run cold'
The Madeleine information hotline has been inundated with calls since the sketch was released by investigators.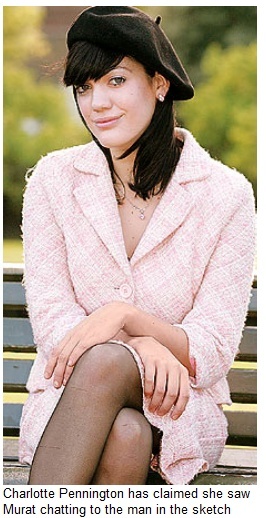 An international manhunt is now underway for the man seen near the resort in Portugal.
The sketch was based on the evidence of a British tourist who came forward saying she had seen a "creepy man" lurking around the resort pretending to collect money for a fake orphanage.
The dramatic development comes amid fears that he may have acting with an accomplice in a paedophile gang to "case" the holiday complex in the days running up to her disappearance.
Grandmother Gail Cooper, who was staying just 500 yards from Gerry and Kate McCanns' holiday apartment, told police how she came face to face with the "disturbing" man hanging around the resort three times.
Based on her descriptions, an FBI-trained artist produced a likeness of the suspect whom British and Portuguese police and Interpol were desperately trying to trace last night.
The sketch bears a striking resemblance to an image of a man seen by family friend, Jane Tanner carrying a child away on the night Madeleine vanished on May 3.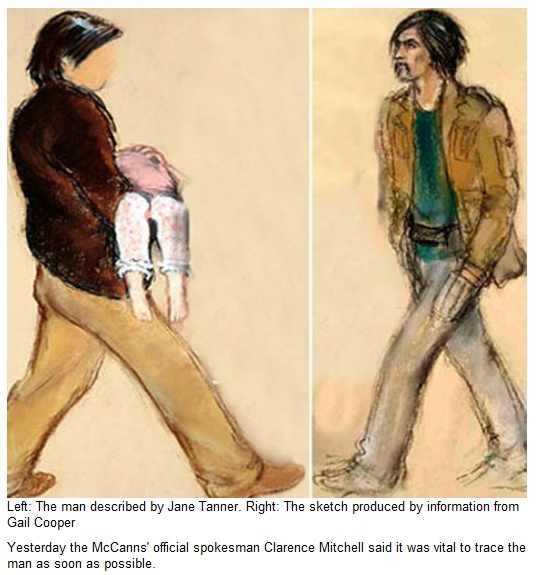 And last night he said the hotline set up to help find Madeleine had been inundated with calls. And he said the response had already been "very encouraging".
Gerry McCann wrote on his blog: "It is essential that he be traced. We believe many people must know who this individual is.
"We appeal to anyone who knows him or may have seen him to contact our private investigators.
"This man may have key information that will help us locate Madeleine."
A million posters appealing for information in English, Arabic and French about the suspicious character are now being distributed throughout Morocco and the Iberian Peninsula where private detectives working for the McCanns believe she has been taken.
At a press conference in London, Clarence Mitchell said: "Who is he? Where is he? What, if any, is his connection to Madeleine's disappearance?"
"If he is innocent we want him to come forward for his own sake so he can be ruled out.
"We believe this man could be linked to Madeleine's disappearance.
"We need to find this man and find him quickly."
Scroll down for more...
madeleine
Madeleine McCann has been missing since May 3rd
But Portuguese police have dismissed the sketch as having "no credibility".
Officers have accused the McCanns - official suspects in the case - of diverting attention away from themselves. Carlos Anjos, president of the Judicial Police Inspectors Union, said: "All sense has been completely lost."
Another police source said the picture was based on information "without any consistency", shows a man who could be one of "hundreds of people" and is "another diversionary manoeuvre".
In the days following Madeleine's disappearance, Mrs Cooper, from Newark, Nottinghamshire gave a statement to police describing him.
But Portuguese detectives failed to quiz her further and a image of the suspect has never been produced until she was reinterviewed last week by the McCanns' private detective agency Metodo 3.
It also emerged yesterday that a 12-year-old girl living locally has come forward with information after seeing a "strange man".
Mrs Cooper, who was staying with her husband Jonathan in a villa close to the apartment later hired by the McCanns, described seeing an olive-skinned man with collar-length scraggly hair acting suspiciously on a number of occasions.
She first saw him on April 20 walking by himself in heavy rain on the deserted beach at Praia da Luz.
The sketch has given new hope to Madeleine's desperate parents Kate and Gerry
The 50-year-old healthcare coordinator said: "He was wandering alone, even though it was pouring with rain. I watched him for a few minutes before I went back to chatting to my friends."
Later that afternoon, the stranger turned up at their villa where Mrs Cooper's eight-year-old granddaughter was swimming alone in a pool visible from the road.
Heavily-clothed despite the warm weather and carrying what he claimed was an ID card, she said he appeared nervous and agitated.
Speaking in broken English, he claimed that he was raising money for a local orphanage in Espiche, but Mrs Cooper said she quickly got rid of him.
"He must have seen my husband leave, because the bell rang only seconds later," she recalled.
"He seemed really strange. It was a warm afternoon, but he was still wearing khaki trousers or joggers, a T-shirt and a bomber jacket.
"He said he was collecting for an orphanage that was caring for three children whose parents had been killed in an accident on the main coast road.
"It just didn't add up - everyone would have known if there had been a tragedy like that. He was rambling and becoming agitated. He really unnerved me.
"I thought he was a conman trying to pull a fast one. He was very creepy. He wasn't Portuguese - I think he was either Tunisian or Moroccan.
She added: "We have been going out to Portugal for 10 years or so, sometimes four times a year, so I like to think I know the Portuguese pretty well.
"They are always smartly-dressed and polite - and this man wasn't. He stuck out. He was unpleasant, and I felt vulnerable when I was in his presence."
Investigators have since discovered that no such orphanage exists and they have found no evidence of the supposed accident.
Two days later Mrs Cooper saw the same man hanging around a children's outing to the beach organised by the Mark Warner resort.
Madeleine took part in the same outings in the days leading up to her disappearance.
She said yesterday: "I just hope they either catch this person or he comes forward.
"My memory of him is very vivid. It was unnerving. He made my blood run cold and gave me the creeps.
"In my job I have to assess people and make a judgement. My judgement is that this man could have been the kidnapper."
She also blasted Portuguese police for not taking her report seriously of the sightings during her family holiday between April 18-25 last year to celebrate her 50th birthday.
"It's certainly some time since I went to the police. I was a bit surprised it took so long for something to be done," she said.
With the help of police artist Melissa Little, two sketches of the man have been produced.
He has been described as aged 38 to 45, with sallow skin, lank, long dark hair, a distinctive droopy moustache and large teeth.
Yesterday Jane Tanner said one of the sketches showing the man wearing a safari jacket and light-coloured trousers "strongly resembles" the man she saw carrying a child wearing pyjamas identical to those worn by Madeleine on the night of the disappearance.
Mrs Cooper's evidence also echoes that of another holidaymaker, Paul Gordon, 34, who saw a man hanging around the McCanns' apartment days before Madeleine vanished.
The father of two told police that he spotted a man outside the two-bedroom flat's patio doors while his own two children were sleeping inside.
Mr Gordon, who stayed in the Ocean Club flat immediately before the McCanns did, said when he confronted the man he claimed to be collecting money for an orphanage in the mountains.
Yesterday there were fears that the second man - who does not match the description of the figure seen by Mrs Cooper- may have been an accomplice checking out the layout of the apartment and security with a view to snatching a child.
A friend of the McCanns said yesterday: "We fear that a group of two or three paedophiles may have been fishing around the apartments, casing it with a view to taking children."
Now the McCanns want a review of all the witness statements, including one taken from a 12-year-old girl who is being interviewed by Metodo 3 in the hope of obtaining a sketch of the "strange man" she saw in Praia da Luz in May last year.
Early calls to the Madeleine McCann helpline yesterday also suggested that the man in the sketch had been seen in Faro several years ago.
Mr Mitchell said developments such as this gave Mr and Mrs McCann renewed hope.
"That is exactly the sort of call we want. We think the image is of such a quality that anyone who knows him will be able to identify him," he said.
"Kate and Gerry are quite buoyant at the moment - every time we do something like this and move things forward it gives them strength."
Last night Clarence Mitchell said the Madeleine McCann information hotline had been inundated with calls, saying the response had already been "very encouraging".
Gerry McCann wrote on his blog: "It is essential that he be traced. We believe many people must know who this individual is.
"We appeal to anyone who knows him or may have seen him to contact our private investigators.
"This man may have key information that will help us locate Madeleine."
Read more: http://www.dailymail.co.uk/news/article-509285/Robert-Murat-seen-talking-man-matching-artists-impression-Madeleine-suspect.html#ixzz0mlosc4fQ

justagrannynow 1




Posts

: 966


Activity

: 1110


Likes received

: 4


Join date

: 2009-11-26


Location

: France



Creepyman was investigated and ruled out - Joaquim Agostinho, a local pig farmer.

See McCann files for further details http://www.mccannfiles.com/id67.html

kangdang




Posts

: 1680


Activity

: 1845


Likes received

: 4


Join date

: 2010-01-29


Age

: 45


Location

: Corona Mountain



I dont think its the pig farmer Kangdang. I hadnt realised it the same Gail Cooper story they'd been rerunning until I visited the MM site.

There is a three-people image and one of the them is the 'said man' with bugged teeth which apparently was a genuine charity collector....something about him issing a receipt to a donor who had stayed at the same resort as Cooper...because Cooper's resort is a 'higher class' catergory. The man said to be well regarded by the locals.

Anyway that's the gist of what I read. I dont know how to screenshot them over. There are some old articles there with quite a comprehensive story.

aiyoyo




Posts

: 9610


Activity

: 10084


Likes received

: 326


Join date

: 2009-11-28



Oh, just remembered, in fact, Cooper is alleged to be known or connected to mccanns, but one never knows with such rumour.

aiyoyo




Posts

: 9610


Activity

: 10084


Likes received

: 326


Join date

: 2009-11-28



This is what I can only do : copy.

Got this posted by Annesse (something like that, dont exactly remember).

I have found the reference to the man who was collecting for an orphanage, who became "Cooperman."


SOS Madeleine McCann 4/08/08

It's in this blog post.

"Witnesses have taken apart the McCanns' version about the apartment's shutters."

Witnesses have, "taken apart," the McCanns' version about the apartment's shutters.

Apartment 5A, where the McCanns were staying until Madeleine's disappearance, had been occupied by other British people, all of whom the PJ found, confirmed the good state of the shutters, initially described by relatives of Kate and Gerry as old, worn and broken.

Amongst these witnesses, Saleigh and Paul Gordon, accompanied by their two children, occupied apartment 5A before the McCanns, between April 21st and 28th 2007. Questioned several times by the investigators, the couple maintain that, "the doors, windows and shutters of the apartment were all in good condition," even stressing that given the noise made by the bedroom shutters, it would be impossible to open or shut them without it being noticed by neighbours or passers-by.

From the beginning, the McCanns have claimed that the shutters were broken and that the door had been forced. That is the version that Kate gave to a close friend, Jon Corner, to whom she reportedly said, "that they have smashed the shutter on the window and taken my little girl."

The same version was, meanwhile, given by Gerry to Madeleine's grandfather, Brian Healy: "Gerry told me that when they got back, the shutters on the bedroom window were smashed (....) The door was open." (See McCannfiles)

"The bedroom, facing the car park, was also overlooked by other apartments. Given that, I find that if someone had tried to open the shutters from the outside, somebody would have noticed," Saleigh Gordon insists. Her husband Paul also confirms that the couple always felt safe and that the front door was equipped with a double lock, while the one at the back only locked from inside the apartment.

The, "strange," man was actually not.

It was also Paul Gordon who saw and spoke to a man described by several British media, quoting sources close to the McCanns, as strange and suspicious. However, in his statements to the police, Paul maintains that the individual never, "watched," the children or the apartment: "I would describe the man as well-educated, of good appearance (...) I remember him as looking tidy and shaved with light downy facial hair. "

"I went over to the man who asked me if I would be interested in making a donation to an orphanage (...) I spoke with him and noticed that he had an indentification badge and that he had what looked to me like a receipt book," Paul Gordon stated to the police, adding that he had even received a receipt which he had left behind in Portugal.

Since January Paul Gordon has been contacted several times by Brian Kennedy, Kate and Gerry McCann: "There are times when I feel like a chess pawn."



http://frommybigdesk.blogspot.com/2008/08/sos-madeleine-mccann-witnesses-have.html

aiyoyo




Posts

: 9610


Activity

: 10084


Likes received

: 326


Join date

: 2009-11-28



---
Permissions in this forum:
You
cannot
reply to topics in this forum