One of the great scandals of the past few decades was the systematic cover-up of widespread child abuse in Islington Children's homes, which took place in the 1980s and was perpetrated by residential social workers and their ring of professional contacts.

Lady Margaret Hodge was the Chairman of Islington Council Social Services at the time, and turned what some say was a deliberate 'deaf ear' to the multitude of complaints from those who were being abused.

As regular readers of this forum will know, we were able to exclusively reveal that Margaret Hodge's nephew, one Philip Edmonds, was in Praia da Luz the very week the McCanns and their Tapas 7 friends were there - 28 April to 5 May 2007. Mysteriously, Edmonds and his three sons flew back early to Switzerland the morning news was beginning to be released about Madeleine's disappearance. Edmonds - like Hodge a member of the Opppenheimer family - is a Director of the world's largest steel company, Stemcor.

Edmonds claimed that he had a photo of his three sons playing in the Ocean Club on the Thursday Madeleine was reported missing, clearly showing Madeleine in the background. Though this photo would have provided evidence that Madeleine was alive on 3 May, it has never been made public.

Margaret Hodge was made Minister for Children in the last Labour government.

Sue Akers was given the job of investigating 'phone hacking, and has made many arrests and charged a number of people.

But if today's Private Eye article is anything to go by, is she the right person for the job?

+++++++++++++++++++++++++++++++++++++++



Green Akers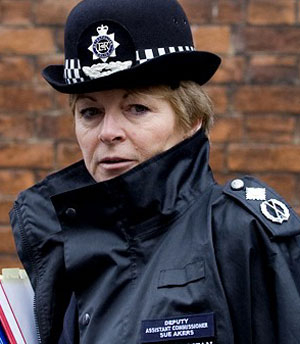 NO COLLAR OR CUFFS: The Met's Sue Akers, who has diligently pursued journalists in the current investigations into the behaviour of the press… but who seemed less keen to arrest paedophiles when she was in charge of child protection in Islington

THE Met's Sue Akers has arrested plenty of journalists. Not just for phone hacking but for paying detectives and prison officers – or, in the case of one newsdesk hack, for following up a call from a reader who claimed to have found an MP's phone on a train, only to decide there wasn't a story at all.

While the latter arrest has caused astonishment in newsrooms, the Met's deputy assistant commissioner has not always been so keen on feeling collars.
Uninterested


Back in the early 1990s, for example, Akers was in charge of child protection in Islington when a child abuse scandal exploded in the borough. When the London Evening Standard showed that paedophiles had taken jobs in local children's homes and were treating the homes as brothels, Margaret Hodge, then leader of Islington council, condemned the stories and refused to listen to the warnings of her own social workers.

Akers was equally uninterested. One of the Standard's journalists pleaded with her to meet to consider the strength of the paper's evidence, but Akers refused. Members of the ring escaped without arrest and three moved to Thailand's notorious Pattaya child sex resort. Thai police charged one, Nick Rabet, in 2005 with abusing local children as young as six; he killed himself in 2006, just before his trial was due to start.
Partnership in policing


Before the Standard was vindicated, however, the authorities made all kinds of allegations about the shocking morals of the tabloids which have a distinctly contemporary ring. Hodge led the way and accused them of "sensationalist gutter journalism".

Strangely enough, Akers used to mention her time at Islington on her CV. When she was a commander she provided the following career summary to the British Association of Women Police: "As a Detective Inspector she managed the Child Protection Team at Islington where she experienced the beginnings of real partnership working in policing." (That would be the "partnership working" with Islington council that was such a disaster for local children.)
Since she was promoted to deputy assistant commissioner in 2009, however, the Islington years have vanished from the record. It is as if nothing happened. Appropriately so, perhaps: from the point of view of the child abusers on her patch, nothing did.



Researcher




Posts

: 14977


Reputation

: 3029


Join date

: 2009-11-25


Age

: 70


Location

: Shropshire



---
Permissions in this forum:
You
can
reply to topics in this forum