Thanks to PeterMac for posting the link to JATYK forum on another thread I was able to find these letters, which I hadn't seen before. The McCanns letter is dated 11 May and Cameron would have received it on the 12th. Obviously nothing more was important in running the country that day than replying to the McCanns on the same day as receiving the letter. It's just aswell Obama and Michelle wasn't visiting that day or else they'd have to wait in the corridor until the McCanns letter was dictated.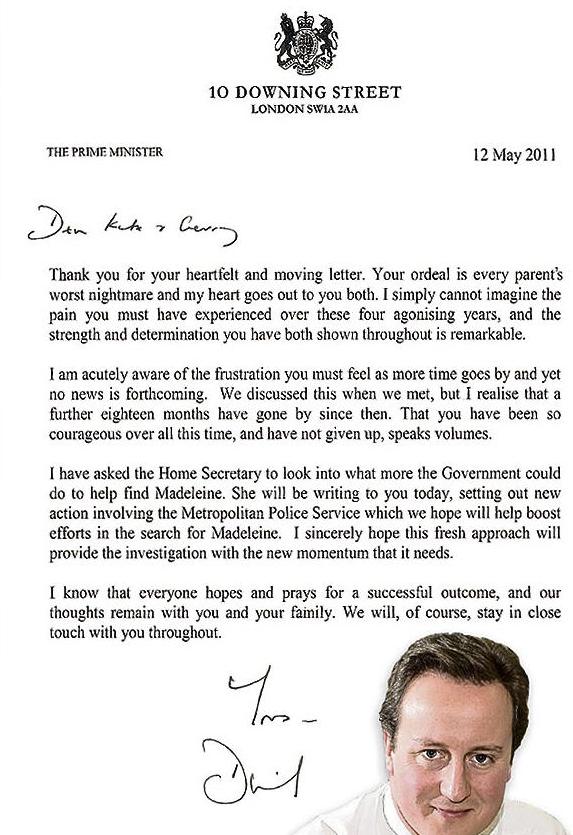 http://www.findmadeleine.com/updates/index.html
Did David Cameron really put his mugshot on that letter or did the McCanns use photoshop again?
____________________
Whose cadaver scent and bodily fluid was found in the McCann's apartment and hire car if not Madeleine's?




Posts

: 1646


Reputation

: 19


Join date

: 2010-01-04



I do not think for one minute that David Cameron dictated that letter.
It's just the kind of thing an assistant would churn out.

Guest

Guest





Another teeth gnashing start to a Monday morning. It is very worrying that the McCanns seem to have so much influence in high places.

Guest

Guest





But what is puzzling is why such an immediate response. Was the letter from the McCanns already expected - some organising behind the scenes. But in whose favour theirs (McCanns) or ours.

Can we to assume that the McCanns can twist him round their little finger or has Murdoch been in touch.

____________________
Things aren't always what they seem



Posts

: 1396


Reputation

: 38


Join date

: 2010-10-19



---
Permissions in this forum:
You
cannot
reply to topics in this forum