WHAT HAPPENED TO MADELEINE AFTER THESE PICTURES WERE TAKEN?
Picture 1 – Madeleine by the Ocean Club Swimming Pool
The McCanns say that this photo of Madeleine was taken on the last day of their holiday, Thursday 3 May 2007.
BUT IT NOW SEEMS THAT THIS CLAIM WAS FALSE.
A team of researchers connected to CMOMM noted that the photo was taken on a hot, sunny day. That is obvious from the photo; Madeleine, her father and sisters are wearing light clothing, dipping their feet into the pool. And the two children have summer hats on. Gerry is wearing sunglasses and there is a sheen of perspiration on him. The photo was taken at around 2pm, when the sun is at its highest in southern Portugal at that time of year.
The weather on Thursday, however, was mostly cloudy, cool and windy - not warming up until well after 4pm that afternoon.
So when was it taken?
Saturday was hot and sunny – but the McCanns didn't arrive at the Ocean Clun until late afternoon. So it could not have been taken on Saturday.
Sunday was hot and sunny.
The weather changed on Monday, becoming cloudier, cooler, windier and bringing some rain. It could not have been taken on Monday, Tuesday or Wednesday.
This photo could only have been taken on the Sunday
– four days before Madeleine was reported missing.
A CREDIBLE SIGHTING OF MADELEINE ON SUNDAY LUNCHTIME
A Portuguese witness gave detailed, independent confirmation that Madeleine was alive at lunchtime on the Sunday, shortly before the above photo was taken. It was a cleaner,
María Serafim da Silva Espada. This was part of her witness statement to the Portuguese police:
She had the opportunity to observe the photos of Madeleine being circulated everywhere. She has no hesitation in confirming that she saw the child before her disappearance, in the company of her siblings and mother and father, although in the latter case she only observed him from a distance.

"She states that this took place on Sunday 29th April, just before she finished her morning work shift (1.30pm) as she had the afternoon off that day. At about 1.15pm, she went to help her mother, who was cleaning apartment I of the same block (5) situated on the first floor. She clearly remembers seeing Madeleine accompanied by her siblings and mother leave their apartment (5A) and walk to the stairs leading to the floor above. She was very close to them at a distance of about 1 metre, observing their movements for a few moments because she was charmed by them. Madeleine led the way with a plate (perhaps plastic) in her hand, bearing a piece of bread.
As regards the clothes she was wearing she only remembers a skirt but cannot recall its description. She noted, because she thought them nice, the type of shoes she was wearing, tennis shoes, light in colour she thinks, which had little lights along the soles, which lit up each time she stepped on the ground. Her siblings followed behind her, wearing the same kind of shoes
and each holding a piece of bread in their hands. Their mother followed behind them without holding their hands. She seems to remember that the mother was also carrying a plate. Moments afterwards, perhaps the time it took to close the apartment door, the father came out and also headed to the apartment upstairs".
----------
There is no doubt that
María Serafim da Silva Espada was describing Madeleine. Madeleine
was
wearing a dress, or smock top, that day, as can be seen on the above photo. Madeleine and her twin siblings
did
all have 'light up' shoes on that holiday.
But if we look at other claimed sightings of Madeleine that week, there are very few. There are of course claims made by the McCanns themselves, their Tapas 7 friends, and two creche nannies who were close to the McCanns – but none of these are truly independent witnesses, so their evidence cannot be relied on. Of the handful of other claimed sightings of Madeleine that week, all are vague and could just as easily refer to another young blonde girl.
There are no other independent sightings of Madeleine the whole week after this important one by María Serafim da Silva Espada at Sunday lunchtime.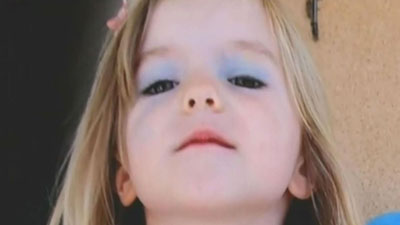 Picture 2 – Madeleine dressed by an adult as a 'Lolita
'
This strange picture was never released by the McCanns themselves, for obvious reasons. It was released in a video, three years after Madeleine's disappearance, by Madeleine's godfather, Jon Corner, a Liverpool based film-maker. Even national newspapers commented that the photo was ill-chosen as she was dressed like a 'Lolita'.
There was a 'Twitterstorm' of protest about it.
Asked for comments, the McCanns said that 'Madeleine had been playing with Mummy's dressing-up box.
THIS WAS ANOTHER PHOTO ABOUT WHICH THE MCCANNS APPEAR TO HAVE MADE A FALSE STATEMENT
On this photo, we can clearly see that an adult has placed a hair bead on her and hung a necklace around her neck. Also visible are two areas of eyeshadow and red lipstick which could not have been applied neatly by a three-year-old. Close-ups of the photo suggest that she even had black eyeliner around her eyes. She had then been photographed, clearly posed. Most observers agree that she does not look at all happy.
This was not Madeleine playing with her dressing-up box.
Moreover, CMOMM researchers noted that in the background was a yellow stucco wall similar to many apartments in Praia da Luz. In addition, comparing this photo with Photo 1 above (by the pool), it appeared highly probable that they were taken on the very same day. Madeleine's hair length is identical. Madeleine is wearing a pink top in both photos.
And she has a pink hair bead in both photos.
There is every likelihood therefore that the 'Lolita' photo was taken some time later the same day as the photo of Madeleine by the Ocean Club pool.
Astonishingly, the McCanns cannot produce one undisputed photograph of Madeleine taken later in the week. The only one they have produced, the so-called 'Tennis Balls Photo', is claimed to have been taken by two different people and on two entirely different days. Its true provenance cannot therefore be established.
The McCanns' evidence on these and many other matters cannot be relied on - and in any event is often contradictory or seems deliberately confused...
So we conclude with these two questions.



Why do we not have even ONE undisputed photograph of Madeleine after these two photos were taken on Sunday 29 April?




Why do we not have even ONE independent witness statement to prove that Madeleine was alive after she was seen by

María Serafim da Silva Espada at lunchtime the same day, Sunday 29 April.



What happened to her after that?
----------------------
For discussion, please use this thread: https://jillhavern.forumotion.net/t13379-what-happened-to-madeleine-after-these-pictures-were-taken

____________________
PeterMac's FREE e-book
Gonçalo Amaral: The truth of the lie
NEW CMOMM & MMRG Blog
George Orwell, '1984':
"If you want a vision of the future, imagine a boot stamping on a human face - forever."
---
Permissions in this forum:
You
cannot
reply to topics in this forum