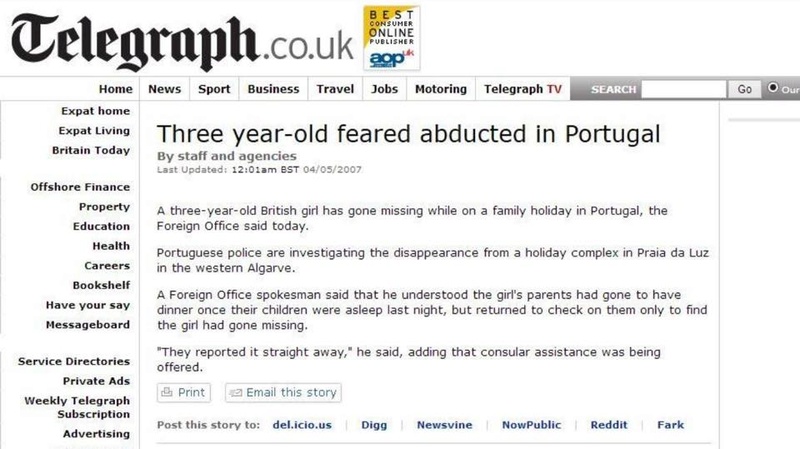 Jason Mills‎
to Madeleine McCann abduction or scam ?
April 5 at 5:52pm ·
Courtesy of Steve marsden.
We're almost at the 10-yr anniversary of the Madeleine McCann disappearance. My personal findings in the past decade have led me to conclude that she died before the "official" date of the disappearance on May 3, 2007. One of the first major indications was the very first news story of the event. This was a story from the Daily Telegraph newspaper online and was timed at 00:01am on May 4, 2007 with a headline "Three year-old feared abducted in Portugal". The first sentence proclaimed "A three-year-old British girl has gone missing while on a family holiday in Portugal, the Foreign Office said today."
Now, who would publish such a story when the girl was only reported missing at 10:40pm - 1 hour 21 minutes earlier? Why would the Foreign Office use words like "said today" when the day hadn't even begun at 00:01am? Clearly the story was pre-baked BEFORE the incident the previous night. No credible news outlet is going to report someone as missing so soon after the event unless it was concocted days before.
Gives even more credibility to the wayback machine findings by Steve marsden. And also ties in perfectly with what Richard d hall has researched regarding the last photo,and how it was more than likely taken on the Sunday 29th April rather than Thursday 3rd may 2007,as per what the mccanns versions of events say. The weather conditions that are evident in the last photo were only present on the Sunday. Thursday being cloudy and cool.
https://www.facebook.com/groups/253706621672502/permalink/412859065757256/
https://jillhavern.forumotion.net/f55-waybackmachine-ceop-technical-section
EDITED BY A MOD:  It was established a long time back by researchers that the Daily Telegraph's time setting of 00.01 hours was merely a DEFAULT setting, used by them and many other newspapers when archiving web articles. Their article about Madeleine on Friday 4 May was posted much later that morning. It would therefore be wholly wrong to base any conclusions on the mistaken belief that this article really was filed at 1 minute past midnight  - Mod
---
Permissions in this forum:
You
cannot
reply to topics in this forum