Whatever happened to Marcos Aragao Correia?
What did we know about him?
Marcos Aragao Correia is not a name that trips off the tongue. Many people following the Madeleine McCann case have still never heard of him. Yet in the McCanns' private investigation into the disappearance of their daughter, he was one of the most important figures of all.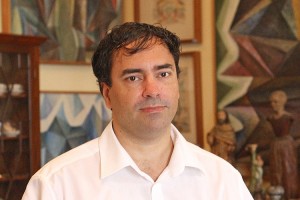 I have written much about him elsewhere on the forum. But to summarise:
He was a young lawyer from the Portuguese island of Madeira, an island hundreds of miles south-west of Portugal in the Atlantic Ocean. Prior to his high profile involvement in the Madeleine McCann case, he had as a young lawyer founded a human rights campaigning organization. But it seemed to be little more than the colloquial 'two men and a dog'. Or maybe just a 'one-man band'.     
He had twin roles in the Madeleine McCann case:
1.The McCann Team arranged for him to represent murderess-of-her-own child Leonor Cipriano, now serving a 16-yesar jail sentence for the murder of her daughter Joana, along with her brother Joao Cipriano. They had both murdered the 8-year-old in a savage attack, cut up her body and disposed of it.

2. He was employed as a Metodo 3 investigator, in which his most famous action was to conduct two week-long sessions, with a team of divers, of the Arade Dam in Portugal, ostensibly to look to see if Madeleine's body had been thrown in there.
In 2006, the wicked Leonor Cipriano had claimed that she had been tortured into confessing to the murder of her daughter. She denied any knowledge of what really happened to her. She brought a criminal action against Goncalo Amaral and four other detectives, claiming that she had been tortured and that Goncalo Amaral had lied and covered this up.
The outcome was not good for Goncalo Amaral and one other detective. The court held that the two detectives had lied about what had happened to Leonor Cipriano in custody and were therefore found guilty of the offence of 'filing a false report' - akin to the crime of 'perjury'. Goncalo Amaral was handed a suspended sentence of 18 months for this criminal offence. The court decided against Amaral and the other detective despite the fact that Leonor was revealed once again in the proceedings to have been a serial liar and contrary to other evidence which suggested that the injuries she received were not inflicted by police officers at all but by fellow prisoners in Odemira woman's prison, after she had been remanded in custody.
One of the most extraordinary aspects of the case was that Marcos Aragao Correia gave two entirely different versions of how he first became involved in the Madeleine McCann case.
The first version was that underworld sources had told him, just days after Madeleine was first reported missing, that Madeleine had been abducted, then raped by paedophiles, then killed, and finally her body thrown into 'a murky lake'.  (The fact that he readily admitted being in touch with 'underworld sources' was of some interest).
Under pressure from media questions, he later cheerfully admitted that this was a barefaced lie.
He then substituted the following story.
He claimed that on his native island of Madeira, he had, on Saturday, 5 May 2007 – two days after Madeleine was reported missing – been to his 'first-ever' Spiritualist Church meeting. Returning home late at night, he said he had a 'vision' of a huge man strangling a young blond-hair girl. Later, he said that he connected this vision with the widely-publicised disappearance of Madeleine McCann, and felt 'the call' to get involved in helping to find out who had abducted Madeleine.
There was a further strange incident when, in October 2007, he brought a legal action in the Madeira Court against the Portuguese Post Office, for allegedly failing to deliver a recorded letter sent to the McCanns' home in Rothley, Leicestershire, offering to help them. The action failed, and he had to pay costs of 100 euros (about £75). There was no proof he had ever sent this letter. The publicity surrounding the case helped, however, to 'put him on the map' and connect him with the Madeleine McCann case.
As he himself has admitted, Marcos Aragao Corriea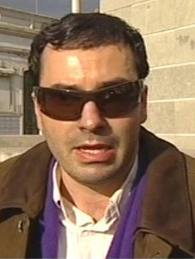 ...met with two leading Metodo 3 operatives (Francisco Marco and Antonio Giminez Raso) as early as 10 December 2007 at the Arade Dam, presumably to plan the later search of the dam for Madeleine's body which began on 29 January 2008.
To attend this unusual meeting, Marcos Aragao Corriea must have flown around 1,000 miles (and back) from his Madeira base, and likewise the Director of Metodo 3 and his leading investigator Giminez Raso must have flown a similar distances from their Barcelona base to attend this dam-side meeting. It must have been very important.  
Were the two week-long searches of the Arade Dam (the second took place in March 2008) a genuine search for Madeleine's bones? – or a cunningly planned publicity stunt? This question has not yet been satisfactorily answered.     
After winning the Leonor Cipriano case against Goncalo Amaral and his colleagues, Marcos Aragao went on to successfully defend himself against a civil action brought against him by Goncalo Amaral. That was another case that seemed to be decided in spite of the evidence, instead of because of it.
Some time after that, he decided to emigrate to Brazil, where apparently he intended to marry and settle down.
What's he doing these days?
He says he got married in 2012 and already has one child. He says he has 'given up' being lawyer altogether because he wants to be a 'stay-at-home Dad', cleaning the house and washing the dishes etc. He says his father never paid him any attention as he grew up. Given Marcos Aragao Correia's notoriety as a serial liar, one must still take a lot of what he says with a lot more than a pinch of salt.  
Marcos Aragao Correia appears to be back living in Madeira or Portugal these days. Hardly publicity-shy, and being rather loose-lipped, usually willing to talk to anyone willing to listen, he has recently written a book, '
The Love Spirits: The Little Girls Who Came from the Stars'. And has given a lengthy media interview.
Let's deal with the book first of all.
There's some information about it here:
http://www.goodreads.com/author/show/6487104.Marcos_Aragao_Correia
and here:
http://pdfsr.com/pdf/the-love-spirits-the-little-girls-who-came-from-the-stars
The Love Spirits: The Little Girls Who Came from the Stars - by Marcos Aragao Correia  The Love Spirits: The Little Girls Who Came from the Stars 3.40 – Rating Details  ·  5 Ratings  ·  2 Reviews
Hardcover, 164 pages - Published July 1st 2012 by Dog Ear Publishing
More Details...ISBN 1457511622 (ISBN13: 9781457511622)
Edition Language: English
Other Editions: None found
QUOTE:  "Marcos Aragao Correia is the Lawyer of the mother of the kidnapped and murdered little Portuguese girl Joana Cipriano, abducted in the Algarve just about 12 miles from where Madeleine McCann was kidnapped. He also worked with the Spanish private detective agency Metodo 3, which was the main agency contracted by Madeleine's parents to search for their daughter.
Marcos AragMarcos Aragao Correia is the lawyer of the mother of the kidnapped and murdered little Portuguese girl Joana Cipriano, abducted in the Algarve just about 12 miles from where Madeleine McCann was kidnapped. He also worked with the Spanish private detective agency Metodo 3, which was the main agency contracted by Madeleine's parents to search for their daughter.
"Marcos Aragao Correia, with the institutional support of the Portuguese Lawyers Order and of Amnesty International, was able to prove in courts that his client Leonor Maria Domingos Cipriano was brutally tortured by several Portuguese police officers, torture perpetrated with the objective of forcing her to emit false confessions. Goncalo de Sousa Amaral, chief of the police responsible for the state investigations over the disappearances of the children Joana Cipriano and Madeleine McCann, was convicted to a 1-year-and-6-month jail sentence for perjury related to the brutal torture that Leonor Cipriano was a victim of".
REVIEW - QUOTE

 "The Love Spirits - The Little Girls who came from the Stars is a fantastic adventure book which includes non-fictional facts. The author has created a marvellous love story, making use of his knowledge of more than 10 years of study of parapsychology and paranormal sciences in general, as well as of important information gathered during the investigations he has participated in concerning the kidnappings of Joana Cipriano and Madeleine McCann. The book was written in special memory of the three wonderful children with whom and for whom the author has worked more: Francesca Orofino, Joana Cipriano, and Madeleine McCann.
"Sara believed in magic and paranormal things, she always felt that the world is controlled by something special, something more powerful than anything else whereas her parents don't respect her desires and believed in the individual power and that humans are in the world to get money which is the only power in the world. Despite the fact that Sara was rich , and had everything she wasn't happy...
"It is a good book for kids. It inspires the readers to believe in their dreams and always find the light of hope even in the depth of darkness".
===
The book begins with a 'Note from the Author', Marcos Aragao Correia, who writes:
"Love is the most beautiful and powerful force in the entire world!
These very true words were pronounced by Kami to the satanic
witch defeated moments before by a large group of wonderful Love Spir
its. The marvelous union between all the Love Spirits, based on their
affinity with values of absolute Love, brought their much needed victory
into effect, once again proving that, even at the last minute, Love will
always prevail. All Love Spirits are wonderfully replete with Love, and
their consequent spiritual beauty gives them immense pleasure and
extra motivation to protect each other fiercely. An enormous difference
indeed from the sprits that chose to reject Love! But it is in the hands
of the malevolent spirits, and their hands alone, to choose the other
way, the way of true and eternal happiness and bliss. Anyone can
become Love; it's just a matter of the individual wishing it truly and
intensely with all his or her heart, regretting all the evil done by action
and omission. Becoming Love is thus an exclusively individual choice,
based on the Spirit beginning to really love Love. It must be an eternal
decision, otherwise it's not true love for Love, since true Love is eternal.
Love Spirits do not retrograde; the decision to become Love is done only
once. This decision, to be valid, must be not only free and informed, but
also absolute and eternal, using individual free will. The Spirit must
want to be Love forever, otherwise it will not be accepted; if a spirit is
not sure about wanting to be Love forever, this means that the spirit
does not truly love Love. If a Spirit really loves Love, he/she loves Love". 
ARTICLE ABOUT MARCOS ARAGAO CORREIA: "I believe that one day we will actually know what happened [to Madeleine McCann]" – by Dulcina White
Publicado a: 10:00, 2 Abril, 2015 por Dulcina Branco
Published: 10:00, April 2, 2015 by Dulcina White 
https://translate.googleusercontent.com/translate_c?depth=1&hl=en&prev=search&rurl=translate.google.com&sl=pt-BR&u=http://www.tribunadamadeira.pt/%3Fauthor%3D26&usg=ALkJrhgf9Su423bVz4kq7fAsUHZTViLSQw
Afirmou Marcos Aragão Correia
[Google translation from 'Tribuna da Madeira']
Was the most publicized cases of Portuguese Justice in recent years, the disappearance of Joana Cipriano and Madeleine McCann, but ensures that never sought centre stage in these processes which were widely followed in national and foreign news media. Marcos Aragão Correia came to take part in Madeleine search as a medium and became involved later in investigations related to the Joana case. In this interview, Marcos Aragoa addresses aspects related to the processes that lived inside those years as a lawyer and advocate for the parents of two children whose bodies were never found.
Tribuna da Madeira (TM) 
was involved in those that have been the most publicized cases of Portuguese Justice. The media coverage of the same?
Aragão Correia (AC) –  Do not like the media attention. I hate the media attention. I hate the media attention. Run away from interviews. I give this interview in their personal capacity because it has to do with the auction of my father's works.
TM –  It must be because this approach has been involved in these cases, including giving interviews referring to the process. What happened then?
 
AC – I gave several interviews at the time because public opinion was very contrary, both parents of Madeleine as the parents of Joan Cipriana, and there was an intervention to restore the truth. I gave some interviews, these interviews that I think were helpful. I was connected to these media cases because I was lawyer of Leonor Cipriano and also worked with detectives parents of Madeleine McCann in searches for her daughter. Managed in coordination, I as a lawyer of Leonor Cipriano, the Order of Portuguese Lawyers in the conviction of several inspectors of the Criminal Police, and in particular Gonçalo Amaral who was sentenced to eighteen months in prison for the crime of torture that Leonor Cipriano He was the victim. A great friend, Dr. Barra da Costa (Chief Inspector of Judicial Police and television commentator) defended the innocence of Leonor Cipriano and parents of Madeleine. He wrote a book about these two cases in which he defended the children's parents. We have become friends under the investigation of these cases and I, as I also have friends in the Judicial Police, actively collaborated, both he and I, to show what was happening in the investigation of these cases. The collaboration with Dr. Barra da Costa allowed access to important documents, including the charges that Gonçalo Amaral's wife made the criminal police against him, which contributed to a change of public opinion regarding the mother of Joana Cipriano. When I walked in the case of Leonor Cipriano, almost everyone thought, in public opinion, that Leonor Cipriano was guilty. Quando saí do caso, muito pouco gente achava que ela era culpada. When I left the case, very little people thought she was guilty. I'm very proud of the work I did. If it was an opportunist, you're just looking for fame have many clients or Open Office, had gone out there but my goal was not this.
TM – 
Graduated in Law and within this area, what fascinates him and why?
 
AC – When I began working on Dr. Rui Nepomuceno office as a trainee lawyer. At the time, I did not like and still do not like, of civil law. Do not like to move on issues related to money, land, does not interest me. Always attracted me the issues related to the rights of people and this I found in the Criminal Law. Dr. Rui Nepomuceno was being reformed and began to occupy myself with cases related to children, including cases involving Câmara de Lobos children in P. Edgar time and was succeeding. Followed by cases involving drug trafficking and that I was a lawyer but did not give me any personal pleasure defend because I always liked was the Criminal Law.
TM – 
How do I feel knowing that was defending the children's parents, i.e. people who, from the outset, were condemned by public opinion?

AC – As I enter in the case of Madeleine McCann - always believed in the innocence of parents, found a brutality what they did to them in terms of court. The research, parents who felt abandoned by the Portuguese police...They hired an agency of the Spanish detectives, Method 3, which was primarily responsible for the private investigation in this case. It was the espanhla agency that invited me to work with them. I gave into account, alarmed, the amount of evidence they had gathered in relation to facts which inculpavam Gonçalo Amaral. Comes the case of Joana Cipriano. When it happened, I was not a lawyer so I could not participate. When it happened the case of Madeleine McCann on May 3, 2007, I was already effective lawyer, because I always fell in love with me children's rights, protection of rights and freedoms of individuals, there was an opportunity here for me to do something I liked. As I mentioned in the previous question, the criminal law has always been my great passion is what I like to do within the law and so, when I enter the Madeleine McCann case, it does so because he believed in the innocence of the parents. It did not have to do with money, because he had a good family base that allowed me to live well financially but wanted to be part of that story. I worked "pro bono" that is, without expecting anything in return and without accepting anything in return. I started collaborating with detectives parents of Madeleine McCann and Leonor Cipriano and found a number of facts pointing to the inspector Gonçalo Amaral, notably in research that made the case of Leonor Cipriano, where Leonor Cipriano had been guilty without proof some. Investigated the Gonçalo Amaral and documents (evidence submitted in court), we obtained evidence that the abused woman. The woman made him complaint, including who got drunk in the hours of service, who was driving the car drunk, who threatened with death and all this revealed a very bad character. What was the interest in declaring a person dead by parents and without a single proof? Gave a shedload on Leonor Cipriano, this has been proven in court, it was more than proven in Court Jury that Leonor Cipriano was brutally tortured and was plucked an easy confession by torture. In this confession, she said she had killed her daughter but as the president said Marinho Pinto, how does a person confesses the more and the less does not confess? Confession else, does not confess the least, namely where the body is? He confessed that which will put in jail with a maximum sentence and does not say where the body is? The Leonor Cipriano did not know where the body was because she was not killed. I'll talk to Leonor Cipriano to jail. She sees me with much interest in that in 2008, asks me to me to be her lawyer. I'm as her lawyer until 2012. Leonor Cipriano won the case in court for torture. We had the support of the Bar Association in this case. It should be noted that it was the first time in Portugal that the Portuguese Order of Lawyers took advantage of one of the parties. The then chairperson, Dr. Marinho Pinto, considered at the time it was blatant. It was he who published on the front page in the Express photographs of tortured Leonor. e spoke to me and said that the Bar Association had constituted as an assistant and who would accuse the inspectors. We won this event that was proven torture.
TM – 
How do you currently look at these processes that lived in those years?

AC – I follow with passion but my work is completed. In 2012 I got married and started a family, and I had to think about my family. I spoke to Leonor Cipriano and said he could no longer be her lawyer. Since the end of 2012 that I am not practicing law. I am enrolled in the Bar Association, paid dues but pulled away from the courts because I find it important to pay attention to the family. Currently, my goal is to give attention to my family. My father was a great person but always felt sorely lacking something in childhood that was the attention of my father. He was a person too busy at work, was very fond of me but did not have much time to be with me. He spent his life in the file, painting and do not want that to happen to my daughter. I want you to spend time with his father, do not go to daycare. Am I take care of my daughter when my wife is out. That is the reason why I'm not exercising now law. Do housework, wash the dishes, clean the house, I'm a modern man.
TM – 
How are we in terms of Justice in Portugal?

AC – Justice in Portugal is still very badly but perhaps to give evidence of significant change. Was the process that was proved the torture of Leonor Cipriano and that for the first time, Portuguese police were ultimately convicted by a jury court in this case the Court of Appeal of Evora, who confirmed everything in full. Another sign of change was the arrest of former Prime Minister José Sócrates. I think that was all too familiar investigations into this subject, i.e., there were too suspicion of the former Prime Minister José Sócrates and therefore thought it scandalous that did not yet exist any process. This was another indication that justice is changing in Portugal with this prison. This is not to say that the Eng. José Sócrates is guilty. I'm not doing a conviction because the sentences will be made in court, in the final judgment, but I am saying that there was sufficient evidence, which were publicly known of for many years that warranted a serious investigation. Being arrested a former Prime Minister is an important step in changing the law. Justice in Portugal is giving indications of change for the better. There can only be the thief of apples goes to jail. Before going into the profile cases of girls who disappeared, I worked on cases in which only saw poor people of convictions in court. It was about stealing apples, others do not know what, a person who went to the supermarket and stole a roll, and then those who steal millions and leaving the country in misery, no nothing happens to them. This was something that always revolted me. With the arrest of Socrates, there is a hint of change. Was a positive step in the Portuguese justice, this is my opinion as a citizen and as a lawyer who is not connected to this case.
TM – 
The bodies of Joana Cipriano and Madeleine McCann were never found. O que é que poderá vir a acontecer? What might happen?

AC – I believe that one day it will really know what happened. Finding the body is a step to find out who did the crime, but this is only a hope. There were digs in the Algarve looking for likely places where he might be the body of Madeleine McCann but nothing was found. I hope it will be found the bodies of the girls. I have great faith that the civil case being brought by the parents of Madeleine McCann that accuses Gonçalo Amaral aggravated defamation and ask for compensation for the book, go help the truth contribution. I also hope that research that the British police is doing an independent investigation, and here I welcome the British government for having the courage to financially support this research that was needed, independent research, contribute to establishing the truth. The Portuguese police, under the tutelage of Gonçalo Amaral, never made such an independent investigation. I hope there is light at the end of the tunnel.
[Partilhar este Artigo]

____________________

Dr Martin Roberts: "The evidence is that these are the pjyamas Madeleine wore on holiday in Praia da Luz. They were photographed and the photo handed to a press agency, who released it on 8 May, as the search for Madeleine continued. The McCanns held up these same pyjamas at two press conferences on 5 & 7June 2007. How could Madeleine have been abducted?"
Amelie McCann (aged 2): "Maddie's jammies!".  

Tony Bennett

Researcher




Posts

: 16809


Activity

: 24662


Likes received

: 3744


Join date

: 2009-11-25


Age

: 75


Location

: Shropshire



---
Permissions in this forum:
You
cannot
reply to topics in this forum