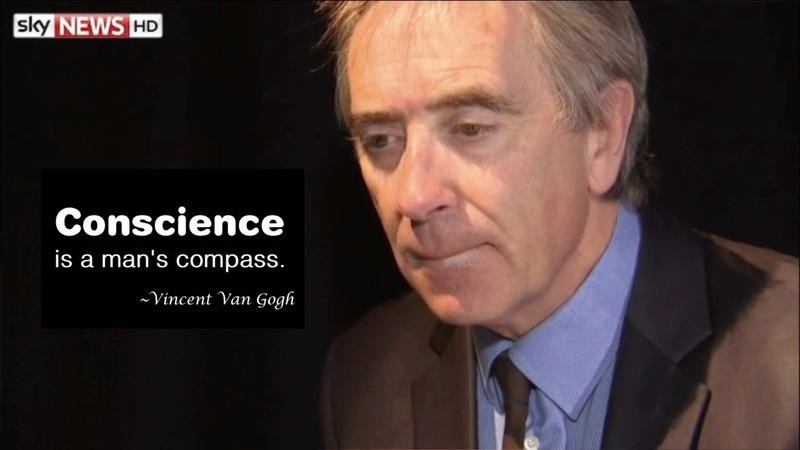 Martin Brunt
Martin Brunt is the Chief Crime Correspondent for SKY News. As such, he gets to cover all the major crime stories. And they don't come much bigger than the disappearance of Madeleine McCann.
One little known fact about Martin Brunt is that prior to Madeleine McCann's disappearance in May 2007, he had for many years owned a villa in the village. 
It's a curious place, Praia da Luz. 
Serial sex abuser of women, Sir Clement Freud, also had a villa over there. Senior Freemason, Past Grand Master Edward Smethurst, the McCanns' co-ordinating lawyer, has been holidaying in the village for the past 18 years. Martin Smith, with his strange tales of strangers who didn't look like a tourist passing him down a dark alley, part-owns an apartment there. How could he tell in a second or two in the dark whether the bloke 'looked like a tourist' or not?
Another long-term resident of Praia da Luz, of course, was the mysterious Robert Murat. And here's where we begin to get really interested in Martin Brunt, because we have in the PJ files two recorded conversations between Martin Brunt and Robert Murat, both on the same day - 15 May 2007 - the day after Murat was made an arguido.
These conversations are curious for a number of reasons. First, Brunt, Robert Murat and Jenny Murat, his mother, all seem very chummy-chummy on the 'phone. 
JENNY MURAT:
Hello. Residence of Jenny Murat.
MARTIN BRUNT:
Hello, Martin Brunt speaking.
JENNY MURAT:
Hi dear.
Did they perhaps
all know each other well before May 2007?
Most interest centres around exactly why Martin Brunt was offering the services of SKY News's lawyers to Murat. What was the moti
ve for that? Who at SKY News authorised Brunt to make such an offer to Murat?
Even more interest centres around this little exchange at the end of the first Brunt-Murat conversation:
ROBERT
MURAT:
I never have any problem with making a statement.
MARTIN BRUNT
:
OK
ROBERT MURAT:
I have no problem whilst...Whilst I have the legal cover to do so. Because I don't want to end up in prison....(sigh)
MARTIN BRUNT
:
That would be the last thing we want.
ROBERT MURAT
:
Firstly, for something I did not do and secondly for
something that would break their contract rules...
MARTIN BRUNT
:
I understand that and
I understand the sensitive nature of everything that we have been working with since we arrived here
, so...
Loads of questions jump out from the above exchanges.
For a start, Brunt talks about 'since we arrived here'. He does not use 'I', but 'we'. Who else is he referring to? When did 'they' arrive? It seems that Brunt and SKY News were there from Day One – Friday 4 May.
Next question: WHAT exactly had they both been 'working with'?
But perhaps still more interest centres around Murat's mention of 'a contract'. It is clear from the context that this 'contract' must have a very close connection to the disappearance of Madeleine McCann and to his arrest. 
"
Break their contract rules"?
Whose
contract rules exactly?
Could this be why Robert Murat spent so much time talking to his lawyer, Francisco Pagarete, after he suddenly flew over to Praia da Luz on Tuesday 1 May? Was Murat really - as he claimed - merely discussing his girlfriend Michaela's divorce from Luis Antonia and the setting up of 'Romigen'? 
Maybe he was not talking to Pagarete about any of that. Maybe he was discussing a very important contract.
Could that contract have been to provide translation services after the abduction alarm was raised - and to find out all he could about the PJ investigation for certain people and if possible try to divert the PJ by coming up with a host of suggestions for lines of enquiry the PJ should pursue?
Because that's exactly what he ended up doing - as discussed in Inspector Varanda's complaint about Murat to Gonçalo Amaral.
Could that contract even have included moving the body of Madeleine McCann to a safe location? – after all, when first questioned by the PJ, Murat lied by not disclosing that he had visited a number of houses between Tuesday 1
st
and Thursday 3
rd
May. He had also clearly lied comprehensively about two meetings he attended on the Thursday, one several miles west of Praia da Luz, the other several miles east of Praia da Luz at the Palmeras Golf Club. 
Did Brunt perhaps know the secret of this 'contract'. It looks like he did. Using guarded language, no doubt aware that his call to Murat might be being recorded, he acknowledges that the 'contract' issue is 'of a sensitive nature'.
If Brunt knew about Murat's contract with whoever it was, that alone would qualify him as a rogue.

More to come about this soon.

-------------
For discussion, please visit this thread:
https://jillhavern.forumotion.net/t13448-the-secret-life-of-martin-brunt-robert-murat-and-the-contract
____________________
PeterMac's FREE e-book
Gonçalo Amaral: The truth of the lie
NEW CMOMM & MMRG Blog
Supt. Hastings, like the Battle:
"I'm interested in one thing, and one thing only...and that's catching bent coppers"
---
Permissions in this forum:
You
cannot
reply to topics in this forum