I have just come across this recent article about Melissa Dring, formerly known as Melissa Little. 
It will be recalled that as Melissa Little, she was asked to sketch a man clamed to have been seen by Jane Tanner on 3 May. It wasn't produced until 25 October 2007, very nearly six months after Madeleine was reported missing, by which time its value was virtually nil. Jane Tanner admitted she never saw the man's face.
On 20 January in the
News of the World
, in a blaze of publicity, a drawing of a suspect was published. It was the subject of a dramatic press conference, fronted by Melissa Little, the following day (21 January). It was again drawn by Melissa Little, and again paid for by Brian Kennedy. It was based on the recollections of one Ms Gail Cooper, who says she saw a suspicious-looking charity collector when on holiday in Praia da Luz - and wondered if he might have been the abductor. The sketch initially became known as 'Cooperman.'   
Despite Jane Tanner not having seen the face of the man she said she'd seen on 3 May, incredibly she was able to say she was '80% sure' that he was the same man as 'Cooperman' (a.k.a. 'Monsterman' and 'George Harrison man'. This becomes even more incredible when we remember that, according to Goncalo Amaral in his book 'The Truth Of The Lie', Jane Tanner in an identity parade on 13 May was adamant that as Robert Murat walked by,
he
was the man she'd seen on 3 May.
Articles about Melissa Little/Dring stated that she had been 'an F.B.I.-trained forensic artist' and also claimed she had a police qualification in forensic artistry dating from 1986. AFAIK neither claim has been substantiated, and indeed the claim that she was an 'F.B.I.-trained forensic artist' was contradicted in one short biography of her which merely claimed that she had been 'invited' to meet with the F.B.I.
Anyway, here is the article, which incidentally makes no mention of her work for Gerry and Kate McCann:
==================================================              
Fine Art and Forensics: Melissa Dring's Jane Austen Pastel Portrait
By: Jessica Canterbury, Managing Editor | April 15, 2016
The immediate sense of recognition we feel looking at a pastel portrait by Melissa Dring (
featured in the June 2016 issue of
Pastel Journal) may well be influenced by another side of the English artist's life: her work as a police forensic artist. And one part of Dring's art-making in which she has been able to combine her skills in forensic drawing and portraiture to intriguing effect is when she has undertaken to make a likeness of a historical figure of whom no portrait exists: English novelist Jane Austen (1775-1817).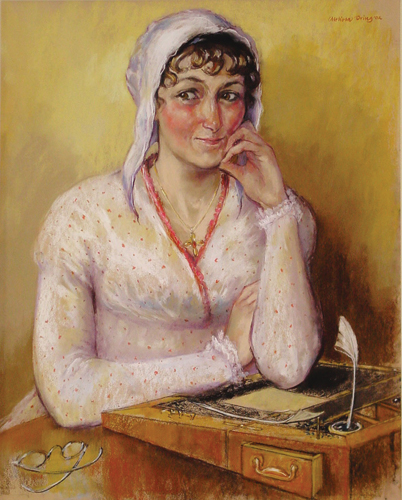 Jane Austen (pastel portrait, 25×20) by Melissa Dring (formerly Little)
Her first foray into this field was when she was asked to produce a portrait of the Italian composer, Vivaldi (1678-1741). Since there are no reliable portraits of the composer, a filmmaker preparing a documentary on him asked Dring to work up an image. Using one quick sketch made during the composer's lifetime, augmented with written accounts of his appearance, the artist produced a painting that was embraced by the filmmaker and his backers. This work led to a commission to make a portrait of Austen, which has received considerable acclaim.
The painting has all the lively immediacy of a Dring fine art pastel portrait made from life, but its construction was the result of meticulous research and much thought.
"David Baldock, director of the Jane Austen Centre in Bath, approached Scotland Yard, who recommended me," says Dring. "Dave had already heard of my work on Vivaldi and asked me to take on the commission. He needed me to apply my police forensic methods and my portrait skills to making a new Austen portrait, as she might have looked in her late 20s, during her time in Bath from 1801 to 1806."
As was the case with Vivaldi, there are no undisputed likenesses of Jane Austen. "In both cases sketches survive, as well as a wealth of character and personality eyewitness accounts," the artist says. "In 1810, Jane, perhaps a little reluctantly, allowed her adored elder sister Cassandra, an amateur artist, to make a tiny pencil and watercolor drawing of her."
Unfortunately this sketch was never considered a true likeness. "The family never liked it and I always think it makes her look as if she's been sucking lemons. It hardly represents the image one associates with Jane, the lively and witty young woman who gave us stuck-up Mr. Darcy in Pride and Prejudice and the air-brained Mrs. Bennett. However, Jane, unlike the rest of her large family, never let anyone else draw or paint her, and apart from a tiny black-and-white silhouette, and a back view, that's all we have to go on."
Dring launched into considerable research to refine her sense of Austen's appearance. "I searched for likenesses of the other Austens, starting with her parents with their long distinguishing noses," she says. "Luckily we have images of all her siblings and there's a silhouette of Cassandra."
The artist was also mindful of the social class and practical qualities of the author. "Jane grew up in a country parsonage, before her years in Bath, and though she was a romantic, she wasn't at all sentimental. She knew all about killing the family pig, brewing beer for the household—much safer than drinking water—and coping with her nieces' fleas in her bed when they visited. All mentioned in her letters."
Dring carefully researched Austen's dress for the pastel portrait, choosing a red-spotted muslin that Jane herself mentioned buying in a letter to her sister. She then visited the National Trust collection of historic costumes to ensure that the dress style and construction were authentic. But perhaps, in the end, the most authentic feature of the Austen portrait is the expression of the sitter.
"Above all else, I wanted to bring out something of Jane's lively and humorous character so evident in her writing," says Dring. "Her expression is a complex one of delightful private amusement. She's going to poke fun at some pomposity somewhere, or she's planning to send Marianne off with Willoughby or some other mischievous plot. She's still, but underneath that cap she's seething with ideas."
By John A. Parks
(
johnaparks.com
)
Read more about Melissa Dring in the
June issue of Pastel Journal, which is available now at northlightshop.com in print
or
as an instant download
, and on newsstands May 10.
Or, for just a few more dollars,
subscribe to Pastel Journal and never miss an issue! Get your issues in the mail HERE
or as
digital downloads HERE.
Researcher




Posts

: 14899


Reputation

: 2991


Join date

: 2009-11-25


Age

: 70


Location

: Shropshire






Posts

: 747


Reputation

: 296


Join date

: 2013-07-04



@MRNOODLES

wrote:

Not too dissimilar from Austen's sister's sketch.
Good find Mr Noodles. I vastly prefer the sister's version. For a start it is likely to be more authentic and also she doesn't look like a brassy piece of skirt that you might find flirting down at the local hostelry.



Posts

: 2053


Reputation

: 143


Join date

: 2011-12-05



I don't want to interrupt the flow of these entertaining posts about the artistic merit of Dring's paintings, but allow me for a moment please to drag this back right bang on topic by asking a few questions about Melissa Little's role in the Madeleine McCann affair.

She did the various sketches of Tannerman and Cooperman/Monsterman/George Harrison man.

She was paid for these two sketches.

How much?

Were payments to her made out of the Fund to which heartbroken pensioners and children donated their weekly pension and pocket money?

Where are the payments to Little shown in the annual accounts of the Find Madeleine Fund?

Did Little really believe the rambling accounts Jane Tanner gave her?

Was Little ever made aware that on 13 May she identified Robert Murat as the person she said she'd seen on 3 May?

Was Little ever made aware of the inconsistent evidence given by Gail Cooper? - the PJ final report dismissed her account because she gave contradictory accounts of how many times she'd seen the charity collector.

How could Little say that Cooperman looked like Tannerman? - given that Jane Tanner admitted she'd seen none of Tannerman's face?

And how could Jane Tanner say the two men looked '80% similar?

The Cooperman, Monsterman story was huge. The News of the World front page 'splash' on the story was followed by a widely-viewed TV press conference starring Clarence Mitchell. Gerry McCann spent weeks preparing a Powerpoint presentation of Cooperman. Detective Superintendent Stuart Cooper spent days and days helping him.

Were Rebekah Brooks, DS Prior, the McCanns, Brian Kennedy, Clarence Mitchell, Gail Cooper and Melissa Little all aware that they were participating in the promotion of a wholly unlikely 'person of interest', merely to fool the public?
Researcher




Posts

: 14899


Reputation

: 2991


Join date

: 2009-11-25


Age

: 70


Location

: Shropshire



If Little was hired and paid by Brian Kennedy why would her fee for the sketches come out of the Find Madeleine Fund?


Edit. So many benefactors & donations to the fund, I wonder how much money has really flowed in the search for Madeleine? With OG costs too, could it be said it would amount to over 20M?
____________________
"Basically, I'm just an ordinary, straightforward guy who's the victim of the biggest f***-up on this planet – if you'll excuse the language." 
Robert Murat talking to David Jones, Daily Mail, 02 June 2007
http://www.dailymail.co.uk/news/article-459316/Madeleine-Is-Robert-Murat-suspect-scapegoat.html



Posts

: 2033


Reputation

: 1399


Join date

: 2016-04-15



---
Permissions in this forum:
You
cannot
reply to topics in this forum