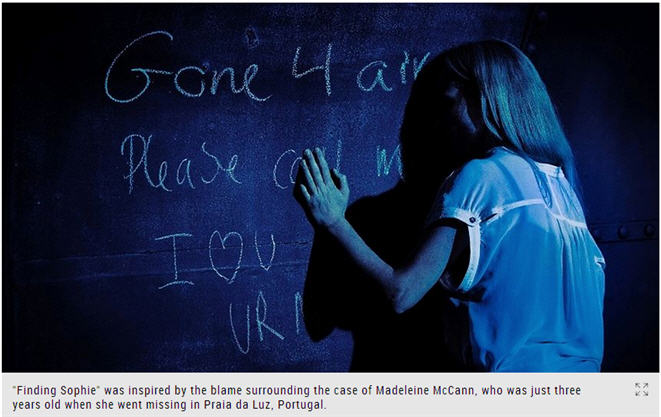 This week theatrophiles will have a unique opportunity not just to see a play but also to gain a more comprehensive perspective on how a play is written and staged.
"Finding Sophie", a joint production between New World Theatre Club (NWTC) and Pussycat Productions, follows Sophie, a typical teenager who suddenly vanishes. All parts are played by one actress, Copenhagen-born and London-trained Maria Lohmann, with bits of music and humour sprinkled throughout. 
Following the one-act play, Lohmann and British playwright and director Janice Dunn will hold a discussion on the writing and staging of the play.
Dunn will explain why she felt compelled to write the piece, which was inspired by the blame surrounding the case of Madeleine McCann, who was just three years old when she went missing in Praia da Luz, Portugal.
The performances in English will take place at the Château de Bourglinster on Thursday, January 21, at 2pm and 8pm, and on Friday and Saturday, January 22-23, at 8pm.
Please note that the language used in the play may be too strong for children under 14.
For tickets, call (+352) 35 63 39 or email
tickets@nwtc.lu
http://www.wort.lu/en/culture/theatre-from-play-to-stage-finding-sophie-569d09280da165c55dc51717
the blame surrounding the case of Madeleine McCann
Which blame?

lj




Posts

: 3322


Reputation

: 196


Join date

: 2009-12-01



lj wrote:

the blame surrounding the case of Madeleine McCann

Which blame?
If they told you that, they may never sell the tickets.
I doubt that it's the blaming of numerous non-existent abductors. It's probably the blame attached to the McCanns, otherwise Carter Ruck would be arranging a staff outing, with front seat tickets
If they are writing and staging an abduction, perhaps they should ask the tapas 9 how not to do it.
I wonder if there is a connection between the writers and Team McCann

____________________
"WE ARE ALL IN THIS TOGETHER" - Rebekah Brooks to David Cameron
sharonl wrote:

I wonder if there is a connection between the writers and Team McCann
Not that I can see from an internet search this morning, though I did note that, like Kate McCann and Jon Corner, biographies of Janice Dunn say she was born and raised in Liverpool.
The production company is the New World Theatre Company and is based where a number of European Union institutions are based, in Luxembourg.
The play - which has already been performed many times - will this time (Thursday) be shown at the prestigious Bourglinster Castle in the Duchy of Luxembourg:    
http://www.bourglinster.lu/
I found a longer explanation from Janice Dunn about why she wrote this play on the 'Newsletter' page of the New World Theatre Company's website, links here: 
www.nwtc.lu/pages/news/newsletters.php
www.nwtc.lu/pages/shows/current-show/finding-sophie/janice-dunn-director-finding-sophie.php
She writes:
I wanted to write 'Finding Sophie' because I was fascinated about what happened to the people connected with disappearances, and the stages they went through. I was particularly moved by Millie Dowler's family, and particularly the McCann family. I thought the ill-informed, orchestrated internet campaign against Kate and Gerry McCann was so inhumane considering what they had experienced. I don't think I would have written the piece before I had a child of my own however.
Also this from the newsletter:
"'
Finding Sophie' is a play by writer/Fasterpussycat Co-Director Janice Dunn  that explores the nightmare faced by thousands of families every year…Britain has over a quarter of a million missing persons reports annually
'Finding Sophie' touches on the culture of blame and digital whirlwind that now surround s every crime or disappearance. Do we have an innate desire to help, or an insatiable appetite for others' unhappiness?...The play and characters were partly inspired by the media scrum that the McCann family found themselves at the constant centre of, after the disappearance of Madeleine…"
+++++++++
COMMENTS:
re: "The McCann family found themselves at the centre of a media scrum"? I don't think so. The scrum was created by people like the men from Bell Pottinger (half a million quid for promoting the McCanns) and Clarence Mitchell ("My job was to control what comes out in the media")  
re: "...orchestrated internet campaign against Kate and Gerry McCann"?  Again, I don't think so. I would have thought the word 'spontaneous' much better captured what happened on the internet after 3 May 2007   
=====================================
P.S.
  A reminder of how the creative Jon Corner is doing in Liverpool these days...
http://www.gerrymccannsblogs.co.uk/press/37may10/LIVERPOOL_D_POST_05_05_10.htm
THE World Expo in Shanghai is not just a massive showcase for Liverpool – it will also take River Media's work to an audience of millions.
The company, led by creative director Jon Corner, has made 80 films that will be shown at Liverpool's Shanghai pavilion.
They include a spectacular introductory 3-D film, featuring a Chinese dragon and a Liver Bird soaring above Liverpool.
It's the biggest project yet for River and proud Liverpudlian Corner has enjoyed the "cultural challenge" of taking the wonders of his home city to a Chinese audience...
[REST SNIPPED]
____________________
"This is a faithful saying, and worthy of all acceptation, that Christ Jesus came into the world to save sinners" - Paul's first letter to his disciple Timothy,  1 Timothy 1 v 15

Tony Bennett




Posts

: 14700


Reputation

: 2831


Join date

: 2009-11-25


Age

: 70


Location

: Shropshire



JANICE DUNN




Kildevaeldsgade 60, 3th, Copenhagen 2100, Denmark




         


 
j_dunn@btinternet.com
 


  

0044

 

7845 221514


 
 

FREELANCE DIRECTOR / WRITER

 

Employment History

Associate Director / Freelance Director




Mercury Theatre, Colchester




2002 - 2012




The Mercury is a 450 seat theatre based in Colchester town centre.




Directed dozens of plays in mainhouse and studio, and directed/wrote annual pantomime for 10 years.




Active in programming, strategic planning and project development. Also producer on two new writing studio festivals.




Provided training and professional development programmes for acting/creative company, and also theatre staff.




Deputised for Artistic Director, attended Board meetings, consulted on marketing / audience development, and undertook PR and media duties.




Key Achievements:




§

 

Represented organization in European PLOTS project, delivering English production, and liaising with all other groups.




§

 

Supporting development of drama and family audience attendance.




§

 

Delivery of critically and audience acclaimed work across a wide range of styles and genres.


 


Associate Director / Freelance Director




Belgrade Theatre, Coventry




1990 – 2000 and 2005




The Belgrade is a 980 seat theatre based in Coventry city centre.




Responsibility for directing plays in main theatre, studio and touring. Developing new writing initiatives.




Instrumental in programming and planning, and artistic policy development.


 

Running a multi-strand dept. Fundraising and budgeting. Employing, managing and training staff.




Marketing and PR duties.




Leading a full Training Needs Analysis for the whole organization.




Key Achievements:




§

 

Chair of Senior Management team for 2 years




§

 

Development of nationally recognized access initiatives, and progressive education projects now used throughout England.




§

 

Instrumental in huge development of young audience.


 


Freelance Director




2000 – 2013




The Royal Court, (The Force of Change) 2001.




Birmingham Rep, (Sound of a Hammer – The Door) 2000.




Liverpool Everyman, (Goldfish – winner best new play award) 2000.




Oldham Coliseum, (Absurd Person Singular) 2005.




Tricycle Theatre, (Small Miracle – TMA award winner) 2008.




Theatre 503 / Latitude Festival, (Catastrophic Sex Music) 2011.


 


  

Artistic Director




  

Mad Half Hour Theatre




  

1999 – present day




  

Created, produced and toured six new plays throughout Britain.




  

Worked with over 12 schools in England as part of Creative Partnerships scheme.




  

Development and mentoring work with young people.


 
 

Education




BA Hons, Theatre Arts




Leeds university




Grad 1988


 


Counselling Dip




Cruse bereavement care

 

Professional Development




§

 

Theatre directing with Eugenio Barba




§

 

Dance Therapy with Wolfgang Stange




§

 

Clown and Dark Clown with Peta Lily




§

 

Theatre for YPRO with Geese Theatre

 

Skills




§

 

Director




§

 

Movement direction




§

 

Facilitator




§

 

Trainer / workshop leader




§

 

Scriptwriting




§

 

Consultancy and report writing


 
 

Languages




§

 

English




§

 

Basic Danish.


 
 

 

References




  

References available on request.


 
 
 

____________________
"WE ARE ALL IN THIS TOGETHER" - Rebekah Brooks to David Cameron
---
Permissions in this forum:
You
cannot
reply to topics in this forum