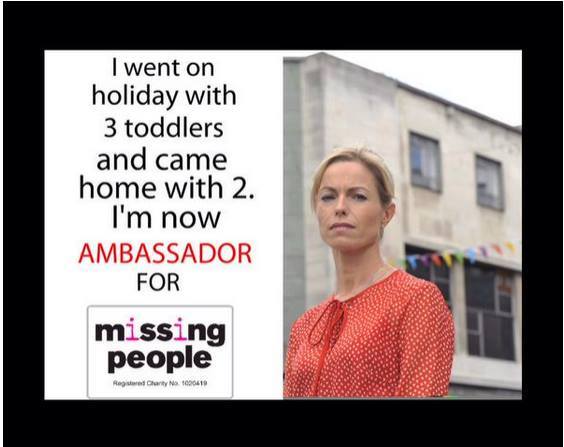 Frances Gallagher
‎
  Madeleine McCann: Abduction or Scam?
January 16  · 
How to lose a child and become a millionaire. .
Do not under any circumstances cooperate with the police. .
Ring the media first to get your side of the story aired immediately. . Play on the ..devout Catholic and doting parent image
Invite all your friends in to contaminate the crime scene.
Remove all records of texts and calls from your mobile phones.
Give differing versions of events to the local police.. Remember confusion is good.
Show different photos of your child to the police. .Give them an out dated photo .. Honestly you wouldn't believe the laughs we have had over this. .We nearly cracked up on TV when we were discussing age progression photos of Maddie. .
Do not allow them take your clothes or your daughter's clothes to get into the hands of the police. .Who the hell do they think we are? Don't they know we are doctors?
Complain about the incompetence of the Police. .They do not even speak English , ,How very dare they!!
Make sure you have the British Ambassador on call to stop the local cops from sticking their noses in where it is not wanted.
Employ a professional liar. .nobody believes a word he says anyway . .Remember what I told you . .Confusion is GOOD.
Get your fighting fund up and running as soon as possible. .You will need to gag the few dissenting busybodies who keep asking awkward questions
Trademark your daughter's name as soon as possible to ensure that only you can profit from your unfortunate child's demise.
Do not answer any questions put to you by the police. .Best to treat them with contempt. .Believe me it is all they deserve. How dare they forget to offer us something to eat or even introduce themselves. .Who are these sardine munchers anyway?
Finally appear on every sofa TV all over the world .. Tell them you need THEIR money to help find your (dead) daughter. Honestly you would not believe how gullible people can be. . But that is their problem not yours.. A fool and his money is easily parted. .
Use the money as befits your new celeb status and pay off your mortgage .
I did it and look at me now.. a millionaire and Ambassador for Missing People..
And EVERYONE knows who I am NOW..
https://www.facebook.com/photo.php?fbid=951822008242645&set=gm.1021530477909053&type=3





Posts

: 11620


Reputation

: 5593


Join date

: 2009-11-25


Location

: parallel universe



---
Permissions in this forum:
You
cannot
reply to topics in this forum