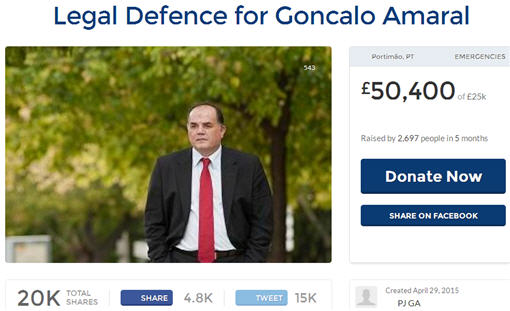 Please consider joining the CMOMM forum to show your support and solidarity for Gonçalo Amaral. Members of CMOMM (especially PeterMac, Tony Bennett,
Richard D Hall
and
Lizzy Hideho Taylor
) regularly submit evidence to Operation Grange, the Polícia Judiciária and Gonçalo Amaral to help keep Maddie's case from being shelved again and to help Gonçalo win his battle in Court.
Not only does Gonçalo need our donations - and more than £50k has been raised for him so far by so many generous people - but he needs evidence and proof.
PeterMac (a retired Police Superintendent/Detective) and Tony (a retired solicitor/Social Worker/Investigator),
Richard D Hall
and
Lizzy Hideho Taylor
do an immense amount of unpaid work behind the scenes, research that cannot be posted on the forum for obvious reasons - but they sift through everyone's comments looking for the pieces of the jigsaw. Every little helps!
The CMOMM forum is the NUMBER ONE Maddie forum in the WORLD with more than 20,000 members and guests viewing EACH day. Please show your solidarity for Gonçalo by registering and helping to keep CMOMM the number one forum in the world!
CMOMM needs YOUR help to get to the truth about what really happened to Madeleine McCann. Maddie needs justice. Gonçalo Amaral needs justice!
Come on everyone, let's get behind PeterMac and Tony for Maddie and Gonçalo!
Facebook and Twitter are fantastic tools for getting the truth out there, but so is the CMOMM forum, which hosts a wealth of research, aswell as the main websites such as mccannfiles and Pamalam's sites.
Please leave messages of support for Gonçalo on this thread.
Força, Gonçalo !
https://www.gofundme.com/Legal-DefencePJGA
CMOMM on Facebook
Good luck Snr Amaral. May truth and justice prevail! 

Duper's Delight




Posts

: 1


Join date

: 2015-10-07




hearditallbefore




Posts

: 1


Join date

: 2015-10-07



Dignity, courage and the tenacity to fight for what you believe in are your forte Dr Amaral! The destructive duo could learn a lot from your classy demeanor in the face of their endless attempts to destroy you.  Sadly they will never understand because they are true narcissists (imo), and as such they seek to blame everyone else for their own abject parental failures.
Wishing you every success for the future, and a good long life.

pennylane




Posts

: 2770


Join date

: 2009-12-07



Good luck, Sr Amaral, let's hope this injustice ends soon!

____________________
...how did you feel the last time you squashed a bug? -psychopathic criminal, quoted in Robert Hare, Without Conscience

puzzled




Posts

: 205


Join date

: 2011-06-21



I hope justice will be done soon, and that you will be able to get back to a normal life after that.

lj




Posts

: 3329


Join date

: 2009-12-01



We are all behind you Goncalo.
We're here if you need us x

Constablekid




Posts

: 88


Join date

: 2014-03-11



Yes Mr Amaral, I too wish you resolved from this hell been inflicted upon you.  Hope for good news very soon now.  joyce1938

joyce1938




Posts

: 889


Join date

: 2010-04-20


Age

: 81


Location

: england



As the owner says
Get em Gonçalo

____________________
For Paulo Sargento, the thesis that Gonçalo Amaral revealed at first hand to "SP" that the blanket could have been used in a funeral ceremony at the Luz chapel "is very interesting".
 
And he adds: "In reality, when the McCanns went to Oprah's Show, the blanket was mentioned. At a given moment, when Oprah tells Kate that she heard her mention a blanket several times, Kate argued that a mother who misses a child always wants to know if she is comfortable, if she is warm, and added, referring to Maddie, that sometimes she asked herself if the person who had taken her would cover her up with her little blanket (but the blanket was on the bed after Maddie, supposedly, disappeared!!!).

ROSA




Posts

: 1404


Join date

: 2011-04-19


Location

: Sydney Australia



---
Permissions in this forum:
You
cannot
reply to topics in this forum