Page 41 of 41 •
1 ... 22 ... 39, 40, 41

Father of boy who disappeared in Algarve in 1996 claims police are re-opening his son's case

Six-year-old René Hasee was on holiday with his family in Aljezur, 25 miles from Praia da Luz, when he vanished on June 21, 1996

By Phoebe Southworth and Daniel Wighton 6 June 2020 • 11:46am



The father of a German boy who disappeared in the Algarve in 1996 claims police have told him they are re-opening his son's case, as fears grow that the Madeleine McCann suspect could be linked to this third missing child.

Six-year-old René Hasee was on holiday with his family in Aljezur, 25 miles from Praia da Luz, when he vanished on June 21, 1996.

The schoolboy, from Elsdorf, had been running ahead of his mother and stepfather towards the sea during a walk on the beach.

They lost sight of him and his clothes were later found, with the authorities speculating that he drowned in a tragic accident.

But René's father, Andreas Hasee, has now claimed that an investigator from the Federal Criminal Police Office in Germany called him this week for the first time in 20 years to reveal they were re-investigating his son's case.

He believes "there could be a connection" between his son's disappearance and that of Madeleine in Praia da Luz on May 3, 2007.

The prime suspect in the Madeleine case, 43-year-old Christian Brückner, had moved from Germany to Praia da Luz in 1995 aged 18, and would have been 19 when René went missing.

Mr Hasee told The Telegraph: "I find the two cases aren't that different at all. Madeleine was a sweet little girl and my son was a small, sweet boy, and he was also the same age. A whole lot about the two cases fits together.

"For me, it would be enough to learn that my son sunk in the Atlantic. But when I think that he maybe fell into the hands of a paedophile, I think 'god, what did he do with my child?' Then it's much worse, I believe.

"I found that what Madeleine's parents did, working with the British press to constantly remind everyone about it all the time, was good.

"It wasn't like that with my son in Germany. The authorities were not so active. For us we got nothing, zero - it was a tragic game."

The new development in René's case comes after prosecutors re-opened the probe into the disappearance of German five-year-old Inga Gehricke, who vanished during a family outing in Saxony-Anhalt on May 2, 2015.

Police in Germany and the Metropolitan Police have declined to comment on whether René's case is being linked to the investigation into Madeleine's disappearance.

https://www.telegraph.co.uk/news/2020/06/06/father-boy-disappeared-algarve-1996-claims-police-re-opening/


____________________
" The secret of life is honesty and fair dealing. If you can fake that, you've got it made" - Groucho Marx

Verdi

Moderator/Researcher





Posts

: 21780


Activity

: 28514


Likes received

: 5716


Join date

: 2015-02-02



There is no connection found between Renee H and Christian B,
Although there is evidence that CB was in the Area at the time where Ingha G went missing, no connection has been found either.

Source: Der Spiegel (Google translate into English) 8 June 20
https://translate.google.com/translate?hl=en&sl=de&u=https://www.spiegel.de/panorama/justiz/fall-maddie-mccann-keine-hinweise-auf-zusammenhang-mit-vermisstem-rene-a-417a9910-409c-4aad-8f07-a2356c9f7cad&prev=search&pto=aue

Silentscope




Posts

: 760


Activity

: 790


Likes received

: 30


Join date

: 2020-06-30



MADDIE BOGUS LEAD
Why did cops investigating Madeleine McCann's disappearance waste four years on 'Tannerman' lead – despite GP saying it was probably him?
Julian Totman always thought he was the man Jane Tanner saw carrying a child in a pink pyjama top the night Madeleine disappeared
Exclusive


6 May 2018, 22:25

Updated: 6 May 2018, 23:12

COPS spent four years trying to identify a man seen carrying a child on the night Madeleine McCann disappeared — despite a GP saying it was probably him.
Julian Totman walked near the McCanns' apartment holding his two-year-old girl after getting her from a creche at the resort in Praia da Luz.
But Portuguese officers continued to pursue the line of inquiry triggered by Jane Tanner, a friend of Kate and Gerry McCann.
She said she saw a dark-haired man wearing a brown jacket, dark shoes and tan trousers carrying a child in pink and white pyjamas.
As well as matching much of the physical description of "Tannerman", Dr Totman also wore the same clothes.
He was interviewed by the Guarda Nacional Republicana soon after Maddie, three, vanished in May 2007, but his wife Rachel said: "My husband had told the local police it could be him but we didn't hear anything for years.
"When the police finally realised the significance it was too late to really help.
"We always thought it was Julian who was seen by Jane Tanner.
"But the national police who investigated didn't get back to us and we don't know if our information was ever passed on."
Ms Tanner was one of the so-called Tapas Seven — the friends and family members dining with the McCanns at the time Maddie disappeared.
She was on her way to check on her kids at 9.15pm when she saw the man near Kate and Gerry's apartment.
Gerry was nearby with pal Jeremy Wilkins having just looked in on Maddie and her younger twin siblings Sean and Amelie.
Kate then discovered their eldest child was missing when she went to check again at 10pm.
Ms Tanner later defied police orders to not comment publicly on what she saw.
She said: "I think it's important that people know what I saw because I believe Madeleine was abducted.''
And with Portuguese laws prohibiting the release of photofits of suspects, the McCanns put out an artist's sketch of "Tannerman" in October 2007.
But efforts by the Totmans, who live in the South West, to point out the importance of Julian's movements fell on deaf ears.
They were never contacted by Leicestershire police, whose officers were responsible at the time for collating all UK inquiries.
The force also failed to follow up on information from Paul and Julia Weinberger, pals of the Totmans, who said they had seen a pock-faced man hanging around the McCanns' aparment twice that week.
The Portuguese probe was concluded in July 2008 and it was not until 2011 — when then-Home Secretary Theresa May ordered the Met carry out a review — that the Totmans' account was finally taken seriously.
Det Chief Insp Andy Redwood described it as a "moment of revelation".
He said: "We are almost certain now this sighting [Tannerman] is not the abductor."
The Met probe then dramatically shifted focus to a sighting by Irishman Martin Smith at 10pm of a man — dubbed "Smithman" — carrying a child down a hill away from the Ocean Club.
They also appealed for information over a spate of burglaries at the resort in the period leading up to Maddie's disappearance 11 years ago last week.
The British police investigation has now been scaled down and is likely to be shelved in October.
But one retired Met Police detective, who visited the resort with The Sun, is convinced Jane Tanner saw the real abductor.
https://www.thesun.co.uk/news/6225547/madeleine-mccann-gp-sighting-waste/....................
https://jillhavern.forumotion.net/t17056-andy-redwood-ruled-out-the-only-evidence-of-an-abduction-by-claiming-that-tannerman-had-turned-up-with-the-clothes-that-he-and-his-daughter-were-wearing-on-that-night-six-years-earlier#433366


____________________
" The secret of life is honesty and fair dealing. If you can fake that, you've got it made" - Groucho Marx

Verdi

Moderator/Researcher





Posts

: 21780


Activity

: 28514


Likes received

: 5716


Join date

: 2015-02-02



Why, if Andy Redwood is so sure it was Julian Totman that Jane Tanner saw, does he give half an explanation, was it deliberate misdirection? Andy Redwood knew where the Totman apartment was and he knew that the person Jane Tanner saw was walking away from this direction.
If and it's a big if, Jane Tanner saw a person walking with a child that night, It was not Julian Totman, unless of course, he was wandering around willy nilly trying to get his child to sleep after picking her up from the night creche.

crusader




Posts

: 899


Activity

: 1079


Likes received

: 170


Join date

: 2019-03-12



Whilst Jane Tanner was flip flap flopping around the streets of Praia de Lux - it all happened between 21/22:00H on the night of 3rd May 2007 didn't it.

Gerry McCann child checking and relieving himself, Jane Tanner taking her flap flops or a walk, Carpenter on a promenade with child and the errant phantoman carry a bundle that could/might not have been a child wearing distinctive pyjamas and about the same age as Madeleine McCann - eventually!

Now what shall we call ex-DCI Andy Deadwood .... 'sinnerman'?

Too much information if you ask me.

ETA: Read between the lines, it's all the fault of the sardine munching wine swigging bungling Portuguese police. What do you take for lunch Mister Redwood?

____________________
" The secret of life is honesty and fair dealing. If you can fake that, you've got it made" - Groucho Marx

Verdi

Moderator/Researcher





Posts

: 21780


Activity

: 28514


Likes received

: 5716


Join date

: 2015-02-02



SIZING UP HIS TARGET? Madeleine McCann's blonde suspect could be the man seen lurking near her apartment hours before she was snatched
Holly Christodoulou
4 Jun 2020, 16:44Updated: 4 Jun 2020, 17:21
A BLONDE Madeleine McCann suspect could be the man spotted lurking near her holiday apartment just hours before she was snatched from her bed.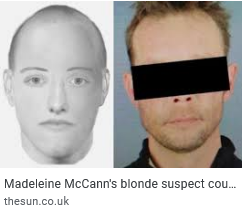 On the day the three-year-old vanished, a witness claimed they saw a man skulking around the Ocean Club apartment where Madeleine and her family were staying.
The suspect was seen at 4pm - around six hours before the youngster was discovered missing from her bed and the alarm raised.
He was described as white, aged 30 to 35, thin with shirt, light-coloured hair.
In 2013, an e-fit was released of the man - with detectives from Scotland Yard now saying this has "not been ruled out" after it was revealed they had a prime suspect living in Germany.
The chief suspect, named today as paedo Christian B, lived in Praia da Luz between 1995 and 2007 and has been described as blonde - matching the mystery man spotted lurking near the McCann's apartment.
It was originally believed the e-fit could have been notorious child killer Martin Ney but this has since been ruled out.
Speaking about the sighting in her bestselling 2011 book Madeleine, her mum Kate said: "His behaviour struck the witness as suspicious.
"He appeared to be trying to close the gate quietly, using both hands, and very slowly and deliberately checking in both directions before walking to the end of the pathway and on to Rua Dr Gentil Martins."
The gate he walked through is understood to be to apartment 5B, next to the McCann's 5A, where Kate and Gerry's friends Matt and Rachael Oldfield and their young daughter Grace were staying.
The suspect at the heart of the probe has today been revealed as Christian B - a paedo caged for "multiple" child sex attacks.
He was born in Germany in 1976 but moved to Portugal in his late teens.
While living in the country between 1995 and 2007, he rented two homes while selling drugs and burgling homes to top up his income from working part-time in the food industry.
One of the homes he rented is just five miles from the Ocean Club apartment where Madeleine is feared to have been snatched from her bed on May 3, 2007.
The white house with a typical Portuguese orange roof is up in the hills above Praia da Luz on a secluded road surrounded by just a few other houses.
A drive from the home to the holiday club where Madeleine and her family were staying takes just 11 minutes through rolling countryside.
The paedo, who was convicted of sexual assault against two young girls, also had a "vile and disgusting" lair - again just a few miles from the apartment.
The farmhouse he rented was said to be on a footpath leading to the beach where the little girl played while on holiday with her mum, dad Gerry and twin siblings Sean and Amelie.
Christian B was jailed in Germany last year for seven years for the rape of a 72-year-old American woman in Portugal two years before Madeleine went missing, Braunschweiger Zeitung reports.
He broke into the victim's house armed with "a curved sabre" and a rope to tie her to a wooden beam.
She was blindfolded, gagged and whipped with a piece of metal before being raped and robbed.
The victim told the police: "He enjoyed torturing me."
He also has a long rapsheet for drug offences and sex attacks on kids, sexual coercion, theft and breaking and entering, reports Bild.
It has also been reported the prolific burglar first broke into a house in 1992 when he was aged around 15.
Hans Christian Wolters, a spokesman for the Braunschweig Public Prosecutor's Office, said today: "With the suspect, we are talking about a sexual predator who has already been convicted of crimes against little girls and he's already serving a long sentence."
Police in Germany fear the fiend may have been working with an accomplice when he broke into the McCann apartment, who may know where Madeleine's body is.
They revealed today they are investigating the convicted rapist "on suspicion of murder" and say they believe Madeleine is dead.
A number of potential links between Christian B and the disappearance have arisen - including an alleged conversation about Madeleine in a chatroom before police began honing in on him.
The paedo was first thrust into the frame in 2017 after allegedly confessing to abducting Madeleine in a bar.
He was reportedly chatting to the friend in Germany when a TV report came on about the tenth anniversary of the girl's disappearance and he suggested he knew what had happened to her.
German sources claim he boasted he had "snatched her" but didn't say he had killed her.
The 43-year-old prisoner was revealed to be living in a campervan in Praia da Luz in Portugal around the time the youngster vanished on May 3, 2007.
Cops say he was driving the vehicle in the same town just days before Madeleine vanished and is believed to have been living in it for days or weeks before and after the date of her disappearance.
The paedo has also been linked to a 1993 Jaguar XJR6 with a German number plate seen in Praia da Luz and surrounding areas in 2006 and 2007.
German police believe one of the two vehicles were used in the disappearance of Madeleine.
On May 4, 2007 - the day after Madeleine vanished - the man got the Jaguar re-registered in Germany under someone else's name although it is believed the vehicle remained in Portugal.
He also took a mysterious 30-minute phonecall just one hour before the disappearance and had also rented two homes in Portugal just miles from the Ocean Club where Madeleine was staying.

https://www.thesun.co.uk/news/11781960/madeleine-mccann-suspect-lurking-apartment/
.....................
Cripes - pick the bones out of that one, thank goodness the cornflakes are already digested.
Lurkerman's got more faces than Rod Steiger on a bad hair day.
I really must get down to that publication!

____________________
" The secret of life is honesty and fair dealing. If you can fake that, you've got it made" - Groucho Marx

Verdi

Moderator/Researcher





Posts

: 21780


Activity

: 28514


Likes received

: 5716


Join date

: 2015-02-02



Madeleine: Gordon Brown 'snubs request for No 10 meeting with McCanns'

Last updated at 20:45 10 December 2007

The parents of missing Madeleine McCann have demanded a high-level meeting with Gordon Brown amid fears the Government has abandoned their case, it emerged today.

Kate and Gerry reportedly made a desperate plea to the PM to arrange a private summit with their legal team and wealthy benefactors two weeks ago.

But the request is said to have been turned down by Number 10 who will only offer the McCanns a low-level consular meeting.

While Kate and Gerry, both 39, had no plans to attend the talks, their lawyers Kingsley Napley and millionaire supporters Brian Kennedy, Sir Richard Branson and Stephen Winyard are apparently keen to update the PM on the strength of their defence.

The couple's representatives, dubbed Team McCann, have also contacted the Foreign Office and the Home Office after growing concerns that the Government has turned its back on the family's plight.

After Madeleine's disappearance on May 3, Mr Brown pledged his support to the four-year-old's parents during a series of phone calls with Gerry.

But as soon as the pair were named "arguidos" - official suspects - by Portuguese police on September 7 all lines of communication were closed.

Critics of the McCanns have accused them of manipulating their high profile to gain Government "protection".

Last night a friend of the McCanns told the Sunday Express that Mr Brown had gone back on his promise to help them.

He said: "The lawyers and their backers are keen to hold talks with a Cabinet minister so we can show them how much progress has been made.

"The request was made two weeks ago and so far all we have been offered is a meeting with the consulate.

"All we want to do is update them on our position.

"Kate and Gerry do not need protection because they have done nothing wrong."

Home Secretary Jacqui Smith has also snubbed the family.

One reason Mr Brown may be concerened is that the McCanns could still be charged over their daughter's fate.

The Prime Minister was due to visit Portugal on Thursday to sign the EU Constitution but speculation is mounting that Foreign Secretary David Miliband may attend in his place.

Mr Miliband, who first became involved with the McCann case in June, is another who has remained silent without officially withdrawing his support.

Kate and Gerry, of Rothlet Leicestershire, first appealed for his help in September claiming they feared that the "shocking injustice" would stop detectives finding out what happened to their daughter.

Mr Winyard, who owns the luxury Stobo Vastle spa in Peebleshire, Scotland, and pledged £100,000 to help the McCanns meet their legal costs, attacked the PM's lack of support.

He said: "This Government was elected to look after its citizens and it's a fundamental principle of our legal system that everyone is innocent until proven guilty.

"With that in mind I would strongly urge that Gordon Brown accede to our request."

A Downing Street spokesman said: "We don't comment on ongoing cases."

https://www.dailymail.co.uk/news/article-500828/Madeleine-Gordon-Brown-snubs-request-No-10-meeting-McCanns.html

____________________
" The secret of life is honesty and fair dealing. If you can fake that, you've got it made" - Groucho Marx

Verdi

Moderator/Researcher





Posts

: 21780


Activity

: 28514


Likes received

: 5716


Join date

: 2015-02-02



What McCann spokesman Clarence Mitchell really thinks happened to Madeleine
Madeline Goodwin
3 June 2019 • 5:20pm
When Clarence Mitchell picked up the phone at work one morning, he expected yet another routine conversation.
But it was a phone call that plucked him from the mundane life of a civil service job and dropped him right in the heart of one of the biggest missing children's cases the world has ever seen.  
An ex-BBC reporter, Mitchell was by then working in a government-led arm on media monitoring, but had asked ex-colleagues to keep him in mind for any big stories that broke. "I thought it might be something like bird flu, or foot and mouth. A general crisis that flares up from time to time," explains Mitchell.
But this was May 2007, and a three-year-old Madeleine McCann had just been snatched from her hotel room in Praia du Luz, Portugal, taken from her bed while her parents dined in a nearby restaurant.
"The ambassador [to Portugal] had sent a couple of press officers down there, but they were overwhelmed by the media response. He asked for some extra help from London," Mitchell recalls.
"I was sent out and told it would just be a fortnight or so." Mitchell is still helping the family. Fascination with Madeleine's case has never abated - a recent Netflix series, The Disappearance of Madeleine McCann, was released in March - and Mitchell has been handling Gerry and Kate's media dealings ever since.
"Some of the coverage had been very negative, and so I thought this was a chance to help them," the 57-year-old says.
"We have a good working relationship. Friendly but professional," he adds. "We do not socialise, it is not necessarily appropriate, but the media coverage is still pretty intrusive and they see me as a part of dealing with it."
Mitchell had to consider the impact that taking on such a case would have on him - his own children were 10, eight and one at the time. "I could not help but think of my kids when I was at the height of it... I was away from home a lot of the time as well," he recalls.
"That said, I treated it as a job. Although it was upsetting, and I could see the pain it was causing the family, I could not afford to get emotionally attached to the situation. I just had to look at the set of facts in front of me, and treat it as dispassionately as possible."
He admits that it was "upsetting," but adds that, "without being callous, I had to keep the actual emotion to one side. Not wanting to sound cold-hearted, but I do not think it has affected me particularly badly. I tried to be as impartial as possible, and still try to this day."
Over the years, the McCanns have faced a great deal of criticism over their parenting, and perceived role in Madeleine's disappearance. "A lot of it is misinformed, misguided and based purely on assumptions or lack of knowledge," Mitchell says. Mostly, though, it is "prejudice. People deciding that they don't like the McCanns."
Mitchell estimates that "thousands" of people have told him they have seen the little girl in a dream - including a lot of psychics - while "one of the most ridiculous conspiracy theories I have heard was that Madeleine was born as the result of a government cloning project.
"People also assumed the worst. That [the McCanns] were getting drunk, that they were having fun and that they did not care about their children."
Further criticism of Gerry and Kate has labelled them "neglectful. There is even those who say that the parents know what happened. They don't. It is just not true. But try explaining that in the noise of social media and general coverage."
The McCanns' restrained emotional response to the cameras in the immediate aftermath of Madeleine's disappearance provoked questions: how could they be so contained after something so terrible had happened?
"One of the reasons they were so controlled was because they were told very early on that often, in the case of paedophilic kidnaps, the perpetrators watch media coverage and enjoy seeing the distress that they have caused," Mitchell explains.
"So, the police told them not to cry. Not to show any over-emotion. Kate and Gerry, both doctors and both logical, were not going to let that b------ have that satisfaction and so were very rigid.
He understands, though, that "for someone who does not know that, they might think it looks a bit suspicious. It is almost like the public were expecting the parents to react in a certain way."
Things were worsened still by what he calls "a spin-cycle of madness." The papers were full of "McCann fury", he remembers; "the tabloids exaggerated and distorted the information." He is also critical of the Portuguese authorities, as "there would be certain bits of information that could have only come from interviews with the Portuguese police, who wouldn't then confirm anything due to Portuguese laws prohibiting the discussion of legal cases."
Since the McCanns entered the public eye in 2007, they have received mountains of abuse; Mitchell, too, has had his fair share of online trolls.
"I get slammed online all the time for defending them," he says, adding that while he ignores it as best he can, "it is hurtful and it is unnecessary. The McCanns ignore the online negativity and so do I. We only act if there are specific, actionable threats which are always reported to the police."
Certain tabloids have cashed in on public fascination with Madeleine, Mitchell believes, as "every time they put [her] on the front page, circulation would go up" - whether there really were new developments in her case or not. Front page apologies from a number of red tops followed, while "substantial damages" were paid.
A major source of ill feeling towards the McCanns has been the considerable funding the case has received. The Find Madeleine Fund was established in 2007, made up of public donations as well as settlement money from the Express newspaper group, and proceeds from Kate McCann's book.
"The family asked for help in finding their daughter, as anybody would, and the Government chose to support them," Mitchell says, "I do agree though, what do you say to the parent of another missing child? The mother of Ben Needham, for example, has occasionally been upset that the McCanns' case gets so much coverage."
It is our digital age, however, that Mitchell believes has made all the difference.
"Madeleine has been, arguably, the most high-profile missing child case in the internet era. It was not a decision of our making."
Nowadays, he does little work with the McCanns, and remains uncertain over Madeleine's fate. "I asked the British authorities what they think happened and if there was any family involvement, and they assured me it was just a rare case of stranger abduction.
"It's very rare, but it can happen." A sexual motive, he says, is an "obvious" possibility. Kate and Gerry remain hopeful that, as per "other cases, where a missing child has been found alive after many years," there remains hope: that, coupled with "the complete absence of any evidence that Madeleine has been physically harmed," gives them the sense that their eldest daughter may well still be alive.
Though Mitchell hopes the mystery "could all end on one phone call tomorrow, so far, it hasn't.
"A child was taken to order from that room."
https://www.telegraph.co.uk/family/parenting/mccann-spokesman-clarence-mitchell-what-thinks-happened-madeleine/

____________________
" The secret of life is honesty and fair dealing. If you can fake that, you've got it made" - Groucho Marx

Verdi

Moderator/Researcher





Posts

: 21780


Activity

: 28514


Likes received

: 5716


Join date

: 2015-02-02



Never let truth get in the way of a good story. This nifty little piece of trollop was published by the Grauniad around the same time as Christian
'he who can't be named'
Brueckner hit the headlines.
I like so many other people, have wondered why the case has passed the test of time, when other lost children have been forgotten by global media.
Why Madeleine McCann was never just another 'lost child' story
Giles Tremlett
A new suspect has reignited interest in her case, but the British media was hooked from the day she went missing.
It is the story that never goes away. And why should it? The three-year-old girl with the smudge in her right eye would now be a British teenager, looking forward to another family holiday on a Mediterranean or Atlantic beach. Next year she would go to university, perhaps following her high-achieving parents to medical school. Instead, Madeleine McCann is frozen in time – the little girl who disappeared from the family's Portuguese holiday apartment on 3 May 2007.
Madeleine's disappearance is an almost unbearable tragedy. Those of us who watched Kate and Gerry McCann step out each morning from their Praia da Luz apartment to drop off the younger twins – Sean and Amelie – so they could continue the campaign to find their daughter, always saw that. Never in British journalism, indeed, have so many hardened hacks so desperately hoped to stumble upon a little girl – perhaps just dropped off alive by her kidnapper on a cobbled Portuguese pavement.
Otherwise, this is a tale uniquely shaped by British media culture. It is so British that the Portuguese media at first paid scant attention to the newest suspect, revealed this week. Motive, means and behaviour all meet in convicted German paedophile Christian Brückner – who, nevertheless, remains innocent until proven guilty. We know opportunity was also present.
When the Brückner news broke, the Portuguese press did not immediately show huge interest. On Thursday Público newspaper spoke of "the latest suspect" (from an already exhaustingly long list). On Friday it reported on how Praia da Luz just "wants the case to close". People were obviously tired of an old story that still haunts the tourist resort, but which is continually given fresh life by British tabloids that jump on any new clue.
The Portuguese media are not callous. But they had moved on, partly in response to the heavy-footed British press and its mostly condescending attitude to the Portuguese people and police.
The McCann story, indeed, is also a snapshot of Britain and its poisonous media culture. By May 2007, at least 10 million Britons spent their summer holidays in Spain and Portugal. Almost 1 million lived there. Many showed little or no interest in their host countries. They brought, too, a degree of chaos. British tourists kept local police and emergency services busy by needing rescue from drunken late-night swims, overdosing, choking on their own vomit, fighting outside clubs, and jumping, falling or being pushed off balconies. Occasionally they stabbed or shot one another. In the worst tragedies, toddlers drowned in villa swimming pools.
A few years before Madeleine disappeared, a three-month-old British boy was found in a pushchair on a pavement in the Algarve's main city of Faro. He had been dumped there just before his parents flew home to Gatwick. The Portuguese were shocked. British tourists were good for the economy; but they also did the strangest, most inhuman things.
UK tabloids lapped up these stories. Part of their readership was sitting on the beach, reading summer editions printed on Spanish presses.
The McCanns were not that kind of tourist. Kate and Gerry were both doctors. In fact they were the perfect victims: the blonde white girl with the professional parents. These, after all, were the people the media thought they were speaking to – white, middle-class families. But British children go missing more frequently than we would like. They rarely, if ever, get this much attention.
It is always, too, somehow more fascinating if the disappearance happens abroad. That taps into a very British fear of the foreign – and enables us to blame another culture. This was only too visible in the warfare waged between the British media and their Portuguese counterparts, and by sections of the police in both countries. Within days, Kate and Gerry had built a tight relationship with Sky News – Rupert Murdoch's 24-hour service.
Sky catapulted the McCanns to the top of every news list. Teams of reporters appeared from the Daily Mail and elsewhere, as broadsheets played catch-up. I missed the first days, having written this off as yet another "child lost on beach" story, but eventually spent more than a month in Praia da Luz. That period ended when Gerry McCann drove his family to the airport early one morning, while half a dozen cars swarmed around him, bristling with camera lenses.
In between, as real stories ran dry, tabloid culture took over. A Daily Express reporter wearily explained to me that his editor expected a front page splash every two days. Negative stories grew, targeting the McCanns and the Portuguese police. The following year Express newspapers paid £550,000 in damages to the family. "The general theme of the articles was to suggest that Mr and Mrs McCann were responsible for the death of Madeleine … and that they had then disposed of her body," the couple's lawyers stated. The McCanns later became key witnesses to the Leveson inquiry on press misconduct.
The thuggery of mid-2000s tabloids has since emigrated (without journalists) to Facebook and social media. Conspiracy theories abound, fuelled by poisonous commentary and mad theories about "white slavery".
Yet the tone was set long ago. It turned the Portuguese against this story, and exhausted the patience of people in Praia da Luz. When I called several of them on Thursday evening, they spoke of a tragic moment from a different era – and this new appeal relies on people recalling events, places, vehicles and phone numbers from 2007. So despite this being such a high-profile British story, it will probably be the Portuguese who, eventually, solve the crime.

https://www.theguardian.com/commentisfree/2020/jun/05/madeleine-mccann-lost-child-new-suspect-british-media

Giles Tremlett is a correspondent based in Spain. He is the author of Ghosts of Spain, and biographies of Catherine of Aragon and Isabella of Castile
I wonder if he's an associate of the other Spanish novelist
#mockumercilessly
'Hackman'
.

____________________
" The secret of life is honesty and fair dealing. If you can fake that, you've got it made" - Groucho Marx

Verdi

Moderator/Researcher





Posts

: 21780


Activity

: 28514


Likes received

: 5716


Join date

: 2015-02-02



Madeleine McCann search fund 'running out'
Parents Gerry and Kate McCann express dismay at lack of help from authorities three years after their daughter vanished
Published 3rd November 2010
The parents of Madeleine McCann fear that the hunt for their missing daughter is grinding to a halt as their funds to maintain the search dry up.
Madeleine was three when she went missing from her family's holiday flat in Praia da Luz, Portugal, on 3 May 2007 as her parents dined with friends nearby.
Gerry and Kate McCann, both 42, said that the Find Madeleine Fund was running low and would last only until spring, after which they would no longer be able to pay private investigators.
"When the money runs out we will not be able to pay the investigators helping us to find Madeleine," Kate McCann told the Sun. "It will be just me and Gerry left looking for her. I just can't contemplate that."
The fund has fallen from £2m at its peak to £300,000. The couple have sent letters to public figures asking for money to continue the search for their daughter. They are convinced Madeleine is alive and are angry they are not receiving more help from the authorities.
"There's no evidence that Madeleine is not out there alive," said Kate McCann. "It's just heartbreaking to think that nothing is getting done other than what we are having to do, other than our small team." The couple are urging the public to support their call for a full case review of Madeleine's disappearance by signing an online petition.
"We need action, I don't need fluffy worthless words. We need somebody to do something," said Kate McCann.
"Madeleine is still missing, she's a little girl, her abductor is still out there, so by not carrying on we are putting other children at risk. I think more needs to be done."
Gerry McCann said: "Essentially for the last three and a half years the authorities have not been doing anything proactive to help Madeleine. That is despite our best efforts to encourage them to do so. I don't think it's right that the onus should fall on us – the authorities really should be doing more."
The couple, from Rothley, Leicestershire, have met former home secretaries Alan Johnson and Jacqui Smith, as well as the current home secretary, Theresa May, to discuss the issue and to push for a review of the case.
Portuguese police launched a huge investigation with the support of British officers after Madeleine went missing, but the inquiry was formally shelved in July 2008 without reaching any firm conclusions about her fate.
A Home Office spokesman said May was "deeply sympathetic" to the couple's situation. "The government wants to ensure that everything feasible is being done to progress the search for Madeleine," he said.
"The British authorities will maintain a dialogue with the Portuguese and continue to liaise with Madeleine's family on any developments."
https://www.theguardian.com/uk/2010/nov/03/madelein-mccann-fund-running-out

____________________
" The secret of life is honesty and fair dealing. If you can fake that, you've got it made" - Groucho Marx

Verdi

Moderator/Researcher





Posts

: 21780


Activity

: 28514


Likes received

: 5716


Join date

: 2015-02-02



YEARS OF TRAUMA Madeleine McCann documentary – Moment mum Kate breaks down as she reveals sick taunts by trolls over Maddie's disappearance
The pair opened up about the attacks in an old interview featured in Netflix documentary The Disappearance of Madeleine McCann
Corey Charlton
19 Mar 2019, 10:41Updated: 19 Mar 2019, 11:49
Woe woe and thrice woe
THIS is the heartbreaking moment Kate McCann breaks down in tears as she and husband Gerry describe how they deal with vicious abuse by twisted trolls.
The pair opened up about the attacks in an old interview featured in Netflix documentary The Disappearance of Madeleine McCann.
It features coverage of the vile false accusations of guilt levelled towards the McCanns on social media, as well as barmy conspiracy theories.
Fighting back tears, Kate McCann tells the interviewer: "I know how much I love Madeleine and I have no doubt that Madeleine knows how much I love her.
"I know that, and regardless of what those people say out there, those bloggers and people on the forums who obviously get some kind of kick out of being nasty, I know that and I know Madeleine knows that.
"I've just got to kind of keep hold of that really."
Other interviewees, including Ernie Allen, the former CEO of the National Center for Missing & Exploited Children, and PR adviser David Hughes, told Netflix producers that the social media speculation fuelled the conspiracy theories and distorted the Maddie investigation.
Maddie disappeared from her bed on May 3, 2007, while on holiday with her parents and family friends at a resort in Praia da Luz, Portugal.
Her parents, Gerry and Kate McCann, had left her sleeping with her siblings while they had dinner at the hotel's restaurant - only realising about 10pm that she was gone.
MADDIE SNATCHED TO ORDER?
Just 10 months after Maddie vanished, an officer from Scotland Yard filed a memo detailing the Belgium connection.
It read: "Intelligence suggests that a paedophile ring in Belgium made an order for a young girl 3 days before Madeleine McCann was taken.
"Somebody connected to this group saw Maddie took a photograph of her and sent it to Belgium.
"The purchaser agreed that the girl was suitable and Maddie was taken."
Portuguese police pursued the lead though it failed to lead to a breakthrough.
TRAFFICKING ROUTE
The President of the Portuguese Association of Missing Children, Patricia de Sousa Cipriano, told the Netflix producers: "We have information that our country is used by traffickers to pass children to other countries.
"They enter the country through the Algarve and then they go to Spain, to France, to Germany, to be exploited.
"They have a very strong structure that allows them to move human beings from one country to another in a matter of hours. It's frightening because it's very easy."
MADDIE'S HAUNTING WORDS
In 2011 Kate also wrote her own account of what happened that evening for a book titled "Madeleine: Our daughter's disappearance and the continuing search for her".
In it, Kate reveals Maddie's haunting words to her the day before her disappearance.
She wrote about how Maddie asked her: "Why didn't you come when Sean and I cried last night?"
Kate wrote: "Madeleine didn't answer or elaborate. Gerry and I were disconcerted. Could Madeleine and Sean have woken up while we were at dinner? If so, it was worrying, obviously, but it didn't seem very probable."
Meanwhile, Maddie's parents have slammed the new Netflix documentary on her disappearance, saying it "won't help" the search.
The family also believe the controversial new film could "fuel conspiracy theorists", their spokesman said.
https://www.thesun.co.uk/news/8668550/madeleine-mccann-documentary-moment-mum-kate-breaks-down-as-she-reveals-sick-taunts-by-trolls-over-maddies-disappearance/

____________________
" The secret of life is honesty and fair dealing. If you can fake that, you've got it made" - Groucho Marx

Verdi

Moderator/Researcher





Posts

: 21780


Activity

: 28514


Likes received

: 5716


Join date

: 2015-02-02



The Sun videoed interview transcript -  roughly speaking..

Kate McCann

I know how much I love Madeleine

And I've no doubt Madeleine knows how much .. how I love her

I think .. I mean I know that ..  and I just got to think regardless of all those people say out there .. you know those bloggers and people on the forums who obviously get some kinda kick out of being nasty.  

I know that and I know Madeleine knows that and I've just gotta kinda keep hold of that really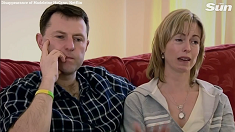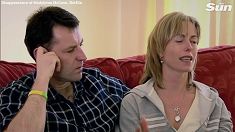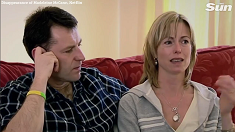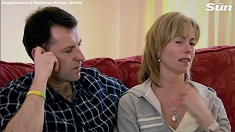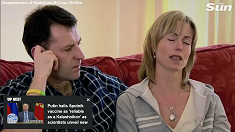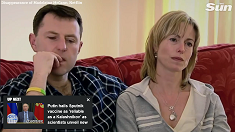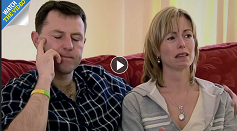 ____________________
" The secret of life is honesty and fair dealing. If you can fake that, you've got it made" - Groucho Marx

Verdi

Moderator/Researcher





Posts

: 21780


Activity

: 28514


Likes received

: 5716


Join date

: 2015-02-02



Page 41 of 41 •
1 ... 22 ... 39, 40, 41
---
Permissions in this forum:
You
cannot
reply to topics in this forum