Page 11 of 11 •
1, 2, 3 ... 9, 10, 11
Verdi wrote:I don't wish to be too scathing about Mark Williams-Thomas, I understand he has been dealing with personal mental health issues - 

Perhaps he is beginning to realise he is about to be found out.
He is a fraud.
Perhaps a new chapter ?
A fraud of the highest order, as I said he should quietly leave the stage.

____________________
" The secret of life is honesty and fair dealing. If you can fake that, you've got it made" - Groucho Marx

Verdi

Forum Manager





Posts

: 28197


Activity

: 35330


Likes received

: 5907


Join date

: 2015-02-02




____________________
" The secret of life is honesty and fair dealing. If you can fake that, you've got it made" - Groucho Marx

Verdi

Forum Manager





Posts

: 28197


Activity

: 35330


Likes received

: 5907


Join date

: 2015-02-02



Make of it what you will..

How a self-promoting TV detective, obsessed with celebrity sex abusers, helped police ruin the lives of Sir Cliff and a string of other famous faces... who all turned out to be TOTALLY INNOCENT
Sir Cliff Richard, Jim Davidson, Freddie Starr and Lord Brittan accused of abuse 
TV 'detective' Mark Williams-Thomas publicised names of high profile suspects
He was the source of up to 20 suspects' names submitted to Operation Yewtree
Release of names at the early stage of the police 'tainted the whole investigation'
Top detective said it created the presumption of guilt and 'ruined innocent lives'
By David Rose and Rosie Waterhouse For The Mail On Sunday
Published: 23:15, 3 November 2018 | Updated: 16:24, 23 November 2018
Question: What do the entertainers Sir Cliff Richard, Jim Davidson and Freddie Starr, as well as the late former Home Secretary Lord Brittan, have in common?
Answer: They have all lived – and in the case of Lord Brittan, died – under the shadow of being falsely accused of historical sexual abuse, although none of them was ever charged with a crime, much less convicted.
And in every case their names have been dragged through the mud thanks in part to the actions of one man, a former policeman turned award-winning TV 'detective' called Mark Williams-Thomas.
Williams-Thomas was the man behind ITV's 2012 documentary revealing the late Jimmy Savile was a paedophile.
Since then he has become a regular fixture on This Morning and presenter of further documentaries, including The Investigator, made by Simon Cowell's company Syco.
Savile, of course, became a touchstone for a widespread belief that numerous powerful paedophiles had been allowed to get away with terrible crimes. 
Understandably, perhaps, the author of Savile's posthumous downfall became determined to build on this first success.
But a major investigation by this newspaper today poses a troubling question: in his zeal to claim further scalps did Williams-Thomas help ruin the lives of a string of famous men who turned out to be totally innocent?
For Williams-Thomas has openly boasted that he was the source of up to 20 suspects' names being submitted to Operation Yewtree, the sprawling, multi-million-pound Metropolitan Police inquiry into alleged abuse by celebrities established after the Savile film.
Then, when he learned that officers planned to investigate particular individuals, he publicised their names, even though police inquiries were at an early stage.
The credibility he derived from the Savile documentary meant his information had a massive media impact. In some cases, he issued regular breathless 'updates' on police inquiries.
The result, according to one of Britain's top detectives with experience of investigating historical abuse, was a fiasco which 'tainted the whole investigation, created a presumption of guilt, and ruined innocent people's lives'.
Williams-Thomas yesterday claimed The Mail on Sunday investigation was 'littered with incorrect information', but when asked what this was, he refused to answer.
Former Metropolitan Police Detective Chief Inspector Paul Settle headed a parallel inquiry into claims of abuse by politicians – including Lord Brittan – running at the same time as Yewtree.
His staff were based in the same, open-plan office in Hammersmith, West London, as some of the Yewtree team. He says he directly experienced the extraordinary efforts made by Williams-Thomas to influence both investigations.
'Operation Yewtree seemed to have a policy of arresting first and asking questions later,' Mr Settle told The Mail on Sunday.
'Their attitude seemed to be, "There's been an allegation, go and nick him", before they had even done the basics, such as establishing whether the accuser and the suspect had been in the same country at the relevant time.'
Then, Mr Settle says, the suspect's name would be publicised. This, the ex-detective says, was 'reckless in the extreme. If you put famous people's names out there, you may not merely destroy their livelihoods. There's a great danger it will lead to a bandwagon effect, generating further, false allegations, so the potential for miscarriages of justice is huge.'
The most prominent Yewtree victim of all was Sir Cliff Richard, whose name was leaked to the BBC – not by Williams-Thomas – allowing the broadcaster to air footage of the raid on his Berkshire apartment in 2014.
The singer faced two years of anguish before finally learning he was not going to be charged.
This newspaper has established that one of Sir Cliff's accusers, a man known as 'David', had already been exhaustively investigated by Mr Settle and his team, and found to be a suggestible, vulnerable fantasist. David, who had learning difficulties and had been in care, told them he was raped as a boy by both Sir Cliff and Elton John at a sex party, at which media baron Rupert Murdoch and former Labour deputy leader Lord Prescott were also guests.
'Needless to say, this didn't happen,' Mr Settle said.
Yet the South Yorkshire investigation into Sir Cliff took David seriously. Legal sources have confirmed that although the Met had already decided he was not a reliable witness, South Yorkshire detectives – who took over the Cliff Richard investigation from Yewtree – treated him as a 'victim'.
David has told the MoS they interviewed him several times, and asked him to give evidence against Sir Cliff. Unaccountably, Mr Settle's conclusion that he was not a reliable witness was apparently not passed on to South Yorkshire.
And the name of the man who triggered the police inquiry by telling Operation Yewtree that he had evidence that Sir Cliff had sexually abused a child? Mark Williams-Thomas. He has boasted about it in a series of tweets.
On August 17, 2014, three days after the BBC used a helicopter to film the raid on Sir Cliff's apartment, Williams-Thomas was already claiming credit for it. 'Some media reports are misleading,' he tweeted. 'I passed the original allegation and other info to Op Yewtree in 2013.'
Williams-Thomas, 48, spent 11 years with Surrey Police, leaving in 2000 with the lowly rank of detective constable. He later spent two years working for a firm that removed chewing gum from pavements.
But his real goal was to make it in television. And starting by acting as adviser to crime dramas, he gradually began to get work.
His lucky break came when he found himself on a plane next to BBC journalist Meirion Jones, who asked him to help with a Newsnight film on Savile, which the BBC eventually, and controversially, axed.
Williams-Thomas took the story to ITV and won national acclamation and a string of awards.
In the post-Savile frenzy about other alleged celebrity abusers, Williams-Thomas boasted he was 'working closely' with Operation Yewtree, and was 'sharing new leads and contact details for victims'. He claimed he had a 'dossier' featuring a 'catalogue' of allegations against about 20 suspects, including 'some household names'.
In some cases, he stated, his information had already led to arrests – though he has not specified whose.
Celebrities investigated as a result of allegations to Operation Yewtree who were never charged include not only Sir Cliff but also Freddie Starr, Jim Davidson, Jimmy Tarbuck and Paul Gambaccini. The latter has been awarded 'substantial' damages by the Crown Prosecution Service, and is suing the police.
Publication of suspects' names by police in cases like Operation Yewtree would now breach professional guidelines issued by the College of Policing, which say that if a name is released before charge, there must be 'exceptional circumstances'. However, seasoned detectives say that the guidelines merely enshrine procedures which were already well established in the period 2012 to 2014, when Yewtree was at its height.
One former detective said: 'The only time you release a suspect's name before charge is if you don't have the evidence to charge and there's a real danger to the public. Otherwise, you just don't do it – it's reckless and unethical.'
Freddie Starr
Tweeted 24 minutes after comic's arrest
WILLIAMS-THOMAS had close contacts with several newspapers, but his weapon of choice when breaking the news of celebrity arrests was Twitter.
His first came at 18.09 on November 1, 2012: 'Breaking: Freddie Starr under arrest
#jimmysavile
' he announced – the hashtag ensuring that readers would know exactly what type of investigation Starr was facing.
The stature conferred on Williams-Thomas by the Savile film meant his tweet was swiftly followed up by the BBC and every newspaper. The Met then put out a statement which confirmed that a 'man in his 60s from Warwickshire was arrested at approximately 17.45 on suspicion of sexual offences and taken into custody'.
The arrest took place just 24 minutes before Williams- Thomas's tweet.
Williams-Thomas issued further tweets about Starr as police inquiries progressed. 'Freddie
#Starr
arrest which I broke yesterday dominates front pages,' he tweeted on November 2, going on to add fresh details: 'He was bailed after approx 6 hours in custody
#jimmysavile
.'
Later that day he added an update, saying Starr was still being interviewed 'as a continuation' of his previous interrogation. More tweets followed over the ensuing months as Starr faced the agony of waiting on bail, not knowing whether he would be charged. It wasn't for another 18 months that he learnt he wouldn't be. By then, his wife had left him and his physical and mental health were wrecked.
Jim Davidson
WRONGLY LINKED to Jimmy Savile
ANOTHER celebrity probed by Yewtree whose near-downfall was announced by Williams- Thomas was comedian Jim Davidson. Unlike most of the inquiry's targets, he was accused of sexually assaulting adult women, but that did not stop Williams-Thomas making the link with Jimmy Savile.
In a tweet posted at 19.16 on January 2, 2013, eight hours after news of the arrest broke in the media, he wrote: 'I can confirm that one of the entertainers arrested today by Op Yewtree is Jim Davidson
#Savile
.'
Other supposed 'victims' came forward after the ensuing flood of publicity, but eight months after his arrest, Davidson was told he would not face any charges.
In a book that he wrote about his ordeal, he said he first learnt of this not from the police or Crown Prosecution Service but a reporter, who told him the source was 'the ex-detective that did the TV programme exposing Savile's behaviour'.
Lord Brittan
GAVE SECRET ADIVCE TO fantasist
AT THE end of February 2013, Williams-Thomas told a newspaper he was investigating sexual abuse by a 'very significant individual' at Elm Guest House in Barnes, South-West London. By this time, claims had been circulating on the internet that in the 1980s this had been a 'gay brothel' where children were abused, and that among those who stayed there were Sir Cliff and Leon Brittan, the former Tory Home Secretary.
One of their sources was a former social worker and convicted fraudster called Chris Fay. He had been trying to spread claims about Elm Guest House and 'VIP paedophiles' for many years. In 1990 he introduced 'David' – the fantasist who went on to accuse Sir Cliff – to a journalist called Gill Priestly, now deceased. In a series of taped interviews with her, David made astonishing claims: that he had been sexually assaulted by Lord Brittan, and 'trafficked' to Amsterdam, where he was forced to watch as children were raped and murdered to make 'snuff' porn movies.
Police documents disclosed by the Crown Prosecution Service and seen by this newspaper say Priestly played her tapes to Williams-Thomas while he was a serving police officer. The papers say that at the time police took no action and that in 2002, after Williams-Thomas left the police, she gave some of her tapes to him for 'safe keeping'.
In 2013, then Detective Chief Inspector Paul Settle's team spent more than 70 hours interviewing David, who made many of the same allegations. But Mr Settle says: 'We knew very quickly the Elm Guest House claims were nonsense. David was very vulnerable and very suggestible, and his allegations were sheer fantasy.'
His story about the 'sex party' with Sir Cliff, Elton John and Murdoch was, Mr Settle added, only one of many outlandish claims.
Then, in October 2013, the police records say, Williams-Thomas produced the tapes of Gill Priestly's interviews with David. He approached Mr Settle's boss, Detective Superintendent David Gray, and played them to him and a detective constable at the ITV studios. The full contents of the tapes have not been disclosed.
Mr Settle said: 'We had already finished with David, but here was Williams-Thomas apparently trying to reincarnate him as a witness. It was quite apparent the tapes were the musings of a fantasist.'
However, others were taking David's allegations seriously.
He was introduced to reporters from the now-defunct Exaro News website. This spectacularly unreliable witness became a source for multiple, lurid stories about the non-existent 'Westminster paedophile ring' used to support bogus claims of child rape and murder by Lord Brittan and others.
Eventually, these were debunked by a Panorama programme in 2015. David was to be one of its star witnesses, admitting he had made false allegations because he was suggestible and felt under pressure.
Williams-Thomas had promised to consider giving Panorama the Priestly tapes, but failed to do so, say BBC sources. Then, after David had been filmed, Williams-Thomas sent him an email, urging him either to insist on concealing his identity or not to appear at all, drafting messages that he suggested David should copy and send to the BBC.
'DON'T tell the BBC we have spoken,' he wrote, 'just say you have spoken to a friend who has given you advice.'
Williams-Thomas refused to say why he sent this email. It is possible he believed he was acting in David's best interests.
Sir Cliff
Attack ON POLICE WHEN star was cleared
AFTER claiming credit on Twitter for starting the police inquiry into Sir Cliff, Williams-Thomas did not appear to be anxious that publicity about the investigation might have irreparably damaged the reputation of an innocent and much-loved star.
In a further tweet, he noted the 'incredible co-ordination btwn South Yorkshire press officer at scene and BBC so BBC chopper is in place to catch property removed'. It is not clear exactly what Williams-Thomas meant by this.
In other tweets that autumn, he was critical of the BBC filming the raid. Yet the story told by the first complainant against Sir Cliff, whose allegations had been given to Yewtree by Williams-Thomas, always seemed doubtful.
The man was claiming that Sir Cliff assaulted him in 1983 when he was 15 during a Billy Graham Christian rally in a room used to store goalposts at Bramall Lane, the Sheffield United Football Club ground.
In fact, it emerged when the claims were investigated that there was no Graham rally in Sheffield until 1985, and there was no room at Bramall Lane used to store goalposts. The man said the team's colours were blue and white, which belong to Sheffield Wednesday, not Sheffield United, whose colours are red and white.
But Williams-Thomas continued to tweet about the case.

https://www.dailymail.co.uk/news/article-6350331/Self-promoting-TV-detective-obsessed-celebrity-sex-abusers-helped-police-ruin-lives.html

____________________
" The secret of life is honesty and fair dealing. If you can fake that, you've got it made" - Groucho Marx

Verdi

Forum Manager





Posts

: 28197


Activity

: 35330


Likes received

: 5907


Join date

: 2015-02-02



WIKI ENTRY:
Mark Alan Williams-Thomas
9 January 1970 (age 52)
Billericay, Essex, England
Background[edit]
Williams-Thomas was born in Billericay, Essex. He was educated at Amesbury School and Pierrepoint, and later attended Birmingham City University. In 1989, he joined Surrey Police. During his time with Surrey Police, he was a specialist in major crime and child abuse. He left the force in 2000.
Williams-Thomas completed his MA in criminology from Birmingham City University in 2007.[6]
In 2013 Williams-Thomas was awarded a Post Graduate Diploma (Honours) and master's degree (MA) in Criminology at Birmingham City University.[7][8]
Police career[edit]
Williams-Thomas was a detective and family liaison officer with Surrey Police from 1989 to 2000.[2]
On 27 November 1995, schoolgirl Ruth Wilson aged 16 years went missing from her home in from Betchworth, near Dorking Surrey, England. Williams-Thomas was the family liaison officer for Wilson's case, stated that extensive searches across Box Hill had yielded no evidence to suggest she was killed or committed suicide. He also stated that he was sure Wilson was not abducted by a stranger. Williams-Thomas also stated; "From the experience I have had, I would suggest one of two things occurred. She either went up there to meet someone and has subsequently gone away, or she went there and died in some way."[9]
In August 1997 Williams-Thomas was part of the investigation into child pornography found in the possession of school teacher Adrian Stark, the director of music at St John's School, Leatherhead, Surrey, who committed suicide shortly after his arrest.[10][11]
In 2001, Williams-Thomas launched the investigation into the child abuse of Jonathan King, leading to his successful conviction and imprisonment.[citation needed]
Between 2001 and 2002, Williams-Thomas was the marketing manager and a director of GumFighters,[12] a "national chewing gum removal specialist". The company were hired by various councils to clean their streets.[13][14]
In 2003, Williams-Thomas was charged with blackmailing a funeral home director, after alleging that there were multiple bodies buried in unmarked graves. An article ran in a national Sunday paper describing the mass burials. He was subsequently acquitted.[15]
In 2005, Williams-Thomas set up WT Associates, an independent child protection consultancy firm.[2]
LINKEDIN ENTRY: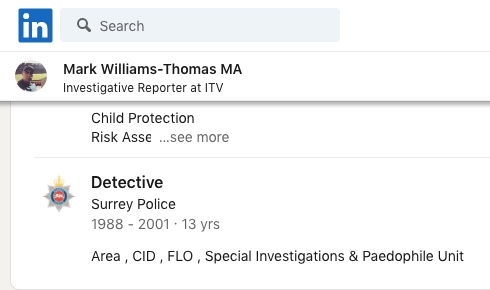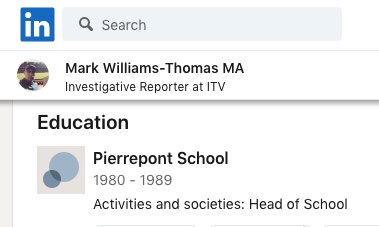 Police service has shifted by 2 years, adding one at each end.
Born Jan 1970, so Joined Police in 1989 on leaving school,
MINIMUM 2 years probation in uniform.
From other sources spent
9
years in uniform, and only got onto CID in 1998.
Resigned in 2000
BUT, if he left school after A levels age 18/19 in 1989 and joined the Police in 1989 when did he get his first degree at Birmingham City University ?
Or did he leave school in' 88, fail his first year and then join the police.
There is a lot more to this than meets the eye.
crusader and CaKeLoveR like this post

____________________
" The secret of life is honesty and fair dealing. If you can fake that, you've got it made" - Groucho Marx

Verdi

Forum Manager





Posts

: 28197


Activity

: 35330


Likes received

: 5907


Join date

: 2015-02-02



Problem is with Williams-Thomas and other fraudsters out there who take it upon themselves to 'privately investigate' in public, people watch listen and hang- on to their every word.

I was looking for his tweets about his breakdown (if that's what it was), I'm astounded to read the emphatic adoration of his followers. It's like a cult brethren.

____________________
" The secret of life is honesty and fair dealing. If you can fake that, you've got it made" - Groucho Marx

Verdi

Forum Manager





Posts

: 28197


Activity

: 35330


Likes received

: 5907


Join date

: 2015-02-02



crusader and CaKeLoveR like this post
ITV & Netflix – The Investigator: Series ONE and Series TWO
Series (Season ONE) In a television first, Mark brought an explosive and ground-breaking new investigative series to ITV that showed how real-life crime could be far more compelling than fiction. The award-winning former police detective re-examines a previously 'closed' and chilling murder case, which has baffled detectives for more than thirty years. The murder of housewife and mother Carole Packman, whose body has never been found; yet her husband Russell Causley was convicted of her murder.
For over thirty years, Causley maintained his silence. That is until Mark began his investigation The murder of Carole Packman continues to affect the lives of so many, especially her daughter Samantha and grandson Neil. But as Mark starts to investigate the murder, he discovers the shocking tale of fraud, deceit and lies. In a UK television first, The Investigator: A British Crime Story, follows the case over four explosive episodes, combining stylised drama with compelling investigative documentary.
The Investigator has now been watched by well over 10 million people around the world and is currently available on Netflix as an Original. The Investigator: A British Crime Story is a Shiver and Syco co-production. As a result of Mark's investigation and the new evidence he found, Dorset police have re-opened the investigation.
Series (Season) TWO Focuses on two serial killers episode 1 ' Peter Tobin' and episodes 2 and 3 on 'Angus Sinclair' . The Investigator : A British Crime Story horrifies viewers as they learn of Angus Sinclair's crimes. Series (Season) 1 & 2 can be viewed on Netflix worldwide.
Following on from the series Mark is continuing to work with the family of Jessie Earl to try to get the Coroners Inquest overturned and a new Inquest heard.
His ongoing work to help get justice for Mr & Mrs Earl was featured in a report by the Daily Telegraph in November 2018. Art student Jessie Earl disappeared 38 years ago… Has the mystery of her murder finally been solved? On the 11th March 2019 – serial killer Angus Sinclair, who I investigated in Series (Season) 2 died in HMP Glenochil, Scotland. The Investigator wrote to Angus Sinclair in jail in bid to get confession

https://www.williams-thomas.co.uk/the-investigator-a-british-crime-story/

____________________
" The secret of life is honesty and fair dealing. If you can fake that, you've got it made" - Groucho Marx

Verdi

Forum Manager





Posts

: 28197


Activity

: 35330


Likes received

: 5907


Join date

: 2015-02-02



Mark Williams-Thomas: Without Savile exposure, Harris and Clifford victims would never have come forward
By William Turvill - August 26, 2014
It may be two years since Mark Williams-Thomas exposed the sex attack allegations against Jimmy Savile which had been ignored by the BBC with his ITV Exposure documentary.
But the ramifications of the story are still being felt. The Operation Yewtree police investigation into historic sex offences is ongoing and, in a separate inquiry, Sir Cliff Richard's home was recently searched by South Yorkshire Police after Williams-Thomas passed information on to the force.
Williams-Thomas, a police officer turned investigator/journalist (via a stint as an advisor for fictional crime programmes), proudly tells me that his Savile story remained on the front pages for 41 days after it was broadcast in October 2012.
Yewtree has led to more than a dozen arrests and two high-profile convictions (Rolf Harris and Max Clifford).
Last month Home Secretary Theresa May announced a child sex abuse inquiry that will look into churches, the BBC, political parties and other institutions.
Despite the fact he was on Savile's trail before his death in late 2011, Williams-Thomas believes that if the star was still alive he would not yet have been exposed – and therefore the various other celebrities and high-profile figures caught in recent years would not have been either.
"No one would have broadcast that programme," he tells me at Soho's Groucho Club. He points out that as well as the BBC dropping its Newsnight investigation into Savile in December 2011 – which he worked on – the police also missed opportunities to catch the former Top Of The Pops presenter.
Williams-Thomas first heard of Savile's abuse when working on another Newsnight story. It was on the aeroplane travelling back from Lyon, France, with producer Meirion Jones – whose aunt was headmistress at Duncroft School – where Savile is now widely known to have abused pupils.
"He said to me: 'Have you heard about Jimmy Savile?' And I said: 'What do you mean?' And he said: 'Well, you know, he was a child abuser.'"
Williams-Thomas instantly wanted to investigate, but he says Jones told him that no one would touch the story. That changed a couple of months later when Savile died. Williams-Thomas was called in by Jones to be "an expert on how paedophiles operate" before the "editorial decision" was made to spike Newsnight's investigation.
Rather than feeling bitter about the story being dropped at an early stage, Williams-Thomas saw this as an opportunity and asked Jones if he could take the story on. "Absolutely – please expose him," Jones said.
After persuading ITV to consider the story – "they got it…but, I have to say, they were nervous" – Williams-Thomas, who was "not paid a penny" until the programme was made, linked up with freelance producer and director Lesley Gardiner, who sits in on part of this interview.
The two of them "followed a path" and by the time of broadcast, they had four victims and one witness of Savile's abuse who were willing to speak.
Thanks, says Williams-Thomas, to the bravery of these women, the programme went ahead.
There have been negative repercussions – the investigator says he has received a letter bomb and child sex abuse material in the post – but the programme went on to win numerous awards and, Williams-Thomas believes, make a difference.
"The praise for this is for those five women," he says. "If those five women hadn't put their trust in me, and been brave enough to tell their story, then those many victims who have taken strength from that [wouldn't have come forward].
"And I've talked to the victims in many of those [Operation Yewtree] court cases, and ongoing court cases now, and they personally say that if it hadn't been for Savile's exposure, they wouldn't have come forward."
As it is, Williams-Thomas believes his Savile story has led to a "sea change of culture, in the media, in the public, in the police, in the Crown Prosecution Service – across the board".
Before embarking on his ten-month investigation into Savile, Williams-Thomas had worked on several other high-profile crime cases, including the murder of Sarah Payne when he worked for Surrey Police, and the murder of 12-year-old Tia Sharp, as a freelance journalist.
In the latter case, Williams-Thomas got an exclusive interview with Stuart Hazell, the schoolgirl's murderer, before he was charged by police. This is part of the interview, which was broadcast on ITV News on the 9 August 2012:
"I knew at that point this was the interview with the killer," says Williams-Thomas. "The more information he gave me, the easier the police's job was – and that's what the whole purpose was. I wanted the killer caught."
He adds: "I just want people to tell me everything. And I wanted him to tell me everything in such detail that the police would then go back and say: 'Is that right? Is that what you said?'"
What Williams-Thomas didn't know was that Tia Sharp's body was in the attic of the house when he conducted his interview. An "inquisitive person" – "if you invited me to your house and I went to the toilet, I would go through your cupboards" – Williams-Thomas believes there is a chance he could have discovered her had Sharp's family allowed him to go upstairs.
Asked how dealing with such horrific cases affects him personally, Williams-Thomas says: "I've seen the worst of the worst. I've seen children murdered, I've seen dead bodies, I've seen the worst scenarios, and I've seen horrific abuse that people wouldn't even be able to contemplate.
"And does it upset me? Yeah, I continue to be upset. And it concerns me, and it worries me – and that in a way is what drives me to do what I do. I hope that I can try and make a difference. I can't change the world, but I can help some people.
"And I'll continue to do that as long as I can, as long as I have the ability to still expose people. And will I upset people? Yeah. But I hope the people that I upset are the baddies."
Last month, he broke the news that retired judge Baroness Butler-Sloss stepped down as head of the inquiry into child sex abuse, saying she was "not the right person" for the job.
Williams-Thomas, who has immersed himself in the stories the probe will concern itself with, feels this decision was right, but is concerned the inquiry will not fulfill its job. He describes Home Secretary Theresa May's proposal for an "inquiry of previous inquiries" as "absolutely pointless".
"If the Government gets it right, by appointing the right people to head up the inquiry, it will lift a lid on a number of powerful people who either are offenders or covered up", he says.
In addition to this story, Williams-Thomas has broken a number of Operation Yewtree exclusives over the last couple of years – including the fact that Rolf Harris had been questioned by police in November last year, which he broke on Twitter. It took another five months for The Sun to claim a front-page "world exclusive" on the same news.
While Williams-Thomas had his Harris story double-sourced, newspapers and broadcasters struggled to get the story out, with police refusing to confirm his identity. Policeman turned journalist Williams-Thomas believes that those arrested for child sex abuse should be named in the media – but that the authorities need to build up a stronger case on alleged abusers before an arrest is made.
And what does he make of relations between those working in his former and current professions? "The relationship has now got better than it was, but there's still a long way to go back to the way it was," he says.
"Had it gone too far, the relationship between the police and the media? I think in some cases it had – that pally relationship crossed the boundaries. But are we in a position now where it's gone too far the other way? Yes. It's very difficult to get the pendulum in the middle, and it's now gone too far the other way.
"What's really important is for the police and the media to understand the roles they play, and how it's vital they work together. And I think that gets lost sometimes."
He adds: "Leveson hasn't helped. For all the good it's done, it's done bad as well. And I just hope that the police service over time will step back from it and go: 'You know what, we do need those relationships. We need to understand where those boundaries are, but we do need those relationships – because we do need to work together.'"
https://pressgazette.co.uk/mark-williams-thomas-if-savile-was-still-alive-he-harris-and-clifford-would-still-be-free/

____________________
" The secret of life is honesty and fair dealing. If you can fake that, you've got it made" - Groucho Marx

Verdi

Forum Manager





Posts

: 28197


Activity

: 35330


Likes received

: 5907


Join date

: 2015-02-02



Page 11 of 11 •
1, 2, 3 ... 9, 10, 11
---
Permissions in this forum:
You
cannot
reply to topics in this forum