A tribute to Helen Williamson (Hentie)
From her friends at the 'Complete Mystery of Madeleine McCann', 'Madeleine McCann Research Group' and 'Madeleine Foundation'
At about 3pm on Sunday, 11 July 2021, the life of Helen Williamson (known to so many by her social media name, 'Hentie') sadly ended.
She had battled for years against cancer and endured long spells of chemotherapy which seemed to have brought a respite, checking the advance of the cancer. But in the end, the cancer proved to be too powerful and took away her life.
She leaves behind a grieving family, notably her granddaughter Abigail, whom Helen largely helped to bring up, following family problems around the time Helen decided to end her marriage.
Mercifully, in later years, she found true love with Rod Oliver, who has been her soulmate for the past 19 years.
To those who were privileged to know her, Helen was a loving and caring soul. She spent most of her career as a care support worker in a home for people with disabilities. She had an especially soft spot for young children and animals, and hated the idea of any cruelty or harm to either.
So it was that in May 2007, when the news cycle that month was overwhelmed with the news of how three-year-old Madeleine McCann had been cruelly abducted, Helen rushed to help. She heard many times the tragic story of how a man had broken into her parents' holiday apartment in Portugal. He had apparently forced entry into the apartment by breaking open the shutters and climbing in through a small window.
Within 10 days of this terrible crime, the McCanns and their advisers had put together the 'Find Madeleine Fund' to raise money to search for her and track down the culprit'. Soon afterwards, Prime Minister Tony Blair's Chief Media Adviser, Clarence Mitchell, was on the airwaves telling the public to send cash to the Fund, or just by post to 'The McCanns, Rothley': "it'll get there". With a generosity of spirit that marked out Helen's character, she immediately sent a generous donation to the Fund.
By that time, 2007, social media was expanding rapidly, and Helen was on Facebook and other social media platforms. As the months ticked by and Madeleine had not been found, she got to see that some people on social media were doubting whether Madeleine had been abducted at all. Tabloids like the Daily Mirror and Daily Express opened forums to deal with the intense interest in the case. Gradually Helen came to disbelieve the official narrative. Before long, she became one of the most valiant campaigners in the search to answer that vital question: "What really happened to Madeleine McCann?"
She soon grasped the main points of evidence, and was active on a number of social media platforms in challenging the official narrative. For her pains, she suffered considerable online abuse from those defending the narrative, causing her no small degree of distress. But she carried on regardless, asking questions and contributing significant evidential points against the abduction narrative. In this respect she was also a networker, passing on bits of new evidence or insights onto forums and contacting those who were actively researching the case.
She joined CMOMM on 26 November 2009, the day after I founded this forum. She soon became a regular contributor. A 'HAPPY BIRTHDAY HENTIE' thread for her appeared in 2011. She made 756 posts on the forum, the last one being on 1 January last year, when she wrote, simply: "Wishing everyone a Happy New Year. May 2020 be the year of justice for Madeleine". Her last visit to the forum was on 1 January this year.
She also joined the Madeleine Foundation (MF) in 2009 and attended its second conference in Nottingham on 27 & 28 February 2010. Thereafter, she and Rod, Sharon and Tony became the nucleus of regular MF meetings across the country - Warrington, Bristol, Shrewsbury and West Byfleet amongst others. She became even more active on social media, promoting the campaign in support of Gonçalo Amaral, the Portuguese Police's chief investigator, and debating with those on the internet who still seemed to believe that Madeleine had been abducted.
On 2 October 2010, in support of Gonçalo Amaral's 49th birthday, Helen and Rod represented the Madeleine Foundation when a petition was delivered in person to 10 Downing Street, calling for a full public enquiry into the investigation into Madeleine's disappearance.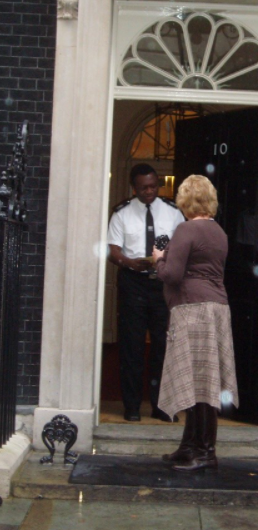 Helen hands in the Madeleine McCann Research Group's petition at No. 10 Downing Street on 2 October 2010, the date of Gonçalo Amaral's 49th birthday. The Prime Minister replied stating that the petition would be 'considered'
Letters were also handed in to the Home Office and Ministry of Justice.
Helen and members of the Madeleine McCann Research Group outside the Ministry of Justice, London, where a letter was handed in, asking for a full public enquiry into the Madeleine McCann case
In 2013, after Tony was handed a three month, suspended prison sentence, and ordered to pay huge court costs to the McCanns, Helen helped set up, and contributed to, a fund to help him with his costs.
Helen was also actively involved with the work of the Madeleine McCann Research Group (MMRG). On 28 February, a long letter was sent by the MMRG to the Attorney General of Portugal. See this link:
https://jillhavern.forumotion.net/t16965-letter-to-portugal-the-disappearance-of-madeleine-mccann-new-evidence-of-what-happened-to-her-portuguese-translation
The letter gave a summary of the main lines of evidence that Madeleine was not abducted, but had instead died in the McCanns' apartment, such as proof that the McCanns' 'Last Photo of Madeleine' had been taken on Sunday 29 April, not Thursday 3 May.
No-one was eager to be the one to sign this letter, given the possible risks of severe legal action that might follow. However, such a letter had to have the name and address of a sender. Helen was approached and willingly agreed to be the one to sign and post the letter, for which we were all very grateful.
As a small token of our appreciation of Helen's magnificent work for the cause, our moderator Verdi will be arranging, together with Abigail and Rod, for the Woodland Trust to dedicate a tree to the memory of Helen, in a woodland of their choice.  
During the years Helen was on social media discussing Madeleine, she made many good new friends there and some close relationships, especially with Sharon, amongst members of this forum.   
Helen was a lover of animals and in particular of birds. She made her garden extremely bird- and animal-friendly. Among her pets, the adorable bassett-hound Barrington took pride of place, and she made it her avatar. Sharon fell in love with him as well and would send him an annual Christmas card, addressed to 'Lord Barrington'. 
She would also take in injured animals and birds from her friend Angela, also a cancer-sufferer, who operated an informal animal rescue service in the area. In 2012, she took in an injured fledgling jackdaw, naming it 'Alfie'. She made a short, 73-second video of Alfie's own investigative skills: 
In the description, she wrote:
"
Alfie had a badly broken wing as a fledgling, so we were asked to care for him. A new cage for his place of rest as he grew. Within 36 hours he had worked out the latch sequence!"
Helen was one of the greatest 'social media warriors' in the cause of the truth about the disappearance of Madeleine McCann. It is clear from her record that she made a real difference to the campaign in a variety of ways. She was always thoroughly supportive of the work of CMOMM, MMRG and the Madeleine Foundation. As her cancer impacted her physical health, she kept in touch with what we were all doing, but would often sign off her posts by saying: "I feel guilty that I cannot do more".
Helen will be sorely missed by Rod, by her family, and her many friends in Kent. We are all so sad at the departure of this lovely, caring lady who devoted so much time in her last few years in joining in the campaign on behalf of Madeleine.
From Helen's many friends on CMOMM. 
RIP dear lady, sleep well with the angels x   
____________________
PeterMac's FREE e-book
Gonçalo Amaral: The truth of the lie
NEW CMOMM & MMRG Blog
I remember Hentie from my years of 'lurking' before joining the forum. RIP Helen.

CaKeLoveR




Posts

: 1425


Activity

: 1770


Likes received

: 345


Join date

: 2018-09-19



Jill Havern and Tony Bennett like this post
There will be a cremation service for Helen in Dover on Friday 23 July at 4pm

____________________

Dr Martin Roberts: "The evidence is that these are the pjyamas Madeleine wore on holiday in Praia da Luz. They were photographed and the photo handed to a press agency, who released it on 8 May, as the search for Madeleine continued. The McCanns held up these same pyjamas at two press conferences on 5 & 7June 2007. How could Madeleine have been abducted?"
Amelie McCann (aged 2): "Maddie's jammies!".  

Tony Bennett

Researcher




Posts

: 16402


Activity

: 24118


Likes received

: 3633


Join date

: 2009-11-25


Age

: 73


Location

: Shropshire



Jill Havern likes this post
I never had the privilege to meet Hentie but of course I know her from CMOMM and her work with the MMRG.

A true angel on earth.

No one should suffer with health issues as Hentie has suffered over the years, it saddens me to know that such a good hearted lady, with nothing but selfless kindness to offer the world, should be taken from us by cruel fate. My heart goes out to her family and the many friends her goodness has attracted during her lifetime.

Now Hentie you are at peace, where your soul can fly freely without any more suffering.

God bless you.

____________________
" The secret of life is honesty and fair dealing. If you can fake that, you've got it made" - Groucho Marx

Verdi

Moderator/Researcher





Posts

: 22760


Activity

: 29552


Likes received

: 5746


Join date

: 2015-02-02



Jill Havern likes this post
God looked around his garden- And found an empty place,
He then looked down upon the earth- And saw your tired face.
He put his arms around you -And lifted you to rest.
God's garden must be beautiful -He always takes the best.
He knew that you were suffering -He knew you were in pain.
He knew that you would never – Get well on earth again.
He saw the road was getting rough – And the hills were hard to climb.
So he closed your weary eyelids – And whispered, 'Peace be thine'.
It broke our hearts to lose you – But you didn't go alone,
For part of us went with you – The day God called you home
Jill Havern likes this post
DETAILS OF THE ONLINE WEBCAST OF HELEN'S FUNERAL
----------------------------------------------------------------------------------------------
Good afternoon Abigail,
Please find the details below to forward to family and friends to enable them to watch Nan's service,
Kind regards
Sarah
From: Obitus
Sent: 13 July 2021 13:31
To: Manager Account
Cc: Barham
Subject: Webcast for the service of Helen Mary Williamson.
Hello, here's a summary of the webcast you have booked.
[size=38]Webcast order summary[/size]
Please find below details of the Webcast, which can be sent to the family.
Watching webcast live and watch-again
| | | |
| --- | --- | --- |
|   |   |   |
| Website | https://www.obitus.com |   |
|   |   |   |
|   |   |   |
| Username | veli5476 |   |
|   |   |   |
|   |   |   |
| Password | 777150 |   |
|   |   |   |
Service details
 
 
 

Remembering

Helen Mary Williamson

 
 
 
 
 
 
 

Service date

Friday 23rd July

 
 
 
 
 
 
 

Time

16:00

 
 
 
 
 
 
 

Service chapel

Chapel Chapel
Canterbury Road (A260)
Barham, Nr Canterbury
Kent, CT4 6QU
 
 
 
 
 
 
 

Funeral director

Manager Account
161
Dover, CT17 0TG
 
 
 
 
Please note:
 our webcast facility has a 150 viewer limit to maintain webcasts quality. If you're expecting more than this, please notify us as we will need to make changes and there may be additional cost.

____________________

Dr Martin Roberts: "The evidence is that these are the pjyamas Madeleine wore on holiday in Praia da Luz. They were photographed and the photo handed to a press agency, who released it on 8 May, as the search for Madeleine continued. The McCanns held up these same pyjamas at two press conferences on 5 & 7June 2007. How could Madeleine have been abducted?"
Amelie McCann (aged 2): "Maddie's jammies!".  

Tony Bennett

Researcher




Posts

: 16402


Activity

: 24118


Likes received

: 3633


Join date

: 2009-11-25


Age

: 73


Location

: Shropshire



Jill Havern likes this post
On your own very special day Hentie, you will never be forgotten

____________________
" The secret of life is honesty and fair dealing. If you can fake that, you've got it made" - Groucho Marx

Verdi

Moderator/Researcher





Posts

: 22760


Activity

: 29552


Likes received

: 5746


Join date

: 2015-02-02



Jill Havern and sharonl like this post
____________________
PeterMac's FREE e-book
Gonçalo Amaral: The truth of the lie
NEW CMOMM & MMRG Blog
Tony Bennett, sharonl and CaKeLoveR like this post
---
Permissions in this forum:
You
cannot
reply to topics in this forum