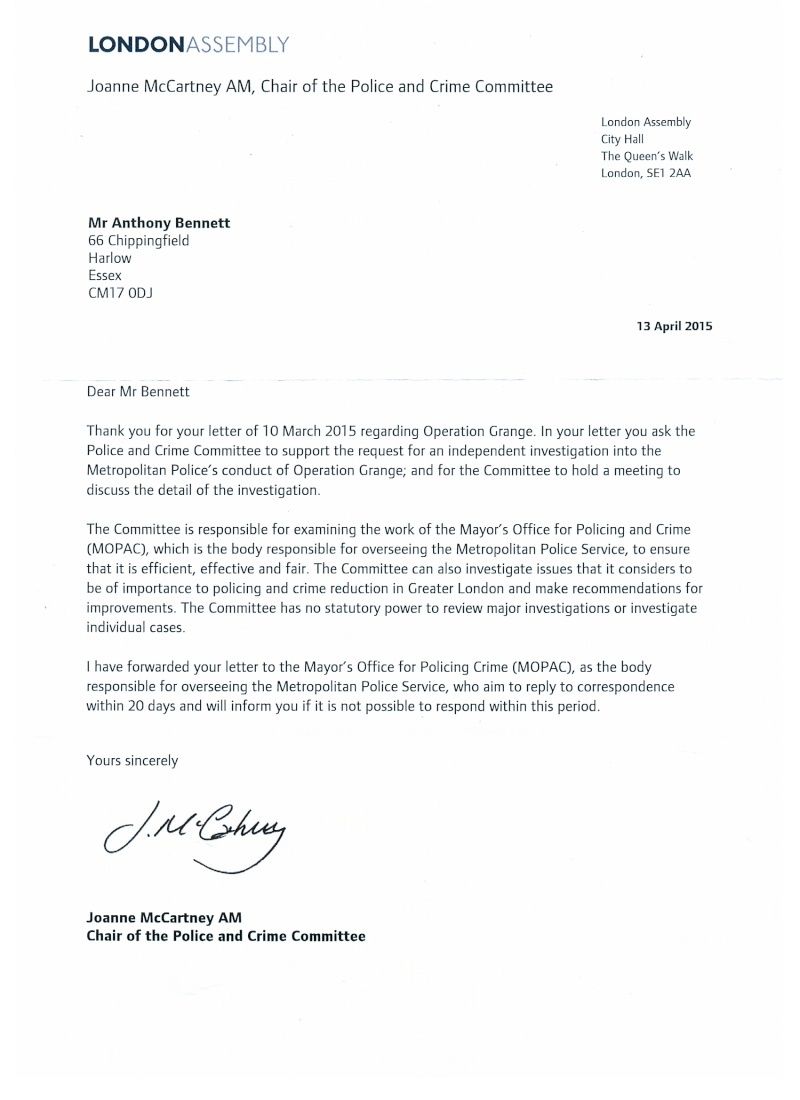 Sorry about the small size of the print above, the letter is from Joanne McCartney, London Assembly Member and Chair of the Police and Crime Committee, dated 13 April 2015, and in her final paragraph she writes:
"I have forwarded your letter [of 10 March] to the Mayor's Office for Policing and Crime, as the body responsible for overseeing the Metropolitan Police Service..."
Thanks also to another London Assembly Member who helped me to get this put before the Mayor's Office for Policing and Crime:
Researcher




Posts

: 14978


Reputation

: 3029


Join date

: 2009-11-25


Age

: 70


Location

: Shropshire



I should have added that anyone can support the request for the London Mayor's Policing Commitee to investigate Operation Grange by sending their own request to:
enquiries@mopac.london.gov.uk
They should in fact have been regularly monitoring such a high profile and controversial investigation anyway.
To give credit where credit is due, London Assembly Member Jennie Jones (Green Party) has been active in raising concerns about Grange:
See this article from 2011, as highlighted by lazzeri-lies-in-the-sun...
Met Police Authority member says inquiry into girl's disappearance is waste of money -
BY ELIOT SEFTON
LAST UPDATED AT 15:00 ON SUN
15 MAY 2011
Kate
and Gerry McCann are facing a backlash over plans for the British police to investigate the disappearance of their daughter Madeleine, who was taken from them while she slept in their Praia da Luz holiday apartment four years ago.
After an open letter written by the couple was published in the Sun, prime minister David Cameron asked the Metropolitan Police to get involved in a fresh inquiry into the disappearance of Madeleine, who would now be eight years old.
But a senior member of the watchdog that monitors the Met's activities, the Metropolitan Police Authority (MPA) has spoken out against the decision to re-open the investigation. Jenny Jones told the Mail on Sunday: "The police should not take this case up in this way. It is
ludicrous.
"This could take years and will cost millions. It is very unusual for police to step in like this and it is not an appropriate use of police resources.
"The Government is closing down the Forensic Science Service because there are not enough funds. This is a crucial part of police work.
"Although it is tragic and I feel for the McCanns, how can the Prime Minister justify spending millions of pounds on one case?"
http://www.theweek.co.uk/people-news/5525/police-watchdog-mccann-inquiry-%E2%80%98ludicrous%E2%80%99
http://l-azzeri-lies-in-the-sun.com/Ludicrous.html
Researcher




Posts

: 14978


Reputation

: 3029


Join date

: 2009-11-25


Age

: 70


Location

: Shropshire



---
Permissions in this forum:
You
can
reply to topics in this forum