Page 22 of 22 •
1 ... 12 ... 20, 21, 22





Posts

: 11240


Reputation

: 5503


Join date

: 2009-11-25


Location

: parallel universe



In the Jon Corner video, the accompanying music to the Madeleine photos is Dido' Here with Me. In the circumstances, even those could be construed to be ill-judged :
Oh I am what I am
I'll do what I want
But I can't hide
And I won't go, I won't sleep
I can't breathe
Until you're resting here with me
And I won't leave, and I can't hide
I cannot be until you're resting here with me



Posts

: 609


Reputation

: 409


Join date

: 2017-03-31



@Verdi

wrote:Good evening Mjc and welcome to CMoMM

.

The controversial image of Madeleine McCann, now commonly known as the 'make-up photograph' or the 'Lolita photograph', was included in the infamous video released by the McCanns close friend Jon Corner..

link I'm unable to post


The short video released by Jon Corner for the  Madeleine McCann 2010 anniversary appeal, also included other seeming inappropriate images of Madeleine, as can be seen above.

Before surmising possible scenarios for the release of the 'make-up photograph', it needs to be taken in context with the other inappropriate images included in the video.  This is not the release of one questionable photograph under scrutiny, it's the whole compilation produced by the man who appears to be custodian of all Madeleine McCann photographs.

"So beautiful, astonishingly bright, and I'd have to say very charismatic. She would shine out of a crowd. So—God forgive me—maybe that's part of the problem. That special quality. Some ******* picked up on that."Jon Corner

Makes you wonder doesn't it?
Thanks for the welcome Verdi and the video link.  I was aware that a video was the source of the photos, but had never actually watched it, until now.  
On watching the video I also noticed another strange thing. At 1.31 you can see part of the photo of Maddie from 'the last photo'.  It's pinned to the wall with other photos and is partly obscured by the office chair where - presumably Kate - is using a laptop.  It's just Maddie's hat and top of her face but it's clearly the same photo, yet Gerry's arm - which should be right by her hat - is gone?  I can't understand why this would be.
Seems to a lot of trouble to have gone to airbrush his arm out of that picture and for no particular reason?
I'm new to this forum (which still seems quite vast), so apologies if this anomaly has already been explained or discussed on this thread or elsewhere.



Posts

: 3


Reputation

: 1


Join date

: 2017-11-26



And one final oddity is at 1.58.  Same desk with Kate sat at it, from a different angle, and there is the Skirting Board photo beautifully framed and angled slightly towards the camera as if to say "it is completely normal for a favourite close-up photo of ones child to be one where they are mostly upside-down" (without a climbing frame in sight).

It is a well established that facial recognition is significantly diminished when that face of the subject is upside down. (I would post a link to support this, but as I'm new here I can't as the site blocks it.) 

So by way of a completely non-scientific poll, does anyone here have any close-up photo of their child or grandchild on display anywhere (or know of anyone else that does), where the child's face is largely upside-down?



Posts

: 3


Reputation

: 1


Join date

: 2017-11-26



In response to both your posts
#528
/529, the purpose of the video is lost on me.  Whatever, it's clearly staged by Jon Corner - he is afterall a film producer of sorts.
The images of Madeleine scattered around Kate McCann strategically poised at a desk that you specifically mention, are the same images as contained elsewhere in Jon Corner's video.  I can only conclude that Gerry McCann was airbrushed out as he was superfluous to requirements - let's face it, who wouldn't want to airbrush Gerry McCann out :)?  The poolside at 02:15 minutes..
Personally, I don't think there's much to be gained by minutely scrutinizing this video - the true reason for it's production is however another matter altogether.
ETA:  Your point however is not entirely lost.  Taking into account the image of Madeleine given to the PJ for official release..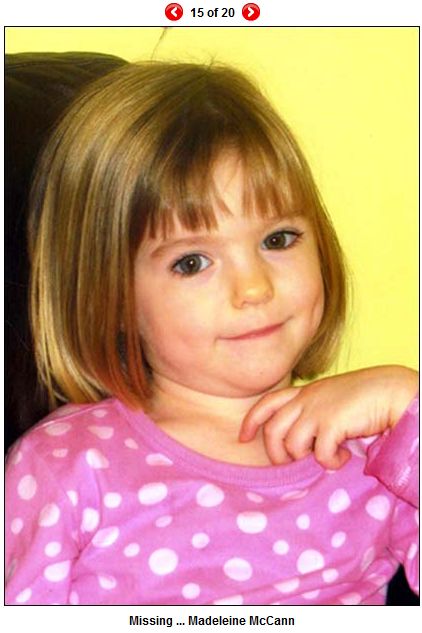 .. clearly a younger Madeleine, in addition to the scores of other images released into the public domain - none of which are in any way useful to the 'search' apart from the Ocean Club playground and the Ocean Club poolside photograph - the most recent and therefore most useful images of Madeleine.
One could almost be inclined to think the 'search' didn't want Madeleine to be recognized.

____________________
" The secret of life is honesty and fair dealing. If you can fake that, you've got it made" - Groucho Marx
Moderator/Researcher




Posts

: 7757


Reputation

: 3761


Join date

: 2015-02-02



Page 22 of 22 •
1 ... 12 ... 20, 21, 22
---
Permissions in this forum:
You
cannot
reply to topics in this forum