Page 6 of 6 •
1, 2, 3, 4, 5, 6
So one COULD say " errrrrm.. Err maybe the blue bag was of a size to hide a Errrrrm body and unfortunately cemetery Rd. Is horrible but errrm yeah" we COULD say sound like a confession on where maddy was imo

____________________
Kim

kimHager




Posts

: 465


Reputation

: 1


Join date

: 2014-01-29



@worriedmum

wrote:David Payne's odd remark  reminds me of Matt Oldfield's strange comment during his interview,

''at times we were sort of like crossing each other, there was Dave, and running on my own, and sort of the other way, and I then went out on the coast road a bit further down, erm, I don't know what we thought we could do, but it was just better than being close to them and being there, erm, and so we ran out on that,

I think this road unfortunately is called, erm, which road is it, Cemetery Road I think it's called, I seem to remember noticing it because it seemed like a horrible,

I think it's this bit here".
So, according to RO - you are more likely to get
clobbered by
someone you know than by a complete stranger. 
According to RO and MO - it was ironic that they had a conversation about paedophiles with another father on the day of the disappearance of Madeleine. 
According to KM, GM and some others it is likely that the motive for the abduction of Madeleine was paedophilia.
According to DP - the blue bag was 
n't
of a size that could, er, hide a
child's body
 tennis racket.
According to MO - searching on a particular road with DP, he remembers the name because, 'unfortunately, it is called, erm......
Cemetery Road...
..i remember noticing it because it seemed like  a horrible.......
coincidence/irony'.
According to DP and JC, Madeleine had a special quality that made her stand out in some way.
(Snipped from Portia's post)
What with a large golf course on top of Rocha Nera (see aerial pics!) would have been easier than to drop the poor child off in a bunker and transport her later on? A golfbag would cause no eyebrows to be raised in that environment. 
Wasn't there a meeting that week at a golf club between Murat and others? Or at least phone pings from a golf club? 
Good point about golf courses though as they are very large. Certain parts can be relatively hidden-away. And golf bags are large and heavy. And, as pointed out, dry bunker sand might be easy to dig something into, even if just for a time. 
(Although I suspect that there is now no evidence of a body.)
"Find the body and prove we killed her."

j.rob




Posts

: 2243


Reputation

: 236


Join date

: 2014-02-02



Not sure if it`s relevant as I don`t know when the blue bag was reported missing but in the Sky News video with Martin Brunt there is footage of Gerry fixing a strap to a large holdall type bag which is resting atop the buggy. It is at about 16.46 . It does look black though.
https://www.youtube.com/watch?v=6yFZ2eVuC4Q

.Guest..




Posts

: 132


Reputation

: 0


Join date

: 2014-09-11



Link to GA's interview in the 'Ocean Club Guests Revisited' thread led me to look again at the usually 'forgotten' photo's taken the next day, showing the wardrobe with the 'blue bag' gone.
According to the bewk and roughly backed up by the timings of the PJ statements on file, GM & KM were taken to the police station in Portimao at around 10.00 on Friday 4th and didn't get back to PdL till 20.30. 
GA: ….'
The issue with the bag is the following, Gerald McCann said at one point in time that he did not have any sports bag. Mark Harrison, an English expert, who did the planning of the searches that were carried out with the CSI dogs, of the cadaver odour and blood, at the ends of July, early August, puts forward that serious hypothesis - that the body was taken inside a sports bag
3
, he speaks of a golf bag, of a sports bag – and indeed a sports bag existed. There are photographs taken inside the apartment [rented by the McCanns/5A] immediately after the disappearance, an hour later, and the sports bag is there, inside the closet and is of a darkish blue colour. Thus, those photographs exist, contrary to what anyone can say that they did not own a sports bag – the sports bag was there. A sports bag, even though there wasn't any brand like "Adidas" in the bag, but it was a bag of that kind. So, what happened to that bag, what took place next, other situations ensued relatively to another bag, something that it's not worth mentioning now here, there are people who also talk about a bag... '
https://joana-morais.blogspot.com/2012/03/maddie-case-goncalo-amaral-returns-to.html
From the files: 
'On 4 May 2007, at 15:30, a Crime Scene team from the Police Science Laboratory, comprising the undersigned, went, at the request of DIC PJ Portimao, to a dwelling situated at Apartment 5A, of Block A of the tourist accommodation building, "Ocean Club" - Praia da Luz, Lagos, in order to perform a specialist examination of the location. There follow photograph displays of the exterior of the apartment to be examined as well as detail of the entrance thereto.'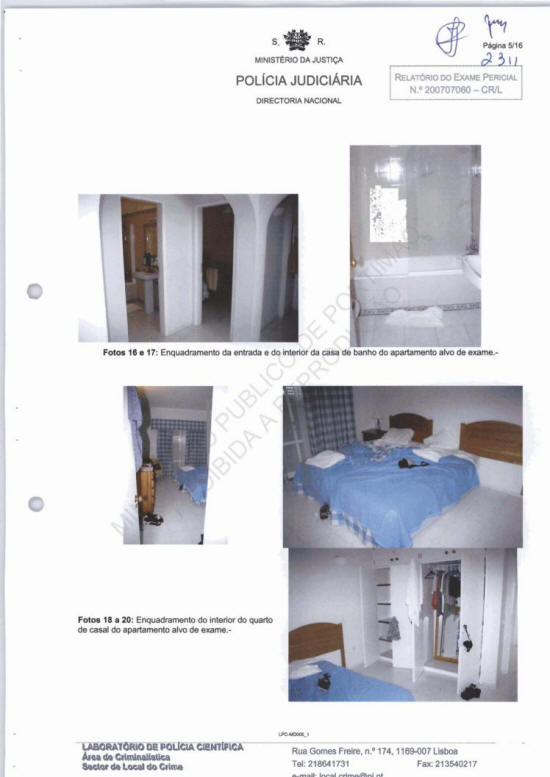 http://www.mccannpjfiles.co.uk/12_05_07/09_VOLUME_IXa_Page_2311_small.jpg
Bewk P75
'We probably could have stayed in our apartment, but who would have wanted to? Looking back, it's inexplicable, of course, that we should ever have been left in what was now a crime scene. We shouldn't even have been allowed to take things out of the children's bedroom. Mark Warner had prepared another flat for us on the first floor of an adjacent block, but Gerry and I were in no condition to be on our own. We couldn't look after ourselves, let alone the twins. So the staff put up two extra cots in Fiona and David's apartment and we carried a sleepy Sean and Amelie into their sitting room.'
From the Friday photos, KM's rucksac can still be seen in the apartment, which is surely what you would most likely use on a daily basis to carry the daily 'necessaries', sun cream, nappies, spare clothes etc .
Amelie's cardigan/jacket is noticeably still hanging on the wardrobe door and two adult jumpers/sweatshirts are still hung over the chair in the lounge, so the bag must have gone sometime after 3.00 when the PJ Officers left and before 10.00, unless someone else was allowed into the apartment after that, which seems unlikely, as the PJ were expected back soon after 9.00 and would surely have restricted access after that.
If 'it' had just been used to transport a few clothes to the new apartment, surely GA would have known and not be concerned about it and wouldn't a cardigan and a couple of sweatshirts be one of the few things you would grab in the middle of the night?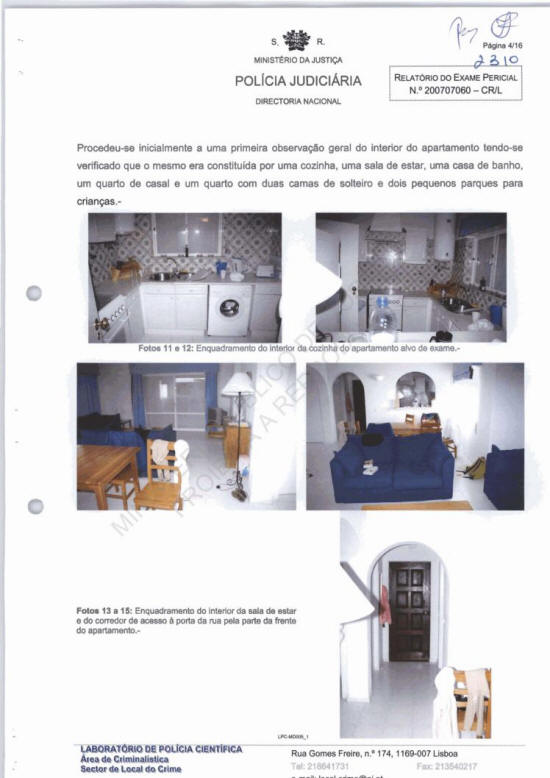 http://www.mccannpjfiles.co.uk/12_05_07/09_VOLUME_IXa_Page_2310_small.jpg

Doug D




Posts

: 2741


Reputation

: 976


Join date

: 2013-12-03



Page 6 of 6 •
1, 2, 3, 4, 5, 6
---
Permissions in this forum:
You
cannot
reply to topics in this forum