Page 2 of 2 •
1, 2
What sort of person aides the coverup of the death of a small child?
The sort of person with a very big dirty secret to hide.

____________________
" The secret of life is honesty and fair dealing. If you can fake that, you've got it made" - Groucho Marx

Verdi

Forum Manager





Posts

: 29319


Activity

: 36472


Likes received

: 5911


Join date

: 2015-02-02



Perhaps the rag should be re-named .... 'The Virgin Olive Oyl Press'

____________________
" The secret of life is honesty and fair dealing. If you can fake that, you've got it made" - Groucho Marx

Verdi

Forum Manager





Posts

: 29319


Activity

: 36472


Likes received

: 5911


Join date

: 2015-02-02



Jon Clarke's lies seem to go on forever.
I recently had the dubious pleasure of watching the Netflix Nonsense, and came across this Classic Jon Clarke Mendacity
Classic in the sense that either side of his outright LIE, is the
evidence
that he is lying, but he seems not to notice, nor to Care.
The screen shots are from Netflix, and are from the first week of May 2007. 
what can one say, except Jon Clarke is a serial liar  ?
There WAS a trench, which is well documented in the PJ files, with statements from the supervisor and the workmen.
It was on Rua Direta, at the 'top' a long way from the apartment.
I assume that 'at the top' means right up by the 'Mirage' at the top of the hill, which is just to the right of the tennis courts at the top right. 
(The Rue Direita runs diagonally through Luz from the church, middle, bottom, right up to within 50 yards of the Mirage).
Obviously a mere stroll for someone as advanced as MM who was already into Harry Potter books and yet was so knackered she had to be carried up to the apartment after 'high tea' on the Thursday night according to KM!

Doug D




Posts

: 3694


Activity

: 5255


Likes received

: 1297


Join date

: 2013-12-03



Sorry, I mean the other end.  See statement, and have a look on google maps
what is interesting is that it is photos within the Netflix Comedy itself which prove that Jon Clarke is Lying
quite apart from any external evidence.
https://www.mccannpjfiles.co.uk/PJ/CARLOS_PEREIRA.htm
Witness Statement
Carlos Manuel Figueiredo Pereira
Date: 2007/05/31
Occupation: Civil Engineer
He comes to the process as a witness, he works for the municipal chamber of Lagos since 1988 as a civil engineer.
With specific reference to the Urban and Environmental re-qualification works carried out in the town of Luz, namely in
Rua Direita
, the witness clarifies the following:
During 2006 a public tender was issued with the aim of adjudicating the firm offering the best conditions and guarantees.
This tender was won by the company Canana & Filhos Ltda and the date for starting work was established as April of the current year (2007).
During the first days/weeks of April in
Rua Direita together with Largo da Republica,
the different necessary infrastructures were created such as : networks for domestic drains, water supply, public lighting and telephones. These actions took place over the course of about 30 days, following others that had been implemented along
Rua Helena Nascimiento Baptista.
With regard to the month of May, and after the first days of the month, work was begun at
Rua Direita,
aiming at the installation of water pipes, telephones and public lighting. The technical space excavated which guaranteed the application of three types of infrastructure previously mentioned, had the following average dimensions : 1,20 metres deep by 0,90 metres long, it being certain during the excavation work that they were almost immediately covered with sand and earth.
When asked how the daily checking was done, with regard to security measures and the quality of the work carried out, the witness said there was nothing abnormal to point out, it was a work that had been carried out calmly and without any incidents.
No more is said. Reads, ratifies, signs.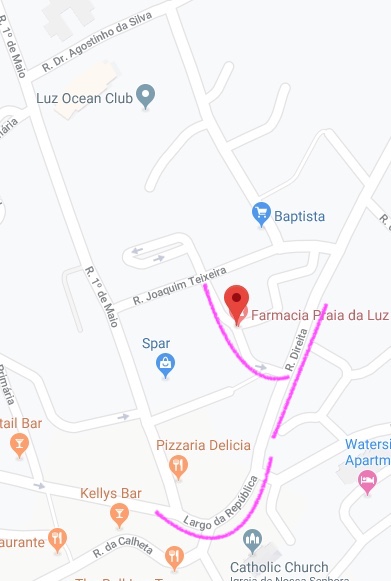 [url=https://servimg.com/view/16776972/1032]
[/url]
STOP PRESS
I have just been made aware of YET ANOTHER 'Version of the Truth,' from the ever mendacious Jon Clarke of The Olive Press
In it they repeat the previous gross untruths
"The first journalist at the scene. . .'
Netflix neatly proved that was a lie.
". . and hardly anyone was around when I arrived later that morning."
Netflix neatly proved that was a lie of Epic proportions.
But now he is quoted as saying –
"A few hours later, I met Kate and Gerry. They were polite, and thanked me for reporting on the case. I knew immediately they weren't involved . . ."
This is quite astonishing – for normal honest people at least.
Clarke first said
"When I arrived at about 11.45am I was firstly able to walk into the apartment, where I introduced myself to the McCanns and told them I would do everything I could to help.
Then changed this in 2019 to
    "I said hello to them as they were leaving and introduced myself to them as a reporter from the Mail, and they said "Hi", and I think they may have also said "thanks for coming". 
And has now committed to 
"A few hours later, I met Kate and Gerry."
By my reckoning that makes three entirely different 'Versions of the Truth'
Anyone who still has the will to live can access it at
https://closeronline.co.uk/real-life/news/madeleine-mccann-reporter-kate-gerry/
He would fit in perfect as one of the Tapas group, serial liar and a bad one at that.

ferrotty




Posts

: 87


Activity

: 129


Likes received

: 26


Join date

: 2017-12-08



Posted on Chapter 33 as well _

OK
Let's all take a deep breath, and think logically

What can Clarke now do ?    He has a few options
He could utilise the standard McCann Defence.
Sue someone – for something

Or more realistically think carefully about his options
1 Say and do nothing – and hope it will all pass over and be forgotten.
2 Continue to maintain that his story is correct and everyone else is wrong
3 Apologise, correct, explain, and beg forgiveness

Each of these has certain problems

1 Say and do nothing – and hope it will all pass over and be forgotten. This option passed a very long time ago, probably by early June 2007.  The McCanns and their money have kept it in the public eye for the past decade.  And given the level of global interest it is not simply going to pass and be forgotten.
Every time a journalist publishes or says something different from what has been said before, the interest is renewed and a tighter focus is put on the point raised.
So this option will simply exacerbate the situation, as the diffusion of the core lies and the clamour for explanation increase exponentially.

2 Continue to maintain that his story is correct and everyone else is wrong – has the unfortunate problem that there are three different, contradictory and incompatible stories, so Clarke would have to choose one of them, and discard the other two before he could adopt this posture.    He would then have to deal with those two before he could attempt this.  (Or possibly even come up with a fourth and say the previous three were false.)

3 Correct, apologise, explain, and beg forgiveness. 
Correction, apology and explanation do not seem to be in the lexicon of any of the participants in this saga. The McCanns have never apologised for "leaving the children" – leading to the perhaps justified suspicion that in fact they didn't.   For Clarke to do this would be astonishing.  He would have to admit three separate and mutually irreconcilable lies, perpetuated over a 12 year period and published in global media.   He would have to admit to the world that he had deliberately and cynically mis-led many people on significant issues concerning the disappearance and probable death of a little girl; his readers, his advertisers, and the producers at Netflix.

He might also be pushed to come clean about what actually DID happen.  
To set the record straight in fact.   And that may be a step too far.   We understand that. 

He was highly paid for what he did, and is clearly still paid for it.  An audit trail might lead back to his handler and ultimately to whoever is coordinating the campaign, and they might not be willing to be exposed by a 'maverick' suddenly breaking ranks and going 'rogue'.   Given that some deaths are already associated with this case, he might feel he is in physical danger.  He is no stranger to this, and made much of it in his book "The Costa Killer".  So no one would blame him for not wishing to join the late Dr Kelly, Mike Todd or Brenda Leyland.

That does not condone his continuing mendacity, his serial invention of new versions, new stories, new sightings, nor stop us condemning him for having done it in the first place.

But given that his personal reputation has been destroyed by the very medium of film which he clearly hoped would enhance it; that his paper "The Olive Press" is now exposed as having published deliberate falsehoods over more than a decade; and that the internet is going to record these matters for all time . . .

perhaps he should do something.

He is trapped.
In the same way that the McCanns are trapped by forced and jemmied shutters, which weren't
In the same way Kate McCann is trapped by curtains wide open, and curtains tight closed
In the same way they are trapped by the Pool Photo taken on Thursday 3rd, which wasn't
In the same way Gerry is trapped by standing on the right, with Tanner and Wilkins on the left

To get out of the traps they have to explain why they said it.

Can we feel sympathy ?
Towards the McCanns for the death of their eldest child - undoubtedly.    But for little else
To Clarke in his present predicament, if he refuses to correct, apologise and explain ?
More difficult.

To Jon – to Kate and Gerry – to the Tapas friends – 
It is never too late to do the right thing.
In view of the seriousness of this issue and of the allegations, the chapters in question and some of the comments from CMoMM have been forwarded by the MMRG to the NETFLIX Producer and Director - Emma Cooper, and Chris Smith.


31. Chapter 31: Jon Clarke – Olive Press LIES and VIDEOTAPE

32. Chapter 32: ON LIES AND CONSPIRACIES

33. Chapter 33: Jon Clarke Entrenched Lies
____________________
PeterMac's FREE e-book
Gonçalo Amaral: The truth of the lie
CMOMM & MMRG Blog
Greatest Respect to PeterM and MMRG.
____________________
Judge Judy to shifty  witnesses   -    LOOK AT ME  -   Um is not an answer.
If I forget to add it to a post everything is In My Opinion and I don't know anything for sure.

plebgate




Posts

: 6729


Activity

: 8938


Likes received

: 2123


Join date

: 2013-02-01



Page 2 of 2 •
1, 2
---
Permissions in this forum:
You
cannot
reply to topics in this forum