Page 2 of 2 •
1, 2
Disappointing for Mr. Lubbock, who has been brave and tenacious over the years.  I hope he has support to come to terms with this development.

Bravo to TB for all his work on the case.

Ladyinred




Posts

: 740


Activity

: 922


Likes received

: 176


Join date

: 2017-11-25



Yes, Tony's been away all week, so not good news for him to come back to.

I feel so sad for Terry Lubbock that he hasn't, so far, got justice for his son in all these years, and the toll it's taken on him must be immense.

But it's a prime example of how the police and justice system will do whatever needs to be done to cover up a murder despite evidence.
____________________
PeterMac's FREE e-book
Gonçalo Amaral: The truth of the lie
CMOMM & MMRG Blog
Yes, Terry Lubbock was bitterly disappointed to learn of the Attorney-General's decision, which I am now able to reproduce below: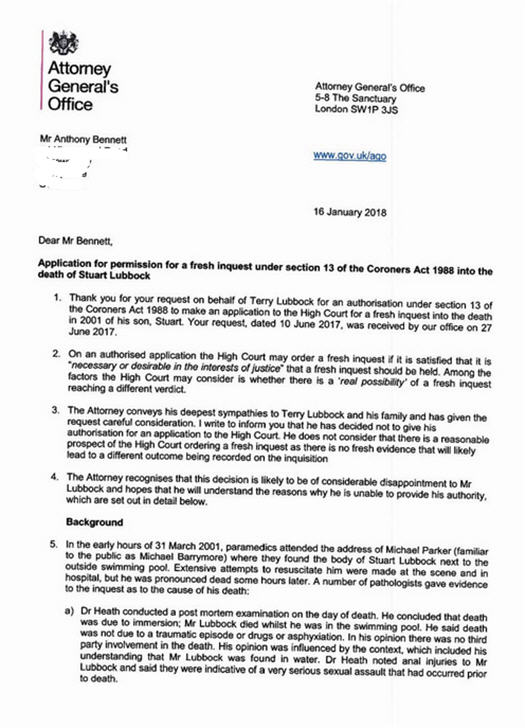 I am pleased to report that Terry Lubbock is already coming to terms with his disappointing news ,and we are already planning some new action - not seeking a fresh inquest - which I may be able to report on here in due course.
I would like to thank
@Ladyinred
for her kind comments above but most especially on this occasion thank 
Jill
who has kindly allowed me over the years to report all the ups and downs in the struggles of Terry Lubbock and Les Balkwell for justice.
The agony of this case is knowing that
Stuart Lubbock was definitely killed by a violent sexual assault by two or more people, yet the Coroner and the Attorney-General say this can't be proved.
And also we can be certain that a minimum of six, and probably all eight of those who visited Michael Barrymore's home that fateful night, and of course Barrymore himself, know fine well what caused Stuart's death. They then successfully conspired, with the help of Essex Police after the event, to cover up his gruesome death by a tissue of lies about an alleged drowning.
The entire original inquest, and all the pathologists, were misled by the conspirators into believing that Stuart Lubbock went to swim that night in an ice cold pool that had not been opened all winter. It was a classic case of 'muddying the waters'. I can all but prove that only
after
 Stuart's death did Barrymore open the pool cover and pretend that he had drowned. And to cap it all, the officer in charge of the case, Kevin Macey, allowed Barrymore's personal manager, Mike Browne, to remain within the crime scene and take the temperature of the pool - which to this day I say was faked.
Now, to add insult to injury, as per this
Daily Mail
report this week, Barrymore is trying to claim £20 million 'damages' for 'lost earnings' because, he says, of the police wrongly arresting him on suspicion of murder:
http://www.dailymail.co.uk/news/article-5320947/Michael-Barrymore-sue-police-20m-lost-earnings.html 
Michael Barrymore to sue police for £20 million lost earnings
In a world where justice always prevailed, those who killed Stuart would have got life or have been hanged for murdering Stuart, and the conspirators handed down the stiffest penalties available for 'perverting the course of justice'. Instead, Essex Police might have to end up paying Barrymore £20 million - at taxpayers' expense.
It is a gross perversion of justice
If in any small way I may have contributed to Barrymore's loss of earnings, then...hooray! - I would regard it as a feather in my cap
.

____________________

Dr Martin Roberts: "The evidence is that these are the pjyamas Madeleine wore on holiday in Praia da Luz. They were photographed and the photo handed to a press agency, who released it on 8 May, as the search for Madeleine continued. The McCanns held up these same pyjamas at two press conferences on 5 & 7June 2007. How could Madeleine have been abducted?"
Amelie McCann (aged 2): "Maddie's jammies!".  

Tony Bennett

Researcher




Posts

: 16808


Activity

: 24661


Likes received

: 3744


Join date

: 2009-11-25


Age

: 75


Location

: Shropshire



Hi Mr Bennett,perhaps when and if Mr Barrymore(strikes it Lucky, £20 Million compensation)Mr Lubbock Snr should seek redress in a civil case,at least having Mr Barrymore to explain his actions?

willowthewisp




Posts

: 3392


Activity

: 4912


Likes received

: 1160


Join date

: 2015-05-07



willowthewisp wrote:Hi Mr Bennett,perhaps when and if Mr Barrymore(strikes it Lucky, £20 Million compensation)Mr Lubbock Snr should seek redress in a civil case,at least having Mr Barrymore to explain his actions?
Hi willow good to see you posting again.   Now there's a good thought awright.
Look forward to hearing more from Tony soon
____________________
Judge Judy to shifty  witnesses   -    LOOK AT ME  -   Um is not an answer.
If I forget to add it to a post everything is In My Opinion and I don't know anything for sure.

plebgate




Posts

: 6729


Activity

: 8938


Likes received

: 2123


Join date

: 2013-02-01



Page 2 of 2 •
1, 2
---
Permissions in this forum:
You
cannot
reply to topics in this forum