Page 2 of 2 •
1, 2
@Milo

wrote:Be prepared to have NSW police descend upon you to interview every paedophile in the UK until they find one... rather than looking in a different direction in the William Tyrrell case. Although I do think that the Coroner has more brains than all members of the media put together. Peter Hyatt would have a field day with this investigation!
This looks like an intelligent report from 'The Australian'
(WARNING: Some graphic content)
======
William Tyrrell inquest: stench of depravity but we're none the wiser
CAROLINE OVERINGTON,  ASSOCIATE EDITOR
@overingtonc
8:17PM MARCH 14, 2020
The inquest into the disappearance of William Tyrrell resumed this week, and much of the evidence has been grotesque.
How else would you describe allegations of bestiality? A young mother from the mid-north coast had to stand up and tell the court, sitting in the NSW mid-north coast township of Taree, how she had seen a local pedophile using bones to coax her chocolate labrador, Buddy, into his caravan. She followed, and found Buddy up on the bed, "with his legs up and his tail up". She was so appalled, she just ran. Who wouldn't?
It's terrible, and of course the testimony had everyone agape, and yet the question must be asked: what was the point? How was this relevant to the disappearance of William Tyrrell?
The incident with Buddy occurred in 2015, but William went missing from the mid-north coast village of Kendall on September 12, 2014. And so, again, how does such evidence assist?
It seems, at first blush, designed to help define the pedophile in question, Frank Abbott, 79, as a reprobate, a pervert, a monster. But we already know that.
Abbott is serving 16 years for sex crimes against three small boys. He has a long association with the criminal justice system. He stood trial in the mid-1990s for the murder of Helen Mary Harrison, 17, who was attacked while riding her bike home, raped and bludgeoned to death.
The case was cold for almost 30 years before Abbott was charged. He was ultimately acquitted, and one of his neighbours has this week told the inquiry that he liked "bragging about how he got off a murder charge".
Police have tried to find links between Abbott and the murder of Margaret Cox, who went missing from the township of Old Bar in 1996. She was also raped and bludgeoned to death. Abbott once did some work in Old Bar. This would seem designed to plant in the minds of the public the idea Abbott might be a serial killer who raped dogs and molested children, so maybe he also took William?
That's gruesome speculation. Nobody has yet been able to link Abbott to William's disappearance. Maybe that evidence is coming. We don't know. Everyone wants to get somebody for this crime. In the meantime, the point of some of the evidence isn't clear.
One example: a young man called Duane Gardoll came to court to talk about his father, a local sex offender called Anthony (Tony) Keith Jones. The counsel assisting the inquiry, Gerard Craddock, got Gardoll to go over some of the sad details of his life. Gardoll had nothing to do with his father for the first 15 years of his life, he said, but then his mother got back with him.
He described how he'd once found a box of syringes by his father's bed, and his father told him he was addicted to speed from his long-haul trucking days. Gardoll told the court that he had, at one time, made a living by going to the bush with his father to search for burnt-out car to sell for scrap. He soon found out his father was "ripping me off". "He was making big money, 100 bucks a day," he said to a courtroom packed to the gills with senior counsel for whom the daily rate is … well, let's not speculate.
Finally it emerged Gardoll had not seen his father on the morning of William's disappearance. We know Jones got hopelessly drunk that day, so much so that he couldn't get out of bed. A day or so later, Gardoll was surprised to hear his father say something like: "We should go and help look for that kid."
Gardoll had wondered whether his father was joking because, honestly, the idea of Jones doing something for the community?
Gardoll hurried off to get some dirt bikes, thinking they'd be able to take them into the bush to join the search, and then he and Jones went to a local community centre to get a voucher for some petrol.
"But he used the money for longnecks," said Gardoll, dejected. "He just got drunk."
It was depressing, but, again, what was the point? To paint Jones as an awful human being? We already know he's an awful human being.
A few weeks after William disappeared, Jones was convicted of the sexual assault of an 11-year-old girl.
He was also called to the stand this week. On day one of his testimony, Jones pushed and shoved photographers. On day two, he came jiving up the courthouse steps in a white hoodie emblazoned with the word "HARVARD" and earphones pumping out AC/DC.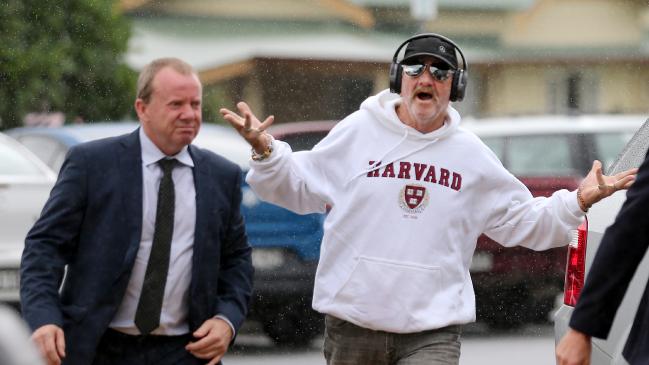 Tony Jones
It made for good pictures, but this inquest is not meant to be entertainment.
======
COMMENT by TB
:  Very much like the Madeleine McCann case in that it looks like the NSW police for some reason seem to be searching frantically for a paedophile - anywhere - whodunnit

____________________

Dr Martin Roberts: "The evidence is that these are the pjyamas Madeleine wore on holiday in Praia da Luz. They were photographed and the photo handed to a press agency, who released it on 8 May, as the search for Madeleine continued. The McCanns held up these same pyjamas at two press conferences on 5 & 7June 2007. How could Madeleine have been abducted?"
Amelie Mcann (aged 2): "Maddie's jammies!".  

Tony Bennett

Researcher




Posts

: 16092


Activity

: 23722


Likes received

: 3577


Join date

: 2009-11-25


Age

: 73


Location

: Shropshire



Page 2 of 2 •
1, 2
---
Permissions in this forum:
You
cannot
reply to topics in this forum