UPDATE Feb 17
I have started working on Dianne Webster Statements
http://forum4.aimoo.com/madeleinemccanncontroversy/Random-Information-from-Portuguese-Police-Files/Dianne-Webster-Statements-May-4th-May-11th-2007-April-11th-2008-1-2514272.html
and to help illustrate the statements I have decided to create some much needed location maps/pics.  FOR REFERENCE
(See Below)
---
---
---
In an effort to highlight discrepancies and to give context to the areas mentioned in their statements I have highlighted in varying degrees of importance, some of the details in RACHEL'S statements that may be of interest in an easy to view form.
I hope it help to bring attention to some of the comments that are difficult to find or are easily lost in more than 5 hours of (difficult to read) interviews as well as to be able to view some of the locations in photos.
Initially I planned only on rereading the statements but realised that this format could be helpful to everyone.
I can't say I am looking forward to the other T8 but if it IS of assistance then I will certainly do my best and do as many as I can while still remaining relatively sane.  
All statements can be viewed at
 McCann PJ Files
http://www.mccannpjfiles.co.uk/
Title: Rachael Mampilly Statements May 4, 11, 15, 2007, April 9 2008
http://forum4.aimoo.com/madeleinemccanncontroversy/Random-Information-from-Portuguese-Police-Files/Rachael-Mampilly-Statements-May-4-11-15-2007-April-9-2008-1-2514109.html
EXAMPLE:
She confirms the integrity of the statements made to this Police Department on 04/05/2007 and is ready to provide any additional clarifications.
She stayed in apartment "5B", which is located immediately next to the apartment of the McCann family. That on 03/05/2007, Thursday, she got up between 06H30 and 07:00, together with her husband Mathew and their daughter G***e aged 19 months.
At 07H50, they went to the "MILLENNIUM" restauarant, on foot, arriving at about 08.00 to have breakfast. She stated that they had been the first members of the group to arrive, and, later David and Fiona arrived with their two children, then Russel with his children. Jane did not come because that morning she was not feeling well. They took the usual route, alone, having left the apartment by the main door, which they locked with the key, turned right, then left, reaching the main road that led to the restaurant in question. They all had breakfast together at the same table, including the children.
When breakfast was over, at about 09H00, the witness took her daughter to the "crèche" next to the "Tapas", while her husband Mathew went with Russel to take his daughter E**a to the "crèche" at the main reception. The witness says she returned to her apartment, did some cleaning and changed clothes as she had scheduled a tennis lesson for 11H00. At 09H45 she left the apartment and went to the swimming pool area where she read a book and talked with Kate until about 11H10, the time that she left for the tennis courts as the lesson was slightly delayed. At that time her husband Mathew arrived also to play tennis until about 12.10 pm.
---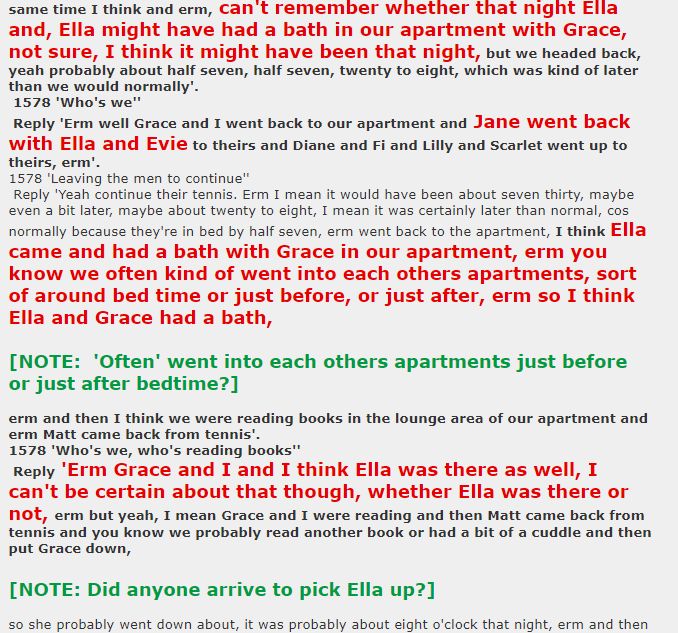 ---
---
---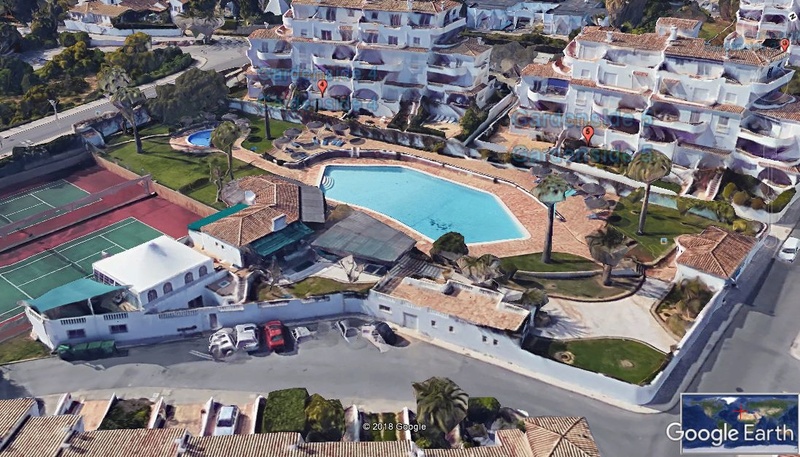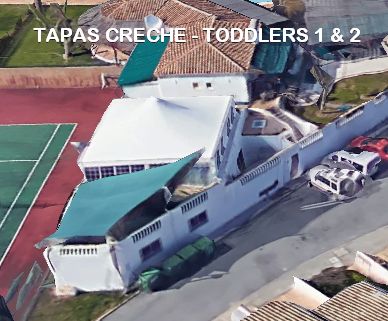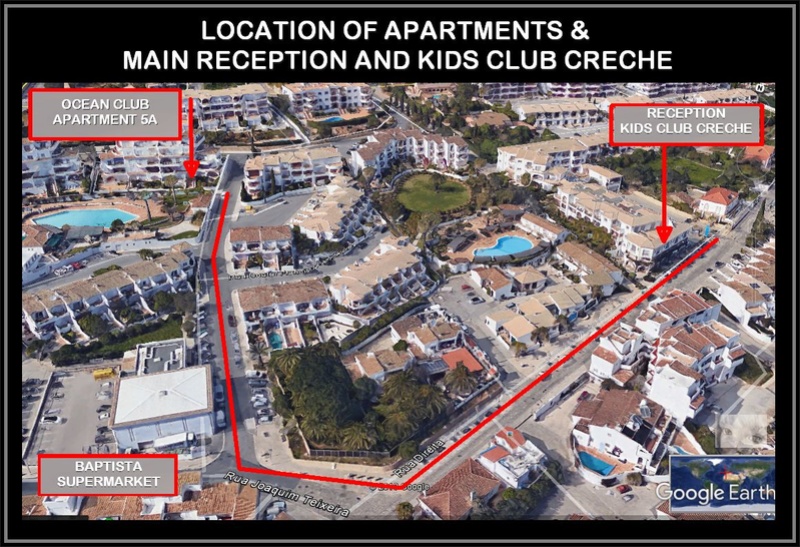 Funnily enough, just been looking at Rachael again myself - her Rogatory is a classic. She has to be the perfect representative MarkWarner client - almost Victorian mindset, we want children but someone else must look after them.

In ref to the point highlighted above, about Ella and Grace bathing together - NO! Unless of course, Rachael is telling porky pies about Grace having had diarrhea all week. It's quite possible that she didn't have diarrhea - MW creche's don't take children with it (they have to be clear for 2 full days before returning) and yet we are told that Grace attended creche all week. Unless of course, Rachael is telling porky pies about the creche attendance.

But taking things on face value (which does highlight irregularities in the statements and is therefore valid):

Grace diarrhea + sharing a bath with Ella = irregularity (both dad's doctors)

Not only do the Oldfields and the O'Brien/Tanner's admit to leaving very young children alone, they admit to leaving very young, sick children alone (Evie/Grace). Doubly bad. So why admit that the girls were ill at all? Was there a reason that Russell and/or Jane had to be away from the table for longer than a couple of minutes on the night of the 3 May? Sick child - excuse for table absense?

Lots more in Rachael's statement.

skyrocket




Posts

: 719


Reputation

: 695


Join date

: 2015-06-18



So, on 3/5, according to Rachael, they left the Millennium at about 9am and Matthew (with Russell) dropped Ella off at the Lobster Club. But the records show Ella arriving at 9.50am - it's a 10 minute slow walk so what did they do for 50 minutes ?

And if Rachael took Grace to the "crèche" next to the Tapas, what group was she in ? She's not on the Jellyfish list. 

It's interesting that the PJ Files do not include the Jellyfish log for the AM of 3/5 - wonder why ?

polyenne




Posts

: 963


Reputation

: 567


Join date

: 2017-03-31



The shutters can only be raised from the inside so she is  telling the truth here it would have been impossible for GM to enter the apartment from through the patio door and if we take it further it would have also been impossible for MO to enter through the patio door and it would been impossible for a "abductor" to enter through the patio door and a locked front door.
I told a senior pro McC supporter this and he claimed that the "abductor" had a key :)
From Rachel's statement:
____________________
When asked if people will ever learn what really happened, Mr Amaral responded: "Yes, we will, when MI5 opens the case files, we will find out".

NickE




Posts

: 1294


Reputation

: 442


Join date

: 2013-10-27


Age

: 43



It's always an excellent idea to put a post-surgical child into a bath, especially with a wound  which had recently become so infected that hospitalization was required! It is even more desirable if said post- surgical child can ensure that she shares the bath with another child, especially one suffering from diarrhoea. Ignore all advice about keeping the wound clean and dry. Poor Ella!

Phoebe




Posts

: 1120


Reputation

: 1350


Join date

: 2017-03-01



I have started working on Dianne Webster Statements
http://forum4.aimoo.com/madeleinemccanncontroversy/Random-Information-from-Portuguese-Police-Files/Dianne-Webster-Statements-May-4th-May-11th-2007-April-11th-2008-1-2514272.html
and to help illustrate the statements I have decided to create some much needed location maps/pics.  I will add them to the OP for easy reference.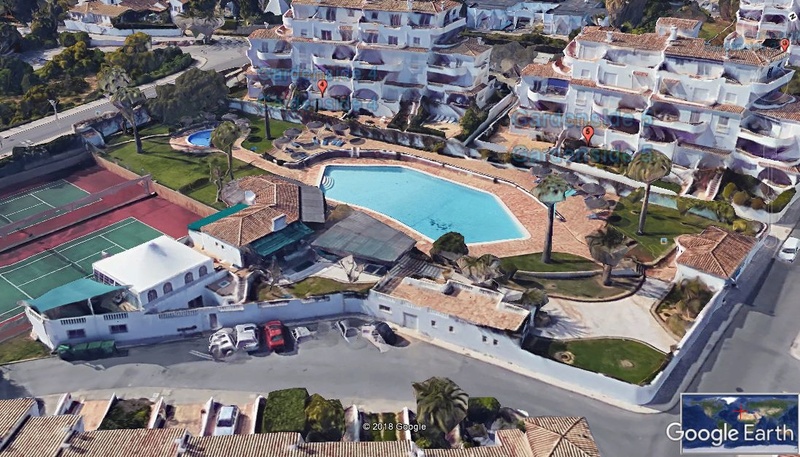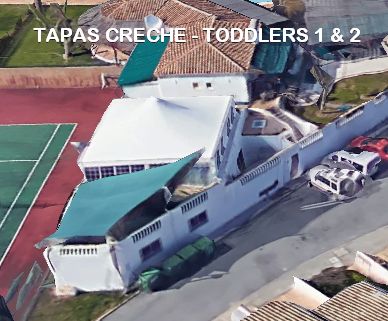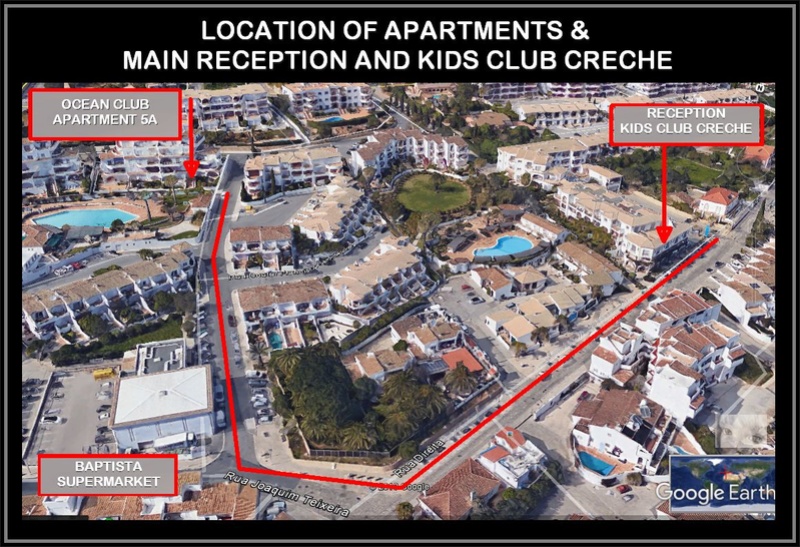 @HideHo - no thread on Dianne Webster/discrepancies would be complete without the following from her Rogatory, so I wont apologize for posting it again

:
4078    "If you could just begin by just describe, telling me where your apartment was in relation to the other apartments, just so that I can get a picture of it."
Reply    "Right, well ours err Kate and Gerry's was the end apartment on the ground floor and then err I think err it was Matt and Rachael next, next to them, and then I'm not sure if there was a, a gap or an empty apartment then Jane and Russell, because our apartment was above, it was sort of between err you know if I looked from the balcony above I could see Kate and Gerry's, I could see Matt and Rachael a part of their garden on that side and then on the other side I think it was Russell and err Jane, I could just see a bit of theirs, err so I think there might have been an apartment between that was empty, I'm not sure."
4078    "Yeah I think you're right on that."
Reply    "Yeah, I'm not sure though."
4078    "How did you get to your apartment? What was the route that you had to take?"
Reply    "Err well we went err we generally went err right up to the end of the, we went through the front entrance if you like, not the, not the entrance that overlooked the, err pool or anything, I don't think there was an entrance. We didn't have a, we only had one exit really apart from the, err because veranda you couldn't go anywhere."
4078    "No."
Reply    "You just went out onto the balcony, err so the only exit was through, through the front door either down the lift or down the stairs which took you down into err a covered area which err there was the doors to the other apartments and then you went out from there into the car park area and then out there onto the road."
4078    "When you say there was doors for the other apartments, was that to anybody in the groups apartments?"
Reply    "Err well yes I mean I remember us seeing a, a, there was Jane, Jane and Russell's apartment and err Matt and Rachael's."
4078    "Okay."
Reply    "But I never ever actually went along that err subsequently talking to Dave and Fiona as they said you could go along that way and get into Kate and Gerry's as well but I, I'd never explored that area if you like."
4078    "Right okay, I'm a bit clearer in my mind now."
 Reply    "Yeah."
A lot of slippage and denial. Glad the interviewing officer is 'a bit clearer' but I doubt anyone else is.


skyrocket




Posts

: 719


Reputation

: 695


Join date

: 2015-06-18



---
Permissions in this forum:
You
cannot
reply to topics in this forum