Here is a heart-warming New Year story which must surely fill every member and guest here with heart-felt thanks that there are such wonderful folk in the world as Cheshire businessman Brian Kennedy.
http://www.stokesentinel.co.uk/news/local-news/girl-living-muscular-disease-receives-1019928
At a winter pantomime on Stoke-on-Trent over Christmas, the
Stoke Sentinel
reports that disabled young woman Charlotte Thom has been helped to by the specialist wheelchair she needs.
She had raised £3,000 towards a target of £21,000. Then a trustee of the Brian Kenendy Trust, Linda Jones, heard about her plight, and persuaded her fellow trustees to come up with the remaining balance of £18.000.
The link contains a video of Charlotte expressing delight at her new wheelchair and also of Brian Kennedy trustee Linda Jones explaining how the donation came about. Her thick Scottish accent sounds very much like Gerry McCann's accent - a Scottish connection?
It must be a welcome break for Brian Kennedy, who has been the unfair target of some who have criticised him for appointing the following in a failed search for Madeleine McCann:
1 Gary Hagland - expert in money-laundering law and the only known Briton to have had a 4-hour trip to Saturn and back in an alien spacecraft, and author of "UFO - A Saucer Full of Secrets" using his pen-name Mason Horsburgh
2 Fancisco Marco - boss of corrupt Barcelona detective agency Metodo 3, who in December 2007 famously boasted - and lied - that he knew that Madeleine was alive, where Madeleine was being held, and that his men were 'closing in on her kidnappers' 
3 Kevin a.k.a. Richard Halligen, serial fraudster who served four years in prison for a £1 million fraud and was handed nearly £600,000 by Kennedy and the McCanns for  -our months' work when he did nothing to find out what happened to Madeleine
4 Antonio Jiminez Raso - corrupt former Inspector in the Catalonian Regional Drugs Squad, served four years in prison in respect of his help given to a 27-strong drugs gang, which was described in court by a Barcelona judge as 'exceptionally violent'
5 Arthur Cowley - long-retired aged former Detective Sergeant who lived in a tiny cottage at the top of Halkyn Mountain, North Wales, and who said after his work on the Madeleine McCann case: *I am taking the McCanns' secrets to my grave"
6 Julian Peribanez - Metodo 3 detective who later admitted the criminal offence of the illegal recording of telephone conversations.   
A New Year toast, then, to Brian Kennedy...
...and his Trust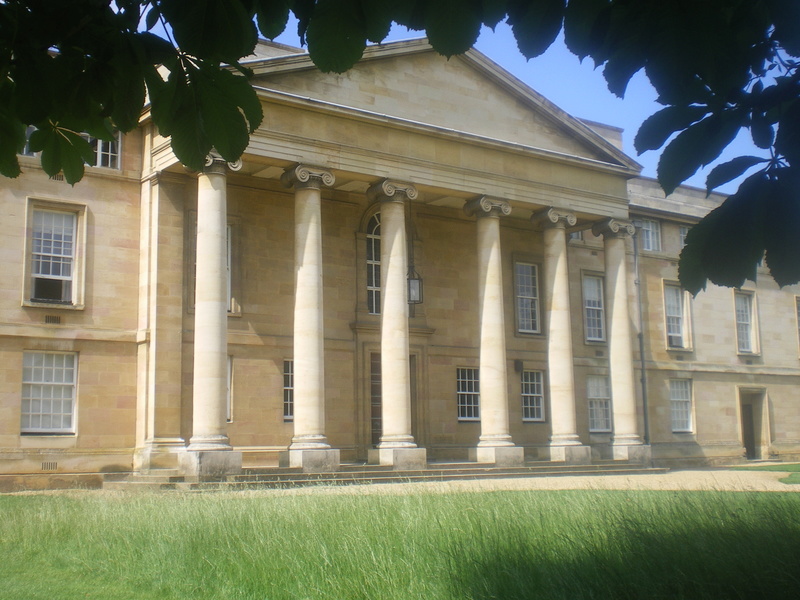 Kennedy's stately home, Swettenham Hall in Cheshire, once owned by Robert ('Bobby') McAlpine, who was questioned in the 1960s by police about a sexual abuse incident, and owned a large collection of paintings by pervert and child sex abuser Graham Ovenden, whose statute of a young girl, lightly clad, stands above the entrance to BBC House in London

____________________

Dr Martin Roberts: "The evidence is that these are the pjyamas Madeleine wore on holiday in Praia da Luz. They were photographed and the photo handed to a press agency, who released it on 8 May, as the search for Madeleine continued. The McCanns held up these same pyjamas at two press conferences on 5 & 7June 2007. How could Madeleine have been abducted?"
Amelie McCann (aged 2): "Maddie's jammies!".  

Tony Bennett

Researcher




Posts

: 16807


Activity

: 24660


Likes received

: 3744


Join date

: 2009-11-25


Age

: 75


Location

: Shropshire



The statue at the entrance of the BBC is of Prospero and Ariel :

Transmanche




Posts

: 2


Activity

: 2


Likes received

: 0


Join date

: 2017-06-10



The sculpteur of the statue was Eric Gill, an artist who molested his two daughters and family dog and who had an incestuous relationship with his younger sister :
http://www.dailymail.co.uk/news/article-2313057/BBC-urged-remove-sculpture-naked-boy-outside-Broadcasting-House-creator-raped-daughters.html

Transmanche




Posts

: 2


Activity

: 2


Likes received

: 0


Join date

: 2017-06-10



I detest the celebrities and wealthy who so glibly attach their names to charitable causes.

It's nothing but a PR stunt a tax dodge and an image boost, a good marketing ploy - it sickens me. The real people out there who actually do the ground work and hard graft are seldom recognized, at least not on a grand scale.

Ringo Star to be knighted because of his work for charity? Bah!

____________________
" The secret of life is honesty and fair dealing. If you can fake that, you've got it made" - Groucho Marx

Verdi

Forum Manager





Posts

: 29231


Activity

: 36382


Likes received

: 5911


Join date

: 2015-02-02



---
Permissions in this forum:
You
cannot
reply to topics in this forum