Page 16 of 16 •
1 ... 9 ... 14, 15, 16
'….then force us to instruct lawyers – and even to start court proceedings – before it behaved reasonably.'
 
'The Sunday Times said: "We have agreed a settlement with Mr and Mrs McCann."
 
So 'out of court' again.

Doug D




Posts

: 3022


Join date

: 2013-12-03



Leveson has changed nothing– the media still put 'stories' before the truth
As I know from experience, if papers tell lies about you, they'll be able to get away with it pretty much scot free. The public backs change – and editors must act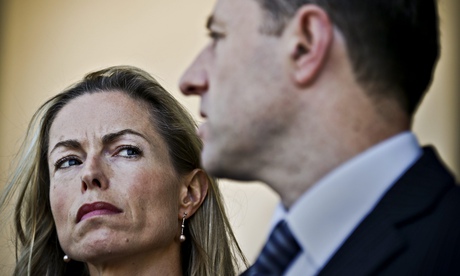 Kate and Gerry McCann talking to the press earlier this year during a libel case against a former Portuguese police officer. 'Newspapers treat the people they write about as if they don't exist. Wild animals are given more respect.' Photograph: Mario Cruz/EPA
Nearly three years ago my wife, Kate, and I
appeared before the Leveson inquiry
to talk about the campaign of lies that was waged against us after our daughter Madeleine went missing. We described how our lives had been turned into a soap opera so that newspapers could make money, with no regard for truth, for the distress they were inflicting, or for the damage caused to the search for Madeleine. We asked Lord Justice Leveson to ensure that in future things would be different and that nobody would ever again have to endure the dishonest reporting we experienced, or at least that there would be some quick, effective way of correcting false reports in newspapers.
Nothing has changed since then. Big newspaper companies continue to put sales and profit before truth. The protection for ordinary people is as feeble as it always was.
A year ago, when Kate and I were experiencing a time of renewed hope as the Metropolitan police stepped up its new investigation into Madeleine's disappearance, we received an email late on a Thursday night from the Sunday Times. Its reporter asked us to comment on information he planned to publish. This turned out to be a claim that for five years Kate, I and the directors of
Madeleine's Fund
withheld crucial evidence about Madeleine's disappearance. We rushed to meet his deadline for a response. In the vain hope that the Sunday Times would not publish such a clearly damaging and untrue story, we sent a statement to the newspaper. We denied the main tenet of the story and emphasised that since Madeleine's disappearance we had fully cooperated with the police and that the directors of Madeleine's Fund had always acted in her best interest.
However, the Sunday Times went ahead and published the report on its front page, largely ignoring our statement. We tried to settle this matter quickly and without legal action. I wrote to the editor asking for a correction, but all we got in response was an offer to publish a "clarification" and tweak a few lines of the article – but still to continue to publish it on the newspaper's website. Indeed, further correspondence from the paper only aggravated the distress the original article had caused, created a huge volume of work and forced us to issue a formal complaint to get redress through our lawyers.
Eventually, two months after the article was published, a correction was printed, retracting all the allegations and apologising. But even then – and despite the grotesque nature of what it had falsely alleged on its front page – the apology was on an inside page and the word "apology" was absent from the headline. Since then, it has taken 11 months and the filing of a legal claim to get the Sunday Times to agree to damages, all of which we are donating to charity, and to get our right to tell the public that we had won the case. But the cost to the paper is peanuts – the fee for a single advertisement will probably cover it. And there will be no consequences for anyone working there.
Nothing will be done to ensure that in future reporters and editors try harder to get things right. And so the same people will do something similar, soon, to some other unfortunate family – who will probably not have our hard-earned experience of dealing with these things and who will probably never succeed in getting a correction or an apology.
So what has changed in the newspaper industry since the
Leveson report
two years ago? Absolutely nothing. Newspapers continue to put "stories" before the truth, and without much care for the victims.
They treat the people they write about as if they don't exist. Wild animals are given more respect. They hide behind talk about the rights of the press while they routinely trash the rights of ordinary people. They constantly claim to stand up to the powerful, but they are the ones with the power, and they use it ruthlessly.
Legal action should be a last resort. A final route when all else has failed. I don't blame Leveson. He recommended changes that would make a big difference. He wanted a press self-regulator that was not controlled by the big newspaper companies and that had real clout. If a paper told lies about you, you could go to this body and count on fast and fair treatment: it would not just let papers off the hook. More than that, Leveson wanted a cheap, quick arbitration service so that ordinary people did not need to resort to the law. Our experience shows this is a vital reform.
Parliament backed Leveson's plan. The public backs it. So do we, and almost all the other victims who gave evidence to Leveson. Only one group of people is opposing this change – the perpetrators themselves, the same editors and newspaper owners who were responsible for all that cruelty. Instead of accepting the Leveson plan, these people, including the owner of the Sunday Times, have set up another sham regulator called
Ipso
, which is designed to do their bidding just like the old, disgraced
Press Complaints Commission
.
If in another year's time the press still rejects the royal charter – itself already a compromise – then it will be time for parliament to deliver on the promises the party leaders made, and ensure that what Leveson recommended is actually delivered. Otherwise elements of the press will go on treating people with total contempt. This time, once again, it was Kate and I who were the targets. Next time it could be you.

Guest

Guest





McCann and his wife Kate were handed £55,000 in libel damages from the Murdoch-owned paper over a front page story which alleged that the couple had deliberately hindered the search for their daughter, who went missing in Portugal seven years ago.

Me being me, at this point in the report, i would be asking so, kate, tell me about those 48 questions you refused to answer and the one question you did which was:

Are you aware that in not answering the questions you are jeopardising the investigation, which seeks to discover what happened to your daughter?

To which you, kate, replied

YES, If that's what the investigation thinks.



Since you kate dear, have openly and clearly admitted to jeopardising (hindering) the search for your daughter can i suggest gerry you hire carter-ruck, a firm to which you apparantly have a hotline to, to sue kate mccann for hindering the search for Maddie.
The same thing you have happily don,e suing and threatening to sue anyone who doesn't agree with your version of events, and who you, and your supporters, with great abandon and glee happily do on an almost daily basis.

After all what is good for the goose is also good for the gander.

I understand she has access to a nice amount of money which should keep you in the manner to which you would like to be come accustomed to.

Also it will be handy come divorce time and you want custody of the remaining children on the basis, of her mental health issues (see your claims regarding  suing Dr. Goncalo Amaral and also exhibit KH1 the bewk.
____________________
The little unremembered acts of kindness and love are the best parts of a person's life.
The Sunday Times have form for settling supposed libel cases., then counter suing for return of the funds when the "victim" is exposed as a liar.  Ask Lance Armstrong.

sami




Posts

: 965


Join date

: 2012-04-08



@sami

wrote:The Sunday Times have form for settling supposed libel cases., then counter suing for return of the funds when the "victim" is exposed as a liar.  Ask Lance Armstrong.

Praiaaa




Posts

: 426


Join date

: 2011-04-17



Page 16 of 16 •
1 ... 9 ... 14, 15, 16
---
Permissions in this forum:
You
cannot
reply to topics in this forum