http://mccannfiles.com/id232.htmlNational
Center for Missing and Exploited Children Hotline
Does America Need a $50 Million a Year Missing Children Clearinghouse...
...or, rather, a $50 Million a Year Missing Children Emergency/Ongoing Response Team?
By Don Austen
Fall 2009
Volume 30, No. 2
The National Center for Missing and Exploited Children, NCMEC, was created out of the publicity generated from the Adam Walsh disappearance and death back in 1981. The claim raised at the time before Congress was that there was no government-affiliated agency in existence to assist the parents of abducted children. The figures at the time portrayed the situation as grim, insisting that tens, if not hundreds of thousands of children a year were abducted by strangers. As it turned out, long-term abductions by strangers figured only in the tens per year.
Since its inception, NCMEC has received millions of dollars each year from Congress. Presently, Congress allocates $50 million per year to the Center. But how is the money used? And how does NCMEC work? NCMEC describes itself as a Missing Children Clearinghouse, meaning that it disseminates information, but plays no active role in the actual recovery of missing children. Today, NCMEC has hundreds of staff and its salaries alone are running close to $30 million a year. But what does it do? Well, it gathers information and disseminates it. Does this help when a child goes missing? Perhaps, but not significantly. Basically, what happens is that NCMEC posts a photo of the child on their website. They have partner programs with Wal-mart and with ADVO to distribute photos of parentally abducted children, which have been successful to a small degree. But what about those few children that are actually in peril; the ones that Congress originally intended a national missing children center to be structured for; the kids like Adam Walsh? The answer is, not a whole lot of help gets channeled from NCMEC.
Take the case of Shawn Hornbeck, who had been abducted by a stranger for four years. Or that of Shasta Groene, the little girl, who was abducted after her whole family was murdered. Or Elizabeth Smart, who was with her kidnapper less than a quarter of a mile away from her house with a clear trail any competent bloodhound handler could find. Where was NCMEC then? Nowhere to be found.
In 1993, when Polly Klaas was abducted (and later murdered), Winona Ryder had done only 15 films. Her net worth at the time was far less than the nearly $30 million NCMEC admits in its tax returns as having in overages in the bank. Yet in its more than a quarter century of history, whenever a child has been abducted and faces death, the NCMEC has not offered one cent as a reward. What does that say about those that run it?
Let's start with Ernie Allen. According to NCMEC's 990's, Allen earns close to half a million dollars a year for a 28-hour workweek. Yet no one at NCMEC seems to care that their hotline is not listed with directory services. No one there seems bothered by the fact that there are no 24-hour caseworkers in the event a child goes missing after 5:00 PM weekdays Eastern Time. No one cares, because that isn't what NCMEC apparently is supposed to do. Remember, they're just a clearinghouse. So, when it turned out that Jaycee Lee Dugard had from the age of 11 when she was abducted, spent 18 years as a sex slave to a deranged man, it was apparently not the responsibility of NCMEC to have searched for her. That's not what they do. But what should what they do really cost? Their valuable website could probably be maintained for about $25,000 a year. Their NetSmartz website is probably worth another $25,000, but that's a one-time expense. And their Cybertip hotline for the online sexual enticement of minors could be run for pennies. Why? Because the information collected is simply redirected to the FBI. NCMEC does not investigate.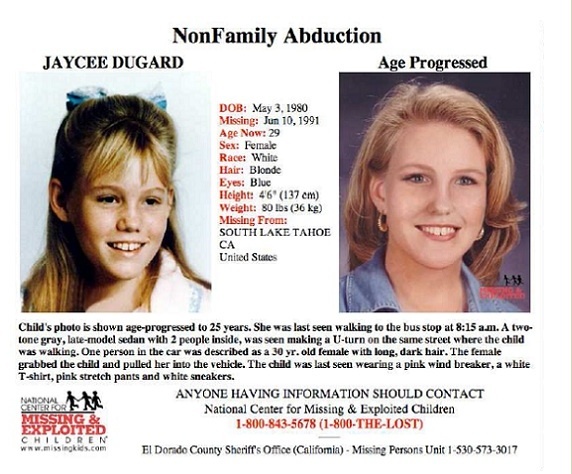 On August 27, 2009, Jaycee Lee Dugard, 29, was recovered by Campus police at UC Berkeley, simply because her abductor had brought her out into the open after 18 years of confinement as his personal sex slave. What had NCMEC done in all that time to attempt to find her? They had put up her photo on their website.
Note that while there is an age-progressed photo (the public has yet to see her now) the description prompts us to search for a woman who is 4'6" tall and weighs 80 lbs. One would assume that with any age-progression, her predicted height and weight at age 29 would be factored in. The poster in one form or another had been up on NCMEC's website for 18 years, two and a half months. In all of that time, not one viable lead came in as a result.
So, when the $50 million a year puts up a poster where the photo is totally wrong, aren't the effects actually counterproductive to any recovery? No one would have recognized Shawn Hornbeck even if they had seen him in person, because he didn't look like NCMEC said he should.
And what about Jaycee? While she was imprisoned in her captor's backyard, living as his sex slave from age 11, bearing two of his children, never seeing the outside world, never being allowed to experience childhood, NCMEC was raking in nearly half a billion dollars from Congress, while their President, Ernie Allen kicked back in a swell home and shook the hand of the United States President that led our nation into ruin.
Why didn't NCMEC search out all the pedophiles in the area where Jaycee Dugard was abducted?
· Why didn't they hire one private investigator to continue the search? · Why didn't they offer a reward for her recovery?
· Why aren't they listed with directory services? · Why don't they have 24-hour critical staff?
· Why does no one notice?
The fact of the matter is that only a handful of children like Jaycee are abducted each year and an annual budget of $50 million dollars (NCMEC also gets an additional $8 million from private sources) is more than enough to further any search. As it turned out, though, Jaycee and the other were just poster children for Congressional waste.

justagrannynow 1




Posts

: 966


Reputation

: 3


Join date

: 2009-11-26


Location

: France



---
Permissions in this forum:
You
cannot
reply to topics in this forum