STOP NONSENSICAL MADELEINE MCCANN SEARCH – £14M WASTED
May 14, 2022
In the week that Madeleine McCann would have turned 19, Matthew Steeples suggests it is now time to put a stop to the nonsensical investigation into a child that likely never went "missing".
Thursday would have been the 19th birthday of Madeleine McCann. I say "would have been" rather than "was" because I do not believe the poor, unfortunate "missing" since 2007 child to actually still be alive.
Miss McCann had a distinctive right eye that featured a blemish as a result of suffering from the rare condition of colomba. Said to affect just 1 in 10,000 children, this feature is something that someone who had encountered her – if she were still living – would have most definitely noticed by somebody who encountered her living being somewhere.
£14 million has thus far been spent on a nonsensical search for a child left alone with its two siblings in an apartment with an unlocked door onto a public highway. That apartment contained evidence of death in a cupboard – clearly sensed by skilled cadaver dogs – and traces of blood, as referenced by The Guardian, in it also.
Frankly, as a result – if, by some astonishingly unlikely chance – if Madeleine McCann were still alive somebody would have come forward in the hope of claiming a reward or, equally, some greedy sort would have traded someone else in. Money talks and money
"Missing" now for 15 years and 11 days and currently with all hopes pinned on pinning the blame on Christian Brueckner – a clearly evil man but equally one shown this week by investigator Mark Williams-Thomas to unlikely be "the killer of Madeleine McCann" – here is a case that will most likely never be solved.
Here now is a chance to reallocate resources to help find missing people who can actually be found. It is time to stop wasting money looking for a child who most likely died in a holiday apartment on or before 3rd May 2007 and it is time to accept that those looking for Madeleine McCann have orchestrated nothing but an almighty balls-up.
Missing Madeleine – Questions STILL without Answers
Many questions about what happened on the evening of the disappearance of Madeleine McCann remain. Some that have been highlighted by the press and discussed online include:
Why did Kate McCann refuse to answer 48 questions put to her by the Portuguese police?



Why were certain records of phone calls on the evening of the disappearance "whoosh-clunked" from the memories of the phones of Mr and Mrs McCann and the 'Tapas 7'?


Why did a British sniffer dog sense the smell of a corpse in a cupboard in the apartment from which Madeleine McCann disappeared?


Why did a sniffer dog also supposedly sense the smell of a corpse in a vehicle hired by the couple a month after the disappearance of their daughter?


Why did Mr and Mrs McCann go jogging and play tennis in the days after their daughter's disappearance?


Was it acceptable for Mr and Mrs McCann's mortgage to be paid by the fund established to search for their missing daughter?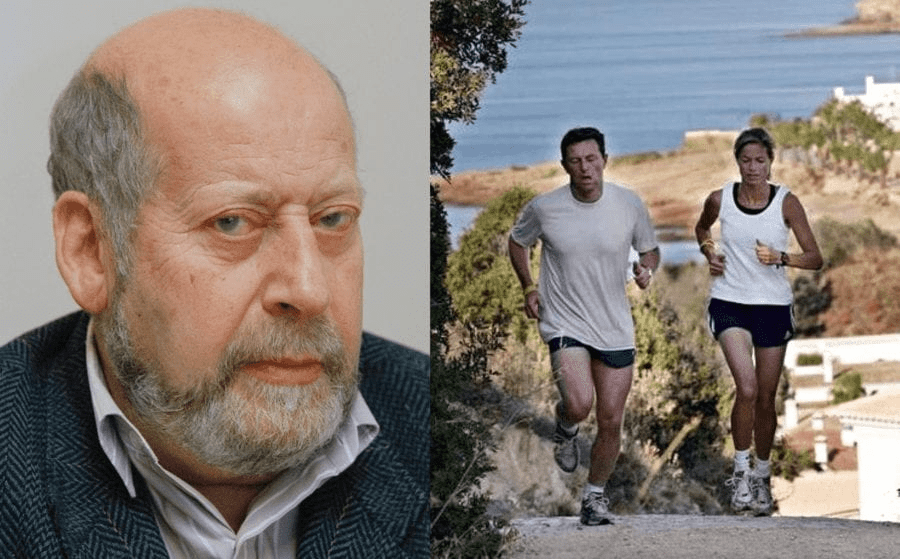 Kate McCann – a woman who went running, played tennis and dined on chicken and mushroom risotto and egg and watercress salads washed down with strawberry vodka with the paedophile Sir Clement Freud in the days after her daughter 'disappeared' – has a clear touch of the former Meghan Markle about her. Like 'MeGain,' whom banged on that "not many people have asked if I'm OK," Mrs McCann said in 2011: "Officers walked past us as if we weren't there. Nobody asked how we were doing, whether we were okay. Our child had been stolen and I felt as if I didn't exist."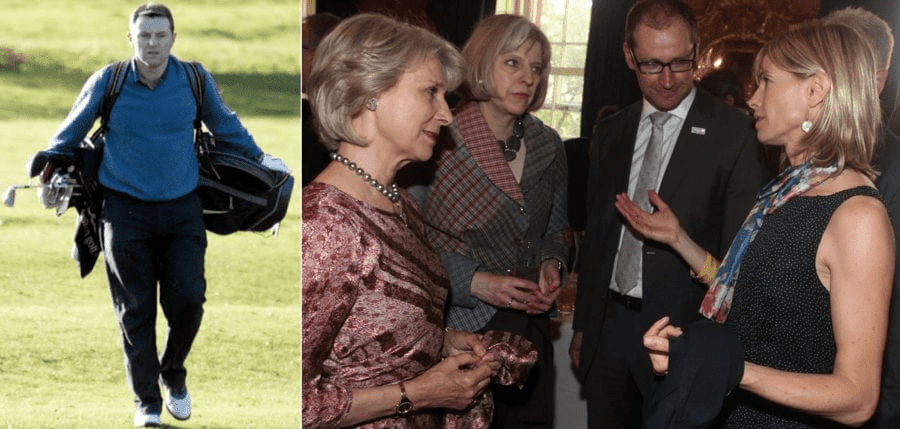 Living it Large – Gerry MccCann enjoying a round of golf (left); Kate McCann at Downing Street, London hobnobbing with Missing People CEO Martin Houghton-Brown, the Duchess of Gloucester and the then Home Secretary Theresa May on 23rd May 2012 (right).
In December 2017, when £11 million of British taxpayers' money had been spent towards the search for 'missing' Madeleine McCann, 86% of viewers of ITV1's 'Loose Women' said the public purse should cease to fund the investigation. Now, in May 2022, with that sum now in excess of £14 million (aside from the millions in private money also), it is time to allocate resources to the search for missing people who actually can be found, we would suggest.
https://www.thesteepletimes.com/movers-shakers/nonsensical-mccann/?fbclid=IwAR1J-8iMwII8EWm0dmKxaXnzG7RnT7o-xa-4uoMDr7AbILUzLvQL-Lx36rI
____________________
PeterMac's FREE e-book
Gonçalo Amaral: The truth of the lie
CMOMM & MMRG Blog
Franco99 and crusader like this post
As Jill Havern so rightly says, this nonsensical, fearfully exstravagant, 'investigation' is long overdue to be ended.

Over the years since this poor child's probable death, it has been obvious that the vast amount of public money thrown at this case has been largely wasted on endeavouring to stifle publication of any opinion about the case that varies from that promoted by the parents. 

They have taken exception, in the nastiest way (even threatening to put people in prison), to anybody who voices an alternative reason for this child's disappearance - a curious response from grieving parents who you'd think would be pleased to see if anyone else could explain what may have happened.

However, a close study of the case clearly indicates that virtually all the alternative explanations that have been mooted have demonstrated a lack of belief in the parents' conflicting stories and their curious behaviour subsequently.

I should state that I don't believe for a moment that her parents had any complicity in her probable death but I'm pretty certain that they were well aware of what happened subsequently, in the period following her disappearance.

As a matter of interest, does nobody think it curious that Kate's first words on returning to her colleagues in the bar were "They've taken her"?  This short sentence implies two things instantly - firstly, using the word 'They' implies that she's aware of who she was referring to.  Otherwise, it would be normal to say 'Someone' has taken her.  Secondly, why use "taken her"?  If you'd just discovered your child had disappeared, would the first thing to spring to mind be that somebody had "taken" them?  Surely, you'd probably consider that they'd wandered out of the unlocked appartment?

To quote the 'elephant in the room' adage, I think one has to ask oneself, what can possibly connect a group of medical people and their young children with others who occupy the highest positions in our society, with ready access to huge amounts of public money which they have freely handed out to these people, for no really obvious reason.   I've never heard of any other parents of a missing child being offered this sort of largesse from the government.  So, what is it that connects the McCanns to the highest in the land and makes it so important that their story is accepted?

Franco99




Posts

: 36


Activity

: 43


Join date

: 2018-12-30



Cammerigal and crusader like this post
Franco99 wrote:As Jill Havern so rightly says, this nonsensical, fearfully exstravagant, 'investigation' is long overdue to be ended.
The article is written by an outlet named thesteepletimes, as reflected by the link at the foot of the post.
There have been various versions of Kate McCann's word when she first raised the alarm. I don't think it can be reasonably stated that one particular version is the true or most likely It's more interesting to note that, if to be believed, Kate McCann left her two younger children alone in an apartment she claims her eldest daughter was abducted - most probably by paedophile/s or child traffickers, whilst she ran back to the Tapas to spread the news.
It doesn't add up - even in a state of panic she would be clinging to her remaining babies for dear life!
By all appearances, press and media reports, the McCanns were/are well connected but there could be any number of reasons to explain the unprecedented support their case has attracted. You only need one person who knows someone who knows someone to set the ball rolling.
Gerry McCann is clearly well respected in his field of work, such a fraternity has a habit of closing ranks to protect their own, no matter what!
It wouldn't do for the NHS to be hit by a major scandal .... would it?
A scandal that could potentially dismantle the entire UK establishment is reason enough to close ranks. Could that be what we are looking at?

____________________
" The secret of life is honesty and fair dealing. If you can fake that, you've got it made" - Groucho Marx

Verdi

Forum Manager





Posts

: 34647


Activity

: 41901


Join date

: 2015-02-02



---
Permissions in this forum:
You
cannot
reply to topics in this forum