I believe that the parent's of little lost Madeleine McCann can be considered very fortunate indeed.  
Their brazen audacity as they stumbled and faltered through four months of status beginning with victim in May 2007 and slowly but surely moving towards arguido, loosely speaking prime suspects, in September 2007.  They were allowed, even assisted by UK authorities, to swiftly leave Portugal despite the stormy cloud hanging over their heads.  Since then they have luxuriated in celebrity status, the focus of demand for the television studio sofa and unprecedented protection by the UK establishment. Courted by the media at their own instigation; revered by their very own media connections; authors of a best selling novel; sponsored by high profile wealthy business magnates; rubbing shoulders with the aristocracy; named ambassador for a missing persons charity; elevation to professorship - the list is endless ......
That's some feat of good fortune in anyone's book.
They say like attracts like which in many walks of life is true to the word - this masquerade is no exception.  The McCann faction has not only attracted the criminal element but they've even engaged their services and paid inordinate sums of money to finance the life of crime.
The case of missing Madeleine McCann is a web of intrigue, not the disappearance of the child per se - that I don't doubt is straightforward in the world of crime against children but the aftermath is more dastardly than any white knuckle roller-coaster ride.
This leads me to the importance of identifying and documenting the various individuals, directly involved and on the periphery, of the case of Madeleine McCann who have since been investigated and/or convicted of criminal activity.
My immediate thoughts turn to Kevin Halligan, not only because he was hired by the Find Madeleine Fund Co Ltd to privately investigate the disappearance of Madeleine McCann but also because he is a native of the English language, so no scope for hiding behind the language barrier.
To be continued..

____________________
" The secret of life is honesty and fair dealing. If you can fake that, you've got it made" - Groucho Marx

Verdi

Moderator/Researcher




Posts

: 11399


Reputation

: 4231


Join date

: 2015-02-02



Kevin Halligan
The man brought in to head up the McCanns' private investigation into Madeleine's reported disappearance. His firm, Oakley International, was hailed by the McCanns' chief public relations officer, Clarence Mitchell, as 'the big boys of international investigation', a claim the mainstream British press reported uncritically. However, the McCanns paid Halligen £500,000, only for most of it to be squandered by him on high living and worthless projects. He was in fact a fraudster and expert in money laundering who was wanted for a $2 million fraud in the U.S. Arrested at a £700-a-night Oxfordshire hotel in October 2009, he has since been languishing in Belmarsh top security prison, using Britain's legal aid budget to fight extradition to the U.S.
[Thanks to Tony Bennett for the above résumé]
Since this, Kevin Halligan was allegedly found dead in his girlfriends home in Surrey, England.  The coroner's inquest has yet to be determined.

____________________
" The secret of life is honesty and fair dealing. If you can fake that, you've got it made" - Groucho Marx

Verdi

Moderator/Researcher




Posts

: 11399


Reputation

: 4231


Join date

: 2015-02-02




____________________
" The secret of life is honesty and fair dealing. If you can fake that, you've got it made" - Groucho Marx

Verdi

Moderator/Researcher




Posts

: 11399


Reputation

: 4231


Join date

: 2015-02-02



Mark Williams-Thomas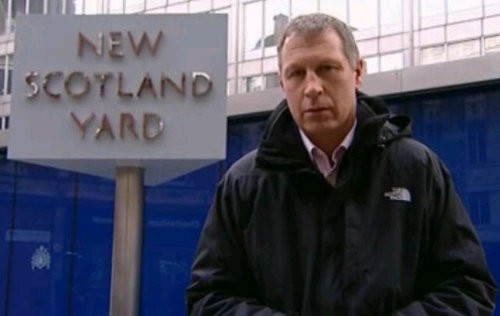 Mark Williams-Thomas owns his own Child Protection and Risk Management Consultancy - WT Associates Ltd.  Prior to setting up WT Associates in 2005, Mark was a police Detective specialising in major crime.  He worked on or was in charge of some of the largest paedophile and murder investigations in the country, as well as being was one of only 10 specialist Family Liaison officers during his time in the police. Mark is also completing a Masters in Criminology at the University of Central England. It is understood that he attended the meeting between the FFS and the Portuguese forensic team at Leicester police station on 29th November.
Mark Williams-Thomas who claims to have left the police service in order to expose (excuse the inference) Jimi Saville.
Mark Williams-Thomas who has repeatedly spoken out in support of the McCanns.  After undertaking a personal 'review' of all the evidence from the PJ investigation, even up to more recent times, concluded that Madeleine was the victim of a chance abduction, having wandered from apartment 5a looking for her parents.  Also repeatedly publicly attacked the PJ with allegations of incompetence, unprofessionalism and lack of commitment.
According to a report published by the Liverpool Echo in May 2009..
Mr Mark Williams-Thomas said "Is it unreasonable to presume that Madeleine woke up and then went in search of her parents at a restaurant within a holiday complex that she had grown familiar with over the course of her holiday?  Neatly tucking up her toys – as her parents had done to her – she slipped out of the apartment through an insecure patio door."
Mr Williams-Thomas criticised several aspects of the Portuguese investigation, including botched searches and a complete failure to secure the crime scene.
He said the reliance on evidence of dogs trained to detect dead bodies was "significant and damaging", leading police to mistakenly focus on the McCanns.
Mr Williams-Thomas said the couple were made suspects, or arguidos, as a result of ambiguous evidence from specially-trained British dogs and their handlers.
Mr Williams-Thomas said: "It is now clear that, after the Portuguese police failed to establish or identify any possible suspects during their initial investigation, and when they came under increasing pressure to resolve the case, they turned their attention on to Madeleine's parents.
"In particular, they over-relied on the evidence of the dog team – such as it was, and it was this that prompted them to make Gerry and Kate McCann arguidos.
"In short, they concentrated on their theory that Madeleine had been accidentally killed and that her parents had later hidden her body.
"Although how they would have been able to have done this does not seem to have been considered by the Policia Judiciara."
Mark Williams-Thomas who had to publicly admit (for whatever reason) that the 'make-up' photograph of Madeleine McCann was ill-advised.  He who, through his line of work, almost certainly had connections with Jim Gamble ex of the CEOP.
Mark Williams-Thomas, former Surrey constabulary copper turned investigative journalist cum television presenter;  TV personality;  commentator;  criminologist extraordinaire - the hunter turned hunted.

Mark Williams-Thomas now himself under police surveillance in connection with his involvement in the Jonathan King investigation - Jonathan King the child sex abuser.

____________________
" The secret of life is honesty and fair dealing. If you can fake that, you've got it made" - Groucho Marx

Verdi

Moderator/Researcher




Posts

: 11399


Reputation

: 4231


Join date

: 2015-02-02



---
Permissions in this forum:
You
cannot
reply to topics in this forum