http://www.express.co.uk/news/uk/589596/Police-botched-John-Palmer-murder-probe-cement-mixer-death-cover-up-Bromley-Balkwell
Police who 'botched' John Palmer murder probe accused of 'cement mixer death cover up'
THE police force at the centre of the botched probe into the murder of Brink's Matt kingpin John Palmer is facing more embarrassment over an unrelated case after it was accused by a grieving dad of "a covering up" concerning his son's death at another gangster's home".
By Jon Austin Jon Austin
PUBLISHED: 09:59, Thu, Jul 9, 2015 | UPDATED: 10:01, Thu, Jul 9, 2015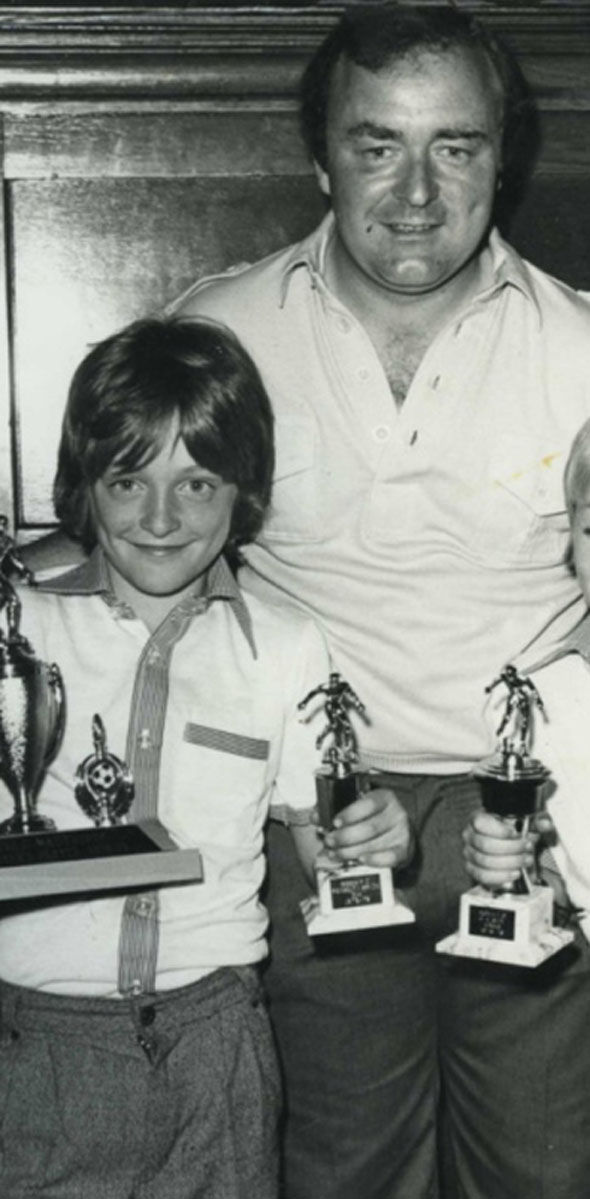 Lee Balkwell and father Les Balkwell
Essex Police has referred itself to the Independent Police Complaints Commission (IPCC) after being forced to admit Palmer, 64, nicknamed Goldfinger due to his alleged involvement in the 1983 Brink's-Mat gold bullion heist, died from gunshot wounds.
The admission came six days after his death at his home in Brentwood, Essex, was wrongly recorded as natural causes.
Separately, Essex Police is facing "corruption" allegations concerning an unrelated case, involving the death of Lee Balkwell, 33, on land owned by the family of convicted drug and gun runner Simon Bromley, 45, seven miles away from Brentwood in South Ockendon.
Lee Balkwell from Rainham, Essex, was found dead wedged between the drum and chassis of a cement mixer in the dead of night at an industrial area next to his employer concrete supplier Bromley's home.
Although he was found dead at 1am on July 18 2002, Bromley was never arrested until November 2012 on suspicion of manslaughter.
He was charged with manslaughter and a health a safety offence.
Last October Bromley was acquitted of manslaughter, but found guilty of breaching health and safety laws in relation to the death.
He had earlier admitted cannabis cultivation at his home, after a sophisticated set up was discovered in his bungalow when police arrested him, and was jailed for three years last October for that offence, but still awaits sentence for the health and safety matter.
Lee Balkwell's father, Les Balkwell, 68, has lodged a civil claim at the High Court for £50,000 damages claiming 41 allegations of "failings and corruption" by the force during its investigations into his son's death.
A trial date has yet to be fixed for the civil action, so the allegations have yet to be tested in court.
Essex Police said in a defence statement it had accepted a number of failings during its initial investigation of the death, and had apologised to Mr Balkwell, but it vehemently denies his allegations of "corruption and unlawful behaviour" by any of its current or former officers.
Despite the jury's verdict in the criminal case, Les Balkwell told the High Court he wished the criminal case could be re-opened and he would like to bring a private prosecution in the criminal courts.
[ QUOTE "For 13 years we have been trying to get to the truth so my family can get some clarity and every step of the way the police have stopped us" - Les Balkwell ]
The grieving dad from Hornchurch, Essex, who is representing himself, outlined to the court in a series of allegations that:
*Undercover Essex Police officers told him "investigating officers knew from the beginning the death was not accidental but treat it as one."
*A senior officer, ordered the destruction of Lee's clothing less than 24 hours after he was removed from the mixer
*The force initially lied about not obtaining his son's mobile phone records which were disclosed 10 years later
*There was no proper scenes of crime forensic investigation or crime report, two entries from an incident report were removed and the scene was not protected from contamination
*He claims Essex coroner's officer Derrick Bines met him at a motorway service station beforehand, "to find out what he knew" and later had to be "removed from the case".
*One detective "doctored CCTV recordings" of the scene, then retired from the force and refused to answer any questions a day after being contacted by the IPCC.
Mr Balkwell told the judge: "For 13 years we have been trying to get to the truth so my family can get some clarity and every step of the way the police have stopped us.
"The fact of the matter is these people know what happened that morning and why they let every Tom, Dick and Harry go on the crime scene."
[PICTURE] Bromley's arrest ten years after the death followed a damning IPCC report in 2012.
The report was produced after a three-year investigation by the IPCC into several complaints from Les Balkwell about police handling of the case.
It slammed the initial investigation into his son's death, saying vital evidence and several lines of inquiry were lost forever, the probe ruled out foul play too early, before recommending an independent force re-investigate the case.
Instead, Essex Police got officers from the Kent and Essex Serious Crime Directorate to continue with the inquiry.
Bromley, who was jailed for eight years in 2006 for his role in a major drug and gun supply ring, has always insisted it was a tragic accident and denies any foul play.
At his criminal trial over Lee Balkwell's death, the jury accepted his account that he and Lee were drilling dried cement from the inside of the drum of the mixer late into the night, when the engine accidentally started, and that he then found him trapped under the drum and called 999.
The High Court civil case brought by Les Balkwell was adjourned pending a full pre-trial review in preparation for trial. The judge gave Les Balkwell permission to add 16 new claims to his pleadings - but rejected another 7.

____________________

Dr Martin Roberts: "The evidence is that these are the pjyamas Madeleine wore on holiday in Praia da Luz. They were photographed and the photo handed to a press agency, who released it on 8 May, as the search for Madeleine continued. The McCanns held up these same pyjamas at two press conferences on 5 & 7June 2007. How could Madeleine have been abducted?"
Amelie McCann (aged 2): "Maddie's jammies!".  

Tony Bennett

Researcher




Posts

: 16807


Activity

: 24660


Likes received

: 3744


Join date

: 2009-11-25


Age

: 75


Location

: Shropshire



---
Permissions in this forum:
You
cannot
reply to topics in this forum