According to the World Health Organisation (WHO). there are four different recognised forms of abuse - physical abuse; sexual abuse; emotional (or psychological) abuse; and neglect.

The categorization by the WHO specifically relates to children but that alone is not the purpose of this thread.

This is to cover abuse in any form from the age of zero to one hundred and zero.  Abuse is not defined by type or age or culture or religion or class or gender or education - it is a reality that can claim anyone as its victim.

This another of life's atrocities that needs to be addressed by all, not just the establishment but we can all play a part in trying to recognise something that could be going on right before our very eyes.

Nobody but nobody deserves or asks to be the victims of abuse.  The victims need help, they need to be taken away from the life they live - even if they don't realise it.  

Abuse after all starts with the grooming process.

Verdi

Moderator/Researcher





Posts

: 14116


Join date

: 2015-02-02



Starting here..



One tragic story of a victim of abuse.

Just goes to show, you don't have to be a teenager or young adult with an under developed mind, to be the victim of grooming and eventual abuse, be it physical or mental abuse.

I'm guessing many ordinary folk out there have experienced grooming and abuse in some way, albeit only small by comparison. The other half who, after the halcyon days of romance are over, slowly but surely tries to change you. How you look, what you read, what you do, what you think, what you eat, what you drink, how you behave et cetera.

It's so easy to fall into the trap.

Verdi

Moderator/Researcher





Posts

: 14116


Join date

: 2015-02-02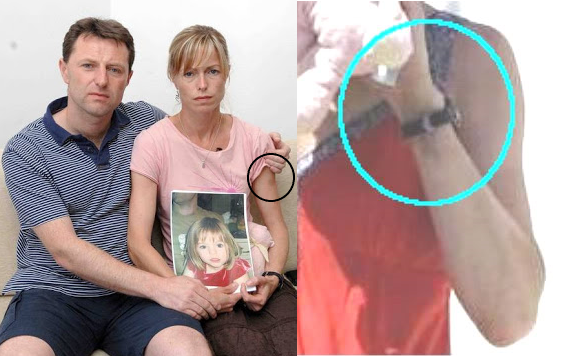 Not a Madeleine-related video - but possibly a Kate-related video if those bruises that were seen on her are anything to go by. And if not, then it's still an important video to watch, if not for yourself, but possibly to look for warning signs so that someone else might be helped out of a dangerous relationship.
I can certainly relate to everything Leslie Steiner said in that video, having been in that situation myself from 2003 to 2008...and what Verdi said about how abuse starts with the grooming process.
My own story (and I'll try to keep it brief) was that when I met my future husband back in 2002 he told me he was a lawyer. I also had a successful business. He was very funny and charming. He had a young son, 12 years old. Within that first year he had a diagnosis of an inoperable aneurysm and told he only had 12-18 months to live. He didn't have any family, they were all dead. Naturally he panicked about leaving his young son after he died so I agreed to marry him and take care of his son. I assumed this would relieve
some
of his stress.
I didn't realise it at the time, but I was then trapped. As soon as we were married the abuse started, gradually at first. I assumed it was his prognosis that was causing the temper tantrums and I tried to understand...he was dying and about to leave his son in my care. He was jealous that I got on well with his son, spent time with him, taught him to drive on private land, but what did he expect me to do as his new step-mother, just ignore the boy?
Anyway, to cut a long story short, I started researching my husband's condition and soon found out, having posted about his plight on an aneurysm support site, that he was not inoperable. I then had another fight on my hands - to make sure he had a life-saving operation. It took 13 months to eventually secure the operation, bearing in mind he only had 18 months at best to live. I documented it all here:
http://nhsdeathrow.blogspot.com/
During that time there would be numerous beatings witnessed by his young son. He isolated me from my family and friends, controlled my finances (so it would free up my time to concentrate on getting his operation), destroyed my self-esteem, amongst other things. In hindsight, all the classic signs were there, but I didn't realise.
At one point we needed to obtain his medical records and I read through it one night and discovered that some years before he had been diagosed as being a psychopath and had actually been hospitalised. My world was falling apart.
The few times I called the police proved fruitless - they just wrote it off as a 'domestic'. Of course, hubby dearest would tell the police it was all my fault which they believed. You soon learn to keep things to yourself.
All the time I assumed things would return to normal once he had his life-saving operation and it was that hope that made me work harder and quicker to get the operation. We moved to Birmingham in 2004 so he could have his operation at the new state-of-the-art QE hospital, I sold my house and we bought a house together. His once inoperable aneurysm had now been fixed and his life saved and it took him 6 months to recover.
I assumed everything would be fine now. But it was short lived and the violence resumed. I was not prepared to take anymore so moved out, safe in the knowledge that he could take care of his own son, and started divorce proceedings based on his unreasonable behaviour.
But that wasn't the end of it. Oh dear me no
The divorce took 4 years and it cost me £18,000 because, with his knowledge of the law, and my lack of it having not been divorced before, he wouldn't attend 'mediation' and kept pushing the case through the courts with very expensive barristers. He had legal aid and I was working, so had to pay my own legal fees. But eventually the Judge ordered in his favour, ordered that I sign over my share of our house to him so that he could live debt-free because of his health situation and having a young son, and because I could "work myself out of debt".
Moral of the story? When a man shows you who he really is, believe him the
first
time!
Jill, thank you for sharing your personal story.  The outcome seems so unfair, I hope life is much better for you now 

Ladyinred




Posts

: 264


Join date

: 2017-11-25



And the saddest thing of all - victims seldom, if ever, share their suffering with a listening ear - at least not until it's too late.

What a rubbish world we live in.

Verdi

Moderator/Researcher





Posts

: 14116


Join date

: 2015-02-02




Verdi

Moderator/Researcher





Posts

: 14116


Join date

: 2015-02-02



It's true what they say about not knowing what goes on behind closed doors.

Domestic violence is one of those things that people don't like to admit is happening, try to make excuses for it, blame themselves - as I did.

He was the typical psychopath, although I didn't know it at the time, charming etc. He manipulated my family and tried to turn them against me. He wrote a letter to my mum telling her that I was an abusive alcoholic and that she should get help for me.

After he had his operation he went by himself to a follow-up appointment and when he came home, when he came through that front door, he started again with his abuse, he said he told the consultant that I'd wished he'd died on the operating table, amongst other things - but he didn't realise my mum and sister were in the kitchen and they heard it all. Then they knew they'd been played by him.

Later that night when I was in the bedroom he came up the stairs and I knew what was about to happen, but this time I called my sister on my mobile phone and laid it somewhere out of his sight so she could hear what was going on. She phoned the police and they were there within a couple of minutes because we only lived a short distance from Bournville Lane Police Station.

He stabbed me twice that night. But when the police arrived he said it was me who'd started it and he was just defending himself and he showed the police his operation scars (which were horrific it has to be said) and said 'do you think I would get in to a fight while I'm recovering from such an operation?"

That, of course, was the reason I hadn't tried to defend myself. Ever! How could I fight back knowing he had this aneursym and scar tissue?

Once again the police believed him.

Had I not phoned my sister and laid the phone down I believe he would have killed me that night. And all because my mum and sister had been in the kitchen and heard for themselves what he was really like. He knew his 'act' was over. I had been his meal ticket all the time we were married, I was working and paid for most things and now he knew that was over too which is why he continued to punish me with the divorce.

Six months after our divorce was finalised, (four years after his operation), he went and died anyway. I sent off for his death certificate just to make sure.

Acute Type A Aortic Dissection.

His son would have been 17 and he inherited the house. I just hope he didn't inherit psychopathy from his dad aswell.
Jill, that is absolutely shocking. How could anyone behave in that manner? Good thing you thought to leave you phone on that time, if only you had done that earlier.

____________________
"WE ARE ALL IN THIS TOGETHER" - Rebekah Brooks to David Cameron

Verdi

Moderator/Researcher





Posts

: 14116


Join date

: 2015-02-02




Verdi

Moderator/Researcher





Posts

: 14116


Join date

: 2015-02-02




Verdi

Moderator/Researcher





Posts

: 14116


Join date

: 2015-02-02



---
Permissions in this forum:
You
cannot
reply to topics in this forum