I cannot post the articles here as FT has them on Copyright and for sharing only, but it would seem that Amongst others, Angela Merkel and the BKA, the German police force allegedly investigating Christian Brueckner, have been caught up in the Wirecard scandal.

This may be interesting since the McCann case is a government coverup, the BKA link to the Government and are making ridiculous allegations to frame Christian Brueckner and exonerate the McCanns and they rely on Ernie Allen's NCMEC for information.  NCMEC, links to PACT & Kate's missing people.  Also involved is in these charities is Tony and Cherie Blair who interfered in the McCann case from day 1

Quote Rebekah Brooks - "We are all in this together"

Yes Rebekah, you certainly are.

https://www.ft.com/content/6e0c6b5f-3461-463d-b49b-f572dbc39c26

https://www.ft.com/content/ba9a578b-d03f-4d77-91f0-b7ae7606a115
Cammerigal likes this post
The Federal Criminal Police Office (BKA) has been looking for the manager in a profile since last week. "The Munich I public prosecutor's office is investigating Jan MARSALEK on suspicion of commercial gang fraud, the particularly serious case of embezzlement and other property and economic crimes," says the search appeal , in which the manager also with a beard (passport photo from 2017) admitted.
At Interpol , he is now one of the most wanted criminals.
Marsalek is a phantom. Not much is known about him. Former employees say he loves money and women. When traveling, he always had a large wad of money in his pocket. The ex-sales director of the payment service provider does not like to pay by card, it said.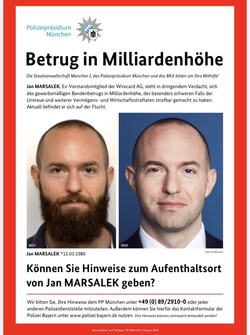 [size]
Wanted poster of the BKA
[/size]
Since his dismissal from Wirecard - shortly before the billion-dollar bluff burst - on June 22, Marsalek has disappeared. Initially, the 40-year-old was suspected to be in the Philippines. Today it became known that the fugitive's travel documents had been forged there. The Philippine immigration authorities are investigating two suspects. The officials have apparently entered incorrect entries in the database of the immigration office and thus left a wrong lead.
"The entries for June 23 and 24, 2020 are both incorrect and apparently just intended to be a distraction to draw the attention of the European authorities to the Philippines and not to their own jurisdiction," the agency said.
Most recently it was suspected that Marsalek fled to Belarus via Klagenfurt in Austria and Tallinn in Estonia. It is possible that he has now fled to Russia. Allegedly he has six Austrian passports. In the meantime, other passes are likely to have been added.
The justice minister of the Southeast Asian island state, Menardo Guevarra, also today confirmed the death of another Wirecard manager in Manila, whose connections to the scandal are part of the investigation. The 45-year-old was the ex Asia boss of Wirecard and a close confidante of Marsalek. He died of natural causes in a hospital on July 27 and was cremated.
Source: 

https://translate.google.com/translate?hl=en&sl=de&u=https://www.deraktionaer.de/suchen/13%3Fq%3Dwirecard%2520ag%2520-&prev=search&pto=aue

Silentscope




Posts

: 895


Activity

: 931


Likes received

: 36


Join date

: 2020-06-30




Silentscope




Posts

: 895


Activity

: 931


Likes received

: 36


Join date

: 2020-06-30




Silentscope




Posts

: 895


Activity

: 931


Likes received

: 36


Join date

: 2020-06-30



---
Permissions in this forum:
You
cannot
reply to topics in this forum