8 Years old today – looking back, with the CMOMM timeline

Today, 25 November 2017, marks the eighth anniversary of the foundation of CMOMM on 25 November 2009.
MMRG looks back with thanks at some of the main events in the progressive development of this amazing resource of information, research, analysis and discussion of one of the greatest mysteries of our time – the reported disappearance of Madeleine McCann

2009
Nov 25: Eight members sign up to CMOMM on Day 1; the forum-owner and seven others

Nov 26: 'hentie' joins CMOMM

Dec 1: 'lj' joins CMOMM

Dec 29: 'sharonl' joins CMOMM

2010
Jan 10: Start of 3-day trial of McCanns v Amaral in the Lisbon Lower Court

May 7: Lizzy 'HideHo' Taylor joins CMOMM

Feb 18: Portuguese judicial authorities announce that the McCanns have won their case. Later, Goncalo Amaral appeals

Feb 19: Following the news that the McCanns had won their case against Goncalo Amaral, Clarence Mitchell was all over the media the following day, attacking him. In an interview with a well-briefed Channel 4 reporter, he struggled to explain why Jane Tanner had changed her mind so much about the person she said she had seen on 3 May, and then admitted that what happened to Madeleine was 'A Complete Mystery'. The forum-owner used Mitchell's own words against him to change the name of the forum to 'The Complete Mystery of Madeleine McCann'.

Sep 1:
Sun
prints story about Wayne Hewlett receiving, then burning, a letter from his dead, paedophile father which Sun says named the gypsy leader who organised Madeleine's abduction

Oct 20: Portuguese Court of Appeal decides the McCanns' appeal in favour of Goncalo Amaral. Later, the McCanns appeal to the Portuguese Supreme Court

Dec 6: 'PeterMac', retired police Superintendent, joins CMOMM

2011
Feb 18:
Sun
breaks story: "Madeleine McCann is in America – And I know who took her", based on a tale by the Angolan basketball-playing amateur sleuth, Marcelhino Italiano. The story was partly cooked up by Jon Clarke, editor of the ex-pat Spanish newspaper,
The Olive Press
(the same man who was summoned before dawn to dash 5 miles from his home near Ronda, Spain, to Praia da Luz, on the morning of Friday 4 May 2007.

Mar 10: Portuguese Supreme Court rules against the McCanns, but orders the case to be re-heard by the Portuguese Lower Court

May: Kate McCann's book 'madeleine' serialised in the
Sun
; Rebekah Brooks forces Prime Minister David Cameron to set up a Review

Jun 16: 'Nina' joins CMOMM

Sep 3: 'aquila' joins CMOMM

Nov 10: 'sallypelt' joins CMOMM

Dec 5: 'bobbin' joins CMOMM

Dec 14: Operation Grange detectives collect 30 boxes of files from the offices of Metodo 3 in Barcelona

2012
Jan 3: After several abortive Freedom of Information requests, the Met Police finally release details of the remit of Operation Grange: "The investigative review is intended to collate, record and analyse what has gone before [and] determine, (as if the abduction occurred in the UK) what additional, new investigative approaches we would take and which can assist the Portuguese authorities to examine the case…"

Feb 12: Former Metodo 3 investigator for the McCanns publishes his book
La Cortina da Humo
('The Smokescreen'), which exposes serious criminality and corruption within Metodo 3

Apr 25: DCI Redwood releases sketch of Madeleine as she may look now, aged around 9 or 10; says on TV 'Madeleine may be alive, or, sadly, dead'

July 23: After an extraordinary four-year trial during which judges and prosecutors received multiple death threats, a Barcelona Court convicted many members of an exceptionally vicious gang of drugs suppliers and career criminals, handing down long jail sentences. McCann Team private investigator, Antonio Giminez Raso, hired by the corrupt boss of Metodo 3, was arrested on 17 February 2008 along with his twin brother and charged with corruption and conspiring with the gang member to steal 20 kgs of cocaine from a boat moored in Barcelona harbor. He was found 'Not Guilty', but before releasing him the judge told him the evidence was he had 'become far too close' to the gang and was warned as to his future conduct. See here:
https://jillhavern.forumotion.net/t5458-antonio-giminez-raso-the-mccanns-star-investigator-in-2007-free-at-last-after-nearly-4-years-in-prison

2013
Jan 20: Days before the trial of McCanns v Amaral is due to begin in the Lisbon Lower Court, the McCanns, in a move almost unprecedented for claimants, offer to discuss a settlement with Goncalo Amaral. The trial is postponed as a result.

Feb 1: 'plebgate' joins CMOMM

Feb 5 & 6: Tony Bennett in the High Court defending 'Contempt of Court' claim made by the McCanns

Feb 21: McCanns succeed in obtaining a 'Contempt of Court' verdict against Tony Bennett in the High Court. He is handed a 3-month jail sentence, suspended for 12 months

May 17: McCann Team investigator Kevin Halligen pleads guilty to serious £1million-plus fraud in the U.S. – leaves prison cell soon afterwards having spent nearly four years in jail

Jul 30: Operation Grange morphs from a 'Review' to an Investigation'; DCI Redwood says they have 38 'Persons of Interest' in view

Oct 14: At 9pm, BBC transmits much-hyped Crimewatch McCann Special. Redwood describes his 'revelation moment', the man seen by Jane Tanner is finally found - 'Crecheman', we get two different e-fits of the main suspect, 'Smithman'

Oct 27 First of 12 'SMITHMAN' threads appears on CMOMM

Dec 3: 'Doug D' joins CMOMM

2014
May 6: Media report the arrival of a team of British police officers in Praia da Luz to search two patches of waste ground in the village. They think an abductor might have killed Madeleine and dumped her body there. ITV reports: "In the latest stage of the investigation into the disappearance of Madeleine McCann, police today commissioned a Portuguese air force helicopter [an Alouette Mark III] to fly low over Praia da Luz taking photographs of areas of interest to the inquiry". After weeks of searching, the team came away with few rabbit bones fo examine .

Jun 6: 'BlueBag' joins CMOMM

Jun 16: The trial of McCanns v Amaral is postponed again; Gerry McCann vents his fury outside the Lisbon court building

Aug 8: 'McCannLand' is stunned by the sudden release of a 4-hour documentary about Madeleine McCann 'True Story of Madeleine McCann' by alternative researcher and film-maker Richard D Hall. It quickly racks up over a million views and receives 'rave' reviews almost everywhere on the internet

Sep 7: The book 'Looking for Madeleine' by Anthony Summer and Robyn Swan is published, on the seventh anniversary of the McCanns being declared suspects. CMOMM gets a mention in the book as the leading Madeleine McCann forum

Sep 30 -Oct 4 Martin Brunt, Crime Reporter for SKYNews, doorsteps Brenda Leyland in the village of Burton Overy, Leicestershire; the next day, clips of her portraying her as a nasty anti-McCann troll are beamed out all day by SKY News. Three days later (Oct 4) Brenda Leyland is found dead in a hotel near Leicestershire Police headquarters, presumed to have taken her own life

2015
Jan 21: Richard D. Hall, maker of several Madeleine McCann documentaries, joins CMOMM

Jan 31: The Saturday issue of the
Sun
carried a two-page feature on 'sick internet trolls'. It included a major interview with Rosalinda Hutton, who since 2014 has repeatedly attacked both CMOMM and Richard Hall. She was quoted, amongst other things, as admitting that she was 'an anti-McCann bitch' who 'got a buzz out of squishing people on the internet'. The
Sun
interview was arranged by regular SKY sofa social affairs commentator, Sonia Poulton.

Feb 2: Verdi joins CMOMM

Mar:
Guardian
journalist Jenny Kleeman approaches Richard D Hall as she wants to attend and film one of his meetings and contacts the CMOMM forum-owner, who writes on Facebook: "I'm going to record here what has happened between journalist Jenny Kleeman via email - just in case - especially as Richard D Hall declined an interview with her but she turned up at one of his events with her cameraman regardless. Basically Jenny Kleeman contacted me via the CMOMM forum and asked for an interview for her new documentary. I declined but said I would answer her questions via email. She sent me a list of 9 questions…" Kleeman did not proceed with her proposed film

Apr 14: Richard D Hall releases his second Madeleine McCann documentary, 'The Phantoms', which examines four fabricated abductions: 'Sagres Man; 'Tannerman'. 'Smithman' and 'Crecheman'

Apr 27: McCanns win their case against Goncalo Amaral in the Lisbon Court; later Amaral decided to appeal to the Appeal Court

Sep 28: A turning point in the life of CMOMM occurred this day when one of the most thorough pieces of research ever published on Madeleine McCann - by member Lizzy 'HideHo' Taylor – asked the question: "Is there any credible evidence that Madeleine was seen [by any independent witness] after Sunday?" She added: "I challenge anyone to find a statement that could be considered proof that Madeleine was alive during the week...I did not come to the conclusion that something may have happened to her earlier in the week on a whim... I tried to pinpoint the day she was last seen: Sunday lunchtime!". No-one on CMOMM or anywhere else, in over two years since, has yet me up with any proof that she was seen after then. See:
https://jillhavern.forumotion.net/t11921-was-madeleine-seen-after-sunday

2016
Feb 20: Richard D. Hall issues his third Madeleine McCann documentary film, 'When Madeleine Died?'

Feb 24: In view of the debate about whether the 'Last Photo' was photoshopped or not, or whether (as Textusa suggested) the vertical reflection in Gerry's sunglasses proved it was photoshopped, CMOMM member 'Somni Papasong' published the first of two videos in which he gave demonstrations of how vertical images could be generated in sunglasses from a circular pool

Apr 18 Members and guests flock to the forum as news breaks that the McCanns have lost their libel and damages claim against Goncalo Amaral – several hundred members and guests on the forum most of the time for several days; with over 650 around 10pm on Apr 19

Nov 25: Richard D. Hall releases his fourth Madeleine McCann film. 'McCanns' Embedded Confessions', consisting of a long interview between him and top U.S. Statement Analyst, Peter Hyatt. It was another instant success. A few weeks later, reality celebrity Jodie Marsh promoted the film to her 600,000-plus Twitter followers

2017
Jan 30: Amaral wins his appeal in the Portuguese Court of Appeal, but the McCanns appeal to the Portuguese Supreme Court

Mar 22: Decision of Portuguese Supreme Court announced: the McCanns lose their appeal; Amaral is free to publish his book again; McCanns ordered to pay around £400,000 in costs

April 7: Richard D Hall's fifth Madeleine McCann documentary, 'Madeleine: Why the Cover-Up?', released

April 8: Former Met Police DCI Colin Sutton joins CMOMM as 'oatlandish', promising the forum-owner that he would try and help and answer member's questions. He made 6 posts, but couldn't handle the questions and the criticisms of him

April 26: Colin Sutton makes statements to SKY TV that the Operation Grange remit was wrong and should not have excluded the McCanns as suspects. He also claimed that 'a very senior police officer' had told him in 2011 not to agree to be the Senior Investigating Officer for Operation Grange as "you won't be allowed to go and investigate the McCanns". Despite these remarks, Sutton insisted that the most likely explanation for Madeleine's disappearance was that she was abducted by a gang into North Africa

Jun 12: The forum-owner wrote on behalf of the forum to Prime Minister Theresa May and Leader of the Opposition Jeremy Corbyn

Sep 28: Operation Grange handed another £154,000 to keep them going for another six months

Nov 24: No. of CMOMM registered members rises to 7,990 as 'Jomarie' joins. This means that CMOMM has accumulated registered members at the rate of 999 per year, or 19 per week, ever since 25 November 2009. During this morning there were regularly around 160 members and guests looking in at CMOMM, far and away above the number for any other Madeleine McCann discussion or blog.
Don't let a few jealous critics get you down, Jill
From MMRG, 25 November 2017
Congratulations on a milestone anniversary !! And well done to all members, contributors, mods & admin who make the site so interesting & informative. Long may it continue with a sincere hope that, one day, all the hard work will bear fruit.

polyenne




Posts

: 963


Join date

: 2017-03-31



@polyenne

wrote:Congratulations on a milestone anniversary !! And well done to all members, contributors, mods & admin who make the site so interesting & informative. Long may it continue with a sincere hope that, one day, all the hard work will bear fruit.
+1

Phoebe




Posts

: 1309


Join date

: 2017-03-01



Special thanks to forum owner Jill Havern, without whom none of this would have been possible.
Jill has worked relentlessly behind the scenes to make CMoMM the most well presented, informative, interesting and at the same time entertaining, successful, or even the only successful, forum ever.
Long live CMoMM !

Verdi

Moderator/Researcher




Posts

: 13668


Join date

: 2015-02-02



Happy Birthday and congrats Jill for giving us this forum for the last 8 years!
There's been some very controversial moments but you have remained here to give us the best Maddie forum with an amazing amount of research all in one place that can't be found anywhere else!
I'm not sure that people realise how many categories and different topics that you host on here so I wanted to show people exactly what this forum is about and the amazing amount of dedication and work that you have given us.
I wanted to share my appreciation in the best way I know how...
A graphic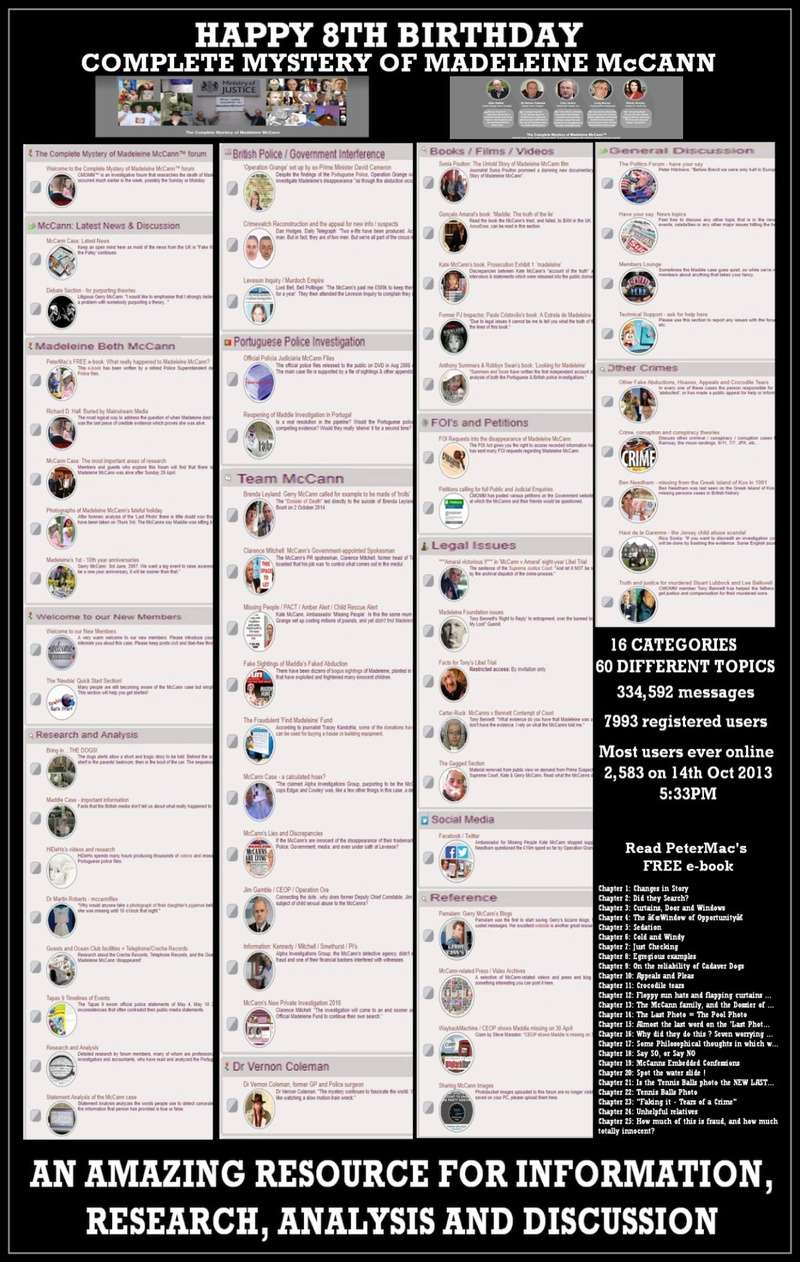 sar




Posts

: 1032


Join date

: 2013-09-11



Crikey, even I didn't realize it looked like that Lizzy - now I'm going to have to work out how to make 4 columns and do some more faffing!
Not! 
Congratulations to Ms Jill, Mr Tony, Ms Sharon, Ms Aquila, Ms Hideho and special thanks to Mr Verdi and everyone else for keeping the faith here.

Mark Willis




Posts

: 638


Join date

: 2014-05-14


Age

: 63


Location

: Beverley



Congratulations for such a fantastic, informative forum! Let's hope you won't have to celebrate the 10th anniversary.

Verity




Posts

: 109


Join date

: 2016-07-12



Congratulations and many thanks to Jill, whose unstinting and courageous effort continues to shine a light for a little girl called Madeleine McCann. It's a privilege to be part of a forum dedicated to exposing the truth and a privilege to read the hard work of researchers who refuse to back down.

aquila




Posts

: 9414


Join date

: 2011-09-03



---
Permissions in this forum:
You
cannot
reply to topics in this forum