I don't believe it......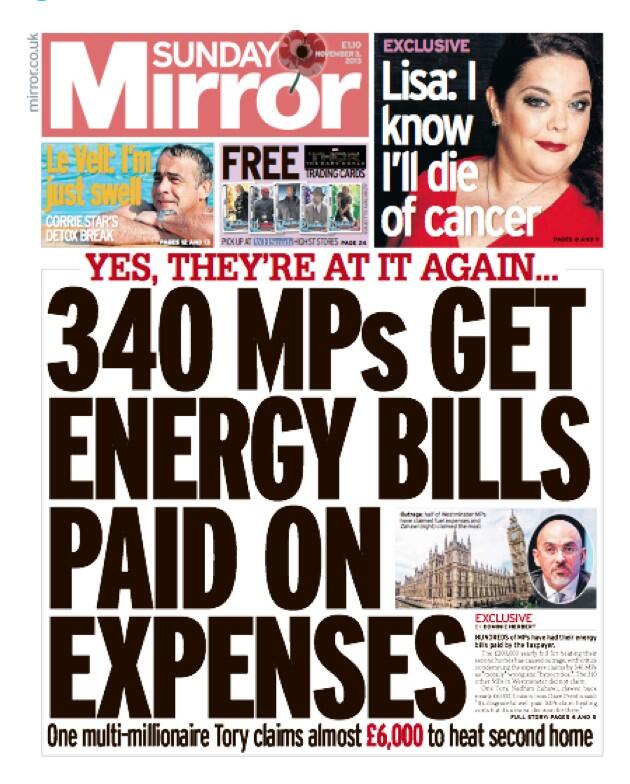 Guest

Guest





I totally believe it..makes complete sense (not sense as in it is right)

____________________
Who pulled the strings?...THE SYMINGTONS..And the Scottish connections...Look no further if you dare



Posts

: 4151


Reputation

: 26


Join date

: 2011-07-22



Arrrggghhhhhh.  They have and always will take the Pee.



Posts

: 6185


Reputation

: 1845


Join date

: 2013-02-01



Here's the article
http://www.mirror.co.uk/news/uk-news/house-shame-340-mps-energy-2671053
A snippet:
Our investigation comes after new research shows eight out of 10 ­households will be forced to ration their energy this winter and an influential campaign group fears 200 pensioners a day could die because they can't afford to heat their homes.
Clare Welton, of Fuel Poverty Action, said: "When the Government's only response to millions of people not being able to afford their fuel bills is to tell us to change supplier or wear a jumper, it is outrageous to see MPs claiming hefty amounts of taxpayer money to pay for their own bills.
"It is little wonder that many MPs have done nothing to tackle fuel poverty in this country when they are immune from the price hikes by the profit-hungry Big Six energy companies.
"Thousands of people will die this winter in cold homes but we know the MPs will be keeping nice and warm in their first and second homes."
The MPs' utility bills expenses are revealed in documents from the ­Independent Parliamentary Standards Authority (IPSA) between April 2012 and March 2013.
MPs claimed a total of £23million in personal expenses in this period – but it is the payments made towards energy bills which will spark fury.
In total, 41 politicians claimed more than £1,000 for power and heat and a further 78 MPs more than £500 in the 12 months up to March this year.

Guest

Guest





[quote Sunday Mirror]
Andrew Robathan, who was Minister of State for Armed Forces until last month, claimed £4,586.80 for the 12 months to March.
Mr Robathan owns a mortgage-free £1.5million house in London which he bought for £700,000 in 2004 and a ­mortgage-free farm in Leicestershire which he bought for £1million in 2001.
http://www.mirror.co.uk/news/uk-news/house-shame-340-mps-energy-2671053#ixzz2jZv71aKD
Unbelievable!!!  People suffering hard times, disability benefits taken away, and you have this going on.  

Guest

Guest





For the first time in my life i don't think i can vote for any of these c****



Posts

: 482


Reputation

: 47


Join date

: 2013-10-16






Posts

: 188


Reputation

: 1


Join date

: 2013-10-21



---
Permissions in this forum:
You
cannot
reply to topics in this forum