By Nigel Moore on mccannfiles
http://www.mccannfiles.com/id59.html
A detailed look at Kate's interviews showing how she reacts to questions that probe the events surrounding Madeleine's disappearance.
Also, Kate's first interview without Gerry published in the Independent on 08 August 2007 and Kate's interview with Women's Own magazine published 13 August 2007.
First of all, it should be noted that transcribing what Kate actually says in her interviews is surprisingly difficult. Through observation of her talking on videos, she appears calm, articulate and in control.
However, when you begin to transcribe what she has actually said, it quickly becomes apparent how she intersperses her words with lots of pauses, 'errms', nervous giggles/laughs, half constructed words and noises - which may be the start of unfinished words or just pausing sounds. The tempo of her speach is also erratic and she alternates between short bursts of extremely fast speech, when she feels under pressure, and long, drawn out passages that are slow and almost become a drawl.
Although she presents a calm and controlled exterior to the world, her erratic and confusing spoken word would appear to suggest that she conceals different emotions beneath her placid surface.
The first interview with Jane Hill from the BBC - 25 May 2007Kate's interview with Women's Hour - 08 August 2007Kate's first interview without Gerry - The Independent 05 August 2007Leicester Mercury interview - 03 October 2007MADELEINE: MY GUILT & REGRET The PeopleMadeleine, I'm sorry I left you alone
The Times
Maddy - the horror goes on
Timesonline/alphamummy
Audio: Kate McCann talks to Steve Boggan
Guardian
Kate McCann: My struggle to control 'very difficult' Madeleine
Daily Mail
Kate McCann: 'Madeleine cried 18 hours a day'
Daily Mail
More of Kate's interviews are filed on mccannfiles http://www.mccannfiles.com/id59.html


And the same goes in her book,placing her self outside the event insted of inside...How can they live their life lying everyday..

Guest

Guest





Get 'em Gonçalo
Thank you for the link to Kate's interviews - I will read thru these now although I did read them a while ago it's always good to re-visit.
I always wondered though why they took a picture of Kate right next to a water drain (if that is what it is) - whoever took the picture must have noticed how odd it looks.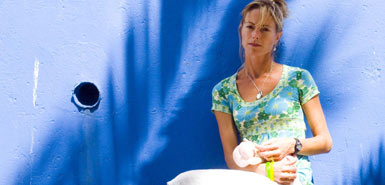 ____________________
Things aren't always what they seem

Angelique




Posts

: 1396


Join date

: 2010-10-19



---
Permissions in this forum:
You
cannot
reply to topics in this forum