Paulo Reis, a Portuguese national, has nearly 40 years experience working as a freelance investigative journalist.  He reports not just from his homeland but around the world, covering important and high profile news.
M. Reis' indepth knowledge of the case of missing Madeleine McCann knows no bounds, as can be seen by his blog entries since the beginning of the case.  His knowledge of the English language is exemplary as is his interest in seeking justice for little Madeleine McCann - with the added advantage of being Portuguese, therefore being well aquainted with Portuguese law, topography and culture.
https://gazetadigitalmadeleinecase.blogspot.com/
For these reasons and a whole lot more, Paulo Reis has been introduced into this new CMoMM category - a well deserved addition I'm sure all will agree.

____________________
" The secret of life is honesty and fair dealing. If you can fake that, you've got it made" - Groucho Marx

Verdi

Moderator/Researcher




Posts

: 11416


Reputation

: 4232


Join date

: 2015-02-02



I have to admit to being quite taken aback when I first read Paulo Reis' initial reaction to the disappearance of Madeleine McCann.  Having followed the case from day one, I have never been able to see the raw emotion Reis describes in his first blog relating to the case.
Not for any reasons about not crying in public or such like, it was this that sparked my first reaction and instant doubt..
Before further ado, here is Paulo Reis' first impression, having followed the couple, as a highly respected investigative journalist, during the first days in Praia da Luz.
----------
My opinion of Kate and Gerry McCann
I don't believe, as a journalist, that the McCanns are, in any way, related with the abduction of Madeleine. I've been following this case, not only in the Web – I was also at Praia da Luz, for one week (May 17 to May 23). For the last two months, I also have followed the news on the Net very carefully and closely.
So, based on all the information I collected, either during my stay in Praia da Luz or in the Net, as a journalist, I CAN'T SEE THE SLIGHTEST EVIDENCE THAT GERRY AND KATE HAD SOMETHING TO DO WITH HER DAUGTHER DISAPEARENCE.
And I AM ABSOLUTELY SURE, WITH THE INFORMATION I HAVE, NOW, THAT THERE IS NOTHING THE MCCAN CAN BE ACCUSED OF, FROM A LEGAL OR CRIMINAL POINT OF VIEW. I may be wrong, but I STRONGLY BELIEVE THE CHANCE OF BEING WRONG IS VERY SMALL: 0,1 per cent, as I'm 99, 9 per cent sure of what I say.
As a human being, a common man, father of two boys (one, 22 years old, the other 11) let me tell you this: I was at an arm's distance from the McCanns, when they gave a Press Conference at Praia da Luz. I looked into the eyes of Kate McCann and I saw so much pain and suffering that I had to take a deep breath to control myself, to avoid tears coming to my eyes and not let emotion overcome me! I was schocked to see so much pain in her eyes and in her look! That's someting that only people that has kids can understand and feel!
Paulo Reis  -  26th June 2007

____________________
" The secret of life is honesty and fair dealing. If you can fake that, you've got it made" - Groucho Marx

Verdi

Moderator/Researcher




Posts

: 11416


Reputation

: 4232


Join date

: 2015-02-02



Despite the initial reaction by Paulo Reis when covering the case of Madeleine McCann's mysterious 'disappearance', it wasn't long before he realised, like so many of us, that he was being duped by a carefully orchestrated campaign to ensure Gerry and Kate McCann's security.

I don't believe the gentleman ever announced the turning point at the time, not like Gerry McCann and his spiritual experience nor DCI Andy Redwood's revelation moment, he did however respond to growing criticism about his transition from McCann sympathizer to McCann sceptic - almost overnight. Reported to have been in September 2007, he was quoted as follows..

"You are quoting an opinion I wrote in June 26, 2007. That was my opinion, at the time, with the facts that were available - not only my opinion, but also the opinion of millions of people, all over the world. Like many millions, I changed my opinion. I can't ignore the fact that PJ, the Public Prosecutor's Office and the Criminal Instruction Court - a three-tier system,where each institution is independent from the other - agreed they are suspects and have some degree of responsibility in the disappearance of her daughter.".


So, here we have a seasoned well respected Portuguese freelance investigative journalist blogging over a period of eleven years, every step of the way.

I salute you sir!


____________________
" The secret of life is honesty and fair dealing. If you can fake that, you've got it made" - Groucho Marx

Verdi

Moderator/Researcher




Posts

: 11416


Reputation

: 4232


Join date

: 2015-02-02



Monday, 27 August 2007
Dangerous connections
The sugestion to scale down the media exposure of McCann couple and the campaign to find Madeleine came from the British Prime-Minister's office, according to a source close to McCann family. Gordon Brown's advisers are worried about the possibility that the next steps of the investigation of Madeleine's disappearance, which is following a new line of inquiry, may produce results that could damage the Prime-Minister´s image, due to his close relationship with Gerry McCann. Justine McGuiness, spokesman for McCann family, refused to comment and our attempts to contact the British Prime-Minister's Office were unsuccessful.
Portuguese Police is waiting for the official results of tests to samples collected at the crime scene and several other places, in Praia da Luz, by a British Police special team, during a review of the case that took place at the end of July. Those samples are being tested at Forensic Science Service, in Birmingham, since almost three weeks and they are fundamental to the investigation, as Portuguese CID spokesman told The Telegraph: "The new line of inquiry can only go forward after these results."
The most relevant findings of the British Police special team that reviewed Madeleine's investigation were reached with the help of two specially trained dogs, able to detect tiny traces of blood and the scent of a dead body, even after many months have passed. Traces of blood, found at Madeleine's apartment, were one of many samples collected and send to be analysed at the Forensic Science Service. The Times revealed the preliminary results of that specific test, that showed the blood was from a man, not Madeleine's blood.
The Forensic Science Service confirmed, on August 8, that "analysis to several kind of samples" related to Madeleine's abduction were being made at FSS. But eighteen days after, Portuguese Police has not received the results and the British laboratory is doing a second round of tests. FSS refused to comment, when asked, today, about who requested this second round of tests – British or Portuguese Police.
The spokesman for Polícia Judiciária, said that "PJ didn't asked for a second round of tests" to the samples collected by the British Police special team, in July: "We don't know the results, how and why would we ask for repeating the tests?", Chief-Inspector Olegário de Sousa commented, today.
Meanwhile, FSS management has taken "specific precautions" concerning the set of samples that were received from Praia da Luz and the results of the analysis, in order to guarantee that any information made available to the public that does not reflect with acuracy the results could be corrected, without breaching the law.
Paulo Reis and Duarte Levy

____________________
" The secret of life is honesty and fair dealing. If you can fake that, you've got it made" - Groucho Marx

Verdi

Moderator/Researcher




Posts

: 11416


Reputation

: 4232


Join date

: 2015-02-02



Tuesday, 19 May 2009
A "Disgusting" Episode of Distorted Evidence
Arthur Cowley and David Edgar
Note Mr Edgar's body language: "Get me out of here?"
The Interesting Whiteboard & "New Witnesses"
Messrs Edgar and Cowley have not named the supposedly new witnesses but screenshots from the Channel 4 programme shows that they are:
The Sightings White Board
The whiteboard lists three supposedly independent sightings on Wednesday 2nd May 2007 implying that "Pimple Man" was lurking for a period of almost 4 hours on that critical day but making himself obvious. This "evidence" is misleading because Mr Flack was not sure whether the date was 2nd or 3rd May 2007. Mr Edgar and Mr Cowley seem to have dramatically improved Mr Flack's statement by arbitrarily removing his uncertainty and thereby making the suspicions much more dramatic.
It should also be noted that the whiteboard does not refer to the sighting by the Irish family. This is strange when it featured so strongly in the Channel 4 program.
Mr Edgar (frame 16.36 of 47.57 of the Channel 4 program) states that sighting 3 (by Tasmin Sillence) is the most important (besides Jane Tanner's) "because it links them". Mr Edgar implies that all of the witnesses saw the same person (ie "Pimple Man") watching the McCanns' apartment and states at frame 11.24 that the abduction was "done by an individual on his own: most likely by an individual who has links to Praia da Luz which is why we have focused all of our efforts really on – most of our efforts certainly -on Praia da Luz". Perhaps Mr Edgar changed his phrasing from "all" to "most" to conceal the restricted scope of his mandate and the fact that he is focused exclusively on an "abduction". In any event, he confirmed his lone abductor theory in an interview reported by Dominic Herbert in the News of the World published on Sunday 10th May 2009.
Basics of the Sighting by Jane Tanner
Miss Tanner's initial description of the abductor she supposedly saw carrying a child on the night of 3rd May 2007 was given to the PJ as follows:
"Brown male between 35 and 40, slim, around 1.70m. Very dark hair, thick, long at the neck. (Noticed when the person was seen from the back). He was wearing golden beige cloth trousers (linen type) with a "Duffy" type coat (but not very thick). He was wearing black shoes, of a conventional style and was walking quickly. He was carrying a sleeping child in his arms across his chest. By his manner, the man gave her the impression that he wasn't a tourist."
Her description has changed significantly over time, to the "Egg Man", "Monster Man", "Bundle Man", "Cooperman" and "Nose Man". She also picked out Robert Murat as the villain and maintained this allegation until withdrawing it in April 2008 in an interview with the Leicestershire Police. Miss Tanner's abductor had long hair, short hair, wore glasses, didn't wear glasses, had a nose or didn't have a nose, had a moustache or was clean shaven. He strode "purposefully out" or "ambled along". So it is not at all clear what Miss Tanner's final position is but she obviously supported the "reconstruction" on the Channel 4 program and the image of the "purposefully striding Bundle Man":
Jane Tanner's Sighting from "Madeleine Was Here"
Note the clothing of "Bundle Man" and the way he is carrying the child
Whoever Jane Tanner saw (if anybody) on the night of 3rd May 2007, he is nothing like "Pimple Man" and thus for her evidence to have any credibility there must have been at least two people involved in Madeleine's abduction. This conflicts with Mr Edgar's theory of a lone abductor but supports everyone's hero – Clarence Mitchell.
Attention to Detail
The Channel 4 program implies that Mr Edgar is not overly distracted by detail. One of the big problems with Jane Tanner's sighting, and thus her credibility, is that she states that on 3rd May 2007, immediately prior to seeing the "person carrying a child", she had walked past Gerald McCann and Jez Wilkins, another Ocean Club guest, who were talking on the very narrow pavement immediately adjoining Apartment 5A. She told the Leicestershire Police that, as she walked past them, Gerald McCann must have had his back to her as otherwise she would have caught his eye and would have said something to him. She said the same on the Channel 4 program, adding that she would have chided him, by relaying Kate McCann's complaint that he had prolonged his check (he left the Tapas Bar at 9.05 and returned at just before 9.20) to watch the "footie".
Gerald McCann strongly disagreed with Miss Tanner's evidence and says he was standing, talking to Jez Wilkins on the opposite side of the road and that he did not see Miss Tanner walking by. Jez Wilkins told the PJ that as he was walking home, with his child in a pushchair, he spoke to Gerald McCann and he agreed with Miss Tanner they were on the narrow pavement on the apartment side of the road, but added that he did not see her. The northerly direction that Mr Wilkins was believed to have been headed suggests that during their conversation Gerald McCann would have been facing south and could not have missed seeing Miss Tanner.
Mr Edgar lightly dismissed these significant discrepancies by saying:
"The most important thing, Jane, is not where Jez and Gerry were actually stood because there are inconsistencies in every major investigation.
The only thing that matters is that they did not obstruct your view of the man you saw".
This is sloppy work because the inconsistency undermines Miss Tanner's credibility and raises the question of how she could walk within 18 inches of Gerald McCann, who was most probably facing her, and not even acknowledge him. If she cannot get this simple matter right, why is her sighting of the "abductor" to be believed? Also, the fact that on three occasions she walked within feet of the open shutters and window and did not notice them throws Miss Tanner's powers of observation into further doubt.
Why Gerald McCann Disagrees
The obvious conflict of evidence raises the question of why Gerald McCann should disagree with Miss Tanner and Mr Wilkins and be so dogmatic that he was on the side of road opposite to Apartment 5A. To throw light on this, we have to examine the corner into which –slowly but surely - the McCanns and their friends have painted themselves:
The Window of Opportunity
Red cells indicate doubts about the sequence and inconsistencies
For this sequence to be even marginally credible, the abductor must have kept observation to make sure Gerald had gone from the apartment. Would he risk making a forced entry if Gerald McCann was inside or standing within 30 feet of the rear patio doors? It is more likely he would wait until he knew the coast was clear. This probability would further limit the "abductor's" window of opportunity.
At one point Gerald McCann, probably realising the improbability of his timetable, suggested the abductor had been hiding in the apartment as he was making his check. He does not appear to have maintained this hypothesis which, given the size of the apartment and the fact he was in it for at least 10 minutes, is incredible.
At best the "abductor" had less than 5 minutes to break into the apartment, snatch Madeleine and make his escape. And if the bedroom door had slammed shut when he opened the shutters and windows (as the laws of physics suggest it would) wouldn't the sound have been heard by Gerald McCann if he had been standing talking to Jez Wilkins right outside the apartment? And wouldn't the banging have wakened the twins?
Our forensic advisers believe a proper reconstruction would prove that the bang of the closing bedroom door is unlikely to be missed by anyone in the position Jez Wilkins says (and Jane Tanner corroborates) that he and Gerald McCann were standing. It would have been less audible from the opposite side of the road. Is this the reason Gerald McCann is sticking to his story? Is it because he knows Jane Tanner's evidence (of passing him within inches and saying nothing) is incredible? Does he wish to leave open the possibility that the abductor entered through the patio doors, while his back was turned talking to Mr Wilkins on the opposite side of the road? Does he want to distance himself from Miss Tanner's evidence, perhaps suspecting her alleged check at 9.15pm could be disproved by a cctv camera or other evidence? Or is he is being truthful? For the moment we do not know.
Defects and Spin in the Investigation
Interestingly the white board now describes Jane Tanner's suspect as a "UK Male". How the investigation team arrives at this conclusion is a mystery. She has never said this.
The Whiteboard with lots of "UK Males"
Also, the whiteboard shows Matthew Oldfield's check as "MO says he checked 5A". The use of word "says" suggests that even the McCann investigators have their doubts about him. But the main bone of contention with Mr Edgar's investigation is his obvious dedication to the "abductor" theory and his failure to critically test the McCann's story. This should have been his starting point. He told Channel 4 that there was no evidence of the McCann's involvement: oh no? But where is there a shred of evidence that Madeleine was abducted? There is no evidence of the shutters and windows being forced, no marks on the bedding, or tiles, no fingerprints or DNA, no scrapes on the window sill, no footprints: nothing. The only fact is that Kate McCann's fingerprints were found on the window in a position that showed she had opened it.
The New Witness "JW"
There is nothing in the CD released by the PJ to identify the witness "JW" who allegedly saw "Pimple Man" standing lurking (not "ambling along") around Apartment 5A on Sunday 29th April 2007 at 08.00 and on Wednesday 2nd May 2007 at approximately 15.00. She stated on the Channel 4 program that she would describe the lurker as "very ugly". This is not the most discrete description as it fails to exclude 90% of the world's population.
Channel 4 (probably inadvertently because many names and details had been redacted) revealed that "JW", who has two daughters, was staying at the Ocean Club. The reference to "apartment 1", on the following screenshot, is not believed to be the actual designation but an indication that earlier in the document two apartments had been referred to (Possibly one occupied by JW and another by her friends)
Screenshot Relating to "JW"
It appears that in two statements (presumably made to Mr Cowley) JW was not sure whether she had seen "a suspect male ambling along" from a position in her apartment, from another apartment , tennis courts, pool or from the road. The information is further confused in the Channel 4 program because it implies that on two occasions, while she was walking in the street, JW saw "Pimple Man" standing watching Apartment 5A and not "ambling along". Also the screenshot suggests a sighting by "JW" on 30th April 2007. This did not feature in the Channel 4 program.
Light was thrown on the identity of "JW" in an article in the Sun on 12th May 2009 by Antonella Lazzeri (another McCann close confidante) who stated:
She is a 36 year old mother of two: one a 3 year old girl
She rented an apartment 3 doors away from Apartment 5A
She reported her suspicions to her local police – in Wiltshire – in May 2007
Analysis of the Ocean Club Booking records indicates that "JW" may be Mrs J Weinburger, who travelled to Faro from Belfast on 28th April 2007, and stayed in Apartment "G4" (ie 3 doors away from the McCanns) in Waterside Gardens for seven days with her husband "P Weinburger", a 3 year old daughter and an 11 month old infant. There is no trace of this family on the UK's Electoral Roll, and no recorded directorships: this is fairly unusual for a British citizen unless there are security or other reasons for redaction.
However, a "Paul M Weinberger", who works for Enigma Diagnostics Limited is now based in Porton Down, Wiltshire. This is a private company, founded in 2004 as a joint venture between the UK Government - through the top secret Defence Science and Technology Laboratory at Porton Down -and the private venture capitalists Porton Capital Technology Fund. Mr Weinberger was previously employed as Director of Business Development for Roche Diagnostics, the world's largest diagnostic company. Mr Weinberger specialises in "in vitro diagnostics" and is a member of the Executive Committee of the "British In Vitro Diagnostics Association".
Porton Down is an Executive Agency of the Ministry of Defence and the site is said to be one of the UK's most sensitive secret government facilities for military research especially related to chemical, biological, radiological, and nuclear (Here we go again!) weapons.
It is not certain that Mr Weinberger, of Enigma Diagnostics, is the man who stayed at the Ocean Club in May 2007, but it looks that way. Another link between the Weinbur or Weinbergers and Wiltshire is the fact that they made dinner bookings at the Tapas Bar with Dr Julian Totman who is also from Salisbury in Wiltshire.
Miss Lazzeri reported that JW, on returning from Portugal, in May 2007, informed her local police – based in Wiltshire (and thus a link to Paul M Weinberger in Wiltshire) who advised the Leicestershire police who ...
"failed to follow up her lead. It was only when she received an emotional phone call from Maddie's mum Kate nearly two years later (thus in April or May 2009 possibly to get a bit more spice for the Channel 4 program) that a photofit based on her description was put together…. When Kate asked me to help, I agreed immediately. But the police should have asked 2 years ago. It was only after Kate got in touch that the woman learnt two other witnesses saw an identical man… I can't believe our three sightings weren't linked earlier"
The problem is, which "JW" was not told, that the descriptions given to the PJ by the "two other witnesses" were nothing like "Pimple Man" and that their reports had been fully investigated, the suspects identified and eliminated. But failure to act on "JW's" evidence adds to the Leicestershire Police's record of tardiness in its delayed handing of the statements of Kate and Arul, photographs of potential suspects: not to mention a recent detailed report on the crèche records. Can any police force be that bad? Or was Leicestershire's job simply to kill the investigation, possibly on Home Office instructions, whose political intervention – in such cases as Damian Green – are so worrying? And if "JW" attached any importance to her sighting why did she do nothing further about it for 2 years, especially when it might have qualified her for a large reward? And why did Kate McCann leave it until the last moment to call her? The bottom line is that "JW's" "evidence" justifies very close scrutiny.
The 12 Year Old Schoolgirl: Tasmin Sillence
The next sighting, which Mr Edgar states is the most significant, was made by a 12 year old schoolgirl named Tasmin Sillence. Her evidence is in the CD (Volume III Pages 800 -804) where she describes the person she saw on:
30th April 2007 at 08.00am leaning on the wall at the back of Apartment 5A (Point A)
2nd May 2007 at 12.25pm standing on the pavement opposite the apartment (Point B)
as:
Caucasian race, light skin so he wasn't Portuguese but could be British according to criteria. Approximately 180cm tall, pale complexion, 30 to 35 years of age. Short hair, light shaved with a 1 cm length and fair but she isn't sure if it was blonde because the sun was reflecting and made perception more difficult. She didn't see the eyes because he wore dark glasses of black colour with the structure of a thick frame. He had a large forehead. Nose of normal size, a bit pointy and sharp. Large ears close to the head. Mouth with thin lips, she didn't see his teeth. Chin pointing up, which stood out on the face that she describes as sharp. No beard, no mustache: a clean shave. No other special signs except from some small pimples on the face as a result on shaving. He looked ugly, even "disgusting"
Miss Sillence said that the first time she had seen the man he had been wearing a sports style jacket of thin black leather, with a zipper and several pockets with similar zippers in silver. The jacket was open and she saw a white t-shirt with a dark blue label near the waist. She thinks he was wearing worn out blue jeans and black and grey sports shoes.
The second time she saw him he wore the same jacket zipped up. He had a pen with a string attached to one of the pockets.
In May 2007, the PJ prepared an efit based on Miss Sillence's description as follows:
The First efit.
Doesn't look much like Pimple Man: does he?
On 5th August 2008, Sara Nuwar, reporting in the News of the Word, stated that Gail Cooper had come face to face with Madeleine's suspected kidnapper and, at the request of the McCann's backer – Brian Kennedy – had produced an efit called "Cooper Man".
"Cooperman"
Doesn't look much like "Pimple Man"; does he?
Miss Nuwar continues:
"Two of her sightings were also witnessed by her husband. And we can also reveal that a NEW witness, a 12-year-old girl, has come forward to back up her story."
For sure there are a lot of 12 year old girls in Praia da Luz, but was this Miss Sillence just trying to be helpful by agreeing to almost anything or is another 12 year old involved in this tragic case?
The PJ followed up Miss Sillence's sightings which led to the identification of Michael Anthony Green (see Volume III pages 632 to 726. The PJ and Leicestershire Police cleared Mr Green of any involvement in Madeleine's disappearance. However, all information relating to Mr Green was withdrawn from the CD at the request of the British police, who were concerned, among many other things, that information on British paedophiles should be protected. Don't you just admire the way the British police protect the vulnerable?
Derek Flack and Christine Dale
The fourth sighting of the lurking "Pimple Man", who appeared to be the owner of a white van, was supposedly made by a "couple from Cheshire" who can be tracked in the PJ files as Derek Flack, aged 64, and his partner – Christine Margaret Dale, who at the time lived in Ilford in Essex. (Volume 1 folio 145 and Volume 4 folio 833 et seq). Mr Flack described the man he saw at around 11.30 on 2nd or 3rd May 2007 to the PJ as follows:
1.7m tall, dark skinned appearing to be Portuguese, with a one day stubble, with short thick hair that stretched down to collar level at the back and wearing a solid yellow t-shirt. He appeared to be the driver of a white van.
Interestingly Mr Edgar's whiteboards describe Mr Flack's suspect as a "UK male" (not, as he said Portuguese) and the sighting he made as being on "2nd May 2007" rather than on "2nd or 3rd May 2007". The McCann investigators say nothing of the fact that Mr Flack told the PJ he did not believe he could identify the "lurker" if he were to see him again. Again the evidence has been seriously misrepresented.
In an article in the "Daily Mail" on 7th May 2009, Vanessa Allen and Peter Allen, devoted supporters of Mr and Mrs McCann, stated:
"A couple from Cheshire then saw the man on either May 2 or 3 staring at Apartment 5A, and standing near a parked white van. An artist's impression of the man, commissioned by the "Find Madeleine Fund" shows a dark haired, heavily scarred man (ie "Pimple Man")
So it appears that the "Pimple Man" sketch was based on the description given by Mr Flack and Ms Dale.
The Channel 4 program also confirmed, probably unintentionally, that the Cheshire couple were in fact Mr Flack and Ms Dale because when referring to sighting 4 they produced the plan attached to Mr Flack's statement:
The Plan Attached to Mr Flack's Statement
The descriptions Mr Flack gave to the PJ in May 2007 resulted in the PJ preparing the following efit:
Original efit Based on Mr Flack's Sighting.
Doesn't look much like Pimple Man: does he?
This led to the tracing of Barrington Godfrey Norton (Volume 3 folio 704 and 709) a musician living in Praia da Luz. The PJ and Leicestershire Police cleared him of involvement in Madeleine's disappearance (Volume IV pages 833 and 834)
The Sighting by the Irish Smith Family
Although there is no mention of it on Mr Edgar's whiteboard, the Channel 4 program referred to a sighting by the Smith family of a man carrying a small child on the night of 3rd May 2007. The CD issued by the PJ shows that at around 21.50 on the night Madeleine was reported missing, a large family from Drogheda, Ireland -including the father Martin Smith – was walking back to their apartment when they passed a man carrying a child
Location of the Smith Sighting
On 6th May 2007 the Smiths gave the following descriptions:
The man was Caucasian, around 175 to 180m in height. He appeared to be about 35/40 years old. He had a normal complexion, a bit on the thin side. His hair was short, in a basic male cut, brown in colour. He cannot state if it was dark or lighter in tone. He did not wear glasses and had no beard or moustache.
He was wearing cream or beige-coloured cloth trousers in a classic cut. He did not see his shoes and cannot describe the colour or form of the same.
The child was female, about four years of age as she was similar to his granddaughter of the same age. It was a child of normal complexion, about a meter in height. The child has blonde medium-hued hair, without being very light. Her skin was very white, typical of a Brit. He did not look at her eyes. As she was asleep and her eyelids were closed. She was wearing light-coloured pajamas. He cannot state with certainty the colour. She was not covered by any other cover or sheet. He cannot confirm whether she was barefoot but in his group, they spoke about the child having no cover on her feet. The individual did not appear to be a tourist. He cannot explain this further. It was simply his perception given the individual's clothing. He states that the individual carried the child in his arms, with her head laying on the individual's shoulders to the right of the deponent (ie over the man's left shoulder). He adds that he did not hold the child in a comfortable position.
Mrs Smith confirmed the above and stated ...
She did not see the child's face because she was lying against the individual's left shoulder in a vertical position against the individual. She appeared to be sleeping. Her arms were suspended along her body and were not around the individual's neck. She did not look at the child's hands and cannot state the colour of her skin. She believes she was white.
Members of the family returned to Portimao on 26th May 2007 and clarified their evidence – which Dr Gonçalo Amaral, who was then leading the PJ's investigation, considered very important.
On 9th September 2007, the McCanns returned to the UK and BBC News showed them getting off an Easyjet flight. The Smith family saw the program and, from the way Gerald McCann carried his son with the child's head over his left shoulder with hands hanging down, recognised him as the person they had seen on the night of 3rd May 2007. On 30th January 2008, Mr Smith made a further statement confirming -with 60-80% certainty – that the man he had seen carrying a child on 3rd May 2007 was Gerald McCann. Mr Smith's wife corroborated his evidence.
How Mr McCann carried Sean Jane Tanner's "Bundle Man"
The McCanns seem to have totally ignored the Smith family's evidence for the past 18 months, and have never issued a photo fit of the man they saw. However, Metodo 3, the discredited investigation firm previously retained by the McCanns, spoke to the Smiths and did little but worry them.
When making the supposed "reconstruction", Channel 4, if it was to maintain even the slightest veil of credibility, had no option but to refer to the Smith sighting. But the way they spun the evidence by suggesting it supported Miss Tanner and cleared Gerald McCann was disgraceful.
The Smith's Evidence as Portrayed on Channel 4
It is thus no wonder that the two sightings appear to corroborate each other when Channel 4 used the same child and actor for both, dimmed the Smith scene into almost total darkness with strong back lighting -while improving that for Jane Tanner - and failed to accurately represent the way the family stated the child had been carried or what the man had been wearing. Another example of twisted evidence?
At the time Dr Amaral was dismissed, he was planning to return the Smith family to Portugal to obtain further evidence from them. His successor, Mr Rebelo, failed to do this and to this day the sighting is unresolved. There is nothing in the CD to indicate that Gerald McCann was eliminated as the man the Smith family had seen.
The Smith sighting, which was some 35 minutes later than Jane Tanner's, was around a mile away from the Ocean Club, to the South and West. It is difficult to imagine that Miss Tanner's abductor would have turned back, passing the Ocean Club, to be in a position where he was seen by the Smiths. At best, the two sightings, if either took place, are unrelated but the fact that the McCanns now link them, to support Jane Tanner's evidence is disingenuous.
MORE ON "MADELEINE WAS HERE"
Total Spin and Total Blindness
Anyone would be forgiven for concluding that the Channel 4 program was a cynical and misleading attempt to sway public opinion in favour of the McCanns, against an incompetent Portuguese investigation and to applaud Mr Edgar's great work and "new witnesses". The program was pure spin with research conducted in Portugal by none other than my old pal Brendan de Beer and directed, in fact, by Clarence Mitchell! Its object was to promote the story of the McCanns' innocence and their determination to find Madeleine and, of course, to collect further contributions to the "Find Madeleine Fund". It was not the "reconstruction" promised.
In fact, the critical sequences involving the American comedy actress – Lisa Donovan – who, at considerable expense, played the part of Kate McCann was cut from the final version of the Channel 4 program because "the representation of what Kate had done on the night that Maddie disappeared was not convincing and raised some doubts". This is hardly surprising given that Mrs McCann's story, which is analysed later, is not credible.
Also for the explanation given by the "Tapas 9" to be true:
At around 9.15pm, just after seeing the "abductor", Jane Tanner must have walked within feet of the open windows and shutters of Apartment 5A. She did the same when she returned to the Tapas Bar at around 9.20pm
At around 9.25pm Russell O'Brien and Matthew Oldfield walked within feet of the windows and shutters of Apartment 5A but did not detect that they were open. Mr Oldfield did precisely the same when he returned to the Tapas Bar
At around 9.55pm, Jane Tanner failed to notice the open windows when she went to "relieve" Russell O'Brien, who was looking after their sick daughter, and he did the same when he returned to the Tapas Bar
Thus on seven occasions, involving three different people, we are supposed to believe that no-one detected that the windows and shutters of Apartment 5A had been forced "wide open" by the "abductor".
The Shutters of Apartment 5A
On seven occasions members of the "Tapas 9" walked within feet of these shutters and did not notice that they were open
In none of the interviews with the Leicestershire Police was any of the "Tapas 9" confronted with this glaring oversight and it does not appear to have caused Mr Edgar to fret: strange, don't you think?
The proposition that "Pimple Man", was identified by five independent witnesses is an illusion that can only be supported by twisting evidence in a manner reminiscent of the worst of old-time British policing when suspects were "fitted up" with false testimony or "winged" by having words they did not say put into their mouths. Is it a case of spin being taken too far?
Kate Says Far Too Much
The most interesting facts to emerge from "Madeleine Was Here" are the opening shots of Kate McCann describing how she discovered that Madeleine was missing and how she knew "straightaway" that she had been "abducted". This, and the Oprah Winfrey show, were the first occasions that Mrs McCann provided any detail and reliable sources suggest that Kate McCann's cameo was a last minute alternative when the sequences filmed of Miss Donovan had to be cut.
Kate McCann
I did my check at about 10 o'clock, went in through the sliding patio doors, and I just stood actually and I thought all quiet and to be honest I might have been tempted to turn round and I just noticed that the door, the bedroom door where the three children were sleeping, was open much further than we'd left it and
Comment ....
The tone of her voice is spookily rhetorical: permission seeking rather than being confident and assertive. Forensic Linguistic analysis shows that words such as "just", "actually", and "to be honest" in historical narratives are usually associated with deception.
What appears to be superfluous information about entering through the patio doors is very important because it pre-empts questions about Kate McCann not seeing the open bedroom windows as she walked past them to enter the apartment through the front door. In his original statement to the PJ, Gerald McCann said that his wife had entered the apartment through the front door.
Forensic Linguists also recognise the importance of thought processes. Liars frequently introduce these, unnecessarily, to give themselves time to think and to avoid commitment. Kate McCann refers to a lot of thought processes, mainly when addressing to topics directly related to the critical events on 3rd May 2007. Under stress, Gerald McCann pulls his right ear lobe.
Mrs McCann's observation that "the door…. was open much further than we'd left it" was supposedly the reason she decided to check further. Yet at the time she had every reason to suppose that Matt Oldfield or Gerald had opened it when they carried out their checks. Thus her thought process is not consistent with the circumstances and are possibly drawn from imagination (usually untruthful), rather than from memory (usually truthful)
Further if the abductor had "jemmied" the shutters, as she, her husband and relatives originally stated, it is most likely that the door would have been blown closed before Kate McCann's arrival at 10.00pm. Further, how could the curtains be static if the window was open and a wind blowing? Mrs McCann's story does not stand scrutiny.
In his Channel 4 interview, Matthew Oldfield implied that when he did his check at 9.25 (which if Jane Tanner's evidence is correct was after the shutters had been jemmied, the window opened and Madeleine taken) the bedroom door was wide open (he told the Leicestershire Police it was 45 degrees open) and he could see the twin's cots from the lounge-hallway area. He says nothing of seeing the curtains flapping wildly, as they must have been if the window was open.
The dynamics of Madeleine's bedroom are such that if the door was at less than a 90 degree angle the strong draught (from a 17mph north by north-west wind blowing that night) would have blown it closed or caused it to oscillate: if the angle was greater than 90 degrees the door would have been blown open against the wall. But in all cases, it is inconceivable that the curtains would not have been seen flapping wildly during the whole time the window was open.
The bottom line is that if the draught was sufficient to blow the curtains – "whoosh" -when Kate McCann opened the door, they could not have been still when Mr Oldfield made his check or when she first looked into the room.
Kate McCann
I went to close it to about here and as I got to here it suddenly slammed and as I opened it … it was as I suddenly thought I would look at the children and I saw Sean and Amelie in the cot and then I was looking at Madeleine's bed, which was here, and it was dark and I was looking and I was thinking is that Madeleine or was that the bedding.
Comment
"I went to close it" is what is known in forensic linguistics as a "non-action" and is therefore questionable. The change of tense (from past to present) within the same sentence is not consistent with a truthful recall of a past event from memory.
Is it likely that the twins would not have been woken by the slamming door or that Gerald would have heard nothing if he had been standing on the pavement right outside the apartment?
Kate McCann
I couldn't quite make her out and it sounds really stupid now but at the time I was thinking…. I didn't want to put the light on as I didn't want to wake them and literally as I went back in the curtains of the bedroom which were drawn.
Comment ....
Self deprecating phrases such as "it sounds really stupid" or "I know you won't believe this" are frequently associated with deception. Again note the switch to the present tense and the superfluous word "literally". But more important is the phrase "went back in". According to her statement she had not previously entered the room. Again imagination seems to be playing its part
Kate McCann
Were closed….. Whoosh…. A gust of wind just blew them open… Cuddle cat was still there and her blanket was still there and I knew straight away…. She'd been taken…. You know
Comment ....
When she reconstructs the "whoosh" of the curtains, Mrs McCann is standing outside the room, yet her previous words imply that she was inside the room when this happened. Such discrepancies – between oral communications, body language and proximetrics- are usually a classic sign of deception
Kate on Oprah Winfrey
Kate McCanns' account of the sequence of events was somewhat different: the important differences are underlined:
Kate: I went at ten and I went into the apartment and there was no crying. I stopped and there was no crying. And then I just noticed that the door was quite open
Oprah: Which door?
Kate: Their bedroom door sorry, and we usually have the door as Gerry said sort of not closed but ajar just so that a little bit of light gets in and it's not too dark in the room so I thought oh Matt must have gone in and left the door open
Oprah: Same thing he thought
Kate: Yeah, so I thought well I'll just close it over again, and as I went to close it over it slammed shut and I thought and it was like sort of you know a draught had caused it to shut so I turned behind me and I thought are the patio doors open and they were closed and I thought well that's strange so then I opened the door thinking I'll open it ajar a bit again and that was when I kind of looked into the room and when I just looked and it was quite dark and I was just looking and looking at Madeleine's bed and I was thinking is that her that I was looking for why isn't Madeleine there?
And then in the end I walked over and thought oh, she's not in bed and then I thought maybe she's wandered through to our bed and that's why the door's open so I went through to our bedroom and she wasn't there and then I kind of see then I'm starting to panic a bit and I ran back into their room and literally as I went back into their room the curtains that were drawn over just "foooosh" flew open and that's when I saw that the shutter was right up and the window was pushed right open. And that was when I just knew that erm someone had taken her.
So I, I mean I ran to the window and I didn't know what I thought was going to see but I ran to the window and then I quickly hmm quickly looked through the wardrobes I had I suppose this temporary thought she was cowering in a wardrobe or something anyway she wasn't there and I just ran out and soon as...
Oprah: was she in a closet, in a closet?
Kate: Yeah just in case, just in case she's hiding or something I don't know and then I just went flying out the backdoor and erm ran to Gerry and just as soon as I saw the table where they were sitting I just started shouting "someone's taken her, Madeleine's gone" you know and erm that's how it all started really but erm
Oprah: Why did you feel immediately, I'd heard that you'd said "They've taken her, they've taken her"
Kate:....I didn't say that I said, said "somebody's taken her Madeleine's gone". Well from the way I found the room it was obvious because a child could not open those shutters and the window
Mrs McCann was not invited to explain why Madeleine's bed gave the appearance to the PJ that it had not been slept in or why only her fingerprints had been found on the windows.
A Bit More on the Door and Windows
Forensic linguistics prove nothing but Mrs Mc Canns' story is incredible and defies the laws of physics:
If the window was open how come the door had not slammed before Matthew Oldfield checked and why were the curtains not flapping wildly when they looked into the room?
How come there is absolutely no evidence of an abductor entering or leaving the room?
Why are the only fingerprints on the window those of Kate McCann and in a position that indicates she opened it?
Why did Gerald McCann interfere with the shutters and window immediately he entered the room after Madeleine had been supposedly discovered missing?
Our technical advisers believe it would be impossible to simulate the sequence that Kate McCann and Matthew Oldfield gave of the window being open, the door half open and the curtains still. This is possibly the real reason that the sequences involving Lisa Donovan were cut from the Channel 4 programme and why the the McCanns refused to return to Praia Da Luz to take part in a proper reconstruction.
And if Mr Edgar is such a great cop how come he did not test Mrs McCann's explanation because it is critical to everything else. It should have been his starting point, followed by an analysis of all of the documentary evidence, including the crèche records.
No One Prepared to Help
In another interesting sequence in the Channel 4 program, Gerald McCann acknowledged that his presence in Praia Da Luz had created hostility among the local population but he questioned how anyone (unless they had a "heart of stone") could refuse to assist when a little girl's life is at stake.
He conveniently overlooked the 48 questions, asked by the PJ, that his wife refused to answer including the last one which was
"Are you aware in not answering the questions you are jeopardising the investigation which seeks to discover what happened to your daughter".
Her response was ....
"Yes, if that is what the investigation thinks"
And amazingly no where in the Channel 4 program was there any mention of the reward for Madeleine's return. Now isn't that a strange oversight by parents who are desperate, and will leave "no stone unturned", to get their daughter back?
Publicada por Paulo Reis
https://gazetadigitalmadeleinecase.blogspot.co.uk/2009/05/disgusting-episode-of-distorted.html

____________________
" The secret of life is honesty and fair dealing. If you can fake that, you've got it made" - Groucho Marx

Verdi

Moderator/Researcher




Posts

: 11416


Reputation

: 4232


Join date

: 2015-02-02



Of all the astounding unbelievable statements that come out of Kate's mouth, this one takes the biscuit for me: 
And then in the end I walked over and thought oh, she's not in bed and then I thought maybe she's wandered through to our bed and that's why the door's open 
NO! NO! NO! You don't do that. Your daughter isn't in bed and you nearly have heart failure! You freak out! You can't breath, your adrenaline is sky high, you're on high alert, the alarm bells are ringing in your ears, panic is griping tight...you definitely do not think "Oh" anything!

Copodenieve

Forum support




Posts

: 151


Reputation

: 67


Join date

: 2013-10-27


Location

: Leeds



Tuesday, 18 September 2007
John Redwood, Tory MP: "The Mc Canns theory that the girl was abducted also needs evidence to support it..."
John Redwood, a Member of Parliament for the Conservative Party since 1987 and Chairman of the Party's Economic Competitiveness Policy Group,
published a post, in his personal blog, on September 10
, criticising the McCann family and the Portuguese Police, which he considered showed "little (..) competence" in Madeleine's investigation. In the post, called "The McCanns - plenty of theories, little evidence" - John Redwood wrote that "the Mc Canns theory that the girl was abducted also needs evidence to support it" and ask a few questions:
"Can they clear away any doubt over whether entry was forced into the holiday home?
Were there no screams or disturbances as the little girl was taken? Did no-one see her at any point as she was carried away?
Why has no-one seen her since, despite the massive awareness campaign?
How did the abductor time the removal, given the fact that parents and friends were returning to keep an eye or ear open for the children?"
Have the police questioned all who left that resort around the time of the loss of Madeleine?
Mr John Redwood advised the McCann to "employ a private detective rather than a spin doctor, to find evidence of the abduction they are sure happened and the trail to her present whereabouts."
The same day, Mr. John Redwood blog vanished and was out of line for sometime. When the blog ("John Redwood's Diary") came back, the post criticising the McCann has been deleted.
This is the full text Mr. John Redwood decided to take out of his page:
www.johnredwoodsdiary.com/2007/09/10/the-mccanns-plenty-of-theories-little-evidence/+mccann+"Magdalen+College"&hl=en&ct=clnk&cd=1"
target="_blank" rel="nofollow">"The McCanns - plenty of theories, little evidence"
Published by John Redwood at 11:00 am under Blog (September 10)
It is not usually wise to venture into questions of individual guilt or innocence. These are properly matters for the courts, not for politicians.
I do so briefly today because I have never seen so much speculation and so many press stories, created by the spin doctors of the parents and by mysterious sources for the Portuguese authorities, when there is so little fact behind it all. It is part of the modern disease, of fighting battles through the media instead of people getting on and doing their jobs diligently.
The Portuguese side, after four months, seem to have decided that the little girl is dead and the parents were involved in the death. To prove this it would be helpful to have a body, and an autopsy which shows how she died. At the very least, if they cannot find the body, it would help if they had an independent witness who had seen the death occur, or had seen the parents moving the body after the time of the disappearance. It demonstrates little police competence that this most closely watched couple was able according to sources to keep the body from police attention immediately after the disappearance, and then to move the body many days later. How come the police did not search extensively enough to find the body at the beginning? How did they miss any evidence of harm to the child they now might claim to have? How did no-one see anything strange when the body was moved?
The Mc Canns theory that the girl was abducted also needs evidence to support it. Can they clear away any doubt over whether entry was forced into the holiday home? Were there no screams or disturbances as the little girl was taken? Did no-one see her at any point as she was carried away? Why has no-one seen her since, despite the massive awareness campaign? How did the abductor time the removal, given the fact that parents and friends were returning to keep an eye or ear open for the children?
Have the police questioned all who left that resort around the time of the loss of Madeleine?
This is a heart rending story. The two sides seemed determined to damage each other. The truth remains a casualty. Maybe the MC Canns should employ a private detective rather than a spin doctor, to find evidence of the abduction they are sure happened and the trail to her present whereabouts. In the meantime with so few facts it is dificult to say what happened, apart from understanding the grief that the loss of Madeleine is causing.
Paulo Reis
https://gazetadigitalmadeleinecase.blogspot.co.uk/2007/09/john-redwood-tory-mp-mc-canns-theory.html

____________________
" The secret of life is honesty and fair dealing. If you can fake that, you've got it made" - Groucho Marx

Verdi

Moderator/Researcher




Posts

: 11416


Reputation

: 4232


Join date

: 2015-02-02



Many thanks to Paulo Reis for letting me know about his new blog:
Thursday, 10 May 2018
Why I went undercover to Praia da Luz
In 2007, I wrote in my blog "Madeleine McCann Disappearance" that I went to Praia da Luz once. That is not truth. But this not exactly a lie. I went once, as a journalist. I was there three other times, acting not as a journalist, but playing the "role" of another "Portuguese native", curious like all the other inhabitants of the small village about what was going on with Madeleine McCann's police investigation.
Before going there, those three times, I took some precautions. I shaved my hair just like a skinhead (I had it medium to long-sized), cut my moustache and, to help the "disguise", at the time I already had to use glasses. It's amazing how much these little details can change your appearance. I didn't want to be recognized by other colleagues, journalist that knew me before.
I had something in my favor. In 1986, I went to Macau and stayed there until 1997. Came back to Portugal, worked on a national weekly newspaper "O Independente", between 1989 and 2004. I had editorial responsibilities, so spend most of my time in the office, not in the street, reporting and getting in touch with other journalists. Between 2004 and 2008, I worked as a freelance journalist.
Many of the colleagues that knew me before 1986 had a successful career and are, actually, working at top jobs, in newspapers, radios and TV. The actual editor of "Correio da Manhã", the leading daily newspaper in Portugal, Octávio Ribeiro, around 1984/85, was just a young man, friend of a fiend of mine, also journalist and, at the time, I think he wasn't planning a career in journalism. My good friend António Ribeiro Ferreira, who I know since 1981 as we started as journalists at the same time, in the same newspaper, was until recently editor of a daily newspaper, the "i". Nuno Tiago Pinto, who was a trainee at "O Independente", now is deputy-editor of "Sábado", a weekly news magazine. They just stay in the office, don't go out for reporting.
PLAYING A GAME OF CAT AND MOUSE
While I was at Praia da Luz, I kept a closed eye on Portuguese journalists that were there, reporting. They had the natural tendency of bundling together, exchanging tips and information, so it was easy to spot them. During those three stays at Praia da Luz, I detected only two journalists that knew me: Rui Gustavo, from the weekly "Expresso" and Francisco Leong, a photographer from Agence France Press.
I was sleeping in a tent with capacity only for one person, at a camping park, a few miles from Praia da Luz
and I always parked my Honda CB 500 far from the place where action was going on, near the Ocean Club resort. I approached the area carefully, trying to spot those two friends and, in case of a "positive identification", I just change my path and went to a coffee-shop near by, waiting until they left the area. 
When there was no risk to meet them, I approached the crowd of onlookers, tried to be close to the British journalists, listening what they were talking about. As it happens with most British coming to Portugal (and don't take me wrong, I don't want to be offensive) they believe "natives" could not understand English, so they talked. And talked  a lot.
After lunch, I spend time at the terrace of supermarket Batista, very close to Ocean Park and the only place where you could buy all British newspapers. But I never bought a single one, always choose one or two Portuguese newspaper and spend a long time reading them. Many British journalists spend their free time in that sunny terrace. They had laptops, mobile connection to Internet, fresh beer and some snacks. They sat down in groups of three or four and, once again, they talked among them with the same lack of basic precautions, convinced that the few "natives" sitting there English illiterates. 
At the end of the afternoon and after dinner time, I used to made a round up through a few bars were retired British expatriates met, for a couple of beers and a small chat. Late at night, I had the routine of going to the two only places that were open until dawn. There was a big disco, but I don't remember the name, and a bar, I think it was known as the "Carlos Bar" – but I'm not absolutely sure.
There, I played the role of a joyful "native" who had a couple of beers more that he should, but always in a good and happy mood, choosing carefully my "targets" (groups of British journalists), making toasts with them, trying to make "contact", and speaking in a rather primitive and basic English. 
THE REASONS WHY I DID IT
Some people may question the ethics of this behavior, from the point of view of the
Deontological Code of Portuguese Journalists
, "spying" on his own colleagues. May be this a matter for discussion and debate and there will be, of course different views. I did what I did because, since the beginning of this case, when I was in Lisbon, sleeping 5/6 hours and spending the remaining of the day (and night) zapping through Sky News, BBC, ITV, checking dozens of British website newspapers and online news sites, I had the feeling that there was something strange, in the way UK Media was reporting the case.
"Trish Cameron and Philomena McCann, Gerry's sisters, Jill Renwick, a family friend and Jon Corner, Madeleine's godparent were important key players in the McCann's campaign of manipulation and distortion, since the early hours. Despite the clear and blunt denials of John Hill, the Ocean resort manager, Portuguese police and witnesses, they insisted that the shutters of apartment 5A were "jemmied" or "broken" and – small but interesting detail – the door, which had been locked, was open."
I must tell one of the most curious stories of this case. Around September 2007, after the McCann were made "arguidos", his British lawyers fromCarter-Ruck asked for meetings with the editorial board of several UK Media organizations. One of the newspapers that got the request was a little bit uncomfortable, expecting something bad, from that meeting. So, minutes before, the team of lawyers from the newspaper came in and waited in another room, ready for a confrontation with Carter-Ruck lawyers, as they were expecting some kind of legal threat that could take them to court.
That, is not truth. Recently, a group pf criminals kidnaped a Portuguese businessman, to demand a ransom. They killed him and dissolved his body in a tank with sulfuric acid, leaving no trace, not even a small piece that could be used for a DNA analysis. But they were arrested, went on trial and sentenced, because their phones were wiretapped and PJ collected other strong evidence,
enough  to convince the court send them to prison for 25v years.
Publicada por  
Paulo Reis
   em
01:02:00
https://gazetadigitalmadeleinecase.blogspot.co.uk/2018/05/why-i-went-undercover-to-praia-da-luz.html
Control Risk Group: Kenneth Farrow and Micheal Keenan, two senior investigators of CRG arrived on Faro at May 13th 2007
Thursday, 10 May 2018
BRITISH CIVILIAN CONTRACTORS IN IRAQ
CRG is a global risk and strategic consulting firm specializing in political, security and integrity risk. It has around has 3,000 employees, with a presence in more than 100 countries and cities including; Abu Dhabi, Amsterdam, Baghdad, Beijing, Berlin, Bogotá, Copenhagen, Delhi, Dubai, Hong Kong, Houston, Islamabad, Jakarta, Johannesburg, Kabul, Lagos, London, Los Angeles, Mexico City, Moscow, Mumbai, New York, Paris, São Paulo, Shanghai, Seoul, Singapore, Sydney, Tokyo, and Washington, DC.
In a web site of
British Expertise International, they are mentioned of having worked in dozens of countries, like Afghanistan, Angola, Bosnia Herzegovina, Iran, Iraq, Portugal and Ukraine, among many others.
They met with Kate and Gerry McCann, at Praia da Luz, and Jane Tanner referred to them as "some of the people that Kate and Gerry brought in". The company was apparently retained as part of a "crisis management" team by Bell Pottinger on behalf of Mark Warner. Some CRG specialist were probably in Luz before 13th May 2007.
Most of Control Risk Group staff has some previous experience in the intelligence field (MI5, MI6, CIA) and operatives are former special forces soldiers, coming from the British SAS, USA Navy Seals and Rangers. The company is ranked in 12th place among the 20 most powerful security contractors companies, in the world-
Regarding Control Risks, War on Want said the firm operate in war zones across the world and that most of their staff are ex-members of the military and intelligence services.
The report says: "The company's
Middle East operations are overseen by Andreas Carleton-Smith, an ex-SAS officer, while its Iraq operations are headed by David Amos, an ex-officer in the British Army, who now leads more than 1200 people with 340 armored vehicles across the country.
"Eddie Everett, formerly of the special forces, manages the company's global client services, while Jim Brooks is CEO of its American arm. Brooks is ex-CIA, and worked for the agency supporting its worldwide paramilitary operations, and as a Navy SEAL adviser to Latin American security services."
It is, at least, strange, that a so powerful organization, with capacity to act in war raged countries like Iraq, was hired, apparently by Bell Pottinger, to come to Praia da Luz, to investigate what could be considered a "minor" case of the disappearance a child. But this only one of the many mysteries that still surround the Madeleine McCann Case.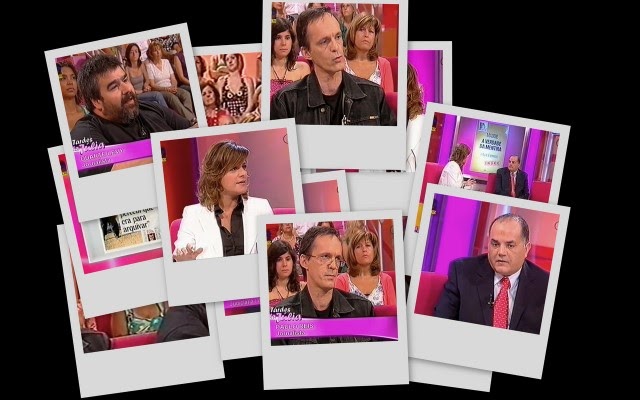 This is the transcript (
by astro
) of an interview with Gonçalo Amaral, Paulo Reis and Duarte Levy, by Júlia Pinheiro, on 'As Tardes da Júlia', TVI, broadcast live on or around the 28th of July 2008.
Júlia Pinheiro (JP): The Attorney General's Office has archived the process, but everything indicates that a new stage of the Maddie case is about to begin. Gonçalo Amaral, the PJ's former coordinator has launched this book (Maddie – The Truth about the Lie) which is already here and also in my hand, where he numbers some surprising facts. He is going to be my guest today, he has not arrived yet but he will soon be here, and as these things work best with more than one accomplice, I have two journalists present to talk with me and to interrogate and talk a bit with Gonçalo Amaral. These are also two well known faces, who have been following the Maddie case in a committed and involved manner, please welcome Duarte Levy and Paulo Reis.
(applause)
JP: Hello good afternoon! Now tell me, you have obviously read the book already.
Paulo Reis (PR): Yes.
Duarte Levy (DL): Yes.
JP: Right away, right away.
PR: On the day before.
DL: Right on the day before.
JP: Right on the day before. So while we wait for Gonçalo Amaral, and we're talking in his back, afterwards we will talk in front of him, what did you think? Duarte?
DL: There are still things that remain unsaid. I think that this book already opens a path, it already shows, clarifies a lot of things, many doubts that existed concerning the case, but I think that former inspector Gonçalo Amaral probably has a lot more to say.
JP: So there is a certain feeling that there could be more. Is that it?
DL: There could be more. I think that sooner or later he will do it. The book should maybe be read twice, because there is a lot between the lines but it's a book that I strongly advise people to read.
JP: Paulo?
PR: Just one detail. We read the book on the day before like so many other journalists, because the editor offered copies to the journalists that requested them on the eve of the publication. I make a very simple initial analysis that is the following. I presume that what is in the book is what is in the process. Dr Gonçalo Amaral would not make things up and include things that are not in the process. And after reading the book, I remembered the PJ's final report which led to the archiving. I went to re-read and compare both.
JP: And what about that comparison?
PR: The perception that I have is that there are two perspectives, the perspective with which the PJ looks at the process' contents, in the light of what is contained in Gonçalo Amaral's book, it gives me the idea that the PJ's report focuses on what was not discovered.
While the book contains what was discovered and what was not discovered. This would be almost like looking at a glass of water that is filled up to half, and saying it is half full or half empty. But I think that the PJ's report says that the glass is half empty, and Dr Gonçalo Amaral's book says that the glass is two thirds full.
JP: And we are desperate to read the whole liquid, to drink the whole liquid, aren't we? Gonçalo Amaral could not endure us speaking about him in his back and he is already here. A round of applause for Gonçalo Amaral. Please come in…
(applause)
JP: Good afternoon! How are you?
GA: Good afternoon.
JP: Please be seated.
GA: Here?
JP: Yes, here. I finally get to meet the man who everyone is talking about and I can't resist the first question:
Are you apprehensive about the McCann couple's threats?
GA: No. The book is based on facts and like someone told me it was written honestly, therefore it does not contain falsehoods and I'm not apprehensive.
JP: Why do you think that they went as far as making sure that it reached Portugal, especially that sentence: "He should be very careful" the McCann couple said two days before the book was published?
GA: I didn't hear the McCann couple say that. I heard a person who says he is a spokesman. Therefore it is not a status within the process, I think he is even a witness in the process at the moment, so that gentleman should know what he is saying.
JP: You don't give it anything more, another value…
GA: I have already thought about what I should do regarding that gentleman, but I'm keeping it to myself, therefore…
JP: With Clarence Mitchell?
GA: Exactly.
JP: It is curious that he is one of the persons that are not mentioned in the book.
GA: Yes because the book is about a criminal investigation of which that gentleman is not part. There may be an area, which is the journalistic area to understand the political pressure, but maybe a journalist could write about that area, even concerning the role of the media, the book doesn't focus much on that.
JP: Yes but it also covers it.
GA: It mentions facts, a set of facts, diligences, testimonies and scientific and documental evidence that is featured in the process. Therefore that gentleman is not part of the investigation despite all the noise that he has produced in the investigation.
JP: Indeed and you report his entry into the process. There are so many questions that have not been clarified to this day
GA: The investigation does not have to worry about that gentleman, does it?
JP: Duarte Levy and Paulo, who will ask questions just like me, were saying that they were left with the feeling, may I call you Gonçalo?
GA: Yes.
JP: That's settled, then. They were left with the feeling that you leave a lot out of the book. And that the book does not contain everything.
GA: Something has to be left out.
JP: Why?
GA: I'm a trained jurist, I'm a jurist, and we don't say everything, do we. It may be for a second edition of the book, it may be for certain explanations that someone wishes, therefore… it's my own secret.
JP: It's your own secret. So there is a secret? You haven't told everything?
GA: No, but it's details, anyway.
JP: But I get the feeling, precisely in this book, you two can join the conversation if you wish (to DL and PR), that in this book the details are very important, in fact, it's in the details that for people like us who follow things attentively, that this book becomes surprising. I'm going to let Paulo launch…
PR: A very precise, very direct question for Dr Gonçalo Amaral. Do you think that the PJ's final report, which was widely reported by the media and even was published online by Expresso newspaper. Do you think that the report faithfully reflects, does it make an accurate balance of the investigation?
GA: Well before anything else, I want to thank you for the work that you have done since that time, the manner how you have followed the investigation and the way that you have been solidary with truth and justice.
PR: That is my obligation as a journalist.
GA: You may not have done more than your obligation but I want to thank you and to thank all the journalists. Concerning that report, I have to be sincere, I haven't read it yet. I haven't had time to read it but if it is a report that led to the archiving, it cannot be faithful towards what exists in the process, so it's an imposition, I would not like to comment much further on that, but it's the position of police professionals who took it, that decision to write that report that was being very well written…
JP: Weren't you curious to read that report? That final report from the PJ?
GA: No, no. I haven't had time, either. I haven't had any time at all to read it. This has been a bumpy ride…
JP: I find that absolutely impossible, I don't believe it. Have you cut all bonds with what you left behind? Have you distanced yourself emotionally from all of this?
GA: No. I haven't cut all bonds. No.
JP: I don't believe it!
GA: But sincerely I haven't read the report yet. I haven't read the report, I know it's on the internet, so I will read it but I haven't read it yet.
JP: I'm not convinced at all but say it.
GA: But I'm telling you the truth.
JP: Yes, Duarte?
DL: There is a question. We heard, a short while ago, about the existence of an investigation into your private life, yours, inspector Tavares de Almeida's private life and even Guilhermino de Encarnação's private life. Carried out by private detectives that are connected to the McCann family. And in the book, at some point you mention your dog. What happened to that dog? This is a question.
GA: A mere coincidence, at the beginning of the investigation, the dog died. Surely nobody went there and killed him, it could have been other dogs, right.
DL: But during this investigation, did you never feel that maybe there was a pressure on you, on your colleagues…
GA: The pressure was the persecution that we were subject to, but it was not much of a persecution anyway, because they didn't find out where I lived, they didn't find out outside of Portimão and not inside either, which was 100 metres from the police building that we all lived, they just followed me during those 100 metres from the police building and from the restaurant where I had lunch, so that big investigation that was done, by those journalists from English tabloids, they only managed to check 100 metres, because in fact nothing more apart from that. Concerning those gentlemen's investigation, it's the first time that I hear about that, I'm not worried. I only hope that if it is true, I hope that the entities that have responsibilities in criminal terms in this country act, because in fact it has been too much time. There is a very serious interference that started after I left Portimão, to try to carry out investigations, not only in this case but also related to the Joana case. And I think that -
JP: In order to discredit you, to ruin your credibility, is that it?
GA: Me and the Polícia Judiciária. I mean, they tried to question both investigations, there are things that, people came up and told me that this is for the little girls, for Joana and for Madeleine. Therefore, and they want to obtain information and things, therefore. In Portugal, criminal investigation it's well defined in the law who can carry it out, those gentlemen cannot do it and what they do here in Portugal has to be sanctioned somehow.
JP: Obviously. Before I let Paulo speak, I would like to ask a question which I don't know whether Gonçalo will answer, but as you are not an inspector anymore and are now out of the circuit and haven't even read…
GA: I was never an inspector. I was a coordinator… it's a matter of…
JP: Coordinator, I apologize, but as you are not with the PJ anymore, maybe you can, we have already talked more about states of the soul, about impressions. You started shaking your head as a no, but anyway. The first contact that you had with the McCann family, father and mother, what did you think?
GA: Well, I don't speak English, therefore the contact was made through other persons, but I had no reaction.
JP: But did you think that you were in the presence of a genuinely worried couple, desperate to find their daughter?
GA: I didn't make that type of judgment. In a criminal investigation, we have to base ourselves in facts, we have to be objective and leave emotions behind. The parents' situation of anguish is logical, there was anguish, now whether it was anguish over the disappearance of their daughter or over knowing that their daughter was dead, it's different and it cannot be distinguished like that. But in fact there was anguish contrary to what is being said, not in the police building but it's known that the little girl's mother cried she apparently cried that morning, so that anguish could be over the loss of her daughter, right? Therefore if they are committed to searching, it's not normal that on the first day, the first hour, the only possible lead was abduction, abduction and it's extended into saying abduction by Portuguese paedophile networks, therefore, these conclusions are made too soon after the event, because several possibilities were open at that moment, therefore, from then onwards I also find that strange and we took it into consideration.
JP: And later on? When you continue the investigation, you cross ways with this couple several times, did your opinion change or do you think that…
GA: The idea that I got and that my colleagues got, things have to be put in their place, don't they, I was the coordinator of an investigation team, which included English, Portuguese, joint national directors, vice directors, this was the operational part that was being directed from Portimão, where the investigation was based. The advance that happens, is relatively changed. There is a sort of flight forward, we can understand that, it happens and possibly not only in this case, but in other cases where people sort of, I don't want to say lie, half truth, they stick to the idea that there is an abduction and they don't think about anything except abduction and psychologists and psychiatrists have already mentioned that, so it's as if they believed it was true, there is this flight forward, therefore, from that moment onwards they continue to say that they search for their daughter.
JP: But did they change their behaviour, or did they have a more cold, more reserved attitude, more contained or more emotional…
GA: There are situations that are reported in the book but there are others when there isn't a normal behaviour, so the person despairs during a moment of anxiety and we actually try to understand, we try, if it's an obstruction that was the issue there, if it was really a demand for ransom, and we try to negotiate with that individual who was in Holland.
JP: That episode is particularly surprising.
GA: And then we watch that, us Portuguese who were there...
JP: ... and the English...
GA: ... and the English, we watched it in stupefaction, he was sitting there with a lollipop laughing on the phone and we were all waiting...
JP: We're talking about Gerry McCann, at the moment when, because someone did try a coup like that, correct? So while you were waiting for him to make contact with you…
GA: … maybe it was his way of reacting to that tension, maybe it's justifiable but to us, we were shocked, it's not. We were searching for his daughter, doing our job.
JP: While he visited sites on the internet...
GA: No, he was on the phone.
JP: Ah he was on the phone and sucking on a lollipop wasn't it and laughing and chatting?
GA: Yes! Completely detached from what was going on and about to happen…
JP: So that shocked you in particular?
GA: Me and the colleagues who were present.
JP: Very well. Paulo wanted to ask a question. Let's hear it –
PR: A very specific question that stands out in your book. There are 7 witnesses, 4 friends of the McCanns, 2 English tourists that were there at the Ocean Club, and one of the nannies from the crèche who guarantee that they saw Robert Murat near the apartment on the evening that Madeleine disappeared. Robert Murat denies this, he says that he was with his mother, and then the Judiciária questions several members of the GNR, of the staff from the Ocean Club, and people who live there and who participated in the searches and who know Robert Murat perfectly because he lives there and all of those people deny those witnesses and peremptorily state that they did not see Robert Murat that night. This is the question that I ask you. Isn't it obligatory even from a legal standpoint, faced with what to me seem like false statements, that certificates are extracted and that there are legal procedures against those witnesses because they are giving a false statement?
GA: Provided that the Public Ministry proves that they are really false statements.
PR: I'm aware it's a decision for the Public Ministry, I only –
GA: I think they are. As a jurist, I think they are, I have that notion that they in fact don't give a truthful testimony.
PR: But there is no news that those persons were targeted by a process from the Public Ministry.
GA: In fact there is another situation with Mathew Oldfield who says he went inside the apartment and states that he saw two windows, and his wife says that moments before that, minutes earlier, he had listened at the two bedroom windows, so that detail of the two windows, which seems to be a mistake but it's not quite so, therefore, if they had been in the bedroom they would know that there was only one window in the bedroom, even outside of the bedroom if they had been listening it would only be one window as well, therefore there is only one window.
PR: So it is not known that the Public Ministry acted on the matter of the false testimonies by those witnesses, which in fact, Robert Murat's lawyer has already announced that as soon as he has access to the process –
GA: Yes because there even was a confrontation between them…
PR: Yes precisely, precisely.
JP: So for now there are no consequences?
GA: Well, it seems not.
JP: It seems not. I insist on the questions concerning your impressions because it was maybe the aspect of the book that I was most avid to know whether or not you would take that route, and twice or thrice you let the text slide towards it, and I was really very surprised over that behaviour from Gerry McCann at the moment when the possibility of his daughter's ransom is being discussed, which was obviously fictitious, but his behaviour relating to it and some observations that you make concerning Kate McCann. Namely a certain irritation and ill humour under several circumstances. Can you define who is Kate McCann?
GA: It is difficult to define, isn't it. She almost cried in front of us, and then she lowered her head and when she returned she came back more aggressive, more –
JP: But within the couple she is the more combative, the more controlling person.
GA: I didn't want to take that route in terms of rendering things subjective but…
JP: I noticed that.
GA: … but that is how it was. It was a bit, there was something not right there, but maybe a psychiatrist or someone could analyze the behaviour.
JP: Very well, you don't want to say much about your personal impressions of her ahaha
GA: The issue here is not… I don't have to worry about the McCann couple. What I have to worry about, or had to worry about is that little girl and find out what happened to her. It's logical that knowing who the parents are and their behaviour, how they react, all of that is important within an investigation. But the most important thing is for us to integrate with what we have, to find the facts and to follow a route in terms of the final objective. Therefore, discussing the parents… it's a question…
JP: But surely the second route that was chosen was the possibility that they are involved in her disappearance it had to do with that behaviour that we just referred… some coldness, some…
GA: No…
JP: It wasn't only about that?
GA: It was about the entire investigation that is made isn't it, but…
JP: And these elements aren't analysed?
GA: We don't base ourselves on empathies and we don't like or dislike persons, we focus on the investigations.
JP: I'm not talking about empathies; I'm talking about behavioural observation. That is also analysed.
GA: It is, but –
JP: Ah!
GA: But what leads us into the direction of the little girl's death is facts, not only looking at people and thinking that…
JP: Do you really reach the theory of an accidental death according to your theory, before the dogs arrive in Portugal, or…
GA: Yes, before the dogs come to Portugal, there are signs of death as I say in the book, signs which are given by the family that a cadaver is being searched. This gentleman comes from South Africa, and hair from the little girl, supposedly from the little girl, he places it inside a machine which he invented and we hear its contents which says that there within a certain area of the beach lies a cadaver. So he came on the couple's request, otherwise he would not be requested. Then, the dogs' intervention follows a work of analysis, of planning carried out by a British national consultant, from the British police, he was here in Portugal, he saw the area, he consulted the process with what happened, therefore with facts that existed, he went to the area, he rode a helicopter, consulted with academics, and all that and he reached the conclusion that we have to search for a cadaver. In order to search for a cadaver these experts have to be used, these dogs and that was what happened. So from there on…
JP: So that was what is called a good relationship between British and Portuguese investigators.
GA: Very good.
JP: Very good. Contrary to everything that was later reported by the press.
GA: Exactly.
JP: So your opinion is that an accidental death took place in that apartment.
GA: It is not my opinion. It's the opinion of the investigation. This has to be made very clear. I have repeated this several times but it's important.
JP: You are absolutely right, so according to the investigation…
GA: According to the investigation that was composed of English, Portuguese investigators…
JP: Exactly. The little girl died in that apartment?
GA: The little girl died in that apartment.
JP: On the evening of the 3rd of May.
GA: And we reached that conclusion with the data that we have.
JP: And before the time that was announced? Before 10 pm which is the time that was…
GA: The time is not known because the reconstitution was not carried out, which could be important in order to define the times and to verify if they could have attended all that vigilance from the parents, every 10 or every 5 minutes, so if they were having dinner and all of a sudden almost nobody dined, isn't it. But it seems that only one plate went back, a steak that had to be warmed up. It was necessary to understand who it was that failed to eat that steak and what everyone else ate, how long the dinner lasted, how long the meals take to be confectioned, and all of those things in order to understand it all afterwards.
The reconstitution was not carried out and from there on it's difficult to know at what time it could have happened. There is one piece of data in terms of accurate time that evening, it exists and it concerns the little girl, it's the time at which she left the nursery.
JP: At 5.30 pm.
GA: At 5.30 pm, concerning the other witnesses that were at the beach there is the video registry, they were filmed by the camera that was there, at 6.36 pm they leave the beach, first the men and afterwards the women and children, in terms of times and then there is the time of the Irish witness who knows at what time his dinner ends, and he has the receipt of the payment with the time at which he paid, when he leaves the restaurant across the street –
JP: Across the street he sees a man walking down with a child…
GA: He sees a man walking down with a child.
JP: … who he only realizes to be Gerry McCann when he sees Gerry McCann descending with his children…
GA: Exactly.
JP: … when they return to England.
GA: The files that mention the testimony, they mention the clumsy manner in which he carried the child, the posture which we could call athletic, that he was an athletic individual and they offer a description, they reach the point of saying that, it was maybe possible in terms of saying who it is physically, but with those characteristics, the manner in which he walked, how he carried the child, they could know who it was. And so when he sees, when that family sees Gerry McCann descending from the airplane carrying the child and he starts to walk on the pavement, they realized. Now he says it's 80%, if you tell me ah that is not evidence, I also agree it's not evidence but at least it's a piece of information and that information should always be worked out.
JP: And was it?
GA: When I left Portimão, on the 1st of October, I left on the 2nd but on the 1st we were arranging for those witnesses to come to Portugal. We already had permission from the national director, all that was left to do was to choose a hotel for them to stay and to schedule a date. After I left I know it took several months until the witness was heard, which happened around January or February this year, I don't know, through a rogatory letter or a request for assistance under international cooperation.
JP: That is really one of the surprising bits of data. Another piece of data which is also surprising is related to that towel that Kate McCann gives for the first dogs, our dogs, the Portuguese. Why did she give a towel and not a piece of clothing? After this I'll let Paulo speak.
GA: That is another question that has to be understood as well, doesn't it? The towel because supposedly she had had a bath that day, right? It would therefore carry more of the little girl's smell, the little girl's odour, so this was an option between her, I think, and the members of GNR.
JP: The GNR which was there. Let's hear Paulo.
PR: Now before I move on to another question, concerning the towel has the PJ established for example how often the bed sheets and the towels in the apartments are changed. Because if memory doesn't fail me, the towel is delivered to the GNR 48 hours after the little girl disappeared.
GA: No. The towel was handed over right on that night.
PR: On that night.
GA: The GNR dogs also arrived that night. But the last time that the apartment had been cleaned was on Wednesday.
PR: A while ago, you mentioned an English policeman, a great expert, I suppose you were referring to Mark Harrison who is one of the two or three best British policemen in terms of investigating complex crimes. He was here, he spent a week in Praia da Luz, he rummaged through Praia da Luz, he walked everywhere, the saw the process upside down, he read the entire process, and then he wrote a report in which he concludes that the most likely hypothesis is the child's death, and if I'm correct, he proposes the dogs' coming, right?
GA: Exactly.
PR: Was he the policeman who also retired, a reference that you made during a press conference? That there was an English policeman who retired.
GA: No.
PR: Was there an English policeman who also retired?
GA: The English policeman who retired is from the Leicester police. Now the reasons I would prefer not to talk about him at the moment. As a matter of fact I'd like to talk to him personally and I don't want him to be pressured so I would reserve myself the right not to comment any further.
PR: Just to make this very clear, is that English policeman, Mark Harrison…
GA: No, no, no.
PR: … who comes here, writes a report, no, I'm not talking about the retirement issue, I'm just saying that he came here, that he is an expert in complex crime, one of the most prestigious from the English police, he walks the streets of Praia da Luz from one end to another, he measures, routes, timings, he analyses the process and after that he writes a report in his quality as one of the finest English experts, where he writes black on white that the most likely possibility is that the child died in the apartment, is that correct?
GA: Correct.
PR: That is what marks the turn in the investigations.
GA: Correct.
PR: And then the famous dogs arrive…
GA: Yes, to detect cadaver and human blood odour.
JP: So you don't want to tell why your colleague retired. He has his own reasons. But you are aware that all of this thickens the public's perception of a Machiavellian conspiracy theory. I understand your position, maybe at the moment you don't want to say more or you can't, it's a fact that your book has brought us something more but we still fail to understand everything. Mainly, possibly the macro-structure that surrounds all of this. Duarte?
DL: No, I just wanted to talk about the issue of the English lab's reports.
JP: That is very important, yes.
GA: The reports from the English labs… the English reports arrive shortly before the questionings that were scheduled. And it contained certain conclusions, if they thought they were inconclusive they shouldn't have mentioned it, the question of the 15 alleles in a profile of 19 from the little girl, stating that they match Madeleine McCann, but they also say that it could have been a construction let's say from various donors, from other persons, a contamination could have produced Madeleine McCann's profile by coincidence. But there are no excuses for saying that it is not from Madeleine McCann because they held the profiles of the father, the mother, the siblings, therefore there are no doubts that at least within that family they only matched Madeleine McCann's.
DL: In Portugal, for example, we only need a match of 15 alleles out of 19 in order to determine someone's paternity, therefore… That is the first fact. The second fact is that at this moment, the institute for Forensic Medicine is already prepared, they already own the same equipment as the FSS in England to carry out this type of analysis. Why does the Public Ministry or the Polícia Judiciária not request, or don't they have any more samples to carry out…
GA: As far as we know, they have all been destroyed by now, namely the hair. Nothing can be done.
PR: Concerning the FSS reports –
GA: And the samples were microscopic, weren't they…
PR: Are you absolutely certain that the reports that reached you, namely those concerning the blood residues in the car boot, are exactly the reports that left the FSS?
GA: I have no doubts whatsoever, in fact, they were delivered by a senior official from Leicester police, it carries a logo, they came and went by email, so there is an existing origin, therefore the report is signed, so I have no doubts about that.
JP: You have no doubts whatsoever about that.
GA: On the official document.
JP: But wasn't it published in Belgium that…
DL: … that there are two reports. There is one report that left the FSS and there is a second slightly different report that arrived in Portugal.
GA: There is a recent report and there are two other reports. The first one mentions 15 alleles and here is the main question, it places the focus, they place the focus on that part of the exam from the vehicle, in the second [report] they then focus on the apartment, if on one side 15 alleles were not enough, in the other there were only 5 alleles that matched Madeleine McCann's genetic profile, what could be read there was that there were almost no problems. Because it's easily justifiable. It may not be justifiable with the cadaver odour on the spot where the blood sample was collected, but therefore, inside the house it is easy to justify, it's more difficult with a car that was rented more than twenty days later. So this is where the major confusion lies.
JP: Yes, Paulo?
PR: At a given moment in time, around the 9th or 10th of May, starts what you mention in your book, a wave of sightings of Madeleine. Madeleine is first seen in Morocco, by a…
GA: First she is seen here in Portugal. The wave starts to spread in Portugal.
PR: Exactly. Portugal and then –
GA: Then she is seen in the North, then jumps to South America, Brazil…
PR: One that was largely publicised by the English newspapers, was from a Norwegian lady who was spending holidays in Morocco and who swears that she saw the little girl. What the English press does not mention at that time is that the lady is Norwegian but she is married to a man who was born and bred in Rothley, the town where the…
JP: It could be a tremendous coincidence.
PR: … the McCanns resided for the last few years. This is the question that I ask you: The wave of sightings, namely in Morocco, where witnesses state that they are 100% certain that it was the child, I have no doubts. Beyond the usual confirmation with Interpol, Interpol and the police forces in those countries were requested to investigate those sightings and those witnesses.
GA: The witnesses, it was necessary to hear those witnesses and she lives in Southern Spain. She lives near Valencia. That is one of the diligences that possibly remained to carry out. But concerning those sightings in Morocco, it was through the cooperation with the English police, with liaison officers with the Moroccan police that tried to obtain the video tapes from that petrol station where the little girl was seen, in order to try to find out if it could actually be her or not. It was all handled from there.
JP: And you don't value the fact that really the lady who saw is married to someone who coincidentally is…
GA: That was actually taken into account and it happened later, as Paulo Reis said, and as a matter of fact it's something that should have been worked upon in terms of being heard.
JP: Well, let's talk about what worries…
GA: But I can also say that apart from those sightings all over the world, in Praia da Luz there were little girls that strongly resembled Madeleine, blond with blue eyes, many of the same age as her. Therefore, someone could have spotted Madeleine there, in Praia da Luz, something that was not done.
JP: That's true, that's true. In your opinion, Maddie, in the opinion of the investigation and of your colleagues and the team that you coordinated, did Maddie die that evening?
GA: She died.
JP: And someone took her from that apartment and placed her where?
GA: Look, when we are in an investigation of this kind we have to understand what the knowledge of those persons is, if they know other people, what contacts they have. If they have means at their disposal. We have to know the area itself, to know about the facility or the almost material impossibility to conceal the corpse within few hours and few minutes. And the conclusion that we reach with all of this, with all of this data is that, if there was any involvement from those nine persons, the corpse could only be in the beach area. And that is in fact where the gentleman…
JP: The investigator.
GA: Not the investigator, the Irish witnesses…
JP: Ah yes!
GA: … see a person passing, a man carrying a child, a little girl, they say that it is in effect Madeleine going towards the South area, let's put it that way, towards the sea side. Now whether or not she stayed there, that is another question. For how long she stayed there, what happens next, only the development of the investigation of that area of death, let's put it that way, could take us there.
JP: Would you have followed that investigation line?
GA: It was the direction that I was following at that time so until we emptied it we weren't stopping, were we…
JP: It sounds so unbelievable, the possibility that a body was placed on a cliff, or in any other area on the beach, and then removed and transported in a rental car.
GA: The corpse couldn't have remained there all the time. It's impossible.
JP: So where was it taken next?
GA: If we take into account that, if we consider the traces that were found in the car boot…
JP: … which are in fact…
GA: … which are in fact from the little girl. In order to justify that bodily fluid as the lab says, it could only have been preserved and conserved in the cold because otherwise it would have been…
JP: That means that…
GA: … in an advanced state of decomposition, at least it's a hypothesis. Therefore it's a question of a deep freezer, or something similar, and there we had to search for it and that was what we were doing. This means, the contacts that they had, where they went, where they were seen… There are people who say that they were seen entering an apartment block near the cemetery in Praia da Luz. At that point in time we weren't able to detect which apartment they entered, who lived there, because it's also a bit complicated because you have to understand it's a tourist area and often it's not known who the apartment belongs to.
JP: Of course, of course…
GA: Who lives there, for how long they live there, so all of that was being worked upon. To try to understand the support…
JP: If someone discovered a deep freezer in the area and…
GA: If it was actually a deep freezer, it doesn't exist anymore now.
JP: Is that still possible to find out? I imagine…
GA: Look, a few years ago on the Azores, after a homicide that had taken place years earlier, we managed to locate a vehicle that was already in a junk yard in which a taxi driver had been killed, a taxi driver from Praia da Vitória in the Azores. But we were unlucky, normally the van's back had a carpet but it didn't exist anymore. That carpet didn't exist anymore, so if we had found that carpet it would have been possible to prove that the death had taken place there, so anything is possible.
JP: Anything is possible. I don't know if Paulo and Duarte have any further questions, you have to be brief, we're almost finishing.
DL: One more doubt, I read in your book that you never received the medical report, Madeleine's clinical history. For example I also know that –
GA: We think, because that's the way it is, we spoke to the English police, they said right away that there were problems in England to hand that over within the rogatory letter's context. There is a rogatory letter that was carried out but before that there was another rogatory letter that was being prepared which also contained those questions and which also contained questions about other tests, other tests by the dogs with the friends that were there, namely on the clothes with those same dogs in order to try to find cadaver odour or any other trace, that was important. So there was that rogatory letter…
DL: And you never received those reports, you receive the reply that the McCanns had no credit cards, you already knew that was false, could it then be said that there were two English teams working on this case? The one that in fact stood beside the PJ and the one that worked against…
GA: I don't speak with the English police, I can assure you…
JP: And now we don't speak at all because we're arriving at the end. I only want, Gonçalo Amaral, I only want to know one thing. Will Maddie return to your life one of these days, or not?
GA: I think yes. This book has the will of clarifying and of contributing to the investigation, I think yes, there are more things to talk about.
JP: Is that your mission?
GA: It's not a mission, it's a question of recovering my dignity and my honour and that of my colleagues and of this institution to which I was so proud of belonging to for so many years, and of justice being done for the little girl.
JP: Thank you. A round of applause for Gonçalo Amaral. Duarte Levy and Paulo Reis, thank you very much.
(applause)
---
Permissions in this forum:
You
cannot
reply to topics in this forum