Work and Pensions Secretary Iain Duncan Smith QUITS Cabinet with vicious swipe at George Osborne over shambolic disability benefit cut U-turn
Iain Duncan Smith has sensationally resigned from the Cabinet in protest over the disability benefit with a devastating parting blast at George Osborne. 
The Work and Pensions Secretary said cuts to disability benefits demanded by the Chancellor were 'not defensible' alongside the tax breaks for the wealthy in this week's Budget. 
'I am unable to watch passively whilst certain policies are enacted in order to meet the fiscal self-imposed restraints that I believe are more and more perceived as distinctly political rather than in the national economic interest,' he wrote. 
The former Tory leader and standard-bearer for the Eurosceptic Right of the party admitted he wanted to cut benefits enjoyed by wealthy pensioners, but these plans were blocked by the Chancellor and the Prime Minister.
Read more:
http://www.dailymail.co.uk/news/article-3499499/Work-Pensions-Secretary-Iain-Duncan-Smith-QUITS-Cabinet-protest-shambles-disability-benefit-cuts.html#ixzz43KIS2vo6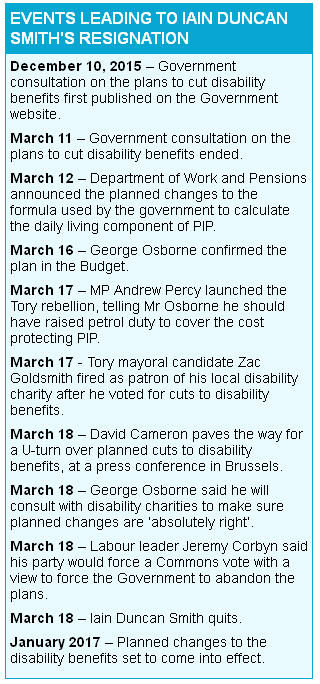 http://www.bbc.co.uk/news/live/uk-politics-35848872
Too many deaths on his conscience?



Posts

: 365


Reputation

: 236


Join date

: 2013-05-15



I see a bigger picture regarding his resignation.  I believe it is connected to the EU referendum and the shifts in power of the Conservative party should we vote out.  After all, IDS has devised and approved some harsh changes to social security legislation whilst in charge, all ideological and Treasury-driven.

Guest

Guest





I totally agree, more in this, re; Brexit, definitely a power thing, Camoron? Double bluff?????!!!!!!


laineylou

Guest





This is positioning for a leadership challenge.

This is not the normal IDS we have come to know and hate.



Posts

: 4580


Reputation

: 2377


Join date

: 2014-06-06



I wonder if all those people who voted for the "Conservative Party at the last election" would care to put their heads above the parapit in defence of Gideon Osbourne giving tax cuts to the "Wealthier people in Society", whilst at the present moment in time, Refining, fine tuning cuts to PIP, they still wish to impose the cuts to the people receiving benefits?
So much for "We're all in this together" eh, dodgy Dave, Gideon, you may have "Jamie Oliver on Board" with your sugar tax imposition and childhood obesity, until the food industry really start to offer meat protein in it's "natural form" without being doctored with additives,preservatives to the food chain? 
Could these additives, preservatives, pesticdes, crop spraying be responsible for effecting the human body and diseases associated to today's increased rate of Diabetes, cancers of people world wide, or is the increase due to Countries only where the additives, preservatives are mass produced in easy ready meals, in today's busy life styles choices, that we do not have the time to produce home cooked meals from fresh produce?   
To be fair to Iain Duncan Smith and "Cabinet responsibility" he did impose drastic measures to how people on benefits would be tested by Atos,then defended the Company vigorously in the House of Commons over the amount of people who had had their benefits removed by Atos, which also resulted in the untimely earlier death of adults who were proposed "Fit to Work" and passed away shortly after being given this information from the DWP.  He never really accepted or apologised for the decisions that Atos had taken on his Government's behalf?



Posts

: 2173


Reputation

: 866


Join date

: 2015-05-07



IDS worried about dividing society.

Seriously.

Where has he been the last 40 years?

Dear IDS, there are people like you who will never worry about food on the table and roof over head.

Then there are the others, many in full time work, who just can't make ends meet because of the "keep 'em down they're easier to control that way" ideology of you and your mates.



Posts

: 4580


Reputation

: 2377


Join date

: 2014-06-06



---
Permissions in this forum:
You
cannot
reply to topics in this forum