Page 32 of 32 •

1 ... 17 ... 30, 31, 32

Doug D




Posts

: 2092


Join date

: 2013-12-03



 Follow 

Tom Symonds‏
[ltr]@BBCTomSymonds[/ltr]
#IICSA inquiry has suspended its Counsel Ben Emmerson QC after becoming 'very concerned about aspects of his leadership of the Counsel Team'

Doug D




Posts

: 2092


Join date

: 2013-12-03




sallypelt




Posts

: 3275


Join date

: 2012-11-10



Bindmans LLP
‏‪@BindmansLLP
[size=35]Bindmans LLP are instructed by Ben Emmerson QC, read statement below:[/size]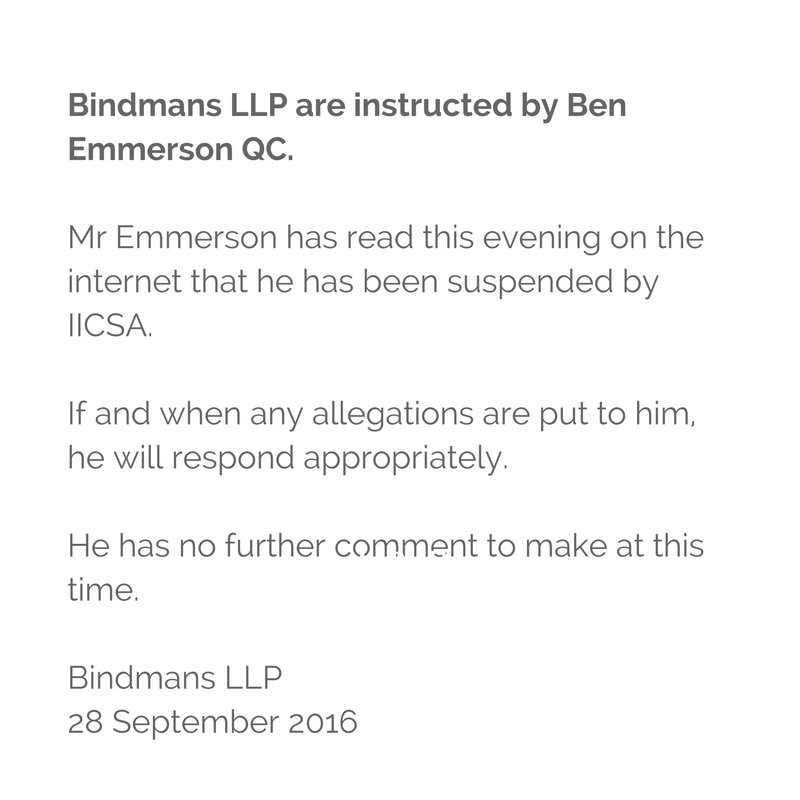 Doug D




Posts

: 2092


Join date

: 2013-12-03



What a mess.

What would have guessed.

BlueBag




Posts

: 3279


Join date

: 2014-06-06



I posted yesterday Wednesday 28 Sep 2016 about QC Ben Emmerson and the IICSA Inquiry and the direction it wished the procedure to follow.
Survivors of abuse are stating how Mr Emmerson should remain in his role and that he has been the"Glue" holding the current Inquiry together?  
Other person's have stated the opposite,that somehow he was pushing for a smaller led Inquiry with less"Subpoena"type investigation,stating a forward looking scenario of protection for the children,based on what we already know?
Quite how that was possible when to this day,the UK Government knows full well,what has happened on child abuse,but wishes to suppress the information from the public's gaze,Bryn Alyn,Estyn,Elm Guest House,Sparticus Club,Kincora Boys home,Ireland?
At the end of the day,this all comes down to"Trust"?  Do you trust the Government and all it's Institutions going back some Forty to Fifty years of incidents of children suddenly"disappeared"?
Or,a New type of Law Firm(Matrix Chambers)with being competent to find out the Truth of what has happened in the IICSA Inquiry,after all this firm of Lawyers has a long outstanding association to UK Government figures,can they be Trusted?
Or,have the Terms of Reference of the Inquiry,been deliberately made too big and covering such a wide area,that it would fail?
At the end of the day,there are still thousands of people that have been abused and the Governments covering these generations,have failed to operate a system to protect "Vulnerable Children" from the Abusers,no matter how famous they are or where?
Who are responsible for the "State system" over this period of time,Ma Learned friends from the House of Common's and Lords?
IICSA inquiry is supposed to be about "Justice" and No amount of money as part of any compensation can atone for the abuse done to these children and adolescents and the loss of so many lives(Suicide as the only way out of the Torment)?

willowthewisp




Posts

: 1271


Join date

: 2015-05-07



Maybe the inquiry is in complete disaray if they manage to publish both of these statements today:
Statement from the Inquiry
News | 29 September 
"The Inquiry has recently become very concerned about aspects of Mr Emmerson's leadership of the Counsel Team. He has therefore been suspended from duty so that these can be properly investigated.
Suggestions in the press that Mr Emmerson was considering resigning after raising disagreements over the future direction of the Inquiry are untrue. They are not a matter on which he has advised the Chair or Panel." 
https://www.iicsa.org.uk/news/statement-inquiry-0
Announcement by the Chair to the Inquiry on the resignation of Ben Emmerson QC
News | 29 September 
I have today [url=https://www.iicsa.org.uk/key-documents/814/view/29 September 2016 - Letter Ben Emmerson to Alexis Jay.PDF]accepted Ben Emmerson QC's resignation[/url] from the role of Counsel to the Inquiry. Mr Emmerson has stepped down at this time because he considers that after two years at the helm it is now time for someone else to take the role forward and provide leadership for the counsel team. There is no truth in suggestions that he has resigned due to a difference of opinion with me about the next steps for the Inquiry. He will continue to be available to the Inquiry whilst his replacement is recruited and brought up to speed. I am pleased he continues to support the Inquiry's aims and objectives. He has made an enormous contribution to the Inquiry and we wish him well. 
https://www.iicsa.org.uk/news/announcement-chair-inquiry-resignation-ben-emmerson-qc

Doug D




Posts

: 2092


Join date

: 2013-12-03



Hi DougD,thanks for the links to IICSA statements.
At the present moment in regard to the IICSA Inquiry and Prime Minister Theresa May's statement to the MSM about how the Inquiry is to proceed left little doubt,full exposure of the abusers!?
In fact with the current amount of Senior High Ranking Officials demise from Government Elected positions and the"Early"retirement of Sir Bernard Hogan Howe,from the Metropolitan Police Service,especially with regards to Unsolved Murders and "Disappeared Police Files"from their secure positions,seems as though Theresa May wishes to"Air out the dirty Laundry" held by Government Institutions?
Prime Minister Theresa May must be given credit if at last being prepared to unfurl the secrets from the"Parchment papers"held within the folds of Westminster,let us hope she is true to her words at the present moment in time?
In fact,Theresa seems prepared with a new "Broom" to sweep away dodgy Dave's obfuscation over the child abuse decisions he failed to grasp hold of,wonder why,maybe something to do with"Carlton Communications perhaps"Derek Laudd,Ian Greer?

willowthewisp




Posts

: 1271


Join date

: 2015-05-07



Ex-BBC DJ Chris Denning jailed for child sex offences
                        5 hours ago
From the section 

UK
Former BBC DJ Chris Denning has been jailed for 13 years after admitting abusing 11 boys as young as eight.
Denning, 75, of London, is currently in prison for child sexual offences. He pleaded guilty in August to 21 further counts committed between 1969 and 1986.
Denning was arrested after a police inquiry into the Walton Hop Disco in Walton-on-Thames, Surrey.
He was part of the original line-up of disc jockeys that launched BBC Radio 1 in 1967, but left two years later.
Denning is already serving a 13-year jail term for sexual assaults against 24 victims, aged nine to 16, which took place from the 1960s to 1980s.
Judge Alistair McCreath said the effect on the victims, now grown men, has been "devastating".
He described the offences as "utterly depraved", and added: "It is not to be forgotten that all of this suffering was inflicted by you for nothing other than your own selfish pleasure."
'Used your fame'
The jury at Southwark Crown Court heard Denning lured boys into his house using his fame and plied them with records, alcohol and cigarettes.
He showed them pornography before forcing them to perform sex acts on him and photographed them naked, prosecutor Jonathan Polnay told the court.
On several occasions he took some of the boys to London and introduced them to other celebrities, including Gary Glitter, Mr Polnay added.
The prosecutor also said Denning had offered one of his victims to another Radio One DJ, who had refused.
He also took one of the victims to the Walton Hop Disco, which ran from 1958 until 2001, the jury heard.
Judge McCreath said the latest sentence would start from Friday.
He told the defendant: "You groomed all of these boys. They were for the most part in their early teens, although some were younger.
"You used your own fame, your acquaintance with others who were famous, your familiarity with the music industry... to win their trust and misplaced admiration."
David Burgess, defending, said Denning suffers from "various ailments" and may die before the end of his sentence.
He added: "His past has caught up with him - we are talking about events over 40 years ago.
"He is very sorry, he has expressed that before." 
http://www.bbc.co.uk/news/uk-37590275
eta:
Don't forget that he was another one on the Elm Guest House list in the first place.

Doug D




Posts

: 2092


Join date

: 2013-12-03



Page 32 of 32 •

1 ... 17 ... 30, 31, 32
---
Permissions in this forum:
You
cannot
reply to topics in this forum