3 July 2012 Last updated at 09:14
Ian Brady: Tribunal 'too traumatic' for victim's mother
Winnie Johnson's solicitor said she was in hospital and not well enough to attend the tribunal
The mother of Keith Bennett, who was killed by Moors murderer Ian Brady, has said she will not now attend his mental health tribunal on Monday.
The solicitor for Winnie Johnson, 78, said it was too traumatic for her to attend.
The rare public hearing will hear his application to be transferred to a Scottish prison and be allowed to die.
Brady, 74, jailed in 1966 for murdering three children, has been detained at Ashworth Hospital, Maghull, since 1985.
The tribunal will be the second time such a hearing has been held in public and will take place at the hospital and relayed via video link to the civil justice centre in Manchester.
Mrs Johnson's solicitor John Ainley said she was in hospital and not well enough to attend but added: "In any event, it would be too traumatic for her to have any involvement in a hearing that deals with Ian Brady."
In December, Mrs Johnson had said she hoped to come "face-to-face" with Brady at the hearing.
Mr Ainley said the 78-year-old from Longsight, Manchester, was "not in the best of health" and she was not well enough to deal with the pressures - including the media interest - surrounding the tribunal.
He also said: "Winnie has made it perfectly clear over the years that she considers Ian Brady should remain in a mental hospital for the remainder of his natural life and not be transferred to a prison either in England or Scotland.
'Missing body'
"Presumably, the intention would be to go on hunger strike with a view to ending his own life. She does not consider this should be his prerogative."
Mr Ainley added: "She has only one question to ask Ian Brady, that is 'Where is my son Keith?
"Her one and only desire is to give her son a proper family burial during her lifetime."
Brady has been in Ashworth Hospital for 27 years
Brady and his girlfriend, Myra Hindley, lured children and teenagers to their deaths, with their victims tortured before being buried on Saddleworth Moor, Greater Manchester.
Pauline Reade, 16, disappeared on her way to a dance on 12 July 1963 and John Kilbride, 12, was snatched four months later.
Keith Bennett was abducted on 16 June 1964 after he left home to visit his grandmother.
Lesley Ann Downey, 10, was lured away from a funfair on Boxing Day 1964 while Edward Evans, 17, was killed in October 1965.
Brady was jailed for life at Chester Assizes in 1966 for the murders of John, Lesley Ann and Edward, while Hindley was jailed for life for killing Lesley Ann and Edward and shielding Brady after John's murder.
In 1987 the pair finally admitted killing Keith and Pauline.
Both were taken back to Saddleworth Moor in 1987 to help police find the remains of the missing victims but only Pauline's body was found.
Hindley died in jail in November 2002, aged 60.
http://www.bbc.co.uk/news/uk-england-manchester-18685127

Guest

Guest





Instead of using public money by the bucketload to defend Brady's 'human rights' how about just telling him to give the location of Keith Bennett's body and he may just have a teenzy weenzy chance of having his wishes considered. Keep him alive until he's answered that question.

The question being...where is the body of Keith Bennett, the child you murdered?



Posts

: 7986


Reputation

: 1224


Join date

: 2011-09-03




Guest

Guest





I could cry every time I see a photograph of dear Winnie Johnson, please God let her be able to attend a proper burial of her son before she passes away.
I am quite sure Brady knows where the lad is buried. His face is pure evil, dead eyes and a cruel mouth.

Aquila, that is a brilliant thought. I wonder whether the authorities have considered it?



Posts

: 823


Reputation

: 7


Join date

: 2011-11-24



@bristow

wrote:I could cry every time I see a photograph of dear Winnie Johnson, please God let her be able to attend a proper burial of her son before she passes away.

I am quite sure Brady knows where the lad is buried. His face is pure evil, dead eyes and a cruel mouth.

Aquila, that is a brilliant thought. I wonder whether the authorities have considered it?
It's not how the law works. I hope Brady is kept alive. I hope he never has the right to choose his own death. That particular right he afforded himself to choose the death of others should not be given to him. What I hope for and what is the law are entirely different. No authority would consider my opinion to deal with Brady in such a way as to make him give the location of Keith Bennett's body before he may have any rights. It doesn't alter the fact that a convicted serial killer has the right to legal aid and the right to use the law to choose how he dies.



Posts

: 7986


Reputation

: 1224


Join date

: 2011-09-03



A little off topic, but, it goes to show that people will keep on searching for justice. Numbers matter, and determination.
The sense of justice and the need to 'have' justice is so ingrained in our souls and psyche, that even after some 30 years of dogged campaigning, perpetrators of crime, especially to children, will not be let off the hook.
Each time we wonder why we are still here, this is it. When the facts of a case do not tally with the story given, our instincts are alerted and we know there is something evil that is being concealed.
Our sense of smell may not even go part way to matching that of a cadaver dog
but our sense of 'instinct' maybe does.
http://www.guardian.co.uk/world/2012/jul/05/argentina-trial-junta-theft-babies
Argentina close to verdict on junta's alleged theft of death-camp babies
Dictators Jorge Videla and Reynaldo Bignone face long sentences for alleged plot over political captives' children.
Uki Goni
, in Buenos Aires
The Guardian
, Thursday 5 July 2012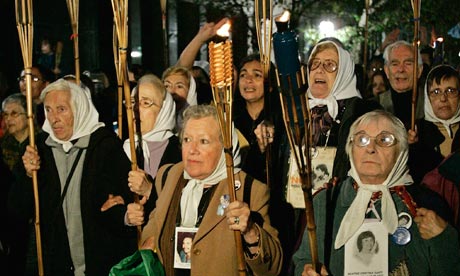 Women in Buenos Aires, five years ago, protesting at the children 'disappeared' by the ruling junta from the late 70s. Photograph: Eduardo Di Baia/AP
After 12 years and hundreds of hours of testimony an Argentine court is finally poised to pass judgment on former dictators accused of orchestrating the "theft" of hundreds of babies born to political prisoners in the 1970s.
Jorge Rafael Videla and Reynaldo Bignone, dictators who led the bloody military junta that ruled
Argentina
between 1976 and 1983, face long sentences for allegedly masterminding
what prosecutors hope to prove was a predetermined plan to "rescue" new-born babies from their "terrorist" mothers.
After the mothers were killed the babies were handed over to be raised by military families according to the "western and Christian" values that the generals claimed to defend.
Some lower ranking officers have already been convicted for taking the babies. This trial is set to decide whether the crimes were part of a systematic plan ordered from above.
"This will establish once and for all that these infants were not appropriated on a case-by-case basis by low-ranking officers who otherwise couldn't have children, but that this was a plan decided at the highest level of the dictatorship," said Alan Iud, a lawyer in the case for the group Grandmothers of Plaza de Mayo.
The association of now elderly women has, for 30 years, been at the forefront of resolving these crimes and identifying abducted children through DNA tests.
About 500 babies are believed to have been born to women who were held captive in the military's death camps. So far 105 such children, now all in their 30s, have been united with their biological families by the grandmothers' association.
Videla, now 86, dismissed the charges last week. "Although I respect them as mothers, the pregnant women mentioned by the prosecution were activists who used their embryonic children as human shields during combat," he told the court.
The son of one of these murdered mothers, 34-year-old Francisco Madariaga, said he knew from painful personal experience that the plan existed and that the couple who raised him,
pretending he was their own, were mixed up in it.
"They formed part of this systematic plan," Madariaga said. "I lived it, I was breast-fed this. This notion that guerrilla women used their children as shields is something I grew up hearing in that family. It's just another one of their idiotic excuses and nobody believes it."
Madariaga, who said he was raised in an extremely violent environment, discovered his true identity only two years ago, through a DNA test, after being found by his father, Abel Madariaga, who had been searching for him for 32 years.
His mother, Silvia Quintela, gave birth to him at the Campo de Mayo army base, where thousands of people were killed. Shortly after giving birth she was sent on a "death flight" in which drugged victims were thrown alive into the freezing waters of the south Atlantic.
The infant Madariaga was handed over to Victor Gallo, an army officer, and his wife, Susana Colombo, both of whom will be sentenced on Thursday along with other former officers.
Iud said: "A guilty verdict would be very important because if the existence of a plan is proven then these cases will be classified as crimes against humanity."
Among the accused is Jorge Acosta, the navy captain in charge of the ESMA (La Escuela de Mecánica de la Armada)
torture
and death camp, in Buenos Aires, where about 5,000 people were murdered and where many of the pregnant mothers were taken from other camps to
give birth.
Long sentences are expected as well for a number of other former high-ranking officers, including Jorge Magnacco, a doctor, who delivered many of the babies born at the ESMA camp.



Posts

: 2031


Reputation

: 128


Join date

: 2011-12-05



There is a Channel 4 programme tomorrow (Sunday) at 22.00 called "Meeting Ian Brady" regarding his request for a transfer to a prison in Scotland.

Guest

Guest





---
Permissions in this forum:
You
cannot
reply to topics in this forum