Child rape case leaves mysteries after horrifying discovery in suspect's home
FBI turns to Associated Press for help in search for possible victims after tapes found in Matthew Coniglio's home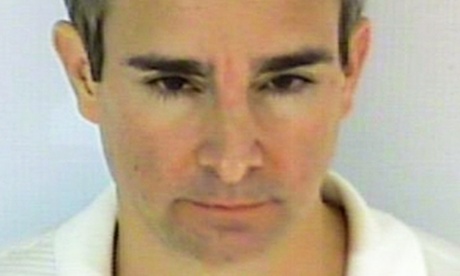 This undated arrest photo made available by the Chatham County Sheriff's Department, in Georgia, shows Matthew Coniglio, 46. Photograph: AP
Matthew Coniglio's Georgia home held a trove of child abuse material, more than 50,000 images and videos stored on laptops, external hard drives and thumb drives.
Among the stash, hidden in a bedside table turned around to conceal the doors, authorities made an even more horrifying discovery: 56 8mm cassette tapes they say show him raping and molesting girls.
All were unconscious, apparently drugged
, FBI special agent William Kirkconnell, who viewed the tapes, told the Associated Press.
Some were so incapacitated they were snoring
. The camera was always turned off before they awoke.
Many of the victims' faces cannot be clearly identified, so investigators don't know how many different girls were attacked. But each tape recorded at least one assault – some had more – in homes and hotels. The youngest victim appears to be about 10 years old.
As for the alleged perpetrator, a 46-year-old traveling salesman who worked and lived in cities across Georgia, South Carolina and North Carolina, "he often looks back at the camera and even speaks", Kirkconnell said. "There's no doubt it's Matthew Coniglio. None at all."
Who were these girls, and do they know what happened to them?
Could there be other victims?
The FBI shared exclusive details of the case with AP in the hope that victims will step forward and can be offered help and counseling. The AP also uncovered other exclusive details of Coniglio's past and his previous encounters with the law.
Authorities' best chance for resolving the raft of unanswered questions vanished on April 20. Ten days after his arrest, Coniglio wrote goodbye letters to his parents, tied a cord to a vent above a sink in his jail cell and hanged himself in an apparent suicide.
Questioned by authorities
Nearly a decade before his arrest, Coniglio sat in a South Carolina deputy sheriff's office and was asked point-blank if he was a pedophile."He said that he was not,"
deputy Angela Olds wrote in her 2005 investigation into an incident involving Coniglio, according to records obtained by the AP.
At the time, Coniglio worked selling food products in Hilton Head, and at one diner he told an employee that he and a partner had started a modeling agency. He asked to take pictures of the woman's 11-year-old daughter at a mall. The girls' parents agreed. The AP is withholding the family's name because it does not generally identify possible victims of sexual abuse.
The girl and her father met Coniglio in the diner parking lot, the father told deputies. After the father agreed to meet them at the mall, the girl left in Coniglio's car. Records show Coniglio took her to a hotel room rigged with video cameras and offered her a soda. He asked her to flop down on a bed.
The girl, when questioned by authorities, never said she was assaulted but said she felt uncomfortable at the hotel and demanded that Coniglio take her home. At some point he did. She also said she thought she was at the hotel for no more than an hour, while
her parents said she was missing for several hours.
In the deputy's report, the mother said that her daughter came home very upset and locked herself in her bedroom closet, prompting the mother to call authorities.
During a voluntary interview with deputies, Coniglio said the girl was the first he tried to photograph for his fledgling business. He denied taking any pictures, and said he had apologized to the girl's mother "because he knows that it looks bad", Olds wrote. He denied he was aroused by children, Olds wrote in her report. Now a master sergeant at the Beaufort County sheriff's office, Olds, who now uses the last name Viens, declined an interview.
Coniglio was never charged.
'He was leading a double life'
He grew up in a suburban home in Kingwood, Texas, with his mom, dad and sister, Coniglio's mother, Betty Coniglio, told the AP. He wanted to be a writer, penning poetry and plays. But after college, Coniglio followed his father into the food distribution industry.
Betty Coniglio described her son as outgoing, and she remembered friends calling him at all hours for advice or solace.
She added that she does not believe her son was guilty.
"I guess if this was true he was leading a double life," she said.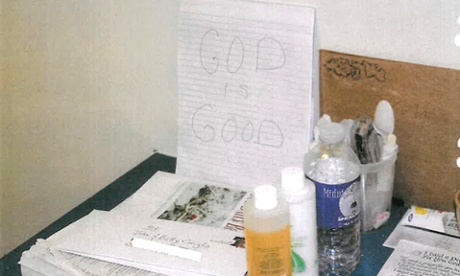 Matthew Coniglio's personal effects. Photograph: AP
There were problems, however. After his arrest this year, Coniglio told a jailhouse nurse that he drank heavily – up to 13 beers and cocktails daily, records show. And he had at least two prior arrests related to alcohol, most recently for driving drunk in 2000.
The videos suggest the attacks on the girls started around the time of the 2000 arrest or earlier, investigators said. It wasn't until March, however, that a police officer in Pooler, Georgia, where Coniglio lived, identified him as a suspect in an online child abuse image case. Investigators got a search warrant, and found the tapes.
Charged with possessing child abuse images, Conigilio hadn't entered a plea before he died. Kirkconnell said authorities planned to bring federal charges but never got the chance.
Coniglio's lawyer, Tom Edenfield, declined to comment.
Former FBI assistant director Ronald Hosko said it is not uncommon for molesters to have multiple victims.
They are skilled at developing trust, and adept at appearing otherwise law-abiding and safe.
"To think you know by looking at somebody – chances are you're way off the mark," Hosko said.
In March, a former teacher at international schools on four continents, William Vahey, killed himself after he was accused of molesting potentially 90 or more boys.
He allegedly drugged them with Oreos laced with sleeping pills.
Coniglio's death could make it impossible for authorities to find his victims and learn the scale of his alleged crimes.
Investigators believe he killed himself while alone at the Chatham County jail in Savannah, Georgia, and that he may have plotted the attempt for days.
His cellmate told investigators Coniglio had asked for an hour of privacy in their cell in the evenings, right after guards usually finished a round of checks.
A jail guard resigned after he was accused of failing to perform required cell checks around the time Coniglio died.
As part of its effort to find victims, the FBI created a confidential online questionnaire that victims or others with information can fill out to be contacted by investigators.
So far, only a single victim has been identified.
Her mother, a friend of Coniglio's when he lived in Charleston, South Carolina, allowed the girl to spend unsupervised time with him. The mother saw a news report about Coniglio and brought her daughter to investigators along with old photos of her.
"She recalls that he would always give her ice cream and give her hot chocolate, and she recalled that ... those items at times tasted very bitter to her," said Kirkconnell, who believes Coniglio
drugged the treats
to knock her out.
In letters he wrote to his parents before his death and obtained by the AP under open records laws, Coniglio did not explicitly discuss the case, but he said "a lot" of the allegations leveled against him were untrue and exaggerated.
He also acknowledged he had "let sin pull me where it wanted."
He called himself a "troubled soul" who had wrestled with alcoholism and depression for years. And he apologized for the pain he caused his family.
"The decision I'm making tonight is the most difficult one I've ever had to make," he wrote. But it would be, he said, "the best way out for all."
Researcher




Posts

: 14898


Reputation

: 2990


Join date

: 2009-11-25


Age

: 70


Location

: Shropshire




Guest

Guest





As your interest lies in the way the press and media have manipulated the McCann story, for reasons of their own and possibly others such as Editorial Intelligence, what about the manipulation of  pornographic  content  to stay on the right side of the law.

It has always struck me how in particular the British press can print  what amounts to porn in great detail as long as it is quoted from another source and in order to outline the nature of the crime committed.

Imo quite a few perverts greatly enjoy such detailed  accounts which they can legally  read and save. Imo too it can also give people ideas they would otherwise not have entertained.

This is not just the case with sexual offences, in several cases terrorists have merely copied ideas from the news. One case in point  was a train hijack in NL in the seventies. They got the idea from an account of arrested Syrians who'd been arrested before they could execute the  hijack.

I've a theory that  terrorists and perverts have little imagination or originality and therefore resort to copying.

Afaik there isn't the same  gory detail printed in the press here or in France. At any rate not in the daily press.
____________________
Lasciate ogni speranza, voi ch'entrate.



Posts

: 8114


Reputation

: 50


Join date

: 2011-07-20



Some random thoughts.

I certainly think that there is an element of salaciousness to these stories - I do believe that elements of the chattering classes like to know, preferably in great detail, exactly what it is that they need to be protected from. Similarly I have heard that victim's witness statements are traded as a kind of hard currency in prisons.

Secondly, there is the need to create a background level of fear, suspicion and threat. Thus the number of charities trading on grossly inflated figures of incidences of whatever their particular thing is. Some of their claims, as we have seen demonstrated on this very forum, don't withstand even ten seconds of scrutiny, yet they are parroted by the media as gospel truth. Invariably any genuine acts of abuse or other criminality are the responsibility of one or a handful of individuals yet there is an eagerness to thrust the blame onto wider society, thereby enabling these acts to be used as a pretext for the curtailing of the rights of the blameless.

Third, both of the cases highlighted by Tony and myself have the added horror that the acts were in some way recorded. Unpleasant as this is, any revulsion that we might feel contains a sliver of hypocrisy, or at least a kind of duality. These days, everything is recorded. Should we really expect criminals, in the commission of their foul acts, to show any more respect for their victim's dignity than the PTB show towards the wider populous on a daily, hourly basis?

I agree completely about the lack of imagination.

Guest

Guest





---
Permissions in this forum:
You
cannot
reply to topics in this forum